O.co Coliseum
Oakland

,

CA
Oakland
Monster Energy AMA Supercross Championship
Welcome to Racerhead. It's been a long week out here on the West Coast, with lots of rain and cold weather (though Oakland is looking much better for tomorrow night). There's also been some sobering news, as the Chaparral Honda team behind Andrew Short—L&Mc Racing, which stands for Larry Brooks and Jeremy McGrath—was forced to cease operations due to a lack of funding. Furthermore, the JDR KTM team also announced plans to shut their doors at the conclusion of the West Region 250SX races, which means Malcolm Stewart, Joey Savatgy, and Aussie visitor Josh Cachia—as well as team manager Nathan Ramsey—will all soon be looking for new homes. And all of this follows the demise of the JWR Kawasaki program late last year.
L&Mc, JDR, JWR.... Obviously, 2013 is not a good season for initials.
We are waiting on a press release from Andrew Short, who is currently ranked seventh in the Monster Energy 450 Supercross standings. Will he get some direct support from Honda? Will his old boss Roger DeCoster reach out to him from Red Bull KTM?

L&Mc Racing was forced to cease operations due to a lack of funding.
Simon Cudby photo
And of course there's that beautiful #14 GEICO Honda that's now sitting in the big rig, waiting to take some opening-ceremony laps and one huge leap during races to come, now that Kevin Windham has called time on his racing days. That seems like a good fit, as Shorty could keep his Fly Racing gear deal, just as K-Dub wore MSR rather than GEICO's 250 Alias team threads. Either way, I hope Andrew and everyone else finds a good spot.
Let's get into the rest of the week.
Supercross Schedule (Chase Stallo)
For the second consecutive week, CBS will be broadcasting next-day coverage of Monster Energy Supercross from Oakland beginning at noon Eastern. Following CBS' coverage, Speed will be broadcasting 250SX starting at 1 p.m. Eastern. Earlier this week there were reports of rain in the Bay Area for Saturday night's main event, but according to weather.com, there is currently only a 20 percent chance of rain tomorrow. Temperatures will be in the low 50s during the day and will drop down to around 40F at night. As always, Racer X Online will be covering all the action from the pits and will provide play-by-play action of the night's action. So be sure to follow us on Twitter and Instrgram (@racerxonline) as well as Racer X Online for all the breaking news from Oakland.
Road-Tripping (DC)
I have been out on the West Coast since Anaheim 1, enjoying the up-and-down weather as well as some excellent racing so far. After three weeks, things seem to be settling down a little. Some of the slow-starting title contenders like Ryan Villopoto and Chad Reed are starting to hit their paces, and the excitement of a new season is starting to give way to the grind of the task at hand. The 250 West Region is already at the one-third mark, and while the racing has not provided as many winners as the premier class, the maturation of Eli Tomac and Ken Roczen (and a rising Cole Seely) has been downright entertaining.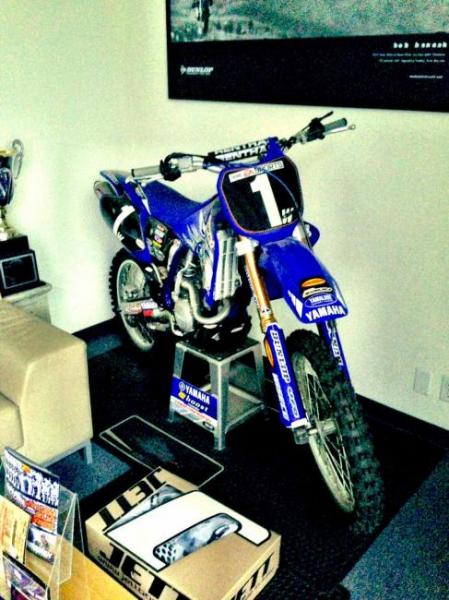 N-Style lobby bike: Ernesto Fonseca!
DC photo
Now everyone rolls north to Oakland for a race that's been won the last two years running by James Stewart. James has obviously been struggling this season since his knee injury, and if he doesn't get himself rolling forward, the leaders—steady-as-she-goes Davi Millsaps, the comeback kid Trey Canard, and the momentum-building Ryan Villopoto—are going to be more and more difficult to catch. Add on a slowly but surely improving Chad Reed and the radically fast Justin Barcia and you have a lot of work for anyone to move up to from a ninth-place spot in the standings.
So if James is going to get back in this, bum knee and all, Oakland is a must-win. He knows where the winner's circle is there, but he needs to find it now more than ever.
And finally, let me mention Kevin Windham for one second. There's been a lot of talk this week about what a great racer, personality, and entertainer he was over the years, as well as a downright interesting man. (Remember Jason Weigandt's hilarious feature from a few years back, "Kevin Windham is the Most Interesting Man in Motocross"? We've posted the pdf further down.) I want to add one more thing: Knowing for the first time that there will be a race tomorrow without Kevin Windham, that he's completed his time behind a starting gate, I can't help but think that supercross, and our sport in general, is suddenly a little less interesting than it was just a week ago.
As a fan, a friend, and a writer, I just want to thank you, Kevin, for all the great times. Supercross and American Motocross were lucky to have you for so long, and I hope you will keep coming back and helping out, only in a different role. Congratulations again on a job well done.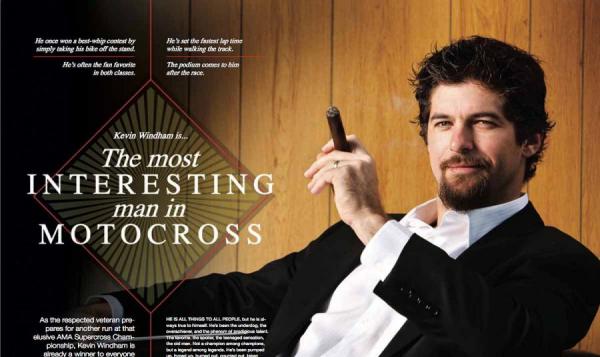 Click image to read The Most Interesting Man in Motocross feature.
Pro Prespective – David Pingree
Starts are funny things. You wouldn't think that just believing you're a good starter would translate into getting holeshots, but the truth is it's very mental. It doesn't hurt to have a quick bike, but there are plenty of guys with fast bikes who just don't get the starts. So you learn a good starting technique, practice it until your clutch smells like burnt body hair, and then go to the line knowing you are going to get a good start. Right? Well, usually. But sometimes a rider or team will figure out a setup that just works good off the line and will rack up an avalanche of holeshots. (Mike LaRocco was never on one of these teams.)
So far this year the team getting the starts is Troy Lee Designs/ Lucas Oil Honda. The TLD guys have pulled every main-event holeshot in 2013 in the 250 class, as well as several heat and LCQ holeshots.

Deano's championship bike on display at Mechanix Wear.
DC photo
So what's going on over there? For starters they have a solid engine package. Since bringing the engine program in-house last year, their dyno numbers have continued to climb—so much so that team manager Tyler Keefe says he would put their bikes up against any other 250F. The team spent a lot of time getting gearing and setup right for starts, and it's been paying off for Seely and Nelson, both of whom have been quick off the line all year. Can they go four for four in Oakland this Saturday? We'll see.
Industry Pulse (DC)
One thing about being out here in California during January is the fact that one can get a little industry visiting done. With an NPG promoters' meeting coming up next weekend at Anaheim 3 as we finalize plans for the 2013 Lucas Oil Pro Motocross Series, my big sister Carrie and I made the rounds of all five OEMs to discuss some future plans and also ask them what we could do to help the motorcycle industry keep moving forward in 2013 and beyond. From the response we got, all five companies have some good things going on, and the summer should provide plenty of happenings, from anniversaries—American Honda's race team turns 40 and Suzuki as a motorcycle company turns 50—to big new model releases. So while the news is not good for a few private race teams, the industry as a whole seems to be pulling out of the recession and grabbing another gear.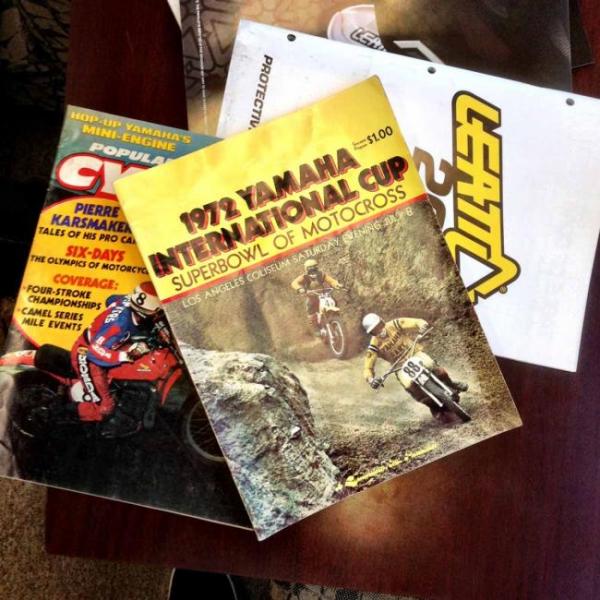 Phil Davy of Leatt has a 1972 Superbowl of Motocross program on his desk.
DC photo
Head-Scratching Headline/s of the Week – Jason Weigandt
Two announcements rocked us this week, as L&Mc and JDR Motorsports announced they were shutting down. The headline was pretty simple for one: L&Mc Racing To Conclude Racing Efforts For the 2013 Race Season. They were pretty clear with their message in this PR, as it states the team ran into circumstances, events and forces outside of their control. Wow! Yes, "outside of its control" was mentioned not once, not twice, but three times. Let them leave no doubt.
Things were murkier on the JDR side. Kudos to team manager Nathan Ramsey for telling it to us straight this week. However, we found it odd the the team never issued a PR or official statement, except for a Facebook post on its fan page. Maybe this is the wave of the future?
French Struggles – Jason Thomas
Cedric Soubeyras has been dominating the scene in European supercross for the last few years. A multi-time French and Euro SX champion, he was supposed to ride a YZ250 in supercross in past years, but until this year, a real effort for U.S. SX had been on the back burner. This year, after again winning races across the European continent, he packed his bags and headed stateside, starting at Phoenix.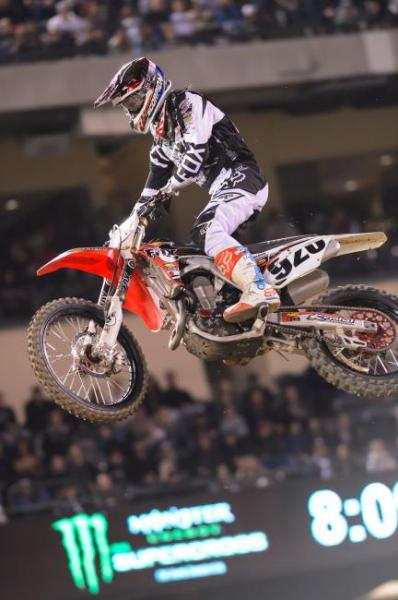 Cedric Soubeyras has yet to qualify for a main in two rounds of Monster Energy Supercross.
Simon Cudby photo
Make no mistake, the tight confines of Euroland are not American supercross. They oftentimes don't translate in both directions, and riders will look completely different in respective disciplines. As I have seen many times, an incoming racer like Cedric is not going to have an easy transition. Following in the footsteps of David Vuillemin, and trained by his father, Didier, expectations were high coming into 2013. He showed flashes of brilliance at Bercy and Geneva against the likes of Eli Tomac, Jake Weimer, and Justin Brayton. Surely this had to inspire confidence in the young Frenchman and give him high hopes of what he could do in the bright lights of America.
But after two races on a Honda, he has yet to qualify for a main event, so he has to be a little frustrated with how he has fared thus far.
Moving forward, I am wondering if he can put the puzzle together and sneak into the some qualifying positions. Having seen him ride many times, I know he has the talent and skill set to be a main-event guy. The secret is that he has to believe it himself. Mentally, he can be an incomparable ally or his biggest enemy. This is the struggle not just for Cedric, but for every racer out there. Racing against yourself can prove to be the toughest task.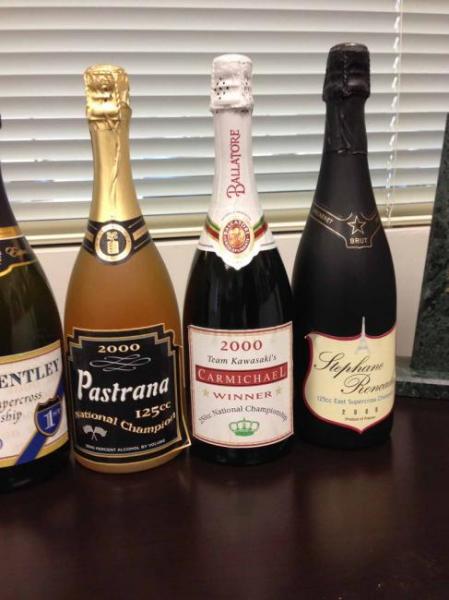 Radom old-school cool at Renthal.
DC photo
Meanwhile, in Oklahoma.... (DC)
I have been discussing the new Ricky Carmichael Road to Supercross and the revamped AX series here and there, and now it appears Ricky himself is heading to the small rings to see how things are shaping up. Carmichael and Feld Motor Sports VP Todd Jendro are going to be in Tulsa, Oklahoma, at the BOK Center tomorrow night for Round 4 of Amsoil Arenacross. Ricky will be signing autographs for the fans at the Track Party, which runs from 5 to 6 pm. He will also be at the post-race autograph session. And word even has it that RC will be coming out on his #4 Suzuki for a hot lap to welcome the crowd!
Again, in my opinion, it's great to see a legend like Carmichael get behind any form of racing, and if he can help illustrate the path to the top for a new generation of would-be supercross and arenacross riders, it can only help raise the level of talent and safety inside the stadiums.
For more information log onto arenacross.com.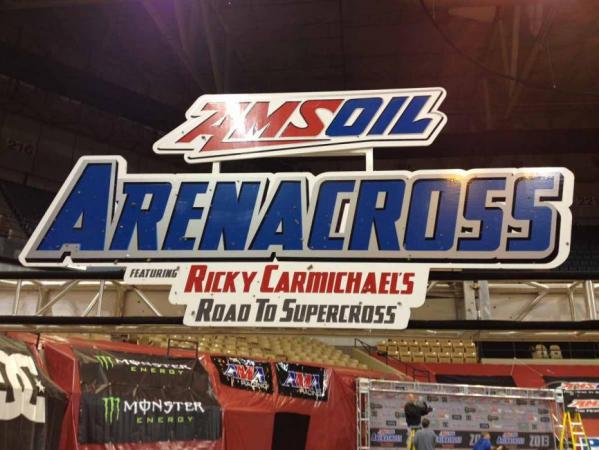 Round four of Amsoil Arenacross kicks off tonight in Tulsa.
Arenacross photo
Highlights of the Week – Chase Stallo
Kevin Windham hangs it up after 19 years. Last Saturday in Anaheim, round 3 of Monster Energy Supercross, fan favorite Kevin Windham announced his retirement from professional racing after nineteeen seasons. The humble Louisiana native will forever live in motocross lore. Steve Matthes wrote an insightful piece on how and why it ended so quickly.
L&Mc and J-Star/JDR KTM are shutting down: With two notable teams shutting their doors midseason—J-Star/JDR KTM will finish out the West Region Supercross season—Jason Weigandt and Steve Matthes were all over the story and penned an informative piece in Rapid ReaXction.
Jason Thomas breaks down the supercross season. Former pro and current Racer X staff member Jason Thomas provides an informative and detailed analysis of the 450 class in this week's Vortex Racing The Breakdown.
Ryan Villopoto looks to make a run. After a slow start to the season, Monster Energy Kawasaki's Ryan Villopoto returned to form at Anaheim 2 with a dominating performance. He talked about his first win of 2013 with Jason Weigandt after the race for this week's Alpinestars Monday Conversation.
The evolution of Troy Lee Designs: Lucas Oil/Troy Lee Designs Honda is beginning to move into the category of the vaunted GEICO Honda and Monster Energy/Pro Circuit Kawasaki. Chase Stallo takes a look back at where it all began in Bench Racing Ammo.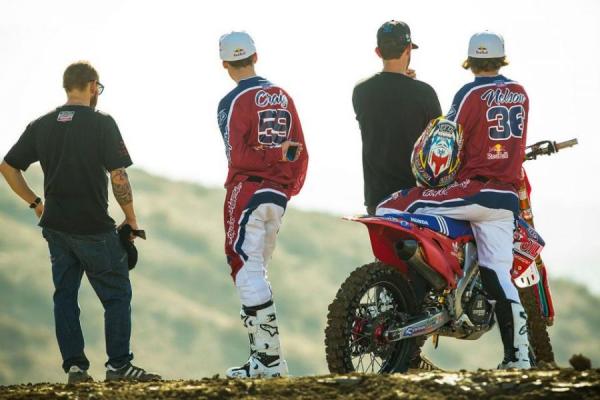 Check out Bench Racing Ammo:The Evolution of TLD that dropped on RacerXonline today.
Jeff Kardas photo
In The Mag: BEGIN AGAIN
Last summer Dean Wilson found himself facing a difficult decision. With another season of 250-class eligibility on the powerful Monster Energy/Pro Circuit Kawasaki, he could stay put or move up to a full-time 450 ride with Jeff Ward Racing. Leaving an established team for an untested startup isn't exactly a common route—but then again, unusual circumstances are nothing new for Wilson, a Scottish-born racer who resides in Florida by way of Canada. Enduring border-crossing problems, racing for multiple countries at the Motocross of Nations, and causing message-board freakouts with his comical Twitter and Instagram feeds, Wilson is never predictable. Now, before making his 450 debut this summer, the former 250 Motocross Champion is back with Pro Circuit for another swing at the 250 SX championship that has eluded him so far. Read more about Dean Wilson's thoughts and plans in this one-on-one Q&A with the champ.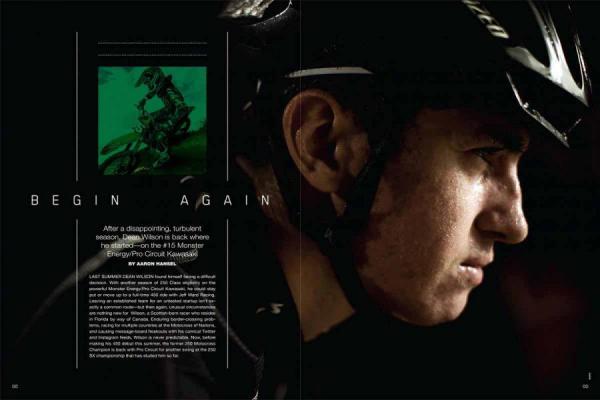 For more information on how to get your copy of Racer X Illustrated, go here. Or pick up the latest copy on newstands today!
Hey, Watch It!
Animated Track Map: Oakland
Beyond the Finish Line: Episode 2
Random Notes
–
Staff
Will you be in Oakland for the fourth round of Monster Energy Supercross? Could your gear bag use a fresh pair of goggles? Do you have functioning retinas? If you answered yes to any of these questions, you may want to swing by the Racer X booth to see what 100% goggle colorways we're giving away with each subscription.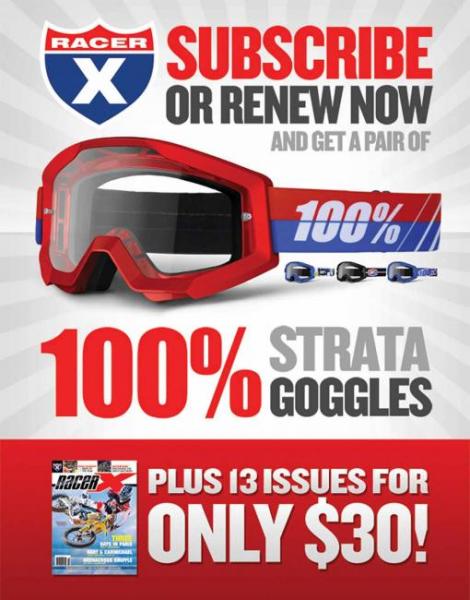 Alias is giving away a signed set of Eli Tomac's actual gear from Oakland on Saturday night, but the contest ends at noon on Saturday. You just have to guess the closet time to the fastest 250 SX qualifying time in practice! Post your guess of the fastest 250 SX qualifying time on Alias' Facebook page.
GoPro is joining forces with ESPN to bring the action of X Games like never before. The companies have agreed upon a three-year agreement.
RedBud track promoter Gene Ritchie was a top-notch racer in District 16-17 MX back in the late '60s. If you are a fan of Midwest mx from that era, check this out.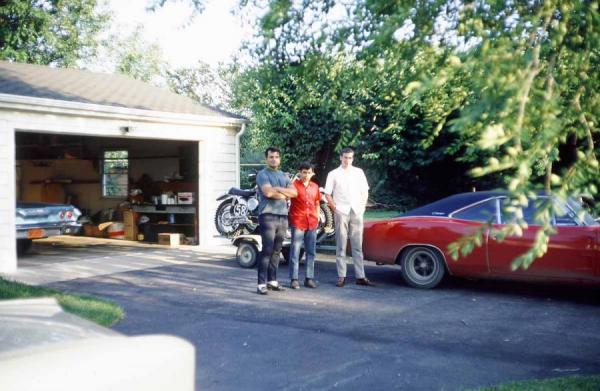 FMF Apparel announced this week that they have come to terms with Freestyle MX phenom James Carter on a multi year deal.
All right, that's all for this week. Thanks for reading – see you at the races.