O.co Coliseum
Oakland

,

CA
Oakland
Monster Energy AMA Supercross Championship
The news spread fast despite the best efforts of some people to keep it quiet. The idea was to keep it quiet until opening ceremonies, so Kevin could address the fans directly. But big, big things, like GEICO Honda's Kevin Windham retiring, just can't be kept to a murmur. This was a bombshell and at first, seemed like a joke or some bad info. Wait a minute, he rode first practice and NOW he's retiring? Just like that?
Yep, just like that. Or was it? Last year at the Houston Supercross Windham went down hard in a heat race and suffered multiple injuries that kept him out for the rest of the series. It was a terrifying crash for the veteran (as well as for his fans) and one that surely got him thinking about life post-racing. A crash and concussion at the Monster Energy Cup didn't help. Coming into 2013, Windham wasn't a contender for the title but did anyone not think that if everything aligned and the #14 was feeling it-that he couldn't bring home the win? I certainly don't know anyone that was ready to write the old guy off—after all, before that Houston crash, he had just ripped off some of the fastest practice times of the day, and was battling James Stewart for the heat race win by night. As everyone knows, when K-Dub is on….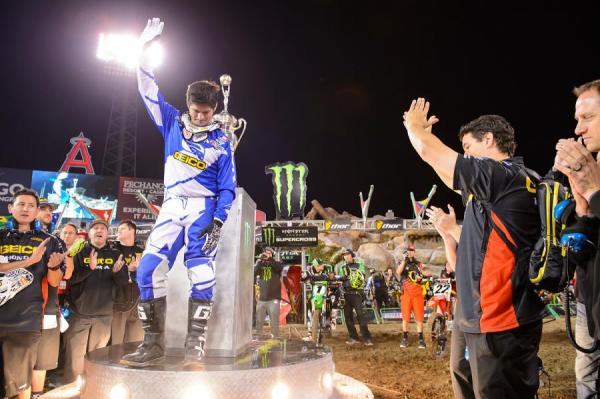 K-Dub announced his retirement from professional racing on Saturday in Anaheim.
Simon Cudby photo
At the opening round, Windham rode to an uneventful 10th. It was a more than respectable finish in a stacked field. I ambled over after the race to get his take on the main event. It was there that I was surprised by his morose attitude.
"My goal was to ride steady for 20 laps. And it's hard to be competitive when all you're trying to do is not crash and bust your ass" Windham said afterwards. "I mean, the last time I really raced was March of 2012. Everyone knows my Achilles heel is over thinking things. And that's what I've been doing, over thinking things. I've been having thoughts about, 'I need to make it to 2014, I need to stop crashing.' And that's all I was focused on tonight, and in a field like this, I don't think you can do any better than a tenth riding like that.
"So I talked to my team and I said, 'I'm having real thoughts of hanging it up.' And they said, "Hey, you're making good points." And I thought of it that way, and realized I am building some momentum here. Seems kind of weird after 19 years that I'd have to build momentum, but, I almost feel like the age almost intensifies that. I know why I'm here, and I know why I'm not here, and that's not crashing! So it was good to get through it"
Clearly, Windham didn't care about his result for the night. He was just relieved that he made it through the main event, definitely not something I expected to hear from a guy that's won more than his fair share of races. He closed with this:
"Some of the guys, they're all full of piss and vinegar, and they're like, "Man I want to win, I'm awake, what can I eat, what can I do better, how can I train harder?" I'm the complete opposite of that. I've got four kids, I've got gym businesses I'm working on, I don't want to get hurt ... it makes it hard to come to a clear decision."
Clearly a storm was brewing inside Windham. Last week, he was eleventh in Phoenix. Earlier in the day, I saw him during the track walk, and I joked about how I thought he was going to announce his retirement right there with me after the race. I was joking, he was definitely not.
Something happened the week after Phoenix and coming into the race this past Saturday, Windham was barely hanging onto his career as a professional motocross rider. And when that first 450 seeded untimed practice ended somewhere around 1PM PST, Windham decided enough was enough.
But why? Did something happen out there on the track during Anaheim 2 practice?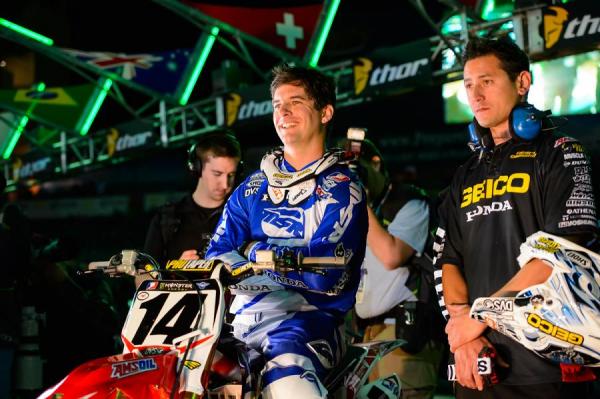 Windham raced professionally for 19 seasons.
Simon Cudby photo
"Yeah, something happened, I was looking at a basic rhythm section where guys were jumping three and I didn't feel like doing it" said Windham in a matter of fact kind of way on last nights Pulpmx Show. "I wish it (the retirement) had been closer to home or I'd have my friends be able to come. I had already figured out I wasn't going thru 2014 like my original plan. I came into the season with the past injuries and I figured I'd limp into it and get going but it just never happened."
And with that, a career spanning almost two decades as a professional racer was over.
"I came in from that practice, stripped my clothes off and everyone came to me asking what was up because I never usually change out of my gear in-between practices. They wanted to know what was up and I just said, "I'm done".
Every racer will come to a point where their career ends. Most often, it happens when their services as a racer are not wanted by any teams because age has hampered their abilities. Sadly, for some, it ends with a career-ending injury (Windham says that, if that had happened, it would have made him so mad at himself he wasn't sure he could forgive himself for going out there for one more race). Only the lucky ones get to hang it up while they're still fast, they're (relatively) healthy and on their own terms. Kevin Windham is one of those guys.
Leading into this weekend's race, K-Dub consulted with a ton of others to determine what his next move should be.
"The guys I talked to about it, from (Jeff) Stanton to (Erik) Kehoe to (Buddy) Antunez to Ricky Carmichael, by the end of asking all the people that had this experience, it was the same story over and over," he said. "Looking at it when it (racing) goes right, I can do it forever but then there's the part where Trey (Canard) got hurt and you're ready to hang it up. It's given me incredible feelings and done so much for me but then you start thinking of the what ifs and that's a recipe for disaster. I think I knew it was time but I was expecting it to feel good when it was that time And it didn't [feel good]. But it was necessary.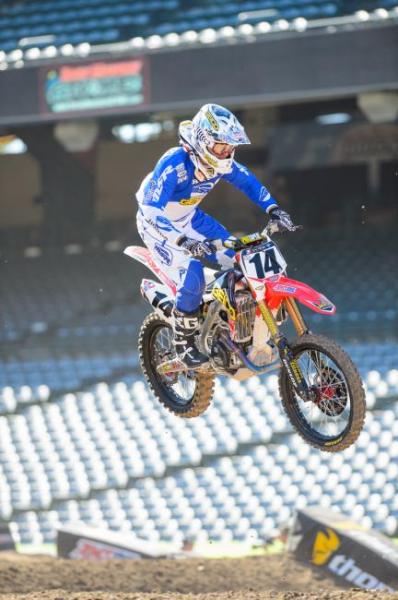 Practice at Anaheim 2 marked the last time we got to see K-Dub race professionally.
Simon Cudby photo
"I was talking to Ryan Villopoto about this whole deal and he just asked me, "How greedy are you?" and when he said that, it just all clicked. Was it enough race wins? Enough cheers? Enough races? And a light just went off in my head. I wasn't at the point where I wanted to go fast enough to go for the win. So then what? Pray for a mud race? I don't want to be that guy. What's another tenth place or twenty more rounds raced? When he used the word greed, it just registered with me."
From that point on, the writing was on the wall. But what a wall he's created. Thanks for the memories, K-Dub.