O.co Coliseum
Oakland

,

CA
Oakland
Monster Energy AMA Supercross Championship
The name Troy Lee has been synonymous with motocross for over three decades. A motocross racer who also has an unbridled passion for art, Troy began painting helmets at a young age—designing custom painted helmets for his father (an ex racer), his friends and even himself. By 1981 Troy graduated from painting helmets for friends and family to supercross stars like Jeff Ward, Danny "Magoo" Chandler and David Bailey, among others. Since those humble beginnings more than 30 years ago, Troy has taken his passion for art and design and built an iconic, trend setting company, Troy Lee Designs. But today, Troy and his company are diving deeper and deeper into its own racing venture—the Lucas Oil/Troy Lee Designs Honda team.
The Beginning
During the early 2000s a new form of racing, Supermoto, had risen to new heights. With regular programming on ESPN and a spot in the influential action sports extravaganza, X Games, the sport held a prominent place in motorsports, and Troy and company were a force on the circuit. Throughout the team's seven years, ex-motocross riders like Jeremy McGrath, Jeff Ward, Doug Henry, and David Pingree were all housed under the TLD tent at different times—garnering multiple championships and X Games titles.
"It was really just Troy wanting to go racing and have fun," says our man David Pingree. "As the sport progressed and Troy got more involved and Red Bull got more involved Troy saw an opportunity to start the first organized team in the sport."
But as the Supermoto series began to fade toward the latter half of the decade, Troy turned his attention to Supercross.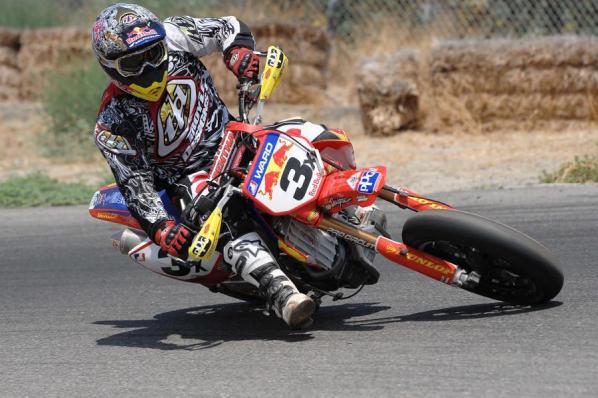 TLD and Jeff Ward were a force on the Supermoto circuit, garnering multiple championships.
Racer X Archives photo
In 2008 Troy Lee Designs engineered their first Supercross campaign. With the Supermoto team still garnering a lot of the attention, the SX squad would be a West Region Lites team only. By 2009, Troy was looking to expand and brought in Pingree as Team Manager to give the team a sense of direction.
"Really, what I helped do was get things going in the right direction," says Pingree. "The truck was set up wrong, guys didn't know what they should be doing with the riders during the week. The young riders they were hiring didn't really have any direction or a program to follow. I had raced professionally on teams for ten years, so I passed along what I had learned."
After a successful 2009 Supercross season with Jake Moss, Chris Blose, Sean Borkenhagen and Jimmy Albertson, the team ventured outdoors for the first time, competing in only five rounds because the team still had to focus on Supermoto. But changes were on the horizon the following year.
"For 2010, we said that was enough of Supermoto and we were done, we were going to focus on Supercross and Motocross," says Pingree. Supermoto, itself, was clearly losing steam. "That's when I told Troy that we were never going to get a good Lites guy unless you can offer them a full year. I convinced him to do all the Nationals and that's how we got Wil [Hahn]."
Troy Lee Designs went all in for the 2010 season and had brought in amateur star Christian Craig to pair with Hahn. But the team was sent scrambling in early November of that year after Craig broke and displaced his L2 and L3 vertebrae and fractured his L5 during testing. Long-time Troy Lee confidant Jeff Ward recommended they take a chance on a little-known southern California kid named Cole Seely.
"Seely was kind of the back up guy, and going into that season we were really skeptical, but he ended up doing great," says Pingree.
Hahn was a front-runner throughout supercross and ended up second in West Lites points, edging Trey Canard for top Honda honors. Seely, a virtual unknown when the season began, had become a podium threat. The team got a bigger break later that summer, grabbing 2007 East Region Lites Champion, Ben Townley for the 2010 outdoor nationals—on a 450. Townley logged a solid season, grabbing podiums and contending for moto wins. Along the way, the team also picked up a big title sponsor in Lucas Oil, helping stabilize its future.
"I think it was huge [signing Townley]," say Pingree. "You're talking about going out and getting podiums in the premier class outdoors. That's big. It opened a lot of people's eyes to the capabilities of the race team. You don't get results like that with a bunch of hacks. Ben helped the team in a lot of ways just to get all of them and Troy to understand what it takes to support a top level guy—the kind of commitment, effort and money it takes."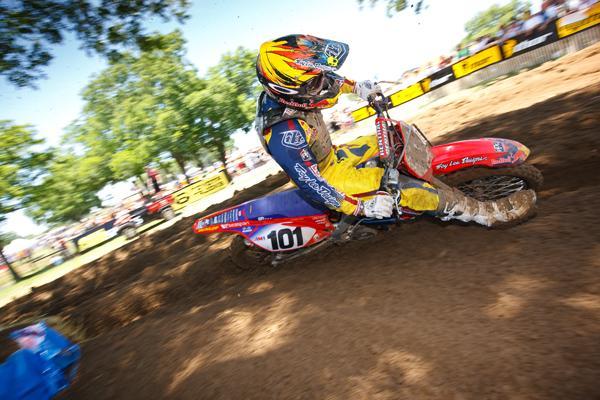 Ben Townley's performance with TLD opened the eyes to the capabilities of the team.
Simon Cudby photo
The Future
Behind the scenes, a managerial change was in the works. Pingree was exploring opportunities outside the industry and the team was searching for a replacement. Insert ex pro Tyler Keefe, son of Bill Keefe (former Team Manager for Motosport Honda, Motosport Kawasaki, Canidae Kawasaki and Rockstar Suzuki). Tyler had only been with the company a few months before taking over as Team Manager.
Says Keefe: "When Ping left, Ben Townley asked me, "Why don't you take Ping's job?" And I said, 'I would love too, but I'm not sure Troy wants me to.' Ben then called Troy and told him that he thought I would be good at it, and Troy was a little hesitant at first, but I'm glad he gave me the opportunity."
"I thought Tyler was a good fit because his strong suit is that he is very organized and is really passionate about it," says Pingree. "He wanted to do that job and be their long-term."
Keefe worked the final five races of the 2010 outdoor season, and assumed the full role of Team Manager in 2011. Although they already had amateur star Jessy Nelson in the mix, Keefe saw a hole in the team framework.
"When I stepped into the position I saw what a couple of other teams were doing on the amateur side and I thought it was something you needed to do," says Keefe.
"The first year we put some resources into the amateur side, and to be honest we were a little behind when it came to the evolution of that part," continued Keefe. "We probably didn't give Jessy everything we could of [that first year] but we made it happen and in 2012 we went at it full bore."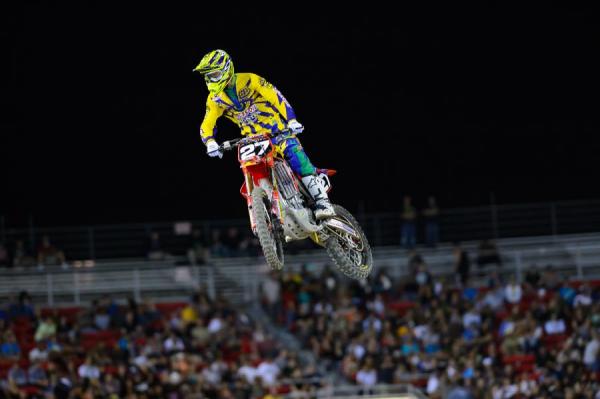 With Shane McElrath and Justin Hoeft on board in the amateur ranks, the future looks bright for TLD.
Simon Cudby photo
At one point, TLD made results by bringing in unknowns, or castoffs from other teams. They had hit the jackpot with Hahn and Seely, but a shift was taking place. With amateur sensation Nelson already on board, Keefe headed to Loretta Lynn's a year ago to scout the next group of amateur stars—but he had his reservations.
"I remember I was flying to Loretta's and was thinking that everyone was kind of locked in and [I was wondering] if I was wasting my time coming out here," says Keefe.
But in the first 250 B Stock moto, the industry and Keefe, would be mesmerized by a little-known kid from North Carolina named Shane McElrath.
"The first moto I saw this kid come through a corner and I thought, 'Man, he almost went down there because he hit it so fast,'" says Keefe about seeing McElrath for the first time. "The next lap he did the same thing, and again the following lap. I talked to him that week and we flew him out to California and things went from there."
While the McElrath signing stole the headlines, the team was also able to grab 85cc sensation Justin Hoeft away from Yamaha. The SoCal native swept the Mini Sr. Stock and Mod class at Loretta's, and will anchor TLD's amateur program for the future, as McElrath is likley headed to the pros this summer. "I think if I can bring in one rookie each year I think it will set the team up for the future pretty well," reiterated Keefe. "But it's so, so, so much more work to run an amateur program, because you're basically running two seperate teams."
"In order to compete with GEICO and Mitch [Pro Circuit] you have to go in and find a guy who you think has potential and try to help them along," says Pingree. "Now, by locking these guys in, they don't have to worry about getting in a bidding war with GEICO or anyone else, which will help the team down the line."
Indeed, a team can lock in a rider at a lower price by signing him early, but Keefe is quick to point out that the team has renegotiation bonuses baked into rider contracts. If they score top-ten in a series, for example, they'll get an automatic raise, so their pay will hopefully level out to where it would have been if they had signed after they had turned pro.
Heightened Expectations
With continued success comes heightened expectations. The team has always held the mantra, "If you're not having fun, we don't want to do this." They're now walking a fine line.
"Troy has always wanted this team to be a fun team and we always have to keep that in mind," says Keefe. "Sometimes I'm the one that gets worked up. I try not to show it, and all the guys on the team laugh about it. But when you win you're having fun and if you're not, everyone comes to me on Monday and asks what happened?"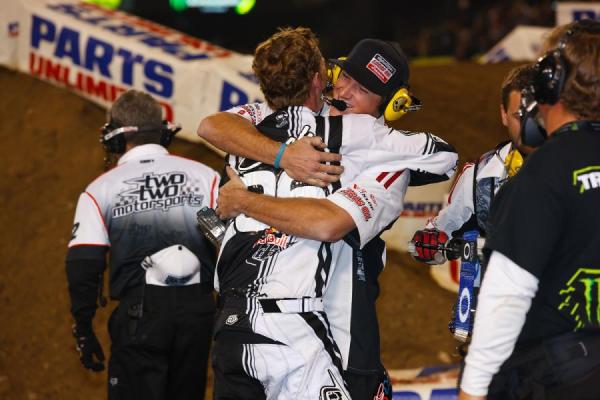 Cole Seely secured the teams first ever win at L.A. in 2011.
Simon Cudby photo
With title contender Cole Seely on board, and rising stars Jessy Nelson, Shane McElrath and Justin Hoeft locked in for the future—not to mention veteran Christian Craig finally enjoying a solid, consistent year—Troy Lee Designs have risen to new heights. But have they reached the level of powerhouses GEICO Honda and Monster Energy/Pro Circuit Kawasaki? According to Pingree they are close.
"I would tell you they are almost there now. In terms of equipment there is not a whole lot of difference any more," says Pingree. "Pro Circuit used to have a real big horsepower advantage and everything else and I don't think that's happening anymore. GEICO and Troy Lee have gone away from Mitch and gone their own direction so they could continue to develop and I think they've caught up. The gap now is marginal. It's definitely more the guy on the bike than the bike they are on."