Looks like Monster Energy Kawasaki's Ryan Villopoto is just fine. While a few crashes at the opening rounds left the two-time and defending SX champ back in points, he has been showing the speed that carried him to the front for the last two years. At round three in Anaheim, that speed garned him a win.
Racer X: People freak out the first two races. Were you worried at all?
Ryan Villopoto: No. It's always a bummer. Not that I was worried, because the speed was there. No questions there. Just being consistent and kind of getting things set up.
But you kind of knew it was coming. It wasn't like, oh, man, we're in trouble.
No. I've done it before. It's just kind of getting a good start. I don't care really how good you are -- if you're outside really top 8, top 10 you're not really going to do much, especially with all the guys in the back. It's not safe to ride back there.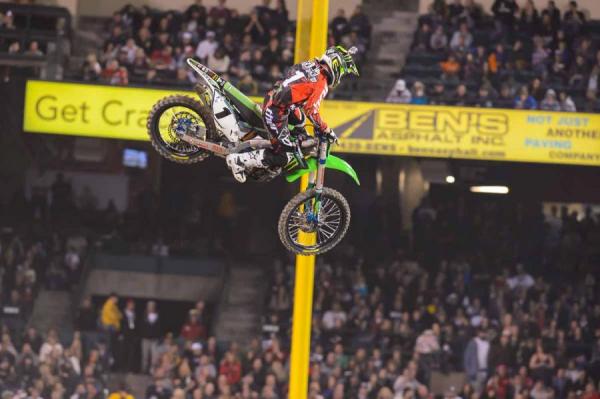 RV won for the first time in 2013 at Anaheim 2 on Saturday.
Simon Cudby photo
It seemed like first few laps you were just kind of in that mix and everybody was battling. Then did you figure something out or did you just happen to get by guys? It seemed like you went from 6th, 4th, 3rd, 1st real quick.
Yeah. It's always hectic the first couple of laps. You've got to take your time. Chad [Reed] actually got around me and then I was able to get him back. So I thought the track was a really good racing track. If they wouldn't have changed that rhythm section over there, we would have had a 3-3-4. Like you come into that turn, you go 300 feet and you touch twice. That's a lot. There's nothing going to stop our bike from jumping the jumps, the rhythms that are out there. So I really liked what they did over there. They slowed it down, made it better for racing, I thought [Note: track builders put in a small bump out of a corner to slow them entering the rhythm lane]. Obviously I won so I'm partial to it [the track]. But I thought it was good. And it's also safer.
What about that wall in the whoops? Is that the same type of thing? Just trying to stop you?
Yeah. We talked about it today. Instead of making it so small make it maybe a little beefier, but still make it steep. So we roll up on it and kind of get over it.
Like land on top of it.
Yeah, I thought it was good, though.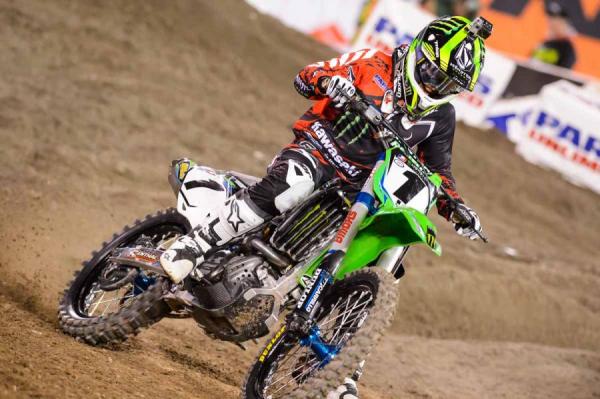 Villopoto sits fourth in points after three rounds.
Simon Cudby photo
So you kind of just waited, bided your time until it was crazy and then…
Yeah, get to make a few little passes. I got passed, like I said, and then had to move forward.
Is there more to do? Are you there yet or are there still things you feel like you could work on?
As a factory we're always working and making things better. It's easy right now because we're on the West Coast and the team's right here. So we'll keep definitely working on things. And then once we go back East, by then we should have everything kind of pretty much buttoned up.
And finally, this week did you make big changes or was it more just the race worked out for you?
No, we'd made changes. Like I said, being the factory that we're all right here on the West Coast it's easy to make changes. They're never stopping and we're never stopping to try to improve. So, yeah, we made some changes this week and it was good.