Well folks, we made it. It's the conclusion of the three-part epic Racer X Vault look back at Kevin Windham's great career. And this thing is still going on for the #14, as he looks to have more years in him. But we'll stop here before having to a part four!
Click HERE for Part I and HERE for Part II.

2005 Anaheim 1 Supercross
Matthes: Anaheim 2005 was dubbed "The Perfect Storm" by the industry and it really was. You had Chad Reed defending his first AMA Supercross Championship, Ricky Carmichael coming off a knee injury and looking to re-establish himself, and 125SX phenom James Stewart making his 250 debut. As well, none other than all-time SX win leader Jeremy McGrath was making a comeback on a part-time basis for Honda. It really was an amazing amount of wins, titles and talent all on the line at the same time. Heck, even Travis Pastrana was on the gate in this one!
And then the rains came. And came some more. In one of the muddiest supercross races in history, none other than Kevin Windham took the win as others struggled with the conditions (my rider Tim Ferry failed to make the main this night when he ghost rode his bike over the finish rather than land on McGrath -- who singled it. You're welcome America!). I was watching from the floor, and Windham had a massive lead as well after RC crashed. A great race all around in some crazy conditions.
Weege: This was my first race ever doing the old Supercross Live! Webcast, and I really showed my skills when A) the bikes became totally covered in mud B) the transponder feed died and C) riders were crashing and losing so much time that it became impossible to tell who was on the lead lap. We were about 90 percent sure Windham was still leading at the end (he had some mistakes of his own, but they weren't as severe as others), but really, I had no clue about the rest of the positions. The race just got so out of hand I can guarantee you the riders and teams also had no idea where they were. But K-Dub killed it -- no doubt this was one of his most memorable rides. Oh by the way, I still say Anaheim 1 2005 was the most anticipated supercross ever and I won't even bother to argue. It's a fact.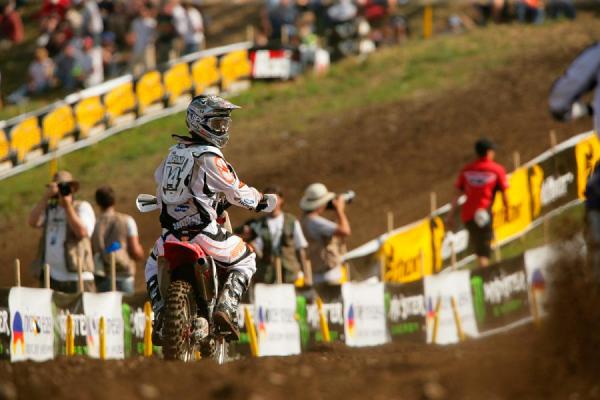 After nearly four years of RC and Stewart dominating outdoors, Windham broke the streak at Unadilla in 2007.
Paul Buckley photo
2005 Glen Helen 450MX
Matthes: I wanted to bring this race up because Windham finished second for the EIGHTH straight race to finish out the year. The rider that finished first for eight straight races? Yeah, Ricky Carmichael. At what point does Kevin just go home and break down in tears when he hears about this Carmichael guy? Windham was very good this summer but RC was just a little bit better. Again. The good news is he was better than David Vuillemin and Ernesto Fonseca, the guys battling for third every week!
Weege: Windham was ready to pounce if anyone had problems that summer, like winning a moto at Unadilla when Stewart landed on Carmichael and took them both down. And a big bright spot for Windham outdoors was his inclusion on the '05 Motocross des Nations Team USA, which won the event for the first time in years. He was on the gas outdoors in '05, but RC was just on-the-gassier.
2007 Unadilla 450MX
Matthes: With James Stewart out of the race after crashing in practice and Ricky Carmichael (the current points leader) sitting out this race on his semi-retirement farewell, Windham took the win on a track that's always been very good to him. When a track is slick and requires precision and throttle control, Windham's your man, no doubt about it. He went 1-3 for the win beating out (sigh) Tim Ferry who did win the second moto.
Weege: Just a crazy race. It had been, incredibly, nearly four years since someone other than Stewart or Carmichael had won in the premiere class outdoors. Then Carmichael skipped this one and Stewart crashed out in practice. Who would capitalize? I remember quizzing the fans before the race for the Racer X Motocross Show and coming up with five different answers. Finally, the series was wide open, and Windham pulled through to win it. By the way, who was the previous non Carmichael/Stewart race winner in the class? Windham of course.
2008 Houston Supercross
Matthes: Windham's always had that something extra when it comes to the races in (or near to) his hometown. Houston is on that list. In 2008, the supercross folks let the riders design some of the tracks, and Windham's win came on a track he designed. If I remember right, he basically rode off for a very popular win. The old guy still has it every now and then.
Weege: When Stewart went out of Supercross 2008 with a knee injury, it looked like Chad Reed was just going to romp. But Windham started to stir, taking this win (when Reed got a bad start) and then battling Chad hard the rest of the year. He had some good fortune along the way, as you'll see below.
2008 Daytona Supercross
Matthes: Much like Anaheim 2005, this race was a massive mudder (probably worse than that Anaheim race, actually) and once again Windham took the top step of the podium. Although he did get a little lucky by having race leader Reed's bike quit one turn from the finish, Windham was way in front of third and looking good regardless. This 2008 season saw a re-birth of Kevin as he captured four wins in all and finished runner-up to Reed for the title. This muddy night in Daytona won't be forgotten by many who were there.
Weege: Oh yeah, I was there announcing from the infield, standing knee deep in water holding an umbrella and microphone while lightning flashed at different times. Safe! But this race was utterly awesome, and honestly, when a dude like K-Dub wins, no one brings up the luck thing. They're just pumped when he wins!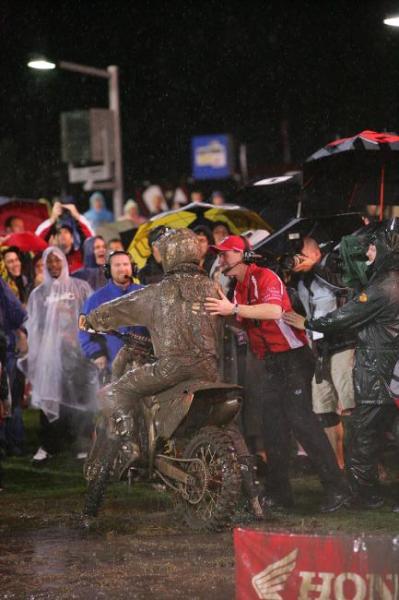 K-Dub took home the win at a crazy mudder at Daytona in 2008.
Simon Cudby photo
2010 Seattle Supercross
Matthes: Windham didn't capture a win in 2009 (and let's forget about the '09 Unadilla National that he tried on a 250F. In fact, I'm hereby requesting that race get deleted from the Vault). But near the end of 2010 supercross series, KW caught fire with two wins in a row -- the first coming in Seattle. On a rutty, damp track the GEICO Honda rider led from wire to wire. And I know this is a Vault column about Windham but I have to say that Tommy Hahn's ride here was amazing as he was flying through the pack and eventually ended up second on the night. Probably the best ride of his 450SX career.
Weege: Windham is an opportunist. When he's feeling it, and the track is right for him, look out. That was the case here. Also, note his best recent SX seasons—2008 and 2010—came when the field was riddled with injuries (including the defending champion in both cases). When K-Dub sees a glimmer of hope and a chance to win some races, he steps up.
2010 Steel City 450MX
Matthes: Just another example of how you can never, ever, ever count Windham out. He jumped to the outdoor series as a favor for the decimated factory Honda team and actually won the penultimate race of the year! It was an awesome ride in both motos and very unexpected as his previous race results were 4, 7, 12, 5. Then he gets this win! It remains Windham's last win in either supercross or motocross and a very memorable one at that.
Weege: Like I said, opportunist. This race was just a masterful performance, you could literally see Kevin managing his energy, his line choice, and the rest of the field, giving just enough of himself without overdoing it and blowing up his 32-years-old-at-the-time body. Kind of reminds me of an old pitcher who can't throw 100 MPH anymore, but still gets hitters out by working the angles. Windham was just an artist with this one—and that's what even in 2013, you can't count him out of getting another W.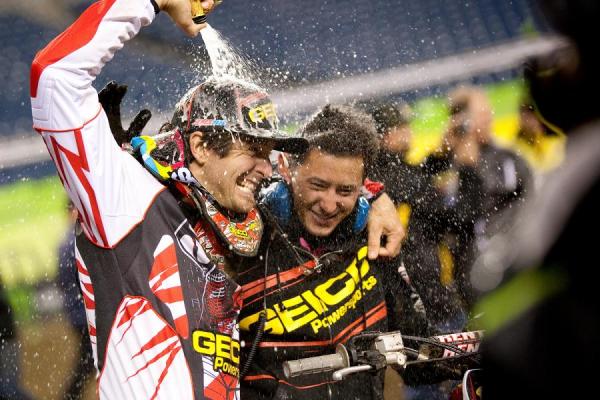 Windham celebrates his first win of 2010 at Seattle.
Andrew Fredrickson photo