Click to view Part I of the Vault featuring Kevin Windham.
2000 Dallas Supercross
Weege: Honda built a juggernaut ready to challenge their old employee Jeremy McGrath for the SX crown, but Ezra Lusk went down in practice at Anaheim 1, and Windham just never really found the groove all season. Despite racing the full calendar indoors and out, Windham scored just one win, here at Dallas. Word started to trickle out that Kevin was struggling with a mental block, he was getting tight, and not having fun. Next up? A change of scenery with Suzuki.
Matthes: Man those 1999/2000 Honda teams were full-on like the mid-80s Honda teams. You had Ezra Lusk, Windham, Sebastian Tortelli and Michel Pichon, all top guys and all capable of winning a championship (okay, maybe not Pichon but still, dude had potential. You get the point.) Crazy that none of them got it done, title wise, but they won a ton of races.
2001 Washougal National
Weege: The early Suzuki relationship for Windham was merely okay. He scored four podiums in supercross, but in general it was another lackluster season indoors. But just when it seemed all was lost, Kevin caught fire outdoors, and put together a phenomenal run at Washougal, beating 250 MX Champ Ricky Carmichael straight-up in both motos. On slicker tracks like 'Shougal, K-Dub has serious skills. He ended up second in outdoor points that season and appeared to be back on the rise.
Matthes: This was typical KW. A so-so outdoors and then we come to Washougal where throttle control and precision is needed and Windham waxes them. I remember being a mechanic at KTM on this day and this was an amazing ride by Windham and one that made so many people shake their head. If he can do this on any given day, why can't he do it all the time?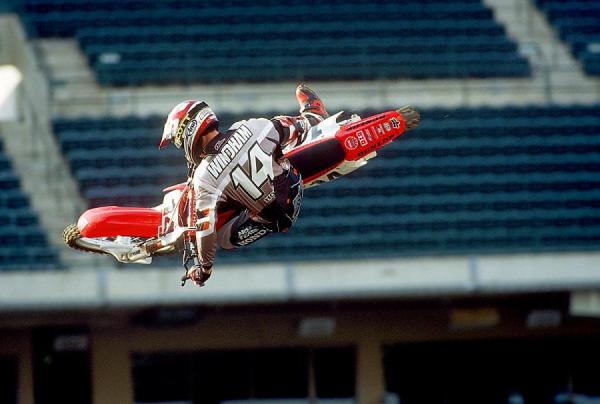 K-Dub managed just one win in 2000.
Simon Cudby photo
2002 Anaheim 2 SupercrossWeege:
An epic night of racing. Word from the Suzuki test track in the winter said that the new Windham/
Travis Pastrana
team combo was absolutely flying, and the competition was in big trouble. On this night, they crushed their heat race and were even giving each other thumbs up over the triples! Then in the main, they checked out again, and Windham was gone! Then, he simply locked up, mentally, physically, or both. He faded from first to tenth. Ouch. Pastrana then crashed while leading, and
Mike LaRocco
out dueled David Vuillemin in a great race for the win. And Windham's downward spiral would continue. A month later, he broke his femur trying to jump a ridiculous jump in Atlanta, and then basically disappeared from the sport.
Matthes: We just had Windham and former factory Suzuki mechanic Tony Berluti on the Pulpmx Show the other day and they referenced this year as being "dark days" for Windham. His off-track life was affecting him on the track and the big money deal from Suzuki was hanging over him as he faded back every week. The team knew what Kevin was going through but were powerless to help him, and after the femur break, they very much thought that his career could be over.
2003 Glen Helen NationalWeege:
He's back! Windham's time off did him a lot of good, and he revamped his career on a 450 four-stroke for the Factory Connection Honda team. And you can't write a much better comeback story than this, as in his first race back, he holeshot and checked out. Fans were going crazy! Unfortunately
K-Dub
crashed on a jump and his Cinderella coach became a pumpkin. But he made a statement, for sure.
Matthes: I was working for Tim Ferry at this race and none of us really knew if Windham was serious, if his skills had eroded after the long layoff or if he was still partying a lot. Well, this answered it for us, he grabbed the lead and you could follow his progress around Glen Helen from the fans pumping their fists and waving their shirts. Windham was back indeed.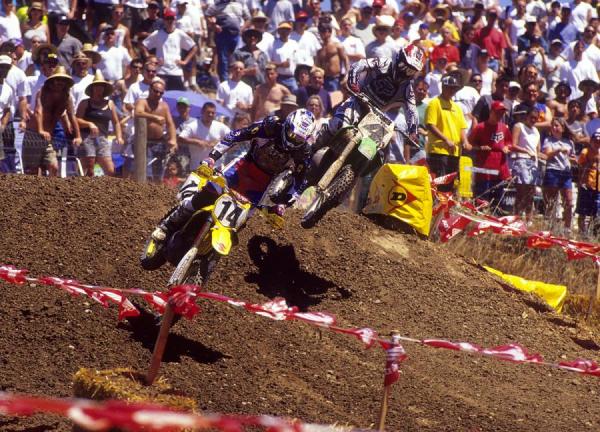 Windham briefly rode for Suzuki during the early 2000's.
Racer X Archive photo
2003 Unadilla NationalWeege:
I've been to just about every National for the last dozen years, and I think the second moto at this race was the most intense battle I've ever seen in the big bike class. Carmichael was carrying a full season-and-a half overall undefeated streak, and when Windham got out front in moto two on that four-stroke, on the slick and fast
Unadilla
track, RC had his work cut out for him. But holy crap did he try. As you can imagine, Carmichael riding a 250 two-stroke in anger is a sight to behold, as is Windham gliding along on a thumper. RC pushed Windham through every inch of it, and Windham proved once and for all he was over his old mental blocks and held on for the win. The fans were going crazy. Windham even said one dude was pressing up against the fence harder and harder every lap, until the dude finally just toppled over the thing and ended up right next to the track, still cheering!
Also, Carmichael's wrench Mike Gosselaar told me they were afraid Carmichael was going to literally break the throttle on his CR250 from twisting it so hard. You want proof for how fast they went? They had a lead of over one minute on the third place rider in that moto. And who was that, Matthes?
Matthes: Unadilla was a good track for Ferry -- he beat RC there straight up in '02 -- but on this day, these two guys were gone. I remember thinking the same thing that Weege says, Carmichael was going to kill himself to try and pass Kevin and the Ferry/Matthes superteam was going to get second. But he didn't and we didn't. Look up throttle control in the dictionary and you'll see a photo of Windham. It's why he's so good at 'Dilla, Washougal and the Las Vegas SX.
Results from 2003 Unadilla.
2004 Phoenix Supercross
Weege: He's back again! Windham's return to supercross started out poorly with a ninth at Anaheim 1, but he came roaring back with a win at round two in Phoenix. This one is memorable because Kevin nailed David Vuillemin on the first lap, and new AMA Racing Manager Steve Whitelock gave Kevin an unheard-of 10 point penalty for rough riding. Huh? Windham later got his points back. Matthes, what did you think of the Whitelock regime?
Matthes: I don't know if I ever saw Yamaha boss Keith McCarty as mad as he was after the AMA gave Windham his points back. Oh wait, I actually did. It was when Whitelock dished out the very first illegal fuel penalty (on Yamaha). Anyways, yeah this was a dirty move but it wasn't THAT bad where the AMA needed to immediately dish out a penalty that they had never done before. Really, we should just go through the AMA rules, penalties, procedures and whatever else Whitelock did and IMMEDIATELY reverse everything. That guy was a terrible referee and his reign of terror was a regrettable one. Yeah, I said that.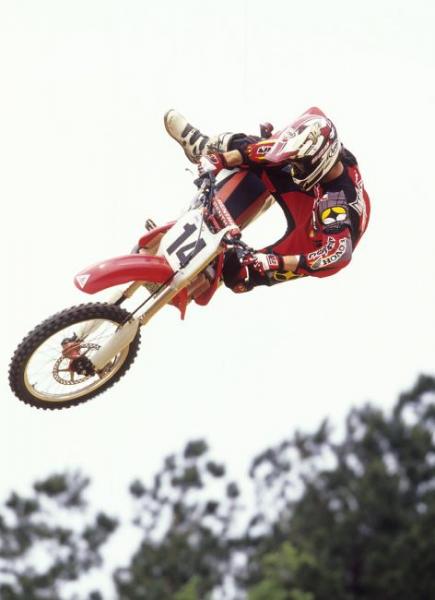 Windham made his return to racing in 2003. And he was back with Honda again.
Simon Cudby photo

2004 Anaheim SXWeege:
Awesome Windham/Reed/Vuillemin battle at the Anaheim 3 SX, and Windham won.
K-Dub
kept some pressure on Reed all season battling for the supercross title. He won five races, but Reed came out on top.
Matthes: Windham's got this ability to rise to the occasion when the wins appear to be there for him. If he's not feeling it, has a bad start or whatever, he'll take what he can get, but when the brass ring is there, Windham can raise his game and grab it. Not everyone can do this (Tim Ferry for example) and it's another reason why Windham has so many wins.
2004 Washougal National
Weege:
Not sure what happened to Windham that summer, but he wasn't the same rider as he was in 2003. It didn't help that Carmichael got on a Honda 450 hell-bent on showing he could dominate on one of those, too. At
Washougal
, I remember him stalking Windham in practice, trying to play some games. Windham looked totally not into it.
Matthes: I don't think this was so much Windham as it was Carmichael, as in Carmichael got a new toy that had a lot of horsepower and hooked up everywhere in the form of a four-stroke. We didn't really know how good those bikes were back then. Believe it or not, there was still debate on the two and four stroke issue in these days. But once RC got on one, we saw how good he was. In '04, Windham was great but Carmichael was better. But credit to K-Dub for being one of the first to show what a 450 could do.