This week in the Kawasaki Racer X Vault archives, we take a three-part look at one of the greatest (and most popular) racers in our sport, GEICO Honda's Kevin Windham. KW has had a great career with factory Yamaha, Suzuki and Honda. There are many great races, but we'll do our best to pull them out here.
1994 High Point 125 National
Matthes: Most people think that this race was Windham's debut, but most people would be wrong. The Team Green kid of out Louisiana actually raced Gainesville two months before this race and got smoked. But here Windham, wearing number 510 on a Kawasaki KX125, holeshot the first moto and checked out. Remember folks, back then amateurs were lucky to break the top ten at a National. Windham looked ready to win! He was caught and passed on the last lap by Doug Henry but really made a mark. A second moto 11th got him 6th OA and he would go on to get another top five before the year was out and that got him a factory Yamaha ride starting in '95. The Kevin Windham era has now begun.
Weege: Yes, Windham came through the ranks with Kawasaki, which is oddly the main brand he hasn't raced on professionally. The press from those days said Kawi was scared off of the amateur kids because Robbie Reynard, who they signed in 1993, had been hurt quite a bit and hadn't really produced.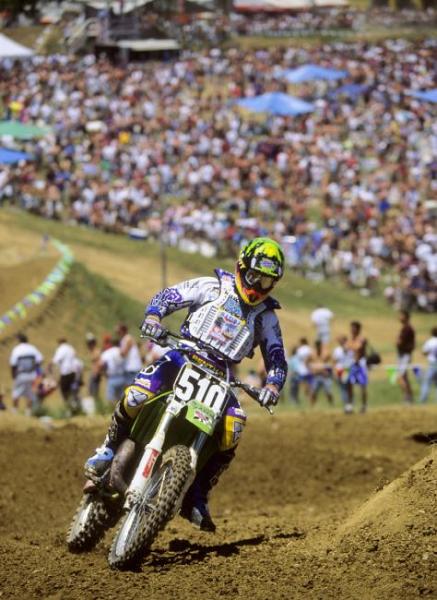 Windham grabbed the holeshot in his second professional race in front of a massive crowd at High Point.
DC photo
1996 Minneapolis 125SX
Matthes: Windham's 1995 rookie season was solid, but cut short with an illness. The next year, he was ready to start winning. Windham rode the opening round on a 250 and ended up seventh. Next week came a 125 East/West combined round (yup, they used to do that) and KW captured his first career 125SX win. Although he had grown quite a bit, the number 38 Fox-clad kid had silky smooth style. This has nothing to do with Windham, but on this night in the 250s, Damon Bradshaw get second behind McGrath and for a Bradshaw fan like myself, it was an indicator that his comeback was just starting to get rolling and soon that McGrath guy was going to be in trouble. Insert sad face here…
Weege: Windham's seventh on the 250 was really impressive, it showed how far he had come since his rookie year. He was a beast in 125SX from here on out. As for Bradshaw, yeah, I don't even want to get into it.
1996 Glen Helen 125MX
Matthes: After scoring a fifth at the opener, Windham captured his first outdoor National win at round two at Glen Helen. Windham would win four 125 Nationals in '96 and finish second in points behind Steve Lamson. Of note was Suzuki's Tim Ferry getting fifth overall. Actually the only person that cares about this is me.
Weege: Lamson was the man in the 125s that year, but Windham was starting to figure him out by the end of the year. The 1997 season was supposed to be this Windham/Lamson mega-duel but some other dude showed up and ruined that.
1997 L.A. Coliseum 125SX
Matthes: Coming into the '97 series with the number one plate, Windham smoked the opener at the Coliseum and talk was that he would probably go undefeated all year in 125 West. But the next race, a memorable one for so many reasons, Windham crashed his way back to an eighth. It looked like Primal Impulse Honda's Robbie Reynard was going to win, but Moto XXX's Brian Deegan got around after Reynard faded. Deegan won and a Frenchman named David Vuillemin got his first career podium with a second. Lots of history here. It was a crazy race, watch it sometime and you'll know what I mean.
Weege: All I can say is: ghost ride!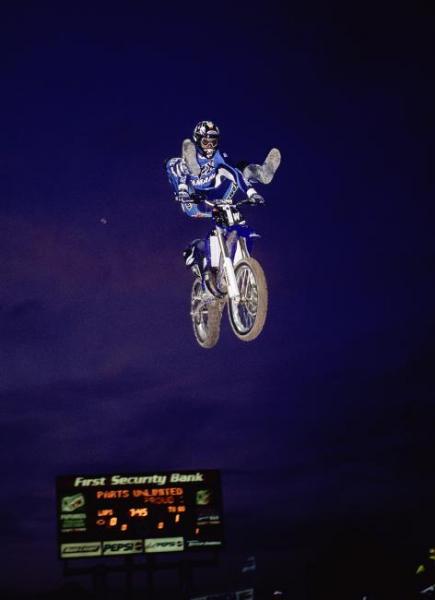 Style for miles.
Sanderson photo
1997 Charlotte 250SX
Matthes: After getting his first podium in the 250SX a year before, Windham shocked the world by straight-up winning the 250SX race at the same venue. He was still a 125 rider on the other coast! On a little bit of a muddy track, Windham grabbed the early lead and just checked out on the #7 YZ250. It was a never-before-done feat and one that cemented Windham's status as a possible 250SX title winner.
Weege: Crazy race. Looked like McGrath was going to take the 250 points lead from Jeff Emig but then he got a flat tire. Wait, isn't this about Windham?
1997 Las Vegas 125SX
Matthes: The big 125 East/West Showdown. The talk was all about West Champion Windham and East Champion Tim Ferry… wait, that was just me? No the talk was really about Windham and Ricky Carmichael and which rider was the fastest. In the main both riders went at it hard but the dry, slippery track suited KW's superior throttle control and he passed RC and walked away. Carmichael crashed out of the race. It was a statement win for Windham.
Weege: Windham really handled RC, and Ricky was spotted on TV crying. I'm not joking, at the 2005 Atlanta Supercross, Windham mentioned that RC passed him a little aggressively, and RC countered, "Yeah well some people would say you crossed the line at the 1997 East/West Shootout." He referenced a pass from EIGHT years earlier. The lesson: don't get RC upset!
1998 New Orleans 250SX
Matthes: After winning two 125SX titles and finishing second twice in the 125MX series, Windham moved to the 250s full-time for '98 and struggled a bit early. But at his hometown race in New Orleans, Windham finally broke through with his second career win in 250SX and first of the '98 year. It was the beginning of a pattern for Windham where he would step up at the races that were either in his home state like this one or close to it, like at Houston. The big pots of gumbo shrimp being boiled in the pits brought out the best in the Cajun.
Weege: Kevin got on a roll after this one and points-leader McGrath stumbled with a rare DNF at Pontiac (he broke his handlebar mounts in a crash). Windham seriously could have stolen the '98 SX title in his rookie year, until he crashed and broke his collarbone a few weeks later.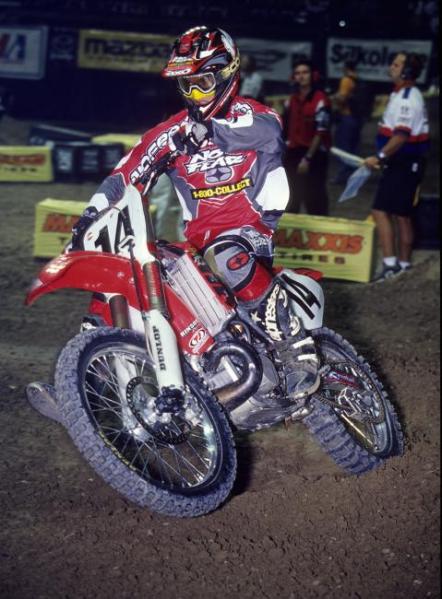 Surprisingly Windham signed with Honda at the last minute in 1999.
Racer X Archives photo
1999 Steel City 250MX
Matthes: After a protracted bidding war that saw Windham re-sign with Yamaha only to renege at the last minute and sign at Honda (reportedly because of friction with Windham's then-girlfriend and now wife Dottie and Yamaha manager Keith McCarty), Windham went red in '99 to some mixed results. He won two supercrosses, but in the Nationals, well, this is one title that I believe Windham left on the table. He made a mid-season run on Suzuki's Greg Albertyn, but couldn't sustain it. A 17th at the Glen Helen opener had just put KW in too big of a hole. And the next year saw Carmichael move up to the 250MX series and it was all over from there for everyone else.
Weege: Before RC, the big class was really competitive outdoors, and guys swapped wins every week. KW got four that year, and Albee only got three, but Greg's consistency won the deal. But hey, Kevin will have plenty more years to get a title, right?