By: Simon Makker / MotoOnline.com.au
After a baptism by fire at his first season on a 450 in Monster Energy AMA Supercross an FIM World Championship in 2012, Broc Tickle found a new head of steam during the Lucas Oil Pro Motocross Championship, finishing a career-best fifth overall in the series.
His new turn of speed aboard the Monster Energy/Pro Circuit Kawasaki caught the eye of the new RCH Suzuki team (formerly Hart & Huntington) and he's changing brands for the third time in four years. We caught up with the Michigan-born racer to find out how he's settling in with the team and working with the GOAT himself, Ricky Carmichael.
Racer X: Broc, after two years at Pro Circuit, how different are the team dynamics now at RCH Suzuki?
Broc Tickle: It's been a really cool change, actually. I've been with RCH since October and it's kinda been relaxing because everything has come together so smoothly. I'm really impressed with this team and what it's accomplished in such a short time. Carey [Hart] has a lot of marketing power, as does Ricky [Carmichael]. Even team manager Kenny Watson is awesome.
Having Ricky on our side is also an awesome bonus. He's come out testing with us a couple of times and ridden our bikes, then gives his feedback. With him involved it doesn't get much better –- he was with Suzuki for a long time and knows a ton of little tricks to improve the handling and performance.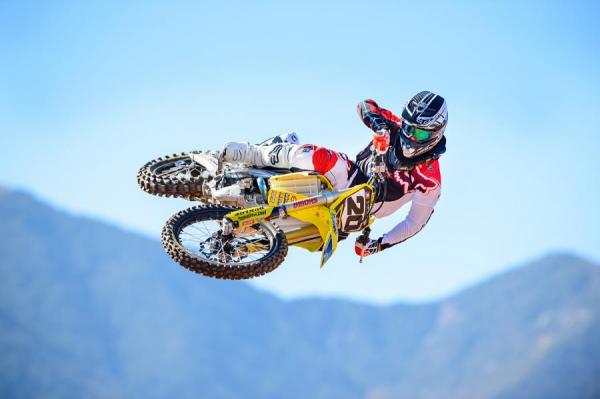 After two years with Monster Energy/Pro Circuit Kawasaki, Tickle has signed with RCH Racing Suzuki for the 2013 season.
Simon Cudby photo
Speaking of working with RC, how's it been working with one of the biggest names in the sport?
A couple years ago it would've been more shocking and I would've been a bit starstruck, but I'm more comfortable around those guys now. Ricky is an awesome guy -– he can joke around but he can also be serious when he needs to.
A few weeks back we went to a Suzuki dealer convention in Vegas and we played a round of golf together. Me and RC were stirring each other up a bit, and as I was about to tee off Ricky says, "If I beat you on this hole you have to do two 25-minute motos."
We ended up tying for five holes and it was starting to get dark. In the end we threw the ball out and had to pitch it onto the green, with the closest to the pin winning. I won, but as I picked my ball up Ricky says, "You know, if I'd asked Dungey to do two 25s he would've just done it."
[Laughs] Classic. How's all the testing going leading into the 2013? Hell, it's only three weeks until A1, right?
Yeah it's coming up fast! Testing is going great and I'm impressed with the bike, especially the way it corners. Josh Hill and I are running factory Suzuki machines that are practically the same as what James Stewart is running, so you know it's going to be fast. I'm loving the air fork too -– that system is amazing once you get used to it.
You're heading into your second year in the 450 class, and you're the first to admit you struggled at supercross last year. Do you think you're on a different level now?
Yeah, I struggled with confidence last year. Everyone has a learning curve or a hump when they step up, and it took me a while to get over. It's weird, it always seems I have to learn things the hard way, but it helps make me stronger in the end.
RC has us on a great training program and my trainer, Johnny Louch, is working me hard. I feel pretty tired, but I'm feeling good at the same time. It's strange because I don't usually ride well when I'm tired, but for some reason it's really working for both me and Josh.
Now, you've also just scored your first Racer X cover. How does that feel?
Man, I'm so pumped on it. So pumped. I kinda thought I'd get a cover after I won the West Coast Supercross title in 2011, but the wait was worth it. It doesn't get any better than a Racer X cover. It feels the same as getting your first win.
It really is a dream come true and I'll always remember it. If I get one of those big blown-up things I might put it in the garage, and I think Jess [Broc's wife] should get a copy of the magazine and put it in a shadow box and put it on the wall. I think I may have just given away my own Christmas present [Laughs]!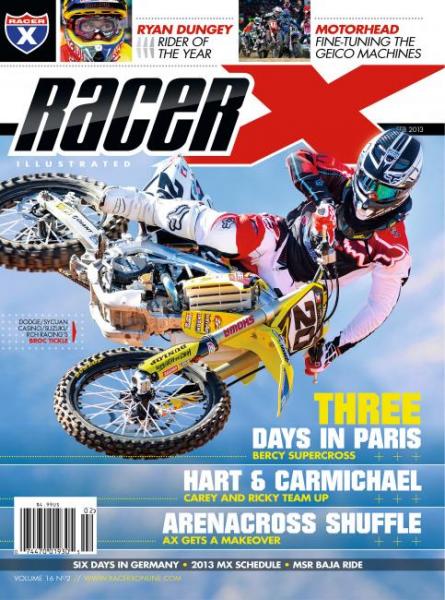 Tickle on his first cover of Racer X Illustrated.
Simon Cudby photo
Nothing like dropping some not-so-subtle hints, bro [laughs]! Speaking of Christmas, you must be hanging out for a bit of a break after an intense off-season … if you can call it that.
Yeah we haven't had much time off at all since the final round of the motocross at Elsinore. Every day I leave the house at 8:00am, I'm back for 30 minutes for lunch with Jess, then I'm back out training again until 6:00pm.
We haven't had much downtime at all, so every weekend I want to get away from my dirt bike and just play golf. I did some freeriding at Beaumont over the weekend as we just had some good rain. But I don't call that as working. Freeriding is just fun times riding with your friends.
Over Christmas we get five days off, so we'll go back to Michigan and hang out with our family. Having only four days sucks though. I feel a bit cheated about that [laughs]. But as each day passes I get more excited for Anaheim 1. We've put in a lot of work and I want to make sure it pays off when the gate drops.
Can't wait, man. All the best for A1 and have a great Christmas break.
Thanks, Simon. See you over here soon!