After a few trips into the Vault tracking some older riders (David Vuillemin, Jean-Michael Bayle and Chad Reed) we're turning our attention this week to a younger buck named Trey Canard. And since Trey grew up racing in the U.S., we've also tracked him through the Loretta Lynn's Vault.
Want to look up someone else? Go here for the Loretta's Vault and here for the Pro Vault.
Once again Jason Weigandt and Steve Matthes weigh in on the big moments.
2006 Loretta Lynn's 125 B Mod – 1st
Weege: Up until this point, Canard was a good amateur, often producing top five or podium rides, but getting overshadowed by perennial champions like Austin Stroupe and Nico Izzi. But 2006 marked his breakthrough year, as he landed both championships in his B classes.
Canard's win over Kyle Cunningham for this 125 B Mod title was only part of the story. His real comp was expected to come from fellow Team Green rider Stroupe, and Canard came out on top in their first moto battle. That was the confidence boost Canard needed to dominate the rest of the week. That moto really changed his career, in my opinion.
Matthes: First off, who knew we had a Vault for Loretta Lynn's? That's my first question. I'm glad we do and once again thank you to these brave souls for compiling all this crap. And my second point, who cares about Canard's results from amateurs?
Results from Loretta Lynn's 2006.
2007 Loretta's MX Lites A – 1stWeege:
After his stellar 2006 in the B ranks, Factory Connection Honda signed Trey as their first amateur recruit, and he delivered all season. A Loretta's showdown against old rivals Stroupe and Izzi was looming, and the battles were incredible. Canard came out on top in both of his classes that year, earning the AMA Horizon Award.
Matthes: I have nothing to add to this. Go ask Wes Williams and Brent Stallo from Vurbmoto what they think. They like amateur stuff.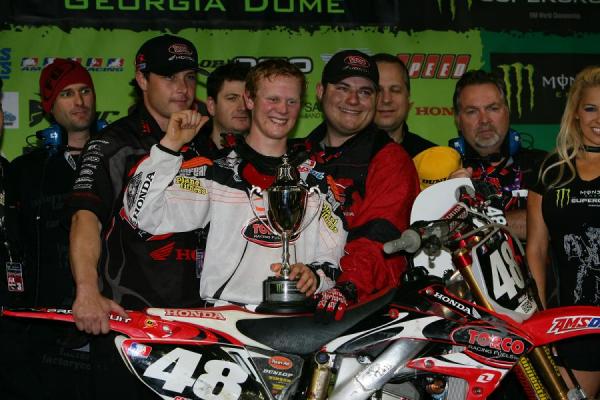 Canard made quite the SX debut in Atlanta in 2008.
Simon Cudby photo
Results from Loretta Lynn's 2007.
2007 Spring Creek MX Lites National – 8th
Weege: Trey's pro debut. He crashed out of moto one at Millville and tweaked his shoulder, but miraculously returned to the gate for moto two. Then he pulled the holeshot and led! He finished an impressive fourth in the moto—but his rookie success was just beginning.

Matthes: This Canard guy doesn't seem to be the real deal, he can't even finish two motos! Anyone can get lucky, holeshot and lead the moto for a while. Oh wait … guess this kid is for real. But seriously folks, just by being selected to ride for GEICO right out of amateur's should tell us he's legit. I was there that day and this was the summer of RV and Townley with a bit of Metcalfe sprinkled in. No one else was even close. Good work by Trey to get fourth.
Results from Spring Creek 2007.
2008 Atlanta/Indy/Daytona SX Lites -1st
Weege: What a supercross debut! Trey wins big while Josh Grant and Ryan Villopoto crash into each other. Suddenly the rookie has a race win and a points lead over the favorites. Then he wins again in Indy when Villopoto hooks a tuff block in a battle for the lead, and wins again in the all-time epic Daytona '08 rain race. If Trey had just retired three races into his professional supercross career, he'd have retired undefeated.
Matthes: Ah, he got lucky at the first round when the heavy hitters has problems. Wait, he won the next one also? And then in the crazy-ass mudder that was Daytona the kid went out and did it again? Oh wow, he might just be really, really good.
2008 St. Louis SX Lites – 1stWeege:
This was a shot heard 'round the world. Villopoto clawed back into 250SX East title contention, setting up a winner-take-all showdown at the St. Louis finale. They battled, Villopoto took the lead, and then Canard retaliated by riding the ragged edge down the inside of a corner—they collided, Villopoto was plowed into the finish line scaffolding, and Canard went onto win the championship in his rookie season. This was high drama!
Matthes: The pressure was on the rookie. If you go back into a time machine and ask the pit insiders who was going to take the title this night, most of them would have gone with RV. But instead, in a great race, Canard did what he had to do (and I really think to this day that this was just a racing incident). It was an amazing season and because of this move, to this day, Villopoto and Canard have a bit of a frosty relationship.
Weege: I've heard that Trey was just as upset as he was happy after the race, because he didn't want to be seen as a dirty rider. C'mon, when you win the title you should be nothing but, um, what's that term? Yeah, 200 percent happy. 200 percent! Ah, I remember it like it was yesterday.
2008 Washougal MX Lites National – 23rd
Weege: Ouch. Canard's first full outdoor tour didn't start that well, but he found his groove at mid-season and started battling for podiums. He led Villopoto and Ryan Dungey for most of the second moto at Washougal, and looked set for a third-place finish until he tangled with a lapper in the waning moments. He broke his femur, and with that, his rookie season was over. The femur break also gave him a late start on the 2009 SX season, as injuries to other GEICO Honda riders forced him into the West Region. He wasn't quite ready, and he was only able to deliver one SX win all season.
Matthes: Bad deal for Trey and this break would come to haunt him later on as we know now. Scanning these race results I see a Justin Brayton on an MDK KTM250F going 23-36. What happened to JB? One spot below him is the pride of Canada Kyle Beaton. That's all I got.
2009 High Point 250 National – 10th
Weege: Trey battled for his first-ever National Motocross victory at High Point. Late in the second moto, while leading Christophe Pourcel and Ryan Dungey in a torrid battle, Canard caught a kicker and endoed on a big jump. He broke his wrist and that ended his '09 season.
Matthes: This was a heartbreak for Trey as he looked to be on the leader's pace for the first time all year and after Trey was hauled off in the ambulance, Pourcel mentioned that he was out of control and that was why he crashed. Once again, stay classy, Christophe.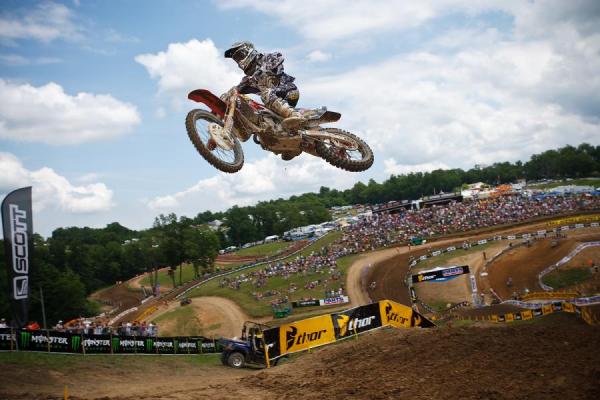 Canard's 2009 season would end early at High Point.
Simon Cudby photo
2010 Atlanta 450 Supercross - 2nd
Weege: While battling Jake Weimer for the 2010 West 250SX title, Team Honda placed Trey on Andrew Short's CRF450R for the eastern races. He crashed out of his 450 SX debut at Indy, but holy crap did he come back in impressive fashion the next week in Atlanta, taking second. It kicked off an impressive run of five-straight podiums on the big bike.
Matthes: I remember the week before Trey pulled a massively dork loop-out while going up a dragon back and all of us wondered what Honda was thinking. But then one week later he figured it out big-time and was so impressive that you worried about how he would react jumping back down to the 250. We now have a name for that disease, it's called "Elitomac-itis".
2010 Seattle SX Lites -11th
Weege: When West 250SX returned in Seattle, Canard and Weimer were going toe-to-toe for the title. But in the second turn of the main event, Canard was actually taken down by his then-teammate Blake Wharton (it was an accident!) From last, he could only recover for 11th, and Weimer's third essentially decided the title. Also, Steve Cox interviewed Wharton a few days later for this website, and basically asked: "Blake, what were you thinking!?" in 30 different ways. He was just ruining him! I was waiting for Cox to say, "Blake, you're grounded. Go to your room." I guess you could say he was asking him the hard questions?
Matthes: "Dear Blake Wharton, I've got this, I don't need the help. Thanks though, Trey"
2010 RedBud 250 National-1st
Weege: The epic comeback begins. After a lackluster start to the 250 MX campaign, Trey puts in two solid motos at Thunder Valley in Colorado, then wins RedBud with 4-1 scores (when he crossed the line with the second-moto win, he didn't even realize he had won the overall). Suddenly Canard goes to another level and wins four overalls in a row
Matthes: Dear Weege, The Tim Ferry didn't start working with Trey until 2010 which is, you know, the year he won the 250MX title. I was just talking to Trey about this race the other day and this is really where the momentum started for him. He sort of came out of nowhere to dominate the second moto and it gave him some confidence that he can indeed win. Up until this point he had been good, but a tick off of Pourcel's pace. After this, with Ferry by his side, Canard started racking up the wins.
2010 Steel City 250 National – 1stWeege:
Pourcel had the 2010 250 MX title seemingly in the bag at the
Pala
finale until he crashed and busted his shoulder. But Canard's win the week before at
Steel City
prevents anyone from saying Trey lucked into the championship. At
Steel City
, he and Pourcel went wheel-to-wheel in both motos, and Canard came out on top both times. It was clutch, championship-level stuff to the highest degree.
Matthes: And Canard on the podium told the ignorant fans to stop booing Pourcel which was even cooler. I remember thinking that Christophe appeared to let Trey get away in the second half of the motos and wondering if that was the smart thing to do. Trey and CP were both so great this day as they decimated the field.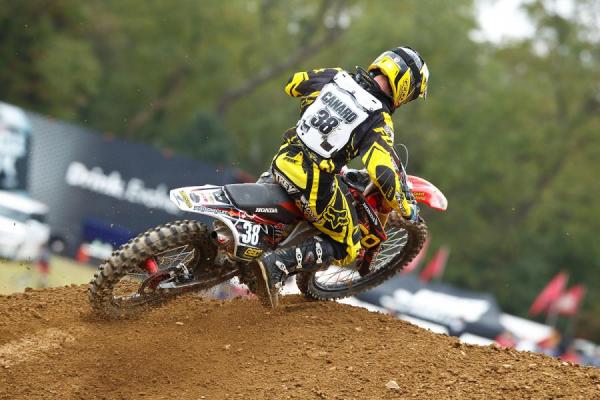 In 2010, a win at Steel City helped push Canard to the championship.
Simon Cudby photo
2011 Houston SX- 1stWeege:
Trey was fast right from the start of his rookie 450 Supercross season, and then in a wild race in Houston, he bested
Ryan Dungey
for the win by about a wheel length. He also won in Jacksonville and was right in championship contention until another femur injury ended it early.
Matthes: Big night for the sport, as the first corner claimed a ton of guys, and Kevin Windham appeared to be on his way to the win when he went down huge. Trey was there for his first ever supercross win in the 450 class. It all seemed so easy for the #41 as his ridiculous scrubs and whoop speed were just plain better than everyone else.
2011 Spring Creek 450 National – 3rdWeege:
This was the race where
Chad Reed
famously "Chadapulted"  while leading the second 450 moto. Well, it was also Canard's first-ever 450 MX National and he finished a solid third. Unfortunately, he'd break his femur again the next week while running up from at
Washougal
. Since then, a variety of other injuries have mostly kept Trey on the sidelines, but he'll be back to try to make more history starting at Anaheim this January.
Matthes: All the other riders should be so lucky to come back after months off and make the podium in their first outdoor race back. Lost in the championship drama and Reed's crash was Canard's solid ride but alas, it would only last for a week. See you at Anaheim!