On Wednesday evening, November 28, 2012, I ran into Jim "Bones" Bacon in the back of the Pro Circuit race shop where he was helping a few mechanics place a few engines and suspension components into a blue and yellow Pro Circuit box van. They were going testing on Thursday with new Monster Energy/Pro Circuit/Kawasaki team member Martin Davalos. Soon to be a seven-year member of the Monster Energy Supercross 250SX division, Davalos, after riding for Yamaha, KTM, and as of the last two years, with the Rockstar Energy Racing Suzuki team, has now been tapped by Pro Circuit ringmaster Mitch Payton. I asked Bones what he thought of the outfit's new rider.

"Martin's speed has always impressed me and Mitch also," offered Bacon of the highly talented rider who, almost mysteriously, has yet win a 250SX main in his career. "We'd go to the races and he'd have the fastest practice time quite often or he'd get a good start and run up front for a while but he never seemed able to close the deal. I don't know if that was fitness or confidence in himself or whatever, but hopefully we've taken care of that problem. He's put down some really fast laps at the practice track. From what I've heard he's always been able to do that, but what I see and what I never really hear anybody else talk about is the consistency of his lap times now – and he can do that for 20 laps now, not just 15. The more I work with him I think he gets more confident in the bike. He's real free on the bike and doesn't ride it tight so he won't use a lot of energy. It would baffle me if he doesn't do good this year because he's got every ingredient it takes – he's fast and he's consistent. Some of the other guys out there are fast but I don't really see the consistency in them like I see in Martin. I think if you put that together and build his confidence it would be amazing to me if that doesn't pay off."

Earlier that afternoon I ran into Davalos at the Pro Circuit shop. I sat down with the super-friendly 25 year-old racer and began firing off questions about him, his career and his new team. Following is what Martin had to say.

Racer X: Martin, what are you up to here at the shop?
Martin Davalos: Basically, I went training today at the Kawasaki track here in Corona. After that I came to the shop to talk to the guys because I had some feedback about the bike. After that I decided to swing by Monster and grab a couple goodies for myself. Basically, when I'm done riding I usually come to the shop in Corona and talk to the guys about the bike.

When did you start riding the Pro Circuit bike?
Basically, I started riding the bike, I would say, at the end of October. So I've had it a little over a month so far. We started riding outdoors first so I could get used the new frame, new bike – new everything. Then, obviously, we then started riding supercross. So far the bike has been unbelievable. I've done a lot of testing with Bones [Bacon] on the suspension. I couldn't be any happier than where I am at right now. Everything seems to be going very good well for me and I enjoy every aspect of the team so far. The whole crew and the whole team has been very welcoming to me so I am super happy.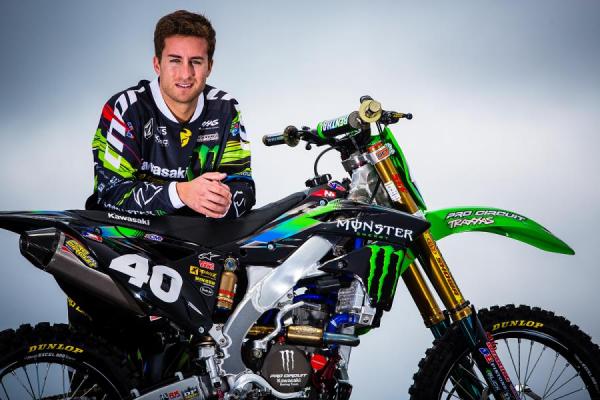 Davalos signed with Pro Circuit for 2013 after spending last year with Rockstar Energy Suzuki.
Pro Circuit photo
Do you interact with Mitch a lot?
Yeah I like talking to Mitch. I come to the shop once in a while and I ask him a couple of questions. I don't talk to him a lot, but I like talking to him and letting him know how everything is going and how the bike is doing and stuff like that.

Over the years I've talked with dozens of riders who left various race teams to join the Monster Energy/Pro Circuit/Kawasaki team. On many occasions, I've had these riders say to me, "When I got on that Pro Circuit bike the first time, it was so fast and so perfect that it felt like a cheater bike." What's your take on that?
You know I was with Suzuki for two years and it was a good team. However when I first rode the Pro Circuit bike I was amazed. It was like everything was perfect.

One thing I hear pretty often from the Pro Circuit riders is that everyone really pushes each other at the Kawasaki test track. Last year Dean Wilson mentioned to me that there is always a sort of pressure out there at the track because stop watches are always out. Do you get that feeling at all?
Yeah, I mean everybody wants to go fast and I think that's what it's all about. Everybody pushes each other and you want to go faster than your teammates. It's just competitive like that and I think that's a great thing. All of my teammates are not running right now, but I'm sure that once they healthy it's going to good.

How did Pro Circuit approach you? How did you end up on the team?
Well, basically, Suzuki approached me to re-sign a contract. At the same time Mitch contacted one of the people who helps me out. But basically I called Mitch about it because I heard he was looking around, you know? I told him I always wanted to ride for his team. When Mitch told me there was a chance for me, it was just all or nothing. I wanted to be a part of it. I wanted to give it a shot. I've been in the class for quite a long time and I feel like this is my last shot for the class. I'm glad to be a part of the best team to try and accomplish my goal.

When you and Mitch put your deal together, did he tell you he expected a lot out of you in 2013?
I don't think he was like that, but obviously when you're signing for him you know that you're expected to win races, you know? He is known to be the best of the best, so you know what you're signing for and I think it's pressure in the positive way.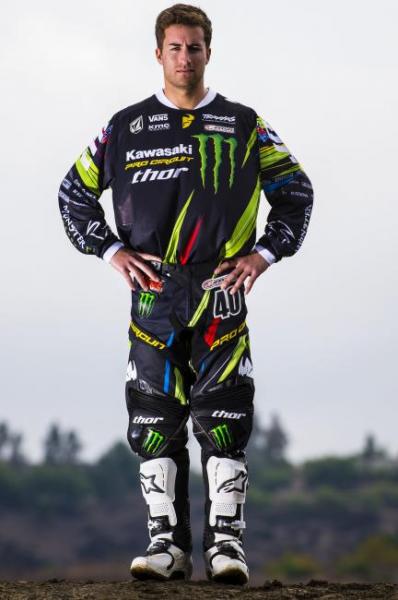 The seven-year veteran has high expectations for the 2013 season.
Pro Circuit photo
Do you feel like you have to start winning immediately in 2013?
I don't feel like I have to, but I want to. Like I said, I've been around the class quite a bit of time and I have had experience. I've always been fast. Right now there is no doubt in my mind that I have the best equipment in the world. Now it's a matter of me delivering it. I'm working hard in the off-season. I just want to go racing. I know my hard work will pay off and I know if I ride the way that I know how I can ride I know I will be competitive with everybody.

2013 will mark your seventh year in the class. Is your mindset for 2013 different than it has been before?
I've always wanted to win races and everything, but right now I feel like at this stage of my life I'm more calm and I know what I want and I know how to approach it. I just have to believe in myself. I know I'm a hard working kid and I know I'm doing the right things to be at that level and I don't have any doubt in my mind that the team is providing me with the best that there is. And they are working so hard to get the bike even better. I know that there isn't going to be any problem with that aspect. It's going to be a matter me delivering at the race.

Do you have a championship in you?
You know, that's my goal. My dream when I came to America was to turn pro and to be able to sign with factory teams and podium races. But you don't win a championship at the first race. Obviously, I want to win races and accomplish that goal before I move up to the big class.

Come the season finale in Las Vegas in May, what will make you happy?
Just to come to Vegas knowing that I have a shot at the title. That would make me really, really happy.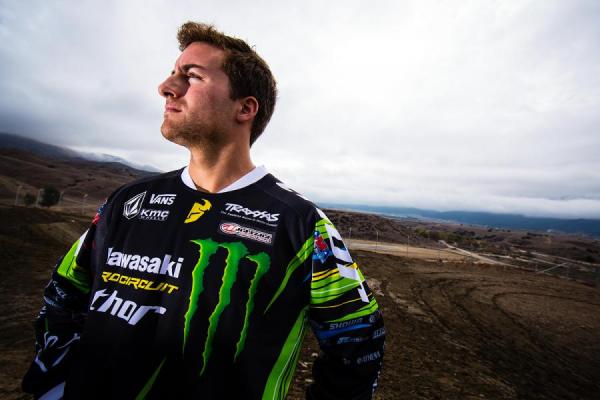 Davalos is hoping to capture his first career 250SX win in 2013.
Pro Circuit photo
Would not winning a championship this season disappoint you?
That's definitely is a tough question. I think it will. Like I said, I've been in the class a lot of years and the competition just keeps getting tougher and tougher. There are great riders and Eli [Tomac] is coming off a championship. I don't have enough fingers to count how many good guys are out there. You have to be very respectful to everybody because everybody works hard and everybody has the same goal. I think at the end of the day, if I know I worked my hardest, I think I'll be happy.  

Epilogue: Late on Wednesday meeting I went to see Mitch Payton at his porting bench and asked him why he tapped Martin Davalos to join his championship dynamo of a race team.
"I've always seen Martin ride really good in supercross. He's always one of the guys on the board in practice and he always does everything really quick. He was a kid we spoke to in 2008 and we were close to doing it, but we didn't. But we've kept a friendly relationship. I've always watched him and always thought he was really talented and always wondered why he didn't close out the deal. I don't really know why. This year we had a slot open and he was available. Every year we bring his name up and this year it worked out. I'm glad to have him. I think he's going to be really good and he can win for sure."