Unadilla MX
New Berlin

,

NY
Unadilla
Lucas Oil AMA Pro Motocross Championship
In all reality, Phil Nicoletti was never supposed to be in this situation. The New York native was scheduled to return to Australia for another season Down Under, but the plug was pulled after Nicoletti had visa problems. Unable to return to Australia for three years, Nicoletti needed to find a ride in the U.S. again, and he was picked up by Eleven10 Mods Honda to compete in Monster Energy Supercross and Lucas Oil Pro Motocross. In his first year back in the States, Nicoletti's season has been littered with complications. But Nicoletti has remained optimistic through it all, taking the punches while throwing back even more. We caught up with Nicoletti after a training session at ClubMX in South Carolina to talk about his recent split from Eleven10 Mods, his 450 debut and much more.
Racer X: You and Eleven10 Mods parted ways over the two-week break. Can you provide some insight on what happened?
Phil Nicoletti: It was just between me and Chad [Sanner, owner of Eleven10 Mods]. Chad's an awesome guy and, yeah, he can build sick motors, no doubt about it. But it would just come down to the point where we were having some issues with stuff. It developed to where we were going to do a 450 deal. I was going to skip Washougal and get ready for the last four and some things happened and I couldn't get a 450. Then we just decided that I would get my own deal and do what I could do. Me being a bigger person, I figured that riding the 450, since my 250 season had already been shot, would help me get a new insight on things. So I decided to hop up to the big boys' class.
So everything ended up on pretty good terms? It was just a mutual decision to go separate ways?
Yeah, I mean, I believe so. It's already kind of strange to have that happen, but, I mean, obviously it's part of the sport. It is a business, so he had to be respectful of me and I had to be respectful of him. I would like to say we're still cool, but we just had to do two different things, you know what I mean?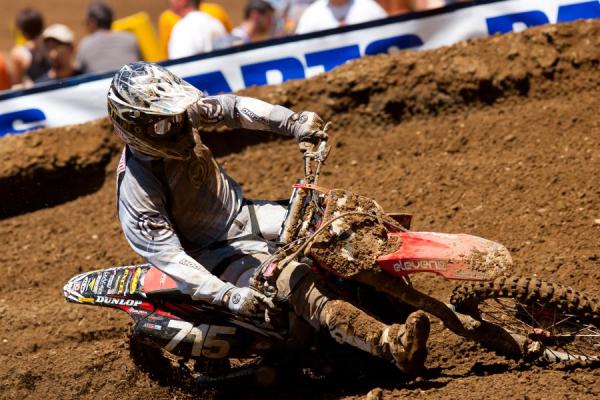 Nicoletti and Eleven10 Mods parted ways during the two-week break.
Andrew Fredrickson photo
You made your 450 debut at Southwick on a privateer Honda, and were as high as second in the first moto. Then you had some bike problems there at the end. Can you take us through what happened?
I think I was ninth first practice. Everything was going good and I hadn't been in the top ten in practice all year, so I was pumped on that for myself because I'm not a very good in practice. But the gate drop and everything caught me quick and I was in second behind [Mike] Alessi for a little while. I dropped back behind [Ryan] Dungey and I sat in third for a couple of laps. Then around the 20 minute mark, I came down and I kind of stalled it in the corner. I think my bike just got so hot because I had a crack in my radiator, like out of the spigot, which was weird, and I was losing a bunch of coolant. I didn't have a spare motor and I don't know if it would make it another 10 minutes. I highly doubt it because it was pretty well canned. So, I decided to just pull in. I had to get a new radiator and get set for the second moto.
But you bounced back nicely with a thirteenth in the second moto.
Yeah, I mean, thirteenth wasn't what I wanted. I wanted to be top ten. But I was coming in with 35th gate pick and the motor just didn't go good, you know? I had no flow, I was hitting every bump. I rode absolutely terrible. So that moto was on me. But I got thirteenth and to actually kind of finish the moto, I was pretty happy. But we're fixing a lot of things for next weekend at Unadilla, so it's kind of nice. I've got my dad back in my corner and one of my old mechanics, Paul Bruno. So it's working out good and we'll see how it works out.
Tell me about the track a little bit. Some of the guys were saying it was probably the hardest Southwick has been in a while and a lot of guys even said that it's the hardest track they've ever ridden. What were your thoughts on it and do you think it was the hardest Southwick has been?
Well, I'm from New York and I've never really ridden Southwick much. I've only ridden it three times now. I kind of stayed out of New England as an amateur. But, yeah, it was pretty rough, but I train down here at ClubMX and they have one of the gnarliest sand tracks, I'd have to say probably in the world. Going to Southwick, it's not what you'd think it would be. It's got a lot of hard, chattery bumps and there's not a lot of sandy, wallowing G-outs like people would think. But for sure, it was definitely rough and to go 35 minutes on that track is pretty brutal. It is on any track, but that track, it was tough.
Your season this year, I'd say you've had a proverbial black cloud hanging over you at times. But it seems like you've shown great resolve and continued to pick yourself up by coming back with good results after a bad moto or mechanical problem. What, if anything, can you attribute that to?
I don't know. My dad always tells me not to quit and always keep my head up, but it's hard in this sport. With so many things that can happen and so many variables that can let you down, it's hard to go week in and week out when there's nothing there. There's no bikes, there's no budget, there's no shower even. To keep plugging away, to keep training day in and day out, it's rough. It's not only physically demanding, it's mentally demanding. I go to bed every night and I'm just completely exhausted, you know? Especially preparing for Southwick, where it was all on my own. I was lucky enough that JGR was able to do my motor real quick and throw something together. But to have a week and a half to get everything ready, I had to do it for myself and just stay strong and keep plugging away. It's really all you can do.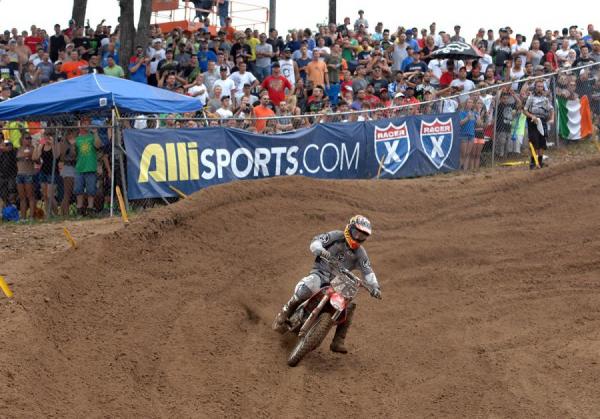 Nicoletti made his 450 debut at Southwick finishing 20th overall.
Carl Stone photo
The series comes back to your home state this weekend at Unadilla. Obviously, this won't be like any other race. You'll have family and friends there. What are some of the challenges you have to face when racing in front of the home town crowd?
It's the same as any other race. Yeah, there's more people there that you've got to talk to and shake hands with, but it's where I'm from, it's where I grew up. I wouldn't change it for anything. I'm always a New York boy and I always will be. But it's good and it's all been good here at Unadilla because as a kid I never would be able to ride the national track because it's only for pro days. Just being able to watch [Ricky] Carmichael and all those guys through the years has just been amazing. I mean, it'll be fun to get out on the track, and racing in front of my home town crowd is awesome.
Do you feel like it adds any pressure? A lot of guys that I've talked that ride at their home tracks feel like they have to ride well in front of their friends and family. Do you feel like that, or do you feel like it's more of a relief that you're in familiar surroundings?
I think it's a relief because it's all people that I grew up with that will be there. They know how I am. It's always good to have a couple extra people around to pit because they always want to partake in what goes on. At the same time, it is a bit more stressful, but the more, the merrier, you know? It is what it is. I don't think it changes anything.
I know you were in Australia for the past couple of years. How long has it been since you've actually raced Unadilla? Has it been a while?
I raced 2010. I got to race there with Factory KTM. They gave me the call the day before Unadilla to ride. I think it was Tommy Searle's bike at the time and I just hopped on it and went. So it's been a while.
So you're ready to get back.
Yeah, I mean, I guess you could say that. I'm not actually going home, which is kind of a bummer, but it's close enough.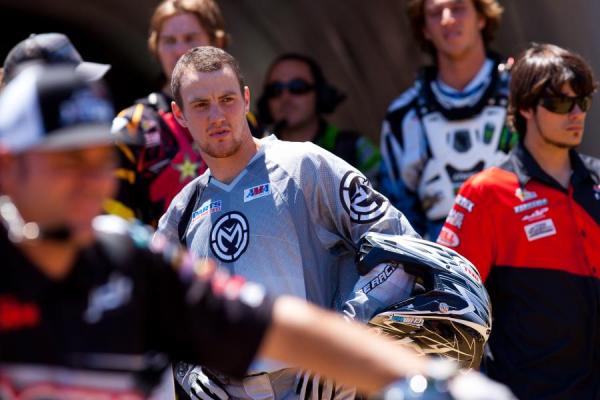 The native New Yorker returns home this weekend at Unadilla.
Andrew Fredrickson photo
For the people who missed this at the beginning of the season: You did have a deal to ride in Australia but then you ran into some visa problems, correct?
Yeah, it's a bummer, but at the moment I'm banned there for about two more years. [Laughs] I can probably go back, but basically I'm refused to go over there for whatever reason. My visa paperwork got messed up. It's kind of a bummer because I made some really awesome friends. I wish I could be racing over there, it's kind of a bummer, but at the same time, I got a new door opened over here. I've just got to keep my head down and keep pushing and hopefully a ride will come up for next year. I'd like to try and stay in the big bike class if I can, but we'll see what happens.
Have you been in talks with any teams yet?
No, I haven't. It's kind of a bummer because in supercross, I did have three decent races, but every other one I had a DNF. It's been the same thing here as far as the outdoors. It hurts my bonus points a little bit when I talk to people. People don't really know what happens outside the scenes, you know? They can make judgments and this and that. But, at the same time, they see DNF and they don't know why. It's kind of a bummer, but hopefully the teams see and I'll keep plugging away, trying to make a statement here at these next two because I don't think I can make it to Elsinore on my own. We'll just see what happens.
Did you start riding the 450 before the break, or was it a split decision on what you were going to do leading up to Southwick?
I kind of was in limbo. I didn't even know if I was going to race. But one of Brandon Haas' [ClubMX owner] buddies down here in North Carolina hooked me up with a 450 which I'm really grateful for. That's actually my race bike right now and then I have a long time sponsor in Saint Lawrence Radiology who helped me get another 450 just to practice on. So, we don't have a lot of resources, but at the same time, I feel a lot better doing this for myself.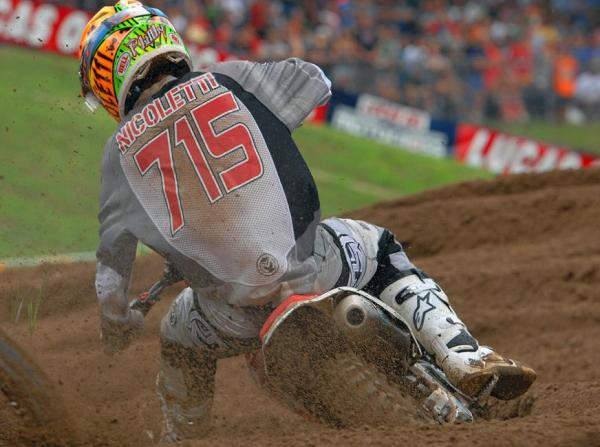 Nicoletti is hoping to get inside the top ten at his home track this weekend.
Carl Stone photo
How long have you been training down at ClubMX and how much do you think that's helped you?
I came down to Club in 2011 to get ready for East Coast supercross and then I went to Australia, so obviously I had to leave here. But I always kept in touch with Brandon Haas and even Zach Osborne and all the guys down here. There's no other place I'd rather be. It's an awesome place and even all the riders, even all the minibike kids are fun. It's a home away from home. Their tracks, for me, are top-notch. I've got my old teammate Alex Martin staying with me, I've got a little cabin. Justin Brayton comes down and rides. We've got a nice little fit.
Thanks again, Phil. Who would you like to thanks for helping you this season?
I would like to thank St. Lawrence Radiology, Dr. Maresca, ClubMX, Moose, SCOTT, Bell Helmets, Merge Suspension, 180 Decals, Dunlop, Carl Fogle, my dad, Paul Bruno, Bob Lapusnak, Al Colliound, Vick Palmeri and Hot Hedz Designs.