Washougal MX Park
Washougal

,

WA
Washougal
Lucas Oil AMA Pro Motocross Championship
The effort put forward by MotoConcepts Racing's Mike Alessi this summer has been outstanding. Going up against a juggernaut like Red Bull KTM's Ryan Dungey hasn't been easy for the 800. It's his time-honored formula to get a holeshot and ride like hell for as long as he can, but this summer Dungey inevitably gets by and goes on to win by a large margin.
But this weekend at Washougal we saw a different formula. Alessi again grabbed the start and again Dungey was all over him. Many people thought that we'd see what we've seen so many times, that Dungey was going to grab the lead and disappear. But on this day, things weren't like they seemed.
Mike rode a great race, defending Dungey when he could, attacking the track at times and then Washougal, which had been so great to Dungey so many times, reached up and grabbed him. A simple wash out by the KTM rider enabled Mike to open up a lead and although it was very close at the end, the dragon had been slayed. Mike Alessi won the first moto and stopped Dungey's ten-moto win streak.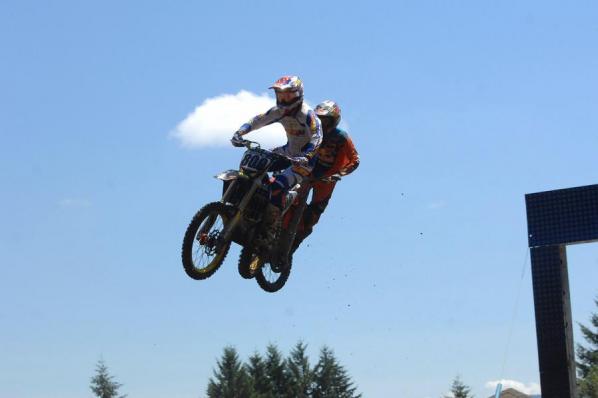 Mike Alessi (front) became only the third different moto winner in the 450 Class in 2012, after his moto one win over Ryan Dungey (rear) at Washougal.
Carl Stone photo
Dungey wasn't happy, he ate roost for 27 minutes and did everything he could to try and get around, short of gang-tackling Mike. And in the second moto Dungey focused on the start, got it, took off for a big-time win and got the ever-important overall. Dungey, like other great champions before him, wasn't going to let that little sliver of hope that Alessi had grow into anything more.
Alessi became just the third rider to win a moto this year and deserves full credit for the win. On a bike that is far heavier, slower and without any factory transmissions, suspension, ignition or anything, Alessi is showing that this is perhaps his greatest outdoor performance of his career. Better than 2009 when he won two Nationals before hurting himself, and better than on KTM's battling for titles in the 250 Class. Alessi is going up against one of the very best riders ever and doing it on equipment that you and I could buy.
Dismissed by the USA team manager as not worthy of a spot on the Motocross des Nations team due to his speed, his team and his equipment, Mike's showing that snub to perhaps be a motivating factor in his riding. No apologies from Mike, he's going to ride as hard as he can for as long as he can and try to do the best that he can. And on Saturday, it was enough to finally break through for a win. As with all things Mike Alessi, it's a start.