Maria Forsberg may be a woman, but she's very much the superman of the off-road set. During the week, she works a regular job as an electrician at Boeing. But on the weekends, she transforms into a world-class racer capable of amazing feats. Maria captured his second-straight X Games Endurocross gold medal over the weekend, and this weekend heads to Ohio for the John Penton Grand National Cross Country (GNCC) race, where she hopes to clinch another Womens' title there. In between all of that business, she found time to talk to us for this week's Between the Motos.
Racer X: You've won X Games two years in a row! Did you ever think you'd be a gold medalist at all, let alone twice?
Maria Forsberg: No, I never did. I never thought I'd even be able to compete in X Games, let alone win. I'm just so grateful for everyone who gave us the opportunity to compete.
Your story is one of my favorites in all of racing. Just give me the idea of your schedule during the week, and how you manage to work a full-time job in Washington yet race the GNCCs on the East.
Yeah it's pretty bizarre and jam packed, but you've gotta' do what you've gotta' do. I love racing, and yeah, I make some money at it so I guess it's a job, but it's still fun to me so it's worth the sacrifice. During the week I work Monday through Friday from 6:30 a.m. until 3 p.m.. I'm in the electrician's union and I work for Boeing. Then on weekend's, I'll get a red eye on Friday night and fly to the east coast. I get there Saturday morning, this way I don't have to pay for a hotel on Friday, and then I hang out at the track on Saturday. I walk the track, talk to sponsors, and I try to get to bed as early as I can since I worked all day Friday and then took a red eye to the race, but, I'm on Pacific time at that point so it's hard to get to bed early anyway! So then I race Sunday morning, and I usually fly back at 6 or 7 p.m. Sunday night, get home around midnight, and then wake up at 5:15 Monday morning to go back to work and do it all again!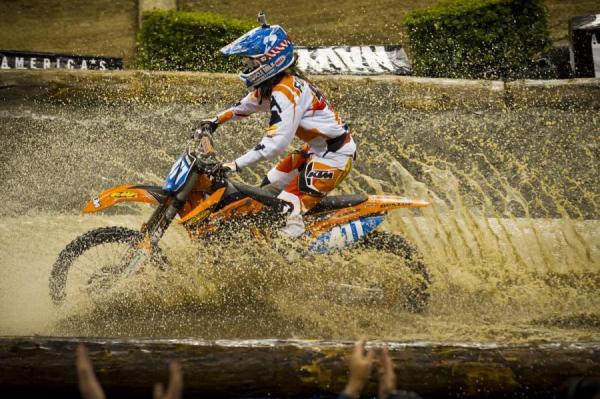 After X Games, Forsberg heads to a GNCC in Ohio this weekend with hopes of clinching another number-one plate.
Garth Milan photo
Unbelievable! How much time does this leave for riding and training during the week?
In the summer I can usually get out and ride once a week because we have enough daylight, but I mostly just cross train during the week, because I don't have time to load up and find a track and stuff like that. I run, I do cross fit, go mountain biking. I try to mix it up as much as I can.
The men have improved tremendously in Endurocross since it started, because just a few years ago no one had ever ridden it, and now these guys have private practice tracks. But how much time did you have on an Endurocross track before this event?
None, really! Last year X Games was in late July, so I had three weeks of summer break from the GNCCs to practice. But this year, with the event moving up, I'm still racing GNCCs every other weekend, and then a few weeks ago I bruised my tailbone and got my hips out of alignment, so I couldn't do any riding. I was off the bike for a while until the Snowshoe GNCC in West Virginia two weeks ago.
So were you nervous because of the lack of prep?
Yeah! I was really nervous because everyone kept telling me, "You're going to win it again!" and I don't like that kind of thing. Last year, it was different, we didn't really know we were having a Women's Endurocross at X Games until a few months before. Now everyone has had a year to prepare and practice, and a lot of the girls don't work during the week like I do. So people were expecting me to win because I won last year, and I felt some real pressure to defend it. But I didn't expect to win, my realistic goal this year was to just get a medal and be on the podium. I really don't know how I did it—I was only the fifth fastest in qualifying, and I don't think I was the fastest in the race, either. I think I just rode smart. I'm 25 now and I've raced enough to where I was able to use some of that experience.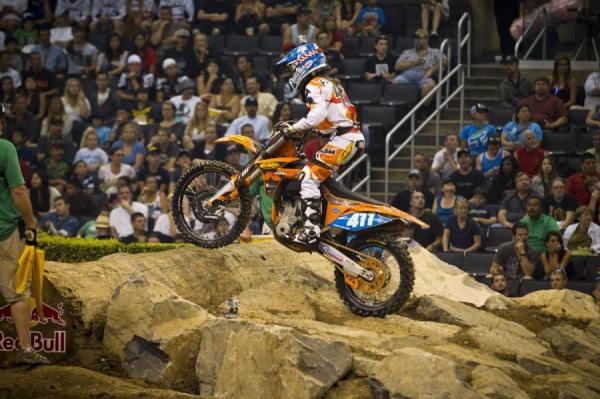 Forsberg rode steady and took advantage of other rider's mistakes to take the Endurocross.
Garth Milan photo
Let's talk about the GNCCs this year. Last year you won 12 of 13 races in the Women's class, and this year you've won every race so far. Is it a goal to sweep all 13 rounds?
I'm not sure. I think the team and KTM want me to race the men once I have the Women's class wrapped up. This weekend in Ohio, as long as I finish, I should be able to wrap up the championship, so I'll probably race the A class with the men when we come back from GNCC summer break.
You've also been coming really close to winning the morning race, overall, against the men in some of the amateur classes. Is that a goal?
[Laughs] Oh yeah, I'm trying hard, and that's what KTM is pushing for. Now my pitboards are just saying how far away I am from the overall! I'm trying hard, but, shoot, those guys are fast! Really fast. I've gotten a second before, but last weekend I didn't ride that great and I got 18th. It just depends on the day.
Well, it's a great story, you've got two X Games golds and you're ruling the Women's class in GNCC, all while working full-time during the week. Good luck.
Yeah, it has definitely been hard for me, I've been doing it like this for the last seven years, and it's really cool that people have begun to notice. It definitely hasn't been easy, but this is what I love to do.