One-minute plus two laps separated Red Bull KTM's Ken Roczen from his first career Lucas Oil Pro Motocross win at Budds Creek. This on the heels of a critical crash in the closing laps last week at High Point Raceway that allowed GEICO Honda's Eli Tomac to snatch victory from the jaws of defeat.  

"I guess I must have just lost concentration and washed out. I was so bummed. But I guess I've just got to keep looking straight—I was close, I guess at least it was a confidence booster…" stated a surprisingly optimistic Roczen after his narrow defeat to Tomac at High Point.

The affects of the dramatic events of High Point would have mentally destroyed many riders. But Roczen is battle tested. In 2009 he became the youngest Grand Prix winner in history at the tender age of 15. Two years later, at 17, he became the youngest rider to win a World Championship when he won the MX2 (250) title. The kid is mature well beyond his years.   

With fans tightly gripping to the fence line, cries of "Get out of the way" reverberated throughout Budds Creek. The perfect storm had just hit Roczen. First, a tidal wave in the form of Blake Baggett, who in his typical late-moto fashion, was bearing down heavily on the reining MX2 champion, while a sea of lappers were waiting in the distance.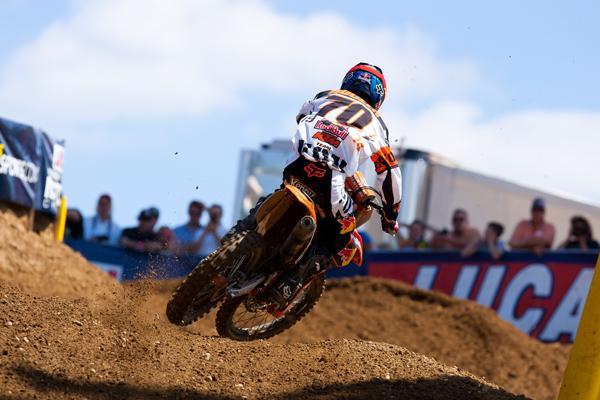 Lappers would play a big part in Ken Roczen's quest for his first outdoor win at Budds Creek.
Andrew Fredrickson photo
Although Baggett had closed from over nine seconds down, the German was still grasping to a narrow lead late in the race. As Roczen tried to separate from Baggett, he was held up by lapper Tevin Tapia, which forced Roczen to miss the downhill triple and take the outside line—opening up a gap the size of the Atlantic for Baggett to slide through. But the difficulties for Roczen were far from over as another trio of lappers would hold him at bay through the next few sections, allowing Baggett to ride off into the sunset with the moto win. Even Baggett seemed surprised when, a half lap after taking the lead, he glanced over his shoulder and couldn't even find Roczen.

"I'm not going to blame it on the lappers, you know it's just a racing deal out there, but they held me up a lot, and it was not only one guy, it was three or four people in one lap," echoed a slightly less enthusiastic Roczen at the post-race press conference.

The old racing adage of "every rider has to deal with lappers" while valid, never really explains the entire story. And on this day, lappers became The Moment that defined the race.