Mechanicsville, MD
Budds Creek
Lucas Oil AMA Pro Motocross Championship
Round five of the Lucas Oil Pro Motocross Championship took place over the weekend at Budds Creek Motocross Park, which is usually a pretty good track with a pretty good crowd. The series is pretty much done in one class but the other class, well, that's a whole other issue. Let me just be the first to jinx the motocross series by saying that so far, the temperatures this summer have been perfect. Really, they've been so good it's ridiculous! Even Texas didn't feel like you were stuck inside a Betty Crocker EZ-Bake oven for eight hours. At High Point, not a single drop of rain fell from the sky all day and this weekend at Budds, the weather was simply beautiful. Now that I've said that, look for a complete downpour at RedBud in a few weeks.
When I was growing up it was always America vs. Europe on the track. Thanks to our pals at Motocross Action, we learned that in the late 70s and early 80s, European riders were much better than Americans, although the tide had turned by the time I was in my formative years. I was then taught to laugh at the so-called, "World Champions," as the boys in Valencia never hesitated to take potshots at their supercross abilities, and even their general demeanor.
Soon though, the Euros caught back up to us and some of the best that they produced could beat the best riders from the States. Riders like Jean Michel Bayle, Eric Geboers and Yves Demaria won races that were actually on American soil! Then we got to a point where the GPs were producing great talent and guys were coming over here left and right. When Frenchman Matthew Lalloz got hired at Suzuki over a good ol'American named Buddy Antunez (for God's sake, his name was Buddy!), you knew things had gotten wacky.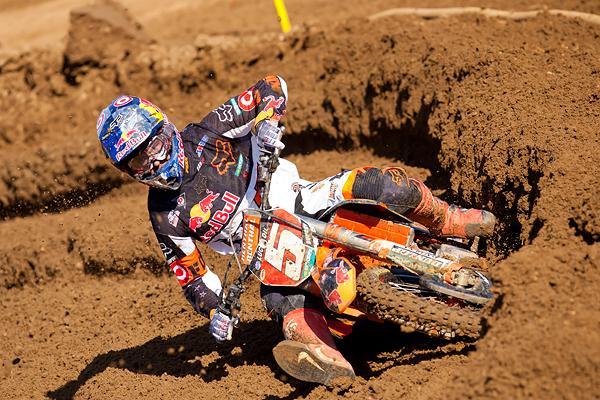 The dominance of Ryan Dungey in the 450 class continued at Budds Creek.
Andrew Fredrickson photo
Now in 2012 if you go to a GP or to the MXoN, as long as you can get past the goofy looking gear and shoulder pads under the jerseys, you can see that (except for the older guard out there) you could be at Southwick as much as you could be at Lommel. The top riders in each class over there are top riders over here and the scrubbing, over-revving and aggressive nature of American motcross has made its way across the ocean somewhere in the last five years.
All of this came flooding back to me as I stood in the scoring tower at Budds Creek before the first motos. The track owner, Jonathan Beasley, loves European motocross and has hosted GPs and even a Motocross of Nations at this place. The pictures in his tower tell the history of the racetrack. I took a few minutes to peruse the autographed photos of Bayle, Donny Schmidt, Demaria and many more American and European heroes.
Now, after telling you all this, I must next tell you that because of holding the European-promoted MXoN in 2007, Budds was forced to change their start and it's making me resent the Europeans. The Budds Creek start is everything a start shouldn't be. It's not fair in any shape or form. It rewards riders that can put in a hot lap in qualifying to get a good gate pick. Being a good starter (you know, part of the actual race) is worthless at Budds if you can't get a fast qualifying time. Because the track hooks a 180-degree turn and doesn't funnel at all into a first turn, the gates on the inside are vastly superior and get worse as you go further outside. The guys in gates 30-40 may as well get their mechanics to just throw rocks and dirt in their faces before the moto even starts in order to get used to eating roost.
A lot of times at any other National, a guy that gets the jump of a lifetime and executes a perfect start can come out in the top five, even if he's on the outside. Not at Budds and again, this is an FIM mandated start—I've seen a bunch of GPs and many are like this! It's asinine to me that you would just reward the fast qualifiers. Fix the start, please, I'm begging you. And while you're at it, I would like the corner where Tim Ferry passed Kevin Windham for the lead in the first moto in 2003 and then took off for the moto win on the Matthes-tuned Yamaha YZ450F, to have some sort of plaque or historic mention. Thank you.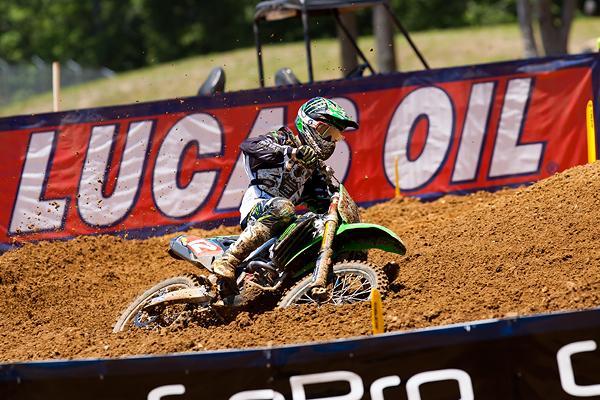 Blake Baggett used a late second moto charge to capture the overall.
Andrew Fredrickson photo
It's no secret that many of the tracks haven't been ripped as deep and watered as much as in the past and officials tell me that's a conscious decision. They're trying something different and I think High Point was as flat, dusty and hard as I've ever seen it. Well this weekend at Budds, it was more like the olden days of 2011 and the riders loved it. Let's face it, getting 80 riders to agree on what kind of track prep is ideal or even that they like a track is akin to getting David Pingree to start liking Obama. Still, I think they hit on a formula that most riders liked this weekend.
Usually I start with the 450 class but like last week, I think that right now the four guys in the 250 class deserve the most attention because Ryan Dungey is just making a mockery of the 450 class right now. As I wrote last week, every time I'm leaving the track I think about how I've now left last week's "guy" like bad news and have hopped on the wagon of a new guy screaming out, "He's gonna win the title," to anyone and everyone.
This week I'm on the Blake Baggett bandwagon, or BBB for short! The BBB is now full because the only thing Baggett was lacking (and I spoke about this last week) was his starts and opening laps. Because he rides wide lines, keeps his momentum up and rails turns like no other, Blake needs to get a decent start and stay out of traffic to establish his lines and get going. Lately, he hasn't been able to get the starts he's needed. Mitch Payton (you know, the owner of Pro Circuit and about 874 titles since 1991) says they changed some things up and they think they've fixed the issues Blake's been having. And no, he wouldn't tell me what it was despite me pressing like Walter Cronkite.
Baggett ran down Justin Barcia in the first moto and took a close second. In the second moto he caught Kenny Roczen from about seven seconds back and then proceeded to put an astounding eight seconds on the German with two laps remaining. His 2-1 scores gave him the overall and extended his points lead to thirteen with just over half the races left. Baggett's got more career wins than anyone else he's racing against, and out of the current group, he scored the highest in points last year (yeah I know Roczen didn't race but still). He's showing that right now, with his starts figured out, he's going to be tough to beat.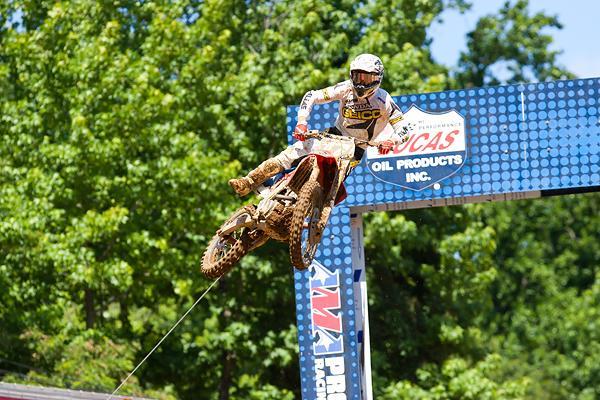 Eli Tomac couldn't find the magic he had at High Point, but was able to salvage fourth overall.
Andrew Fredrickson photo
One thing that's interesting is that last year both of Baggett's teammates (Dean Wilson and Tyla Rattray) felt the need to go to Florida for a bit to ride and train. The humidity of Florida, the proximity to the races and the fact you're out of the glare of California all contributed to those guys' desire to do that. And this year, none of Baggett's main competitors are in Southern California either (Eli Tomac is in Colorado, Barcia is in Florida and Roczen is with Pops at Andrew Short's house in Texas stretching each other out with their jerseys on), but Baggett prefers to remain in California and get it done in the place that most racers can't wait to get out of. He's got a trip to Florida planned to hook up with his trainer Aldon Baker, but he's totally comfortable with riding Competitive Edge, Glen Helen, Milestone and wherever else. One bonus to this is more testing time with the Pro Circuit guys and a tighter practice bike.
Roczen has made the podium at every race (none of the other three can say that) and is two laps shy of leading the most laps, but he's also the only guy out of the big four that hasn't won a moto this year. He's pretty much done everything one could do, short of actually crossing the finish line first. There's been some debate in the pits about Kenny and his lack of finishing power (that sounds like a wrestling debate, like, "Macho Man just doesn't have the finishing power of Hogan," or something like that), but really, I don't think it means all that much. He's pretty much been one of the guys and he's had the gauntlet of things happen to him while running up front. From lappers to tipping over, the 18-year old MX2 World Champion shouldn't be worried. He's going to win one of these things shortly. The last thing that Ken should do is listen to the critics or get down on himself, because for his first year racing The Nationals, he's been very, very good.
What's the deal with Justin Barcia? Well it depends on if you're a glass half-full or glass half-empty dude. The full people say that he's been able to win three motos in three races and that's pretty good. The empty people say that in the second moto he's been unable to back it up. I say, the motocross series is made up of twenty-four races, and where you end up overall on the day only matters for bonus money and for how it looks on paper. Motos, not overalls, are what matter, and the idea is to do the best you can each race. And for that, Barcia's been great, winning one race at each of the last three rounds. The second motos haven't been there, but winning motos is the name of the game, and Barcia's second in the points and has shown that he can be there.
And in the 450's, well it was another Ryan Dungey domination show as he had a ten second lead after ten minutes, a twenty second lead after twenty minutes and yep, you guessed it, a thirty second lead after thirty minutes. As I wrote last week, when Mike Alessi is leading, like he was in the second moto and going balls-out, Dungey is back there like he's being driven by Miss Daisy. Just calm, calculated and collected. He makes his move when there's time and space, and then just hammers down and it's over before you even know it. I asked privateer hero Jason Thomas, on The PulpMX Show, what it is that makes Dungey special (you know, besides the fact he twists the throttle more) and he said that Dungey's corner speed is far superior to anyone else out there. Ryan sets up for the corner a mere nanosecond before the actual turn and then motors through it. It's really, really ugly how bad he's crushing these dudes.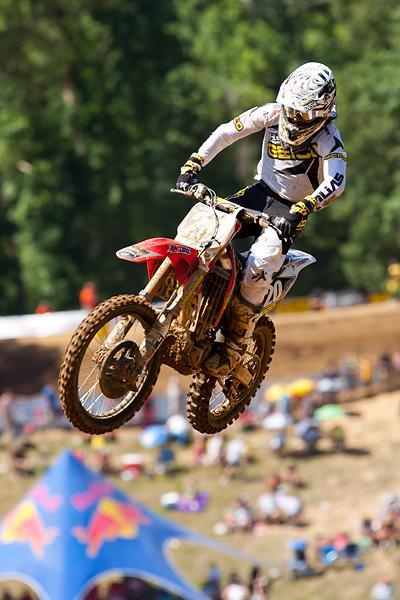 For the second straight week Justin Barcia struggled in moto two after a moto one win.
Andrew Fredrickson photo
I've praised Alessi before here for doing what he's doing on a privateer MotoConcepts bike that is probably ten pounds heavier than the ones he's racing against. I thought that this weekend, the setup on the bike looked off when compared to those around him. As we know from talking to Mike Gosselaar and others, Alessi isn't the greatest tester out there so maybe he has to take some of the blame for the setup, but man, his bike looked busy out there. Maybe one of the water jets was pointed in the wrong direction? I made the comment to Tony Alessi about the bad setup, and he agreed with me, saying that the rebound damping was turned all the way in, which indicates to me that there definitely was a problem in the setup. Mike still rode great and gave it his all to get third.
What about Broc Tickle? A career best 2-2 day for Tickle, the sometimes forgotten about Pro Circuit racer! He got great starts and ran away from everyone not named Ryan Dungey. Team owner Mitch Payton has been saying that Tickle has been a little timid at times coming into the first turn, and that he just needs to get a good start. Whatever it was, the last couple of races have been very good for Tickle and his 2013 prospects. Despite most pit insiders thinking that there's no chance Pro Circuit brings the 450 program back for 2013, Payton himself tells me that there's a chance he does. And one would think Tickle's in line to stay there. No matter, if he keeps finishing in second each week, he'll have his pick of rides. If I told you before the season that Tickle was going to go 2-2 at a National this season in the 450 class, would you have called the cops on me? Yeah exactly, so let's get pumped people!
Let's take a look at the results shall we?
250 Overall Results:
1.    Blake Baggett 2-1 Kaw
2.    Ken Roczen 3-2 KTM
3.    Justin Barcia 1-5 Hon
4.    Eli Tomac 5-3 Hon - Tomac had an okay day, he was so far back after the start of moto one that he didn't have a chance to get into the race (like Barcia in moto two), and in the second moto, he got third.
5.    Marvin Musquin 4-4 KTM - Man, what does a guy have to do to break up the big four? Marvin goes 4-4 and STILL can't beat any of those dudes in the overall! That's tough luck right there. In other news, despite being wooed by Pro Circuit, it looks like Marvin is going to stay with KTM for next year.
6.    Jason Anderson 7-6 Suz - There's the big four, there's Musquin and then there's a pack of dudes all fighting it out for "best of the rest and slightly worse than Musquin." Right now, Anderson is winning that battle. He's already signed with Rockstar Energy Drink Suzuki for another year.
7.    Wil Hahn 6-7 Hon - After impressing everyone at High Point, Hahn didn't get the start with the big guys and he paid for it. He was at the tail end of the front guys but couldn't get in there with them. All you need to do if you're anyone but the big four is start with them, go balls-out for fifteen minutes, and you'll be way out front of everyone else. That's the trick!
8.    Jake Canada 13-8 Hon - He's just doing what Jake Canada does; he's solid through and through.
9.    Travis Baker 12-10 Hon
10.    Phil Nicoletti 14-9 Hon - Yeah! Filthy Phil gets his best finish of the year by far with a solid day, although he did go backwards in the first moto. Lest you think that Phil's day went smooth though, oh no, in typical Filthy luck he missed his gate call for the second moto and had to start on the outside. As he was getting ready, his holeshot hook broke! It just wouldn't be motocross without Nicoletti suffering a bit.
11.    Jessy Nelson 10-13 Hon
12.    Blake Wharton 9-18 Suz - Wharton's had a couple of races now where he hasn't done what he can do. He'll figure it out soon and be battling for fifth and sixth. By the way, he was dead last after lap one in the second moto.
13.    Gareth Swanepoel 17-12 Yam
14.    Ivan Tedesco 8-36 Kaw – IT9 had a scary crash in the second moto when he was in fourth on the first lap. Tedesco's had a few years of hard hits now.
15.    Alex Martin 16-14 Hon- "Troll" was right there in both motos, but crashes hurt him. His team manager thinks that the crashes are okay because he's pushing the limits of the next level of speed. Let's hope Martin figures it out soon or he's going to be even shorter from the pounding of hitting the ground.
16.    Malcolm Stewart 40-11 KTM - Mookie crashed in the first turn in both motos, but that didn't stop him in the second as he ripped through the pack to get a great eleventh place.
17.    Kyle Cunningham 11-34 Yam
18.    Hunter Hewitt 25-15 Suz
19.    Dakota Tedder 15-24 Kaw- This Tedder kid might just be figuring it out.
20.    Killy Rusk 22-16 Hon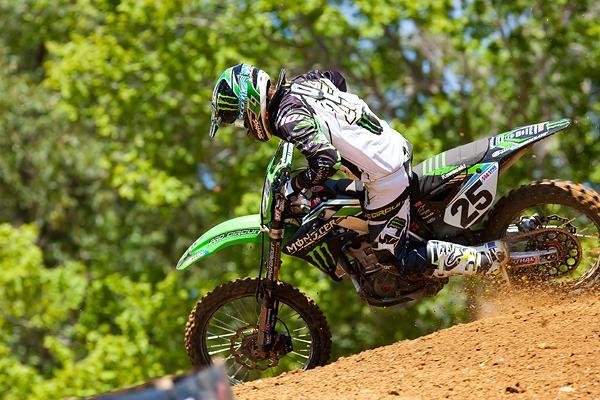 It was a career day for Broc Tickle at Budds Creek.
Andrew Fredrickson photo
450 Overall 
Results:
1.    Ryan Dungey 1-1 KTM
2.    Broc Tickle 2-2 Kaw
3.    Mike Alessi 4-3 Suz - I can't believe out of all the races that Mike's raced at Budds Creek as a pro, 2012 marked the first time he's made the podium there in either class. Weird, right?
4.    Jake Weimer 3-4 Kaw - Weimer took a rock in the sternum early in the second moto and his mouth filled up with blood, which made him a little worried. No matter, he still pinned it and got Grant at the finish in a Johnny'O Daytona move, circa 1984.
5.    Justin Brayton 5-8 Hon - This is a start for getting out of that early season hole for JB10. Then again, we thought Lakewood was the start for Brayton.
6.    Brett Metcalfe 8-6 Suz - Metty had a tough day with his starts and was outside of the top fifteen in both motos before getting going.
7.    Josh Grant 10-5 Kaw
8.    Davi Millsaps 9-7 Yam
9.    Andrew Short 6-10 Hon – Short did not have a good day and went from fifth to tenth in the second moto. When does that ever happen to Short? Afterwards, he wasn't happy at all and team manager Larry Brooks was trying to figure out what happened. He gave Andrew a note that he was not to read until before he went to bed on Saturday night. What was in it? Who knows, but I don't think Brooks was asking Short to be his valentine. Good interview with Brooks after the race about his thoughts about coming back to the motocross series HERE. Yes, I'm pimping my own work.
10.    Ryan Sipes 7-11 Yam - Sipes had to race the last half of the second moto after riding by his brother who was sprawled out on the track before the finish line. Had to be tough for him.
11.    Kyle Chisholm 12-12 Kaw - Chiz picked the very inside gate for the first moto, but then got a terrible start. Next moto he moved more outside and then got an even worse one. To top it off, he cracked the outer bone in his arm when he hit a track marker in the first turn in the first moto. He came from thirtieth to twelfth in the second moto.
12.    Jimmy Albertson 15-13 Suz - Top Jimmy had his best race since the opening round.
13.    Kyle Regal 22-9 Yam - When do we start thinking that this thing isn't working out? Regal did come from fortieth to twenty-second in the first moto though.
14.    Michael Byrne 11-19 Suz - Byrner suffered a scary crash in practice that had him hurting all day. In the second moto, he crashed and came back from dead last.
15.    Matt Lemoine 16-15 Kaw
16.    Billy Laninovich 13-36 Hon
17.    Cole Thompson 32-14 Hon - Finally the kid from Canada gets back into where I feel like he can be every weekend. At least in the second moto, anyway.
18.    Les Smith 14-32 KTM
19.    Ben LaMay 19-17 Yam - That's six motos in a row in which LaMay has scored points. In case you haven't noticed, it's super tough for the guys from tenth to twentieth to do that. LaMay is using consistency to his advantage.
20.    Robbie Marshall 37-16 KTM - The sand specialist had a nice second moto.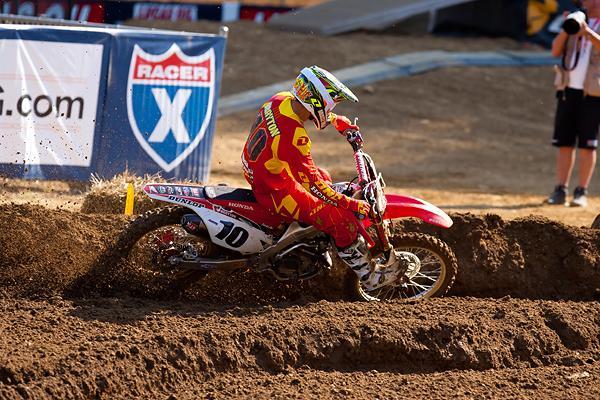 Justin Brayton finished a season-high fifth in moto one.
Andrew Fredrickson photo
There were no first moto podium speeches and no intermission this weekend because of the live TV schedule, which made the day end really early. I was very happy about this at the beginning of the day because usually we leave the track very late, and with the drive back to the hotel, it's an eighteen-hour day. So what happened this weekend? Well the early ending of the races allowed me to hang out at the track longer to get interviews! I'm such a dork when it comes to hanging out at the races that I listened to Mitch Payton tell Michel Pichon stories for a while, then I listened to Larry Brooks tell me about how crappy The Nationals were back in the day. Then, after listening to all the silly season stuff, I got back to the hotel at, yep ten o'clock like usual.
Thanks for reading each and every week, I truly appreciate it. Email me at matthes@racerxonline.com and tell me what you think about everything.