High Point Raceway
Mt. Morris

,

PA
High Point
Lucas Oil AMA Pro Motocross Championship
Damon Bradshaw was the Beast of the East—and he dominated no eastern track like
High Point
Raceway.
Bradshaw competed at High Point as a pro six times and won four of them. On a 250 bike, he was darned-near unbeatable, winning in 1990, 1992, 1993 and 1997. He only lost at the track one time on a 250, but that race actually stands out quite high in High Point lore thanks to an incredible two-moto battle between Bradshaw and Jeff Stanton in 1991.
Bradshaw and Stanton split the motos that day, with Stanton's 2-1 edging Bradshaw's 1-2. But they were never more than a few feet apart in either moto, and both now recount that race as one of the most fun days of their careers. While Stanton and Bradshaw come from far different backgrounds and possessed totally different styles—Stanton the hard-working, low profile farm boy from Michigan, and Bradshaw the wild child from the South, they never seemed to rub each other the wrong way on the track. Their battles were clean, which reflected the respect Stanton commanded—because Bradshaw was as dirty as it got with everyone else!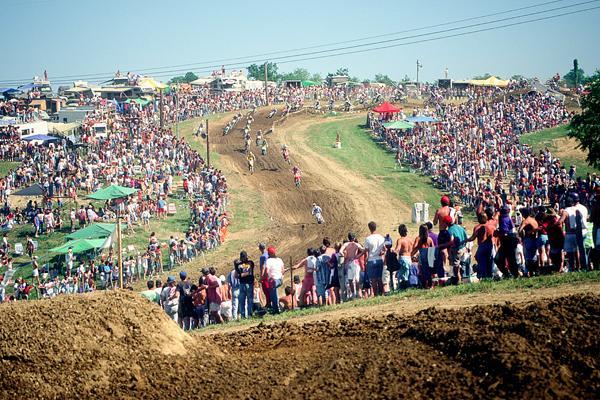 Bradshaw leads the field early at High Point in 1993 en route to his last win ever on a Yamaha.
Fran Kuhn photo
Check out the clip here to see the 1991 High Point National.
In the first 250 moto, Bradshaw sticks with Stanton the whole way before mounting a late-race charge to get by him and take the win (Stanton's Honda teammate Jean-Michel Bayle is right there as well. This is an all-time classic). In moto two, Stanton leads, but Bradshaw makes a move around the halfway point to get the lead. Stanton then pays Bradshaw back, learning his lines and using his trademark toughness to not only pressure and pass Damon, but jet away with the win.
Bradshaw would avenge the loss in 1992, taking his YZ250 to another win at High Point. And even in 1993, with his season—heck, his whole career—slipping away, Bradshaw still took his YZ to victory at his favorite track. It would be the last win Bradshaw would ever record for Yamaha, the brand that raised him.