Motocross can throw up some great stories from time to time and Monster Energy Yamaha's David Philippaerts' exciting victory at the Grand Prix of Mexico last week was one such example. Last summer the hard-charging 2008 MX1 World Champion was staring at his wrist bones protruding through skin and needed three weeks and several operations at a German hospital after a heavy training crash. Without a race for seven months the factory Yamaha man needed just four GPs to see the chequered flag again and managed the feat after a four-way tussle with Tony Cairoli, Clement Desalle and Christophe Pourcel. Here he chats about his results 'redemption.'
Racer X: When you were in fourth position and chasing the other guys did you think you could win the moto?
David Philippaerts: When I was fourth I saw [Ken] De Dycker taking a slower line through the waves and thought 'OK, I can get him there' and I knew I was quick through the same place. Soon I had Pourcel and Desalle ahead. Before I passed De Dycker I was happy with my speed but saw it could get me something better. When I got into the lead I relaxed a little bit so that I wouldn't make any mistakes but Desalle came back. So I thought I'd have some fun by overtaking him again right away. I knew I had the pace and when the mechanic held up the pit board telling me the race was almost done. I decided to push hard for one lap and it gave me the second-and-a-half gap I needed.
It's been a long time since you were at the front.
I know! I knew it would be possible again and it won't be something that happens at each GP because MX1 is just too strong now. My approach to racing has not changed. I push to be number one and to always be better. When it means a win then I'm really happy.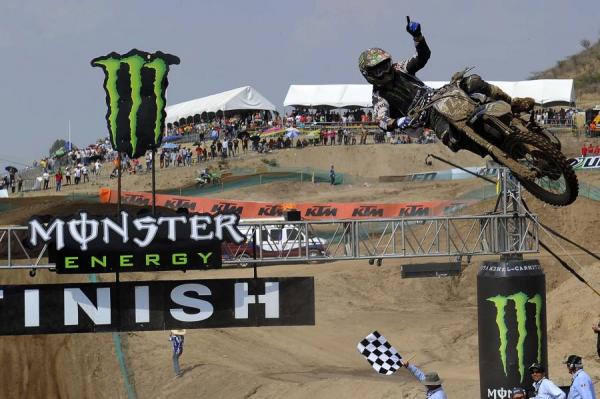 Philippaerts held off a charging Clement Desalle, Tony Cairoli and Christophe Pourcel to take the moto 2 win in Mexico.
Yamaha photo

When you came across the line did you get that 'I'm back' feeling?
Very much so! When I passed Desalle I already thought that. I hadn't raced a GP for nine months until the start of the season and I've had a couple of crashes in the first meetings. I guess some people were talking about me; maybe not to the point of saying 'he's finished' but maybe saying 'he can't do any better than top ten'. When I was first I believed that, or second position, would be good for the day and proved a point.
So some weight off the shoulders?
Yeah…a lot actually and for the team also because we've had very bad luck this season and just one race like this can lift everyone; the mechanics, management, everyone. The mentality changes, you know, I never gave up. But this is my attitude to life. I never want to stop trying and giving my best. I didn't want to talk shit, just do the job and look to the front. The team helped me a lot and today is good for them because Steven [Frossard] had bad luck and Christophe [Charlier] was injured before Valkenswaard and we haven't had many breaks.
What happened in first moto?
I still don't know really. I was third or fourth on that first lap and through the waves I touched [Shaun] Simpson and we had a big crash together. I had to come into the pits and was totally last. I pushed every lap after and it was tough on a track like that and at this altitude but I got back to tenth and those points were important. I'm happy.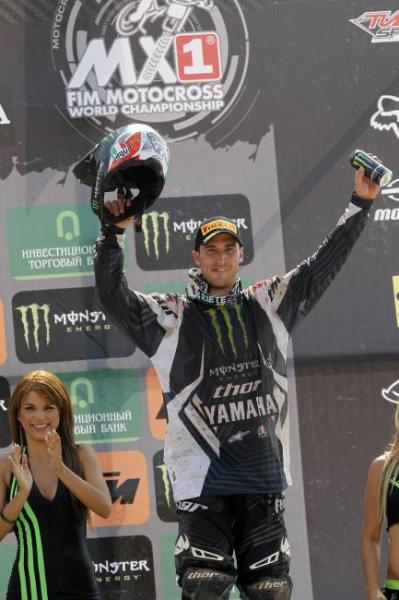 Philippaerts celebrates his first overall podium of 2012.
Ray Archer photo

It seems there are many more riders now that can win GPs compared to when you were World Champion in 2008.
Yes. I said before this season that the title would be difficult for anyone to win because there are many threats. Desalle has not stopped pushing this year, Tony is very fast as always and Pourcel can be up and down but very hard to catch. It is tricky but I can stay in the top four and if I do this regularly then it will be important come the end of the year.
Was boycotting the qualification heat on Saturday the right thing to do?
I feel it was. Yesterday we stopped for a good reason and I think people understood our motivation. The track was so much better for the races and I said to [Sebastian] Tortelli 'good work' because they responded and he had worked very hard on the event. The riders all stayed together and that was good.
So Brazil next…
Yeah I won last year and was second the year before. Every time we go to Brazil I enjoy the track and also the people. The fans are very special there. We will see what happens. I enjoyed being in Mexico as well.
And for the Motocross of Nations?
I think we will have a good team this year. Antonio and I will be there and Lupino has changed this season and I think he is quicker.