Atlanta, GA
Atlanta
Monster Energy AMA Supercross Championship
WELCOME TO THE BREAKDOWN ! It feels good to be back writing this column. Last week was a very busy week getting my tracks finished for everyone to ride on before Atlanta. It's been even busier this week with riders dropping in to ride on them. It feels good to meet privateers and try and help them as much as possible.
Speaking of my tracks, I want to use this time to say that I will be putting my track, Moto X Compound, in the hat, for an outdoor national in the future. It really is that good. In the meantime it will be used for a MotoX training facility. Now let's talk about the Breakdown!

Have you any of you guys gotten an autograph from a racer and he was wearing MX gloves while giving an autograph? Or maybe you saw on a rider on TV wearing street clothes but still had his MX gloves on. Well the reasoning behind this is Germs! When your signing autographs your shaking a lot of hands and meeting a lot of people. No offense to the fans but it's better to be safe than sorry—especially when you're racing every weekend and can't afford to be sick. No let's look at some photos shall we.
First off I need to say, I don't have a hand fetish. But it's what we're going to start off with this week. We're going to crop in on some photos of some riders in Dallas to look at their hands on the controls. A little thing I like to call 1 and 1. One finger on the clutch and 1 on the front brake at all times. The reason I wanted to touch on this, is because I have been working on this with my amateur kids, trying to get them to incorporate it into their riding. I know I didn't start this until I was way into my professional career, but I wish I had known sooner because it really helps a ton. Here's why.
I like to use my index finger on the front brake and the birdie finger on the clutch. Birdie because it's the longest finger and index finger because I have a better grip for the throttle. Things happen fast while you're riding. Let's say you're coming out of a sandy turn and your bike dies down and you need power at that instant. Well you can't go from holding on to the grip to using the clutch fast enough, you could however if your finger was resting on the clutch. Enough talking let's look at some pictures and see for yourself.
[Photos: Simon Cudby and Matty Fran]
Ryan Dungey - Dallas
Prime example of what I'm talking about—1 and 1. You see he is in a bowl and he keeps a finger on the front brake through the turn. He does this as needed. If the bike feels like its pushing up high in the turns he just applies more pressure to the brake with his finger so the bike stays where he wants it. If his finger was not where it is he could not get to the brake quick enough causing him to go over the berm. Same thing is going on with the clutch. You only have a split second to use the clutch if it stalls or if you need to fan the clutch because of traction, either way it takes too long to get from the grip to the lever.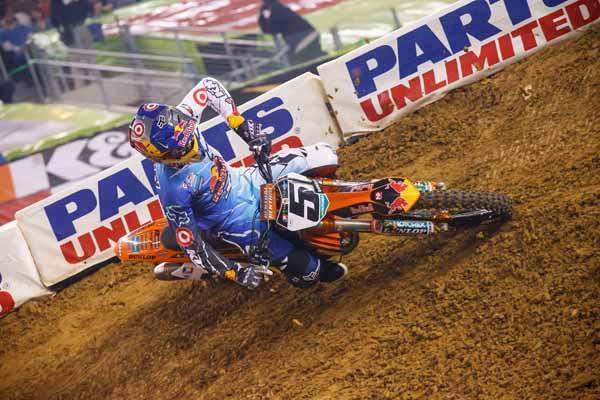 A closer look below.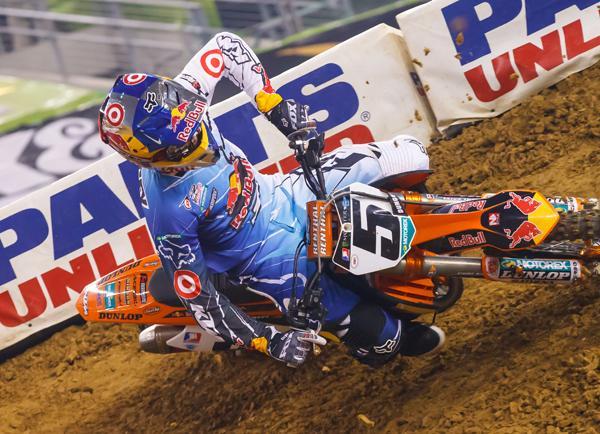 Darryn Durham - Dallas
Notice he is not in a turn but in the air. He doesn't need the front brake in the air but he may need the clutch when he lands. Hence finger on the clutch. Why you may ask? Depending on the landing or what lies ahead. You see if he was in a rhythm lane he may have to pop the clutch in the belly of the following jump to ensure it has the power to make the next double. You ever tried a jump and just didn't have the "umph" to make it? Sometimes fanning the clutch like DD did here may have helped you.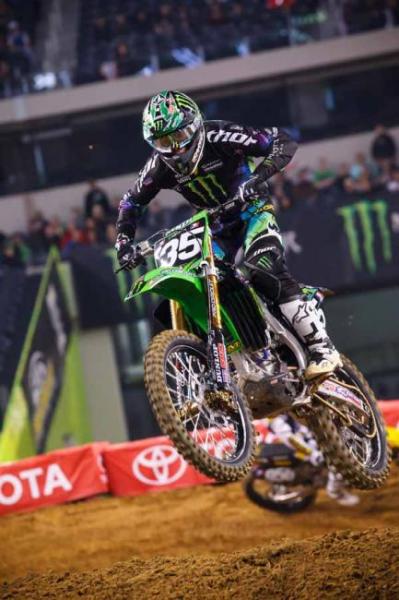 A closer look below.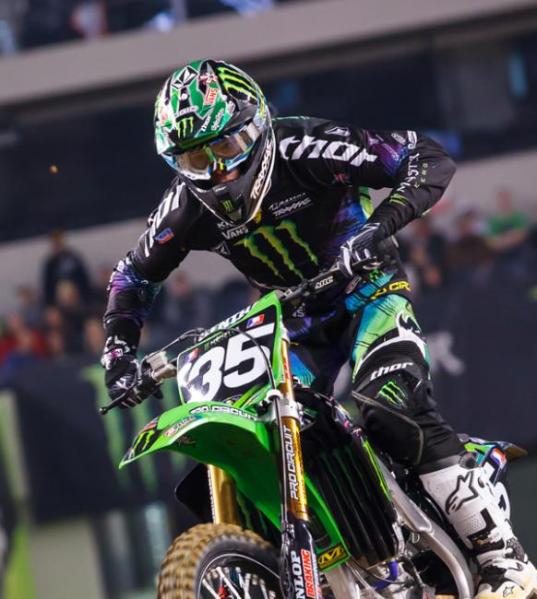 James Stewart - Dallas
This is coming out of a turn into whoops. Most 250 bikes do whoops in 5th and 450s in 4th. I know that's a tall gear that bogs down and lugs. That's why you have to fan the clutch like Bubba does here so the bike won't choke down. After the first 3 or 4 whoops the bike will pick up and he will no longer have to fan it.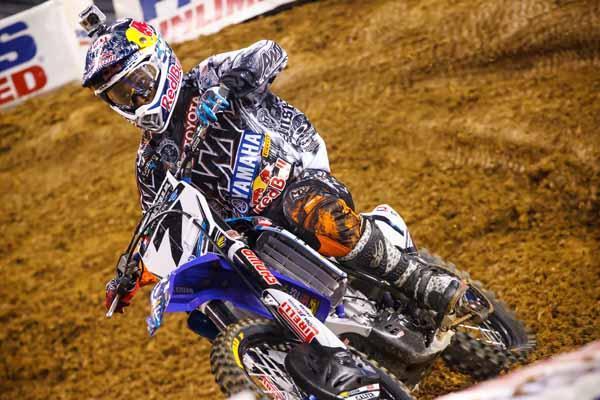 A closer look below.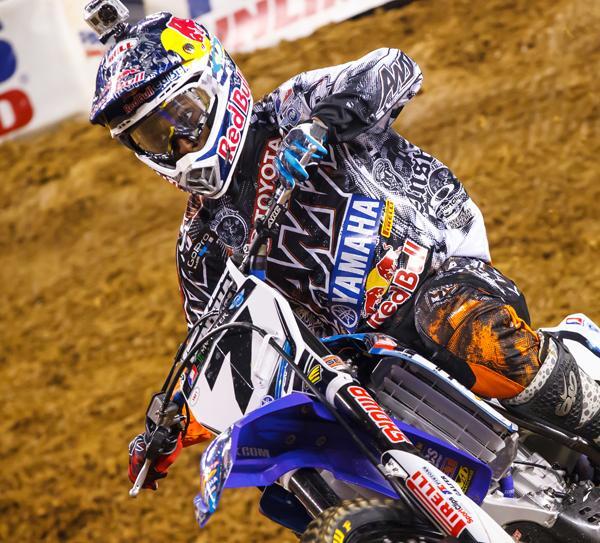 Chad Reed – San Diego
I want to back track a bit and talk about the whoops in San Diego. In honor of Chad Reed, I wanted to start with him. This is what it's supposed to look like folks. God himself would ride whoops like this.
Look how centered Chad is on the bike. He twists his wrist out on the grip so his elbows are pointy (opposite of Yamaha thumb). Doing this means your inside thumb doesn't touch the grip and it opens your arms up and makes your elbows pointy giving you better control of the bike in the whoops.
Look how he closes his chest off. This also gives him total control. An open chest in whoops makes it a lot harder to keep the bike stable.
Next, look at his head. His mouth guard is behind the crossbar pad. This keeps the front end light. Text book form from Chad Reed here.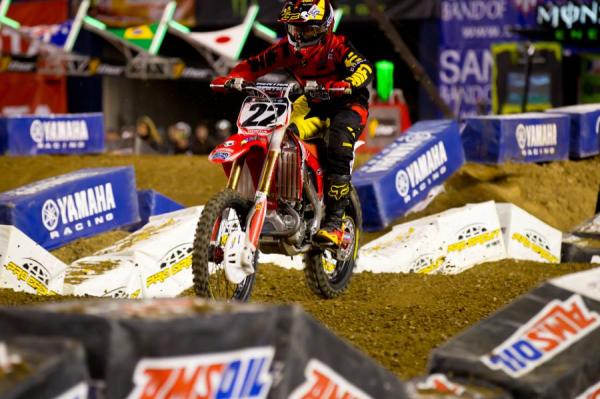 Ryan Villopoto – San Diego
Ryan would normally look like Chad did but this shot shows him stretched out. What he is trying to do here is because the whoops he is in are very far apart, he had to stretch his body out to try and keep the front end from dropping. Whoops are all about putting the front tire down on the tip top of each one. If it's a far apart whoop like these, sometimes you have to shift your weight back like Ryan did here to ensure the bike will make the gap and not fall short.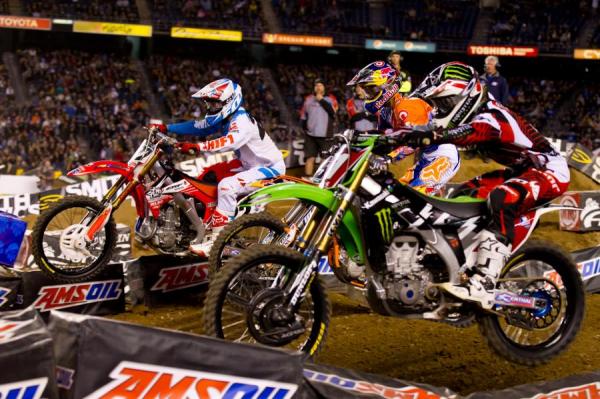 My dark horse for Atlanta is Davi Millsaps. I think he is about to turn it on. That's all for The Breakdown. It's now lunch time on Friday and were off to the Dome. Electricity is always in the air in the "A Town" something crazy always happens here. Always cool to meet new people at the race so please say hello if you see my family and I tomorrow night.