Georgia Dome
Atlanta

,

GA
Atlanta
Monster Energy AMA Supercross Championship
By: Racer X Staff
Team Arma Suzuki City is out for the 2012 season, but a ton of new support teams just got started last week in Dallas. The continually revolving door of satellite teams kick started some bench racing about great squads that have come and gone. Here's a few for this week--but these stories are so good, we'll have to roll out some more memories next week, too!
10. Team PJ1 Extreme: Started out as a way to get returning-from-Europe Jimmy Button a ride in America, this team expanded from there with some infusion of support from Xtreme gear, Red Baron mini-bike products and a Yamaha shop in Minnesota. Button had the best year out of the whole team and jumped to a stronger satellite team (Chaparral) off his top ten finishes. This was the last team that Shaun Kalos was ever on, and Cory Keeny didn't do much and that was it for him. Although the black Yamaha's looked snazzy, it was a one and done for this team.
9. Team Boyesen/Penske Yamaha: Raced in 1994 with John Dowd, Scotty Sheak and Dag Boyesen on Yamahas. The big news was the promotion of Indy Car legend Roger Penske's works motocross shock, but, like most satellite teams, Boyesen Engineering found it hard to pay all of these bills out of their little company. But one cool thing did happen in this team's one year on the circuit: Dowd rode so well that the factory Yamaha team picked him up (and let him race the factory bike with the Boyesen/Penske graphics). This led Dowd to two race wins, second in the 250 Nationals and one heck of a career.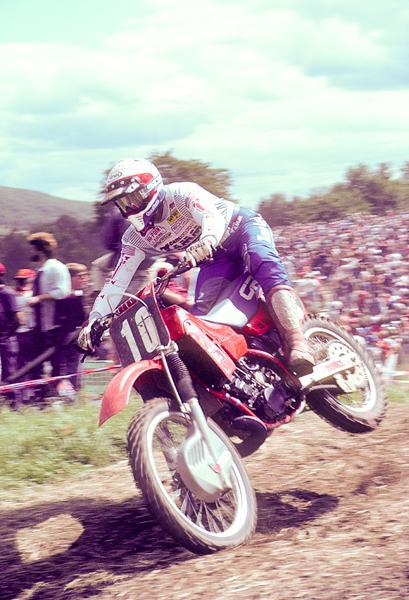 Team Tamm's Alan King won the '84 Hangtown 250cc National on a Honda.
Photo: Fran Kuhn
8. Team Tamm: This was Bob Tamm's way of taking on the factories in the mid-eighties, just before the AMA's production rule went into effect. They hired some very fast riders, including Brian Myerscough, Jeff Hicks, Tom Carson, Mike Beier, A.J. Whiting and Alan King, who had one glorious moment in the sun when he won the '84 Hangtown 250cc National on a Honda. Check it out right here in Racer X's Vault:
7. Team Subway Honda: Started by a businessman out of Illinois named Chuck Schultz, Team Subway Honda went for a few years with riders like Jason Thomas, Joe Oheloff and Jeff Gibson among others. The team competed in the 450 class on Honda's for its entire existence and lasted about three or four years be fading away.
6. The EdgeSports.com Kawasaki: The Edge was actually made up of the Strategic 3:  Jeff Emig, Tony Strangio and Tim Dixon. They were forced together when Fro was clipped from Team Kawasaki following his arrest at Lake Havasu, and in their first race together they won the '99 U.S. Open of Supercross! They might have done some damage in 2000 but Jeff snapped both wrists on New Year's Eve while practicing at Stephane Roncada's place, and then suffered a career-ending crash, shattering his leg and breaking his back, while practicing in May at Glen Helen before the first national. So the team hired Michael Byrne from Australia, who did well, but not enough to keep it all rolling.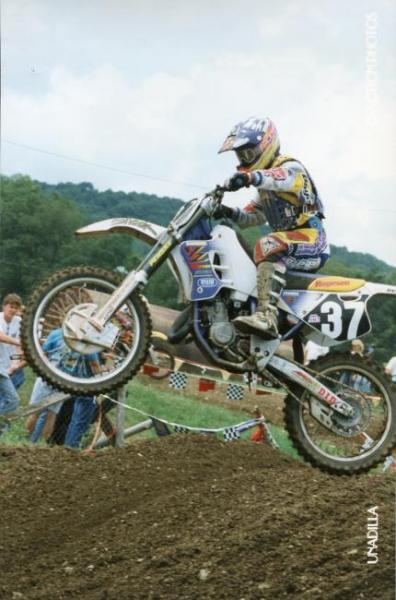 Team Boyesen/Penske Yamaha team rider Scott Sheak ripping up the Unadilla soil.
Photo: Thom Veety
5. DeMarini Suzuki: This team actually reached a podium through Tyler Evans, and they had some other strong finishes along the way. But then Mr. DeMarini, who made a fortune making sporting goods like aluminum bats, came down with cancer and died. He was a really good guy and he did what he could for motocross.
4. Team GW Bank Kawasaki: It might not have been the most successful satellite team ever, but it was probably the coolest! This team debuted in 1996 and featured all-time characters Phil Lawrence, Denny Stephenson, Buddy Antunez and Davey Castillo. The team was to fly in the Castillo family's private jet, and get big-money backing from Great Western Bank. But the GW Bank money never really came, and the rockstar existence of this squad didn't last long. But the results were actually pretty good! Factory Phil had a career-best top-five finish in the 250 SX points, and Antunez was hauling to consistent top fives in the 125 Nationals. Unfortunately, this team came around about five years too soon to cash in on the reality TV craze. They would have been stars!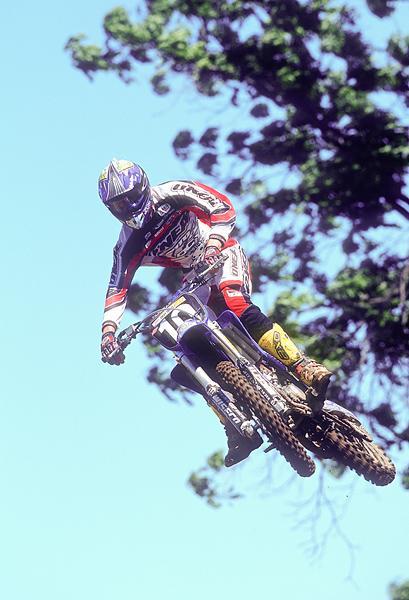 Larry Ward en route to his win at RedBud for Team Moto XXX.
Photo: Simon Cudby
3. Boo-Koo Honda: This team did cash in on the reality craze. Enterprising business man and racer team operator/owner Michael Holigan started this Texas-based squad on Yamahas with a bunch of cool outside-the industry sponsors like Samsung electronics. The team had a camera crew documenting their testing and training during the week, produced into the Reality of Speed TV show. They even ran a reality-style gimmick of pairing the team down week by week, starting with a big supercross effort and then deciding which riders to vote off before the nationals. Eventually the team bumped to the big class with BooKoo Energy Drink money and David Vuillemin as its star. The Vuillemin relationship didn't work out, which was actually okay because it made for good TV. But when the BooKoo money dried up, so did the team.
2. LinkedIn Kawasaki/Team MDK: This one looked strange when it showed up at the Glen Helen AMA National opener with Casey Johnson riding a KX250. What the heck was LinkedIn? Well, you probably know now that LinkedIn grew into a massively successful social network for business. Behind this team (and LinkedIn) was venture capitalist and motocross enthusiast Mark Kvamme. The team later became MDK motorsports and housed KTM's entire U.S. factory racing effort. Then it went poof! Today's JDR KTM runs out of the old MDK shop, and Chad Reed's team even uses one of its old semis!
1. Moto XXX: Started by NOFX's Eric Sandin, Strung Out's Jordan Burns and videographer Kurt Haller and carried in its later years by Alan Brown, this team got it's start with Brian Deegan and Brian Swink in 1997. With current H&H team manager Kenny Watson providing the backbone, this team won a supercross in its debut season. A little anti-establishment to say the least, Moto XXX went from a band of misfits to a real live legitimate race team that had riders like Kyle Lewis, Larry Ward, Nick Wey, Travis Preston, Damon Huffman and others ride for it in its 11-year existence. Moto-XXX scored three wins, by the way: Deegan's notorious 125cc SX main event win in Los Angeles and then Larry Ward's RedBud 125 National win in 2001, the first-ever for a 250F rider and the win that made him the first rider ever to win AMA Nationals in three different decades! Ward then won another national a few weeks later.