Angel Stadium
Anaheim

,

CA
Anaheim I (A1)
Monster Energy AMA Supercross Championship
It wasn't hard to get quotes from the riders about the Anaheim track, because it definitely drew some criticism. But some riders did call it more odd than bad. Part of the odd layout is dictated by Angel Stadium's dimensions. As a baseball field, the floor is shaped like a diamond, instead of a rectangle like the factory test tracks (and a football stadium). But Anaheim has always had a baseball layout, and this track was still stranger than most built there. What the track did create was longer lap times, as no one broke the one minute mark. And passing didn't turn out to be quite as difficult as many expected.
In a pair of deep fields, just making the main events would be tough. In the SX class, names like Nick Wey, Josh Hill, Austin Stroupe, Kyle Partridge and Jeff Alessi didn't make the cut. Wey finished third in the SX LCQ, Stroupe ran into mechanical problems in his heat and got a bad start in the LCQ and finished fifth. Hill reinjured his leg and foot, Alessi struggled to 16th in the LCQ, and Partridge ran in a qualifying position early before a crash sent him back.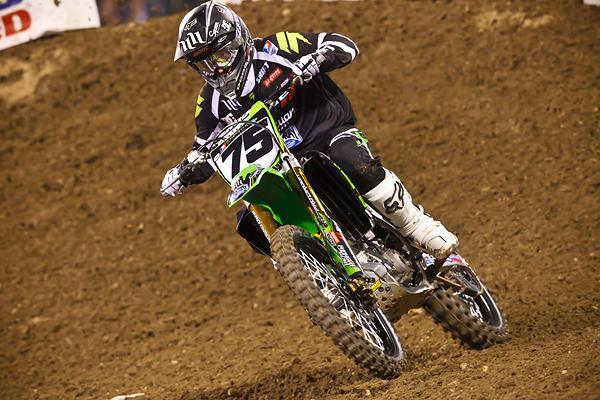 Josh Hill suffered yet another setback in his return to racing at Anaheim.
Photo: Simon Cudby
Definitely not good to see Hill's already-injured leg and foot get jacked up again. We talked to the famous Dr. G about Hill's leg after the race, and he explained that x-rays were negative, however, Hill did push the leg well beyond his range of motion limits, and he was in major pain throughout the night. Plans were to get an MRI on Monday, we'll provide an update as soon as we have one. Get well soon, Josh!
Quietly, Hill's Dodge Motorsports/Sycuan Casino Hart and Huntington teammate Josh Hansen logged a strong ride in his return to 450 SX racing. Hansen was sick coming into the event (enjoy this hilarious interview with Hanny via Eric Johnson on Friday before the race). But he dug deep, starting about last and passing half the field en route to a tenth place finish.
And speaking of quietly, Team Honda Muscle Milk's Justin Brayton, yes, quietly, finished fourth. Brayton did overcome some drama, though, when an early crash in his heat race sent him to the LCQ, which he won. Someday we're going to say that Brayton won a main event. Quietly.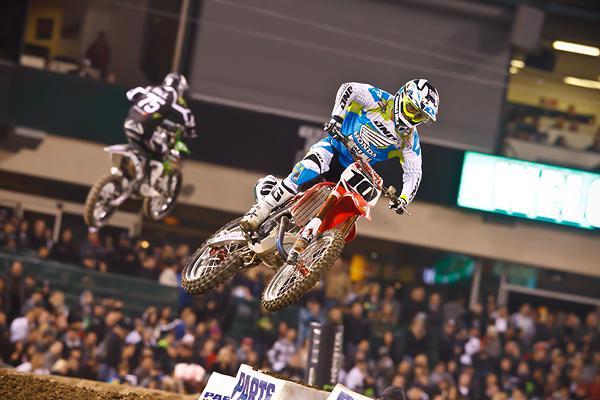 Brayton quietly finished an impressive fourth at Anaheim.
Photo: Simon Cudby
GEICO Honda's Eli Tomac had a long day at the office, getting taken down off the start in his heat race. He charged all the way back to eighth position to salvage a transfer spot, only to have his bike stop running with electrical problems on the last lap! That sent him to the LCQ with the last gate pick. AMA officials even had to pull tuff blocks out of the way to open up his gate, since only the LCQs feature 22-rider fields (heats and mains only have 20). Tomac then ripped a start from that fresh start pad, made the main, and then overcame a bad start in the main to get third. It was a tremendous effort by Tomac to salvage podium points, and we'll have more on him later in the week. But what caused that bad start in the main? Read on…
Here's what we hear: For the Lites main, the 30-second card holder, Miss SX, Dianna Dahlgren, glanced up at the 30-second board and saw a zero. But it wasn't at zero, it was actually at 10. But she only saw the zero in the 10, so she turned the card sideways and ran off the track. The AMA starter was only looking at the gate and didn't realize the card had turned sideways 10 seconds early, so the gate was held for the normal amount of time. This basically added 10 seconds to the gate drop. If you watched the race, you'll notice that the gate was held for an extraordinary amount of time, because the card turned sideways 10 seconds early.
Rockstar Suzuki's Jason Anderson got the worst of the deal, as he was left sitting when the gate dropped, and started dead last. The sophomore came back through to finish seventh.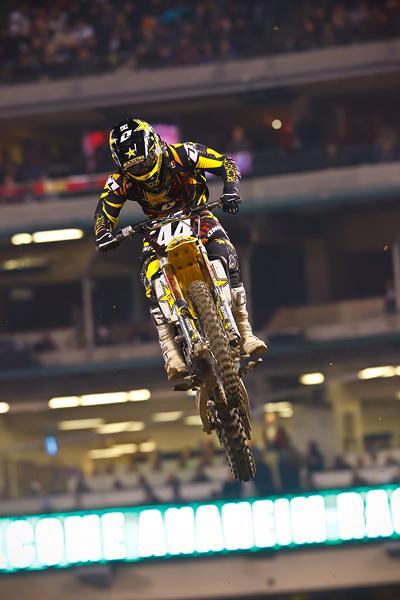 Jason Anderson was impressive in Anaheim, fighting back from a tough start to finish seventh.
Photo: Simon Cudby
Rough night for the Hahn brothers. Wilbur crashed in the Lites main and broke his nose, and Tommy took a rock to the tooth on the first lap of the SX main event, knocking the tooth out and exposing a nerve. Both brothers were left looking worse for wear when the night was over. "We feel each other's pain," joked Wil.
Josh Grant made his return to action for the new DNA Energy Drink/Jeff Ward Racing Kawasaki team, but he crashed on the first lap of the main, and then crashed again. He took 19th, but he's healthy and he'll be back.
Ivan Tedesco and Mike Alessi logged some impressive laps in the their heat races and the main event, but the results don't show it. Partially because they ran into each other in "Glen Helen '05 part deux." Alessi hit Tedesco hard enough to shove IT's brake lever up. That kind of shook up the rhythm of both riders. Check out the Simon Cudby wallpapers we posted this morning—we've got a good shot of the get together.
Tomac wasn't the only Lites contender to save his season. Rockstar Valli/Star's Ryan Sipes logged the fastest overall time in Lites qualifying (his specialty) but had a crash in his heat race. He too had to get in through the LCQ, which he did, and took fifth in the main event. His teammate Gareth Swanepoel wasn't as lucky, and a tough LCQ left him watching the main event.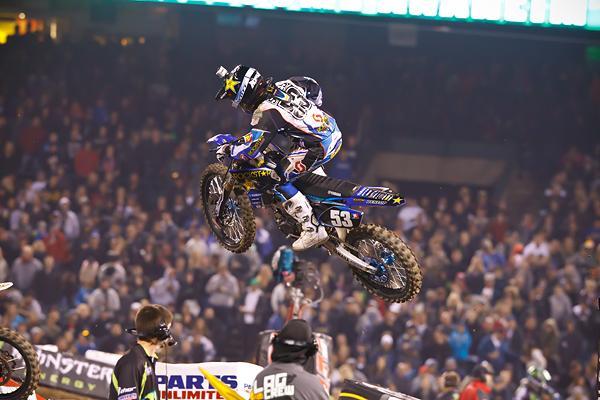 Sipes fought back from a spot in the LCQ to finish fifth in the main.
Photo: Simon Cudby
The Anaheim Lites field included a bunch of riders returning to U.S. racing after time spent aboard. After moving to Europe to race GPs, Zach Osborne hadn't raced supercross in two years. He qualified an impressive third overall! He also hung a sign of the front of his #338 Yamaha in the pits that read, "Not J-Law." Englishman Max Anstie is also racing some SX before returning to the GPs, like Osborne will do. Max qualified 14th and finished 16th in the main. Australia's Matt Moss took a solid 11th on his J-Star JDR KTM. And California's Michael Leib returned home after a lost year in the GPs in '11, but he missed the main event.
Also back, from retirement, was former Lites race winner Billy Laninovich. And he rode well, making the main and finishing 14th.