Chase Field
Phoenix

,

AZ
Phoenix
Monster Energy AMA Supercross Championship
The deck was stacked against Ryan Dungey and the Red Bull KTM team before Anaheim 1. Riding on a completely-new 450SX, a bike that was only released to the public as a production bike the week of the race, it was expected that the team might struggle to adapt. But there was Dungey during the main, battling in the same manner on his new KTM that he was last year on his well-proven Suzuki. How did he and his team make the new bike so competitive so quickly? We asked him for this week's Between the Motos.
Racer X: The KTM press release came out, and this bike was technically introduced Wednesday of this week. And you've only been developing your race version for a few months. This is an all-new bike. How did you get it this good, this quickly?
Ryan Dungey: The brand new 450 KTM's been awesome to really work with. Since we've gotten the bike and the whole process, it's been amazing to work with. To have a team that's 100 percent committed, that backs you all the way through ups and downs. It was nice to get that first podium for KTM here in the U.S., but we're not going to stop until—well, I guess there's no point where we're gonna' stop! There's never going to be enough success. But, like I said, to start the 2012 season off with a podium was great. Had a little mistake there in the middle of the race, but I'll make sure it doesn't happen again. I'm just really looking forward to getting back this week and putting in some good laps and getting ready for Phoenix.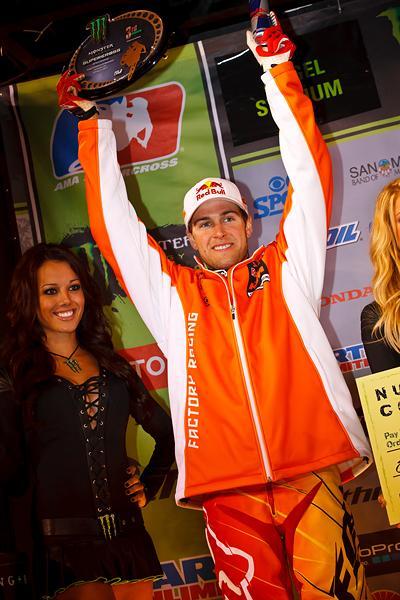 It took all of one race for Dungey to break the KTM podium streak.
Photo: Simon Cudby

Other manufacturers, when they redesign a bike, it takes a little while. That's where Honda is right now, with a bike that was new in 2009, they struggled with it at first, and now they have it figured out. You guys did this in three months. How do you do that?
Like I said in the press conference [on Thursday], KTM's been very dominant in Europe and they've had a lot of feedback from all their bikes and from their riders. So for them to make this 450, I think they had a good sense of direction. But it's supercross, which is different. So I just gotta' give all the credit to the guys here on the team. They were guiding me through the test days and guiding me in the right direction with what to try and what changes to make and anything necessary we need to switch up on the bike. They kind of have a lot of knowledge in that area. And working with Roger and Ian, the motor guy, as well as Rob at RG3 –- everybody, really –- we all work well together. And I think as a team that will build to success. So I think we just stick together, keep our game plan, and if we can make little bits of progress on the way, we'll have an open mind and we're willing to try stuff.
KTM is known for being real nimble and everything changes quickly. If they want to make a 150, they make it, or a 200, whatever. And we know that the North American relationship with Austria is very tight, probably tighter than other teams with their parent company. So do you feel like that may be a help to make things happen quickly?
Yeah, absolutely. That's something that I haven't ever seen a manufacturer do. And especially with Austria being kind of a small manufacturer and yet very big, their main focus is on racing dirt bikes and multiple other sports, but mainly all dirt bikes and racing. I think, like I said to the press as well, the quick turnaround and what they were able to accomplish and get done, that's what makes a team. That's why I signed. Because when you get in a team, that's what helps move things forward, when you can get parts. You've got guys like Roger, who knows, if necessary, the changes that need to be made, to get back to KTM to try it. Their turnaround to get parts, it's quick, they're on it, they're working 24/7 jobs and they're ready to win. And so am I. We're all hungry and I don't think we're gonna' stop until we get there.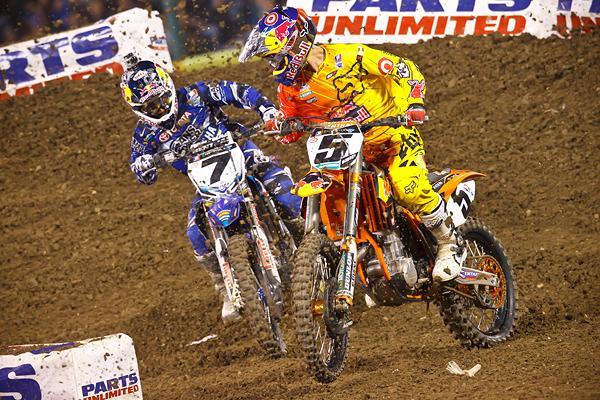 Dungey and Stewart were locked in a tight battle for a good portion of the race.
Photo: Simon Cudby
Let's talk about the race a little bit. You were third, and closing in on Reed a little bit.  Then what happened there?
I was closing on Reed and I just started feeling a little comfortable on the track -– maybe a little too comfortable -– and I pushed my front end over a rut and basically, it caught. Then the rear wheel came out and then I went over the jump and lost it. But we got back and rebounded and Chad actually had a mistake too, so there was a lot going on back and forth, but we were able to come out on the podium. Like I said, let's not make that mistake again. It'd be nice to get her on top here. This was a win for us as a team and I think we got a lot of great things to carry this momentum forward.
You were in a really good battle. There was James in front of you and behind you at times, there was Chad in front of you. That's pretty intense stuff. Do you remember all of that in your mind after the race is over, or are you just taking it as it comes because there is so much going on?
You really just gotta' focus on your own deal and try to put yourself in that position. I wanted to make that pass happen, but Chad's a really good rider at holding guys off. I need to find a way to make those passes happen a little bit quicker. But the first race was to get the jitters out and now we're ready to go full force.