Angel Stadium
Anaheim

,

CA
Anaheim I (A1)
Monster Energy AMA Supercross Championship
On Saturday evening, April 30, 2011 and with light snow flurries blowing around Rice-Eccles Stadium in Salt Lake City, Utah, Josh Hansen sat alone, head in his hands, in shadowy rear recesses of the Monster Energy/Pro Circuit/Kawasaki trailer. A few minutes earlier, after attempting an aggressive block pass on Eli Tomac for the lead, Hansen hit the dirt. And when he did - and after winning three races and leading the most laps (34) during the 2011 AMA Supercross Lites West Series – a championship he appeared to be destined to win went right into the ground with him. It was a devastating blow to Hansen, who after a star crossed career and after working so very hard to take his prodigious talent and skill and harness it all for the good, appeared to be on the fast track to fulfilling the great promise so many saw in him.
After Salt Lake, Hansen, admittedly, lost his way putting in poor (if not miserable) performances at races such as Mammoth Mountain, the Zwarte Cross (in Holland) and the Monster Cup. Moreover, there was a lot of turbulence and conjecture about just who he would be racing for in 2012. Finally, word came down that Hansen has signed-on to ride the 450 class with the upstart Dodge Motorsports/Bel-Ray Racing Team. Hansen went quiet during the off-season, spending weeks upon weeks riding and training at the team's Las Vegas-based test track. Not much was heard from the flamboyant rider, which to a certain extent, may have been a good thing because as with any of us as the old English proverb proclaims, idle hands can be the  devil's workshop.
So, having bestowed upon you all the above, on Friday morning, we rang up Josh Hansen. Normally in good spirits  - and never at a loss for words – we found out that his 2012 campaign – set for tomorrow night – was off to a bit of a rough start as he was sick as a dog.
Still, Josh being Josh, he was more than up for telling us just what he has been up to and how he sees his all-important '12 season shaking out.
Okay Josh, it's the Friday morning before tomorrow's 2012 Monster Energy Supercross Series opener at Angel Stadium. What are you up to?
I've been lying in bed and puking my ass off at the moment.
You're sick?
Yeah, it's kind of a weird deal. I went to Fox yesterday to pick up my gear and ended up going to the bathroom and I blacked out and hit the deck. Then I started puking my ass off. I threw up all over myself in the car. Then I had mom and dad come pick me up and take me to the hospital last night. Now I'm just laid out. I can't stop puking. I don't know what's wrong with me.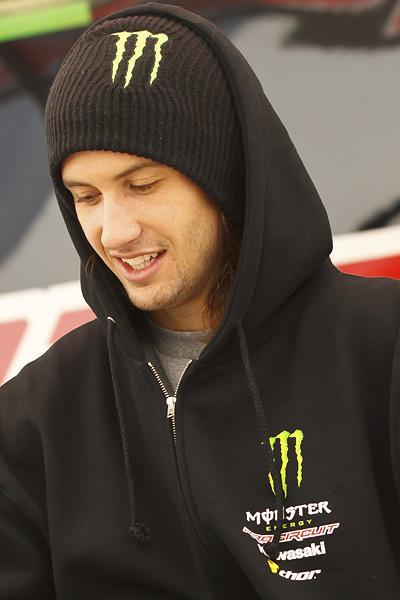 Hansen will make the switch from PC to H&H for his debut at Anaheim on Saturday.
Photo: Simon Cudby
At the hospital, did the doctors know what was wrong with you or give you an IV or anything?
Yeah, they gave me an IV and some stuff to help my stomach, but even now, everything I put in me just goes right back out.
Are you drinking a lot of liquids and all that?
Yeah, that's all I've been doing. I have to try and keep it alive for tomorrow. It's not the coolest way to start off 2012.
Yeah, I can understand that… Speaking of 2012, and as a broad stroke question, you're a 450 rider again. If I have it right, I don't think you've been in the class since you rode for the Rockstar Hart & Huntington team in 2009. Is that right?
Yeah, that's right. I only did a couple of rounds for them and then I quit racing. So it's kind of like I'm really stoked on my team and I'm just ready to get started. I want to have a good, solid year and, more or less, just stay positive and work out all the kinks. I feel really fortunate to have a lot of good people around me. And I'm back on Monster as well. That's really exciting for me because I didn't know which way that was going to go there for a little bit. I'm really excited to be with Monster and that makes me feel a little bit better heading to the line. Now it's all just up to me.
Before the 2011 racing season was even over, I know Mitch Payton wanted you to stay with him and the Monster Energy/Pro Circuit/Kawasaki team and ride a 250 in 2012. However, you were pretty adamant about moving up to the 450 class, correct?
I wanted to go to the 450 class because I really felt like I was going to win the [Lites] championship last year and obviously that didn't happen with me getting hurt. That really put a twist on everything. Mitch had asked me to ride the 250 and at the end of the day I wanted a championship really bad. But then at the same time I kind of used last year as my year to go ahead and get that done. It didn't happen. I don't know… I kind of feel like I'm selling out if I stay back in the Lites class. That's not taking anything away from the class because these kids are fast, but at the end of the day they're kids. I mean, looking back, my career kind of took a weird turn in the middle and took me back to the Lites class, but I just didn't feel like it would be a respectful championship if I would win it in 2012, you know? It's like I'm beating the kids. I just really want to start heading up to the 450s and see however that's going to go and keep building. I want to do that and keep a positive attitude and just keep moving forward. I ride a 450 really well and I feel I can do stuff on a 450 that I can't do on the Lites bike. I'm just excited to start a new adventure.
Due to the fact that he pointed out of the Lites class and still had a year left on his Kawasaki contract, Broc Tickle now has a 450 ride with Mitch. Would you have liked to have been given a Kawasaki/Pro Circuit 450, too?
I mean absolutely! I had talked to Mitch about it, but yeah, it didn't work out. I wish I had the same bikes as Tickle, but it's one of those things that it is what it is. It'll make it all that much sweeter. I would rather see that guy on that bike than me for the moment because all the pressure rides on his shoulders. I'm a full privateer. I mean I guess we have it a little bit better than a full privateer situation with our semi truck and we have great mechanics and stuff, so that's good. However, we have no factory parts and we have not done any testing or anything, so we are basically on everybody else's time and that's what has been the hard part. We're not able to ride the Kawasaki track and that's been a little bit rough on us, but at the end of the day, well what do you do? At the end of the day it's mind over matter. They make the tacks so easy now that I don't think it's that big of a deal. It just comes down to cardio and clicking off laps and doing what you do best.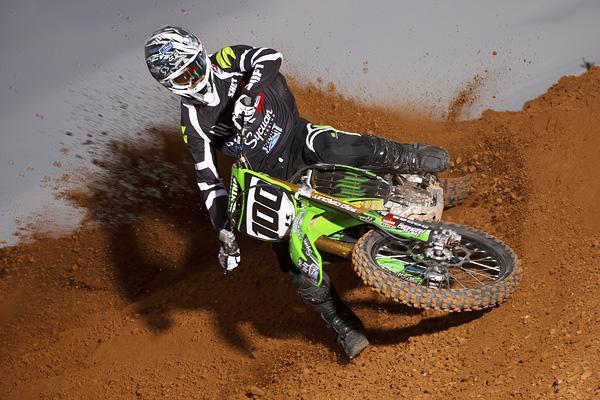 Hansen is back in the Supercross class after spending the past few years in the Lites class.
Photo: Simon Cudby
Your last 450 ride was at the Monster Cup last October. You and Broc Tickle tangled in the first race and you hit the dirt. I went to go see you in the pits after that race and you were livid. The evening just kept going downhill for you from there. Just a bad night?
It was a pretty last minute deal for me to go because of my whole face issue and stuff. I was able to only ride a few days before the race. I just hopped on the 450 and was getting after it. No excuses. It is what it is. The race just didn't go good.
Oaky, people will crucify me if I don't ask the question: Just what happened with your face? Was it really a BMX deal?
Yeah, it was a BMX deal. I'm still sticking with the BMX deal. I don't want to scare the industry. The industry wouldn't be ready for this. They would automatically ban me from racing, so I'm just going to keep it as is – it was from a BMX crash.
As far as your new team - The Dodge Motorsports/Bel-Ray Racing Team -  do you feel like you have good equipment as well as a good staff of mechanics and technicians behind you?
Yeah, we have not tested at all, but I have good bikes in the sense that I've got Pro Circuit parts and stuff and you can't go wrong with Mitch Payton because he makes the best there is. I have that, I have super-good mechanics. I love my team. My team is awesome. The only thing that is hard about our team is that we don't have the factory support, so that kind of stuff makes it hard. That's not my team's fault. That's where what we are sitting on and where we are at with our sponsors. I think [Carey] Hart has really put together a really good program this year. With Tony Berluti, and the rest of the mechanics on the team, I think we have awesome people. I think that the more the season will go on, we'll get our bikes and ourselves better. I think there is a lot to look forward to this season.
I was in at Pro Circuit talking with Mitch last week and some of your team guys swung by. Mitch asked them how you were doing and they told him you have really been working hard and putting in the laps. They all sounded really positive and optimistic about you and your preparation for 2012. How do you feel about your training? Do you have 20 good laps in you?
I think so. I think things have been going good and I've actually been riding really good. I think everything has been going good. I'm trying to see where my body stands tomorrow night after all this bullshit I've been going through. I've definitely been working hard. I've been putting my head down and trying to make the best of my situation.
Okay, I was at the press conference yesterday and there was certainly a lot of focus placed upon Villopoto, Reed, Dungey, Stewart and Canard. Having said that, how do you see yourself running in 2012?
I would definitely like to get into that top five and I would love to get a podium like Canard did last year. I hope that's not out of the question. All the guys are really fast and very dedicated to the sport. I feel like I'm a dark horse going into it. One thing I have on my side is that I'm not scared to piss people off. I'm not afraid to get in there and mix it up and make it happen.