Last year privateer Casey Hinson had the kind of season most true privateers dream of. He made seven of nine Western Regional SX Lites main events, finished eighteenth in the points, and didn't have any DNFs. Unfortunately his stellar year didn't add up to a support ride, and this year, Hinson will be riding a Kawasaki KX250F out of his van at the West Coast rounds. We caught up with Hinson to get the details, and to learn more about one of his a new and unique outside sponsors, Homes for Wounded Warriors.

Racer X: Tell us what you've been doing during the off-season.
Hinson: I did a bunch of local races, like the Top Gun series, and I raced in Portland, too. Pretty much I just stayed busy racing, I just wanted to stay on my bike and stay racing. I had quite a bit of momentum coming off of supercross last year, and I raced as much as I could.

Last year you were on the KTM Shea Racing Violation Goggles National Switchgear team. You finished eighteenth in the points, and made seven of nine mains, with no DNFs.
Yeah I transferred directly from my heat races, too. In Seattle I crashed in practice and didn't get to race, and at the first round, I just had a ton of jitters. I crashed and didn't ride great, but after that, I made all the mains right out of my heat race. I thought I had a solid year. My goal was to make mains, and once I started doing that I had to refocus with all of my goals and get my riding to the point where I was able to stay focused for fifteen laps. It's really hard to sprint for fifteen laps. I could do it, but mentally you start getting in a pace and stop sprinting. I had to learn to really sprint for fifteen laps.

You had better results than anyone on the team, so I was surprised to see that you weren't with them again for 2012. What happened?
I think I made more main events than all of the other guys put together. It's been crazy, it's been so gnarly, I did the best I've ever done last year, and I didn't talk to any teams because I was just going to ride for the team I did last year. They were going to do the same deal, just bigger and better. All the way up through the Monster Energy Cup they were planning on doing the team, and I wanted to stay with them. Last year, they provided me with a race bike and a little bit of support, but everything else I handled on my own. I bought my own practice bike and paid my mechanic, everything. But we were out of a semi, so it looked like we had really good support, but really, I just had a bike with a couple things that were done to the motor. It was pretty much a stock bike though, and I was able to make mains on that.

The following year, the team was going to combine with another team. I had concerns about that deal going through, but they assured me that there was still enough sponsorship in place for a solid West Coast program no matter what. So I didn't talk to any other teams. Then all of a sudden, about November, they told me the deal didn't go through, and the other sponsors fell through, meaning there wasn't going to be a team. So that basically shut me down. I think they ended up throwing something together for an East Coast program, but there was no money for me to be able to fly out there for the races or anything, and I ended up with nothing.

So what do you have going for 2012 then?
Justin Sprugasci at SVM Racing was putting a deal together, and luckily I was able to get on board with that. Now I'll at least be able to get to the races on a good bike. Justin hasn't had a team for a couple years, but he wanted to start one back up, and he got together with Jared Allen, who is a bad dude and actually plays for the Minnesota Vikings. Allen has a charity called Homes for Wounded Warriors, and they make handicap accessible homes for war veterans. He wanted to get involved by having his charity sponsor the team, and we were able to put a small West Coast program together for me. It's pretty cool to have outside support from someone who plays in the NFL.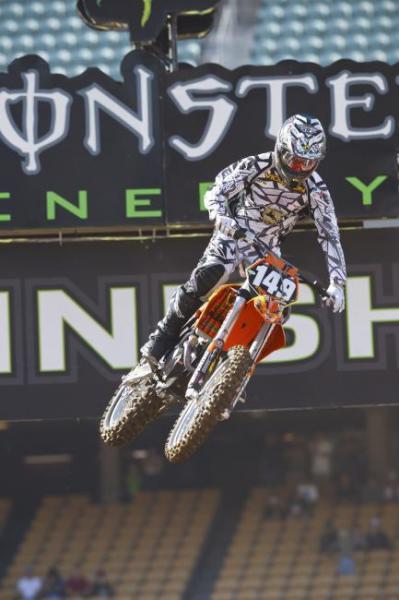 Hinson qualified for seven out of nine main events in 2011, will that trend continue in 2012?Photo: Simon Cudby

It sounds like it might be tough to compare the level of support you had last year to what you'll have this year, but with your current situation, do you think you'll be able to do as well in 2012 as you did in 2011?
This year everyone is really struggling to get money together, and Justin worked his butt off and was able to get enough money together for us to get a couple bikes. Frenchie over at C4MX is doing our motors, which means I'll definitely be on a better bike, I'll just be doing it all out of my van. Last year I didn't have much support, but I was out of a semi so it looked like I had this big bad deal. This year, we're getting back to the roots and putting our effort into our equipment. Everything is pretty much coming out of our pockets. I mean, we have products sponsors for stuff like levers, foot pegs, air filters, stuff like that, but we're not getting motors and suspension for free or anything. It's very much a full privateer deal. We're going to go in with very little, and try to come out with more.

What's the most difficult part of life as a privateer?
For me the hard part is keeping the bike going because there's no parts allowance. We get enough to build a bike, but as far as maintaining it, it's tough. Things just don't get freshened up as much as they would on a factory supported team. I put a ton of practice laps in at the track, which makes it very hard to keep the bike in the condition that it needs to be. Sometimes I think to myself, "Man, I have to take it easy, because if I put too much time on this bike, I'll have to put a top end in this much sooner." I've worked super hard and put in a ton of laps this year, too, and it definitely takes a lot of money out of the pocket to keep the bikes going.

How can people interested in helping out with your program get in touch with you?
People can reach me through email at chinson149@aol.com, or through Twitter, @chinson149.

Who do you want to thank?
I need to thank Justin Sprugasci at SVM Racing for putting this whole program together, and also Jared Allen's charity, Homes for Wounded Warriors. They build handicap accessible homes for wounded veterans. It's a great cause and I'm proud to be involved with such a great organization that does so much to help people that need it and deserve it. If anyone out there is wondering how they can partner with our team and Jared Allen to help raise awareness for wounded vets and help make their lives a little bit easier, they can donate by texting, "warrior," to 80088. It's really that easy. I also want to thank Billy Ezernack and Steven Armstrong for their support, my mechanic George, my girlfriend Haylee, mom and dad, Max and Fly Racing, GP Sports, Factory Connection, Double E Trucking, Works Connection, FMF, Scott Goggles, C4MX, DT1, Mika Metals, Torc 1, Moto Tassinari, Hinson Racing, TM Designs, Fushion Graphics, UFO, Fulton Connor, Sullen Clothing, Guts Racing, TCX, Redwave Tattoo, Sunnyside Bicycles, and Asterisk.