As pumped as we are for 2012, we're sad to see 2011 go. This was one of the most competitive seasons of all-time, and the stories will live in bench racing lore for a long time. But what was the best story of the year? We asked you in our online poll on Monday. Here are the results, along with some analysis.
Tickle wins SX Lites West in dramatic fashion: 13 votes - 0.4%
This one may have been overshadowed by a star-packed night in Vegas that featured the East and West finals, but off all the races on that evening, this one featured the most drama and action. It didn't grab a ton of votes, but Tickle got the trophy that counted.
Fiolek wins third WMX title 36 votes - 1%
The Fiolek/Patterson battles always headline the WMX Series, and that happened again this year. Patterson fought to get her title back last year, but Fiolek showed up ready in 2011. Patterson had speed, but too many mistakes, while Fiolek continued her consistent consistency (can we call it that?) and rolled to her third title in four pro seasons.
Ken Roczen wins Las Vegas SX, then FIM World Championship 57 votes - 1.5%
Did you know? In the first SX practice of the year, at the conclusion of the first timed lap, the rider who put his name on the top of the lap board was Ken Roczen. And that was his first-ever timed lap at a supercross! Crashes and a learning curve slowed his results at first, but he won the finale in Vegas. During all of that, he was setting up a successful championship drive back home in Europe.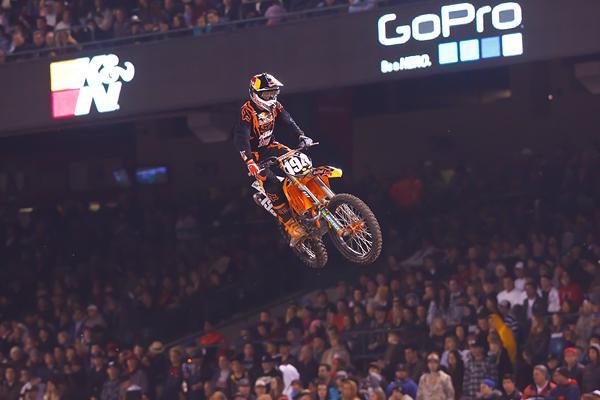 Roczen had a magical season in both the U.S. and Europe.
Photo: Simon Cudby
Dean Wilson holding off his teammates for the AMA 250 Motocross Championship 81 votes - 2.2%
At one point, the AMA Pro Motocross 250 Championship was as close as we had ever seen between three riders. But then Dean Wilson just took off down the stretch, winning three of final four races to seal the deal.
James Stewart signs with JGR 98 votes - 2.6%
Lots of rumors pointed to JS7 linking to Suzuki, but instead he stayed on Yamahas and joined the JGR effort. This will for sure be a bigger story once they go racing together in 2012.
Team USA's seventh consecutive win at the MXoN 112 votes - 3%
A big deal, but the fact that it garnered so few votes showed how many exciting things were happening in the title chases here in the U.S. This was an exciting one, but not the best of the best.
Justin Barcia's jump to the 450 class 122 votes - 3.3%
Barcia won the Lites East title despite racing with a broken wrist for most of the way. But he grabbed more headlines with his superb riding on a 450, where he was challenging Ryan Villopoto and Ryan Dungey at times.
Ryan Dungey signs with KTM 242 votes - 6.5%
Like Stewart to JGR, this one will gather more votes in 2012.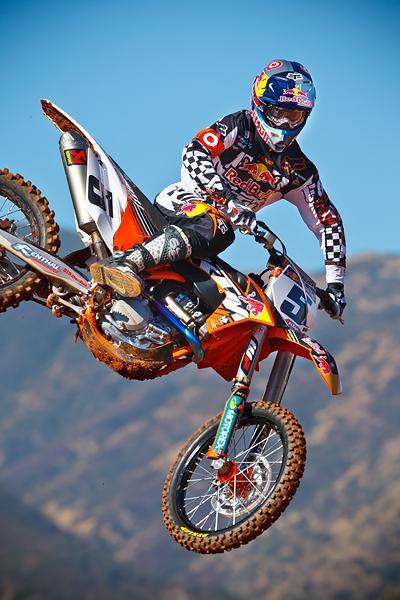 Dungey signing with KTM will likely garner more attention as the season progress'.
Photo: Simon Cudby
Ryan Villopoto wins $1 million at the Monster Energy Cup 295 votes - 7.9%
Had we just lumped all of RV's accomplishments together, he may have won the voting.
Five-way battle for SX Championship 491 votes - 13.2%
The greatest season ever? Could probably make a good case for that. We're hoping 2012 is just half as good, because even that would be pretty amazing.
Ryan Dungey's remarkable comeback at Southwick 542 votes - 14.6%
The largest vote getter for one single race--the only two stories that topped it in your voting were season-long storylines.
Villopoto takes hard-fought AMA SX and MX crowns 620 votes - 16.7%
RV is awesome, but line up any rider against the likes of Dungey, Reed, Stewart and the rest and ask him to sweep both major championships is a tough, tough task. He did it, and we shall never hear the phrase "against diminished competition" with this one.
Reed's successful start with TwoTwo Motorsports 1002 votes - 27%
Easily your pick as the best story of the year. This was an against-the-world effort that nearly came out on top in the standings, and made Reed a huge winner with the fans. After TwoTwo Motorsports, no one else has an excuse.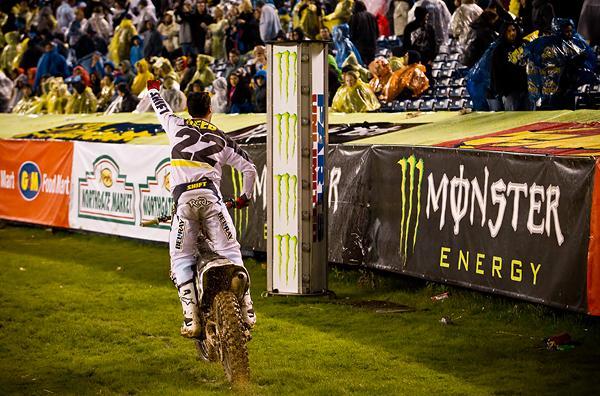 Reed and TwoTwo Motorsports took home the top spot.
Photo: The Medium Group