Last week we wrote about the two-stroke versus four-stroke battle in the Can-Am Grand National Cross Country Series' XC2 Lites class. This week we chat with the champion of that XC2 class, South Carolina's Steward Baylor, who wrapped the title last weekend on a dramatic day at Loretta Lynn Ranch. You're going to love the 16-year-old's story about the race—read on for some laughs.
Racer X: What are you up to today, Steward?
Steward Baylor: I'm at Morgan Moss' house in Louisiana. We're building some tracks. Put in a good 25 hours on the skid steer. It's sick, it's perfect. We were just waiting for the rain, which came in last night. We built a supercross track and an outdoor track, and it's looking perfect right now.
You do moto?
I'll do a little bit of everything—I've done arenaccross even in the off-season. But most of my practice is on the motocross track. We do have a woods track that Kailub [Russell] and I built with a skid steer, it's about a three-minute lap. It got rough like a GNCC. But when I find woods, we'll usually just find something fun to challenge ourselves, like a water crossing, or a hill climb, or a gulley to jump from, something like that. For corner speed, you're going to pick up more on a motocross track than in the woods, and in the woods you have to deal with tree roots and things like that. So I do a lot of my practice on a motocross track.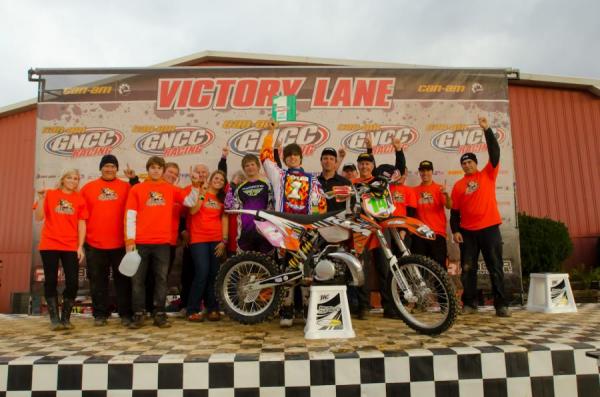 Baylor celebrates his first career XC2 title.
Photo: Shan Moore
Last year you had good speed in XC2 but the consistency was lacking. You stepped up this year.
Yeah, me and my brother stepped up our training a whole lot this year. There wasn't as much riding, but there was a whole lot more time spent in the gym. I'm talking getting up at 6:30 in the morning and working until noon in the gym with a trainer, and then riding maybe two days a week. I've always trained, but never like that. I had the trainer last year, but it was one of those things where I would go two or three days a week, and ride more. Also I just didn't know what I know now as far as strategy in a three-hour GNCC. I had some bad races this year, but it's your bad days that win championships. I had a race where my wheel fell apart and I ran out of gas, and I still got fifth place. Or when my throttle housing broke and I got fourth. Those are the things that got the championship in the end.
Well, you have a story like that from last weekend's finale at Lorettas. You ended up clinching the championship there, but explain what happened.
[Laughs]. We had two bikes to get ready for the race, for me and my brother, and we left on Wednesday to get to the race. We never started the bike between then and the race. So when I went to go down to the line, we started it, and it ran like it had a rag in the air box. So everyone is freaking out. And I'm just making sure I have enough time to get it fixed, get to tech, and make sure I have enough time to drink my Red Bull and my five-hour energy…
Wait, wait. You still drink those?
Yeah man, you remember that?
Yeah, you always said you were ripe on energy drinks!
Yeah every race! [Laughs] So my bike isn't running and I can't figure out why. We pulled the pipe to see if there was something in there between the cylinder, and it looked okay. We didn't know what to do, so I saw a random bike sitting there behind our semi, so I just took off on it! My team manager Antti [Kallonen] was freaking out because we were barely getting to the line in time. So I get there with about a minute and a half to go, and then they tell me I have to have the proper front number plate on the bike, and I have to go through tech inspection to make sure my transponder works. So I had to go back and do that! We had to just cut the transponder off of my bike and duct taped it to the new one—good thing it worked. So when I get there the front line (XC1 Pro) is taking off, so we're one minute from my start. And I just yell, "I need the Red Bull! I need the Five Hour! Now!" So some people were laughing about that! Then Bart Hayes, who owns Powersports Grafx and does my suspension, told me I only needed to finish 14th to win the championship. But I told him, "I don't care whose bike I'm on, I came to win."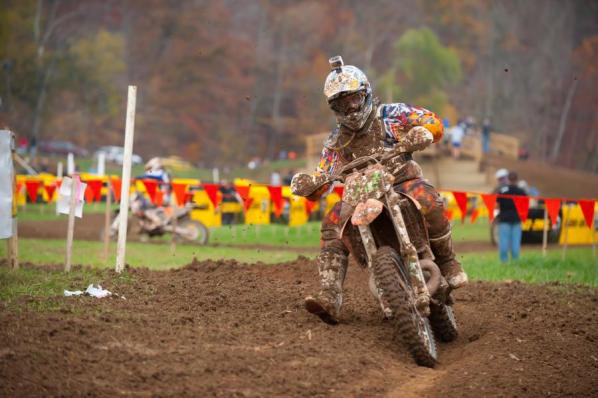 Baylor will be back in 2012 to defend his XC2 title.
Photo: Shan Moore
I didn't win, I finished second. And the bike barely held on by the end of that race. My wrist hurts all the time anyway, and my wrist hurt really bad because the forks were too soft for me and I was blowing through the stroke. And I had an ankle injury this year and I was blowing through the shock, too, so that hurt. Then the grips started spinning so my wrist was folding over. Also, it was a 2012, so it handled and turned a lot different than what I was used to. But it got second and I won the championship. Hey, all I can say is, it's a KTM and it was ready to race! After the race I realized I had blown the fork out and the oil was gone, the springs were practically hanging out. I did some damage to that bike. It turned out it was Alan Gravitt's bike--he helps out the team. I did do some damage to it, but I told him, "Hey, your bike just won a National Championship!"
On Sunday I was back on my bike and I felt good. It was a four-rider battle, me Jordan Ashburn, Andrew DeLong, and Jason Thomas. We were running a good pace, but it was a comfortable pace for me, and I knew I could sprint away when the time came. I was just waiting for the last two laps to strike. But then I sucked in some water at one of the water crossings. So that ruined it. I managed to come in fourth. So it was another one where I had a bad race, and I just had to make something decent out of it.
Okay so what's the plan next year?
I definitely have to stay in XC2 because you can't move to XC2 until you're 18. But I'll move up as soon as I can, because I want to start learning from those guys as early as I can. But next year I'll try to defend this title.