In a three-way battle for the Can-Am Grand National Cross Country Series championship, the only thing for certain is that the top riders are going to show up ready to win. Sunday's three-hour race in Somerset, Pennsylvania was a gnarly mixture of big rocks and mud—which made for a "survival of the fittest" situation. FMF/KTM's Charlie Mullins made it two in a row after winning the VP Racing Fuels Mountain Ridge GNCC—extending his points lead over previous champions Josh Strang (2010) and Paul Whibley (2009).
Mullins has nothing to prove and plenty to gain in the four remaining races, although a championship is something he has been working toward since he started racing GNCC as a youth rider. We got the scoop from "Hot Rod" after winning his fourth race of the year.
Racer X: You led three of the six laps out there, switching off with teammate Kailub Russell and Josh Strang. Tell us about the battle you guys had going out there.
Charlie Mullins: Yeah, it was a pretty tough track so it was kind of hard to break away and we were all pretty equal in speed today. One of us would lead and then go down—it was kind of back and fourth all day. I kind of got my break on the last lap and I was able to open a little gap on those guys. I dropped the hammer pretty hard the last lap and was able to have a cushion there at the end. I made no mistakes and pushed hard, it was a good lap and I think it was the key to getting the win today. It was definitely nice to get the fourth one of the year.
I just kind of took what the race gave me. I had a plan, but it didn't go as planned, so that was out the window, so I was just riding after that. I was hitting rocks the last lap, just going for it. I was riding in my comfort zone—I wasn't ever out of my comfort zone but I was pushing really hard and just hitting rocks. It was a tough track and I'm pretty tired right now. I got lucky, I didn't bust anything up and it definitely paid off. It's nice to win on this track two years in a row. I like this place a lot. I gave it everything I had and it feels good to get the win.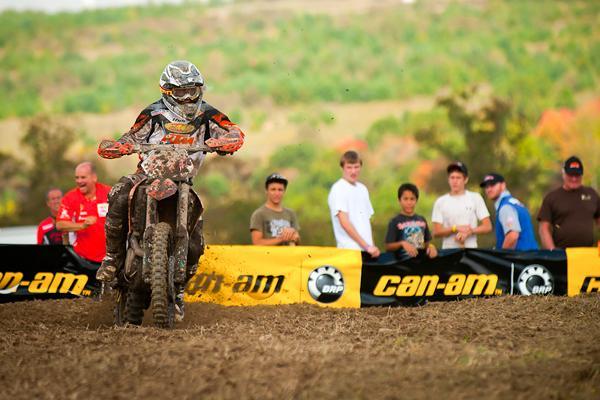 Mullins outlasted teammate Kailub Russell and Josh Strang to take home the win at Mountain Ridge.
Photo: Shan Moore
Pitting strategies seemed to come into play during this race, particularly between your FMF/KTM team and Josh Strang's FMF/Makita Suzuki crew. Does that affect you as a rider during the race?
There's definitely strategy but that's up to the team, I just ride and when I see the pit board, that's when I go in. That isn't my department, I'm just out there to ride as hard as I can and they figure all that stuff out. It seems like Josh [Strang] pitted on the off lap (the lap before) and he was actually able to catch Kailub [Russell] and me. We kind of got a cushion and then we pitted and he got a little bit of a gap, but I think he messed up on one of the bridges going into the woods and we were able to catch him and then we just kind of rode with him from there.
You're seventeen-points ahead of Strang and twenty-five ahead of Whibley, who both have a GNCC title already. What would that mean to grab a title over them?
It would mean a lot. I've been working at this for a few years now and it would be nice to get it, but we still have quite a bit of racing left. All I can do is win races, build a points lead, keep it on two wheels and stay healthy. Just getting points and staying consistent is the key.
You're kind of the "OG" of GNCC racing. There hasn't been an American-born champion since Rodney Smith in 2004, is this what you've worked toward since you were a kid?
That's been the dream—to get the GNCC championship. I've been here quite a while, so it'd be nice to finally get a championship. I've been racing GNCC since I was on 80's; I've put a lot of time and effort into this series so hopefully it pays off this year. We still have four races left, so the plan is to just stay healthy and keep strong each race.
You experienced some heartbreak this year, but you've bounced back and won two in a row to put you out front. Do you feel like things have turned around?
I kind of had a little mishap one race—just a little bad luck, but I feel like I'm riding strong this year and so are Strang and Whibley, so I'm going to have to be on my game every race because they're definitely going to be there. It should be interesting!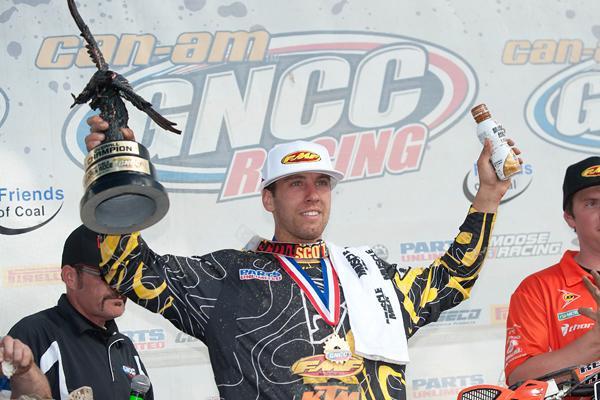 Mullins took home his second consecutive overall at Mountain Ridge.
Photo: Shan Moore