I remember it well from Loretta's. For two years,
Ryan Villopoto
came to the Ranch ready to mix it up with the infallible
Mike Alessi
, but he failed each time. Villopoto was fast, but Alessi was perfect—better starts, fewer crashes, and a better bike and program.
Alessi put so many beat downs on Villopoto, that when a gang of MX super agents followed Davey Coombs around one night asking for scouting info, one of them said, "After all of this Alessi stuff, isn't that Villopoto kid totally ruined mentally?"
Apparently not.
Ryan Dungey came out of the amateur ranks a little early, and when he did his interview rounds leading up to his 2006 debut at Millville, he didn't project much confidence. A close friend of mine even said, "You can tell that mentally, the kid doesn't have it."
Yes, there were doubts for both of these riders. Their destiny was not preset—this wasn't Ricky Carmichael and James Stewart, who were pretty much expected to (and did) steamroll everything as they advanced from amateur to pro.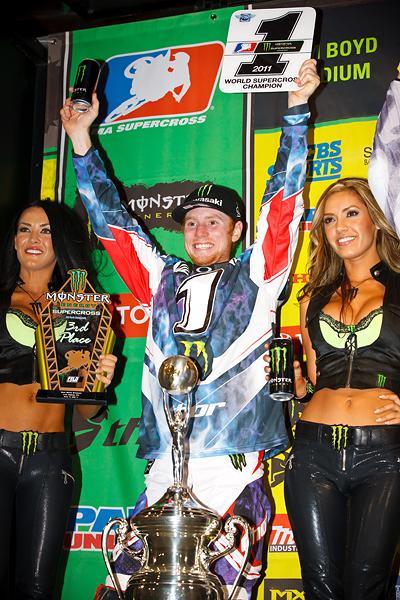 Villopoto took home his first career 450 SX title in 2011, can he do the same outdoors?
Photo: Simon Cudby
Today? Hey, we can use hindsight to look all smart about the Ryans. Seems obvious that they were the next guys. But you can use hindsight to make any surprise look any less surprising. For example, when we were blowing up Chad Reed's amazing season a month ago, it was easy to chalk it up to Reed being a proven champion, being the man, being awesome, whatever. But in October of last year he was very close to not even racing at all. Back then, if I sold shares in, "Reed will be the points leader outdoors in July against a healthy Villopoto and Dungey" it would have been a penny stock. And no one would have bought it.
Not sure how many people were buying RV and Dungey a few years back. Did they have a chance? Yes. But the ranks of next-gen stars of American Motocross were pretty thick.
After all, before Dungey, Suzuki had invested in two young riders who were much more proven than Dungey. Davi Millsaps and Broc Hepler were the future of Suzuki, and they slotted into the pro team in 2005, just in time to learn lessons from Carmichael. What could go wrong?
Millsaps never really gelled over there, though, especially outdoors, where he ended up with just a few podiums to show for his two seasons in the Lites class. He moved to Honda when his deal expired, but has still yet to win races or titles in the manner he was expected. Hepler had some wins and certainly showed the potential. Most have forgotten that at the Hangtown opener in 2005, Hepler raged through the pack to win the first Lites moto. That season would be the first without a Carmichael/Pastrana/Stewart super talent in the ranks, and Hepler's first-moto win that day established him as the next guy.
It didn't last. He crashed too much.  But as Villopoto entered the pro ranks and started wining races early and often, Hepler was one of the few fast enough to run with him, and even beat him on occasion. But Hepler moved to Yamaha and suffered a massive concussion while testing before the 2007 season, and admits he never fully recovered from that. He's now retired.
Of course, Villopoto would have to get through Alessi, his long time nemesis. When Villopoto's first full outdoor tour began, in 2006, it looked like more of the same. Alessi won the '06 Hangtown opener, with Villopoto taking second behind him in the first moto. Alessi quickly opened a huge points lead and a title looked like a lock. Instead, Villopoto did what doesn't often happen in this sport. He shoved confidence and momentum right out the window and started going faster. Faster than Alessi. He reeled his old rival in and collected the 2006 title.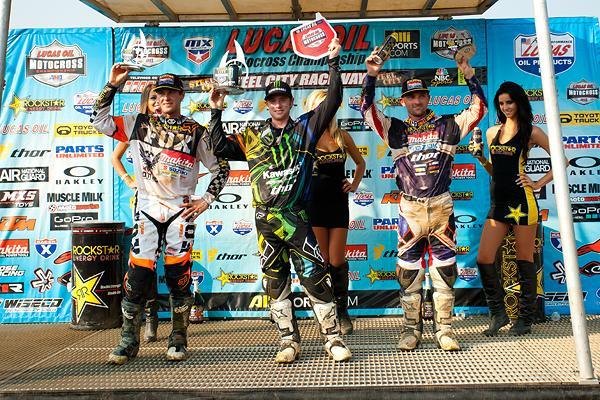 One of the Ryans will take home the 450 title at Pala on Saturday.
Photo: Andrew Fredrickson
Ben Townley showed up healthy and ready in 2007, and he gave Villopoto all he could handle for most of the season. But RV eventually pulled ahead late in the year, and Townley, like Hepler, succumbed to a never-ending trail of injuries.
Both of the Ryans found a new rival in Jason Lawrence, a man who was as talented in his abilities to ride fast as he was in his abilities to get under the skin of his competition. J-Law was certainly a thorn in the side, but his program began to crumble, and now, like Hepler and Townley, he's nowhere to be seen on the American motocross scene.
Once Villopoto moved to the big bikes and J-Law flamed out, Dungey appeared to have the 250 class to himself. Enter Christophe Pourcel, the Frenchman who was originally tabbed as the rival to Alessi and Villopoto. CP even showed up at Loretta's once on 85s, but took a distant third to the American kids. He would prove to be a bigger threat later, such as when he won the Phoenix Supercross in 2007 and looked primed to challenge Villopoto for a West Lites SX Title. Unfortunately, he broke his leg the next weekend, and a massive injury late in the '07 season nearly cost him his career.
He reemerged just in time to challenge Dungey in 2009, and we remember how close he came to scoring that championship. Pourcel knows he has the stuff to run with the Ryans, as he's done it before, but his career has taken on a strange downward spiral that only now begins to be heading back up. But, that's taking place over in Europe.
With Alessi, Millsaps, Hepler, Lawrence, Pourcel, and so many other potential "next big things" by the wayside, just two obstacles remained. And they were the two most established stars of all—James Stewart and Chad Reed.
Again, go back to that hindsight thing. I remember bench racing at the eve of the 2010 Monster Energy Supercross season, wondering if either Ryan would truly be able to step up to the pace of Stewart and Reed. And if you were counting votes, you'd be well short of 50 percent on yes. Many had risen through with expectations of challenging the Reed/Stewart combo, but most (except Carmichael, who came before them) failed. Why would these kids be any different?
To be fair, circumstances intervened. Injuries knocked Stewart and Reed from the 2010 season before you could say the words "confidence boost." By the time they returned in 2011, both Ryans now truly felt they belonged at the top of the heap, and that's why all four went at it tooth and nail for 17 weeks in supercross. Each of the four riders considered themselves the best in the game.
Villopoto got the better of them all in supercross. And Stewart elected not to race motocross, which left us with three. And Reed put up one hell of a fight. He could have retired, he could have taken a summer off, he could have cruised around. Instead, he gave the Ryans all the resistance he could muster. It's worth noting that the day this championship slipped from his grasp, at Millville, he had won the first moto and had passed both Ryans on the first lap of moto two to take the lead. He was on the verge of fighting back their advances and beating them for this title. But it fizzled in spectacular fashion.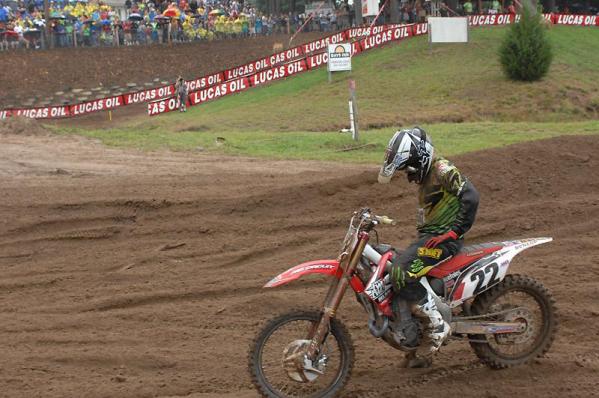 A pair of DNFs at Southwick ended Reed's championship hopes.
Photo: Carl Stone
A pair of DNFs at Southwick for Reed made it official. This one was finally going to come down to the Ryans. It was not predestined to end this way. A half dozen others had the talent to be where Dungey and Villopoto were heading into Steel City. But Alessi, Millsaps, Helper, Pourcel, Townley, Lawrence, Reed, and Stewart were not battling the Ryans for a title at Steel City. The Ryans had risen above. Reed and Stewart will be back to fight them again, but it's not too early to search for the next rider who can challenge them, with Trey Canard certainly on top of that list.
As for the Ryans themselves, it now appears Villopoto has the upper hand. He beat Dungey in supercross and is on the verge of doing it outdoors. But it was so close in this series. In supercross, I never bought the argument that Dungey's chain break at Anaheim cost him the title. He had 16 other races to prove that he was the man, and he only won one of them. At no point, really, did he prove he was riding better than Villopoto.
Outdoors, it has been different. He's gotten the better of Villopoto as many times as Villopoto did him, and that makes his second-moto troubles from Freestone and Southwick loom large. Imagine if Villopoto was struggling to get his 2011 KX working right while staring down the barrel of a big points deficit to Dungey? Imagine if RV left Millville and Washougal behind Dungey on points? Things could have felt very different down in the pits.
Of course, Villopoto went and got what was in front of him, just like he did at supercross in Salt Lake City. He gives it everything he has, he positions himself to grab more if the competition offers it, and he never, ever, gives them anything back.
It's a strategy that has powered him all the way to the top of the game.