Spring Creek MX Park
Millville

,

MN
Spring Creek Motocross (Millville)
Lucas Oil AMA Pro Motocross Championship
Jake Canada was relatively unknown to the general motocross community entering the 2011 season. But after consistently breaking down the door of the top-ten in the West Coast Lites class, eyes began to turn. People started to notice. Then Canada disappeared. He was nowhere in sight for the first four rounds of the Lucas Oil AMA Pro Motocross Championship. Then the series rolled into Thunder Valley and so did Canada. Bursting onto the scene with a ninth overall in his first race of the season teams once again started to take notice. MotoConcepts Yamaha, reeling from the departure of Christophe Pourcel, quickly pounced on the opportunity to pick up a top-ten rider and signed Canada to the team.
We talked with Jake this week to see how the deal came about and much more for this weeks Between the Motos.
Racer X Online: The deal with MotoConcepts happened rather quickly. Can you give us some insight on how the deal came about?
I was at Colorado and a rep from Shoei talked with me and said he had talked with the guys at Motoconcepts. So I went an introduced myself to David [Vuillemin] after the race—which was a little never racking—and gave him my number. He actually called me when I was on my way to Perris the following Tuesday and I went and rode the bike on Tuesday and that is how it kind of all started.
How hard was it not having a deal in place for the first four rounds?
I defiantly sucked not being able to go to the races. We had tried to work something out before the season but it fell through, so I was just at home training. I knew I was going to race Colorado so I was doing my homework and keep training so that I could come out strong at Colorado.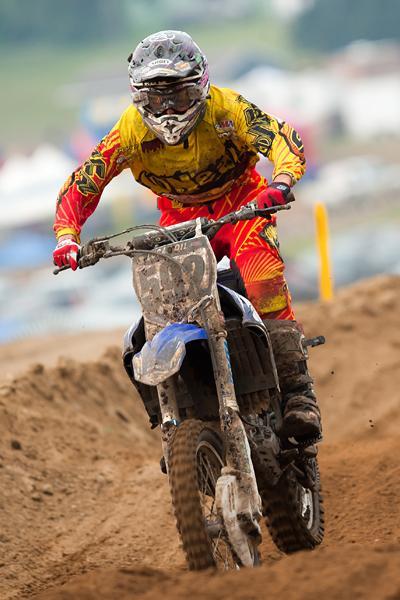 Canada went 11-30 for 18th overall at RedBud in his first ride with MotoConcepts.
Photo: Andrew Fredrickson
Did you feel any added pressure going into Colorado knowing that you had to go out there and prove yourself?
Yeah a little bit. Obviously all the guys had been racing every weekend and I hadn't been racing, so that was really the only thing that I was worried about. I wanted to be in the top-15 for sure and then ended up getting tenth in the first moto and kind of surprised myself. I kind of shocked myself in the first moto, so from then on out I have been aiming for the top-ten.
You were knocking on the door of the top-ten all year in the West Coast Lites class. What made you decide to make the switch to the 450 for outdoors?
I didn't have a new bike for the Supercross season; I was racing my 2010 from the season before all year. So after the Supercross season I knew I had to get a new bike and we were talking about getting a 250 but we knew that we would have to mod it and do a bunch of stuff to it and it still wouldn't be as competitive. So we decided to go with the 450, and I really liked it a lot. I think it fits my style pretty well, so I'm pumped on it.
Take us through RedBud, your first race with MotoConcepts.
In the first moto I got eleventh. I came from I think 17th on the first lap and got into eleventh. I wasn't really used to the heat and humidity, I haven't really raced in the heat since Loretta's years back. So I think it got to me a little bit at the end, I was a little tired but I ended up eleventh so I was pumped on that. Then in the second moto I got out of the gate pretty good but got into [Ricky] Dietrich a little bit and got a bad start. Then on the first lap I tipped it over in the corner and stalled. It took me a while to get it going and ended up at the back of pack in last. About the halfway point I think I had made it up to 22nd and then on that lap I tipped it over again and lost the front-end before the sand whoops. I kicked it for a good five minutes I would say [laughs] and once I got it going I was pretty beat from kicking it and kicking it, so I ended up 30th.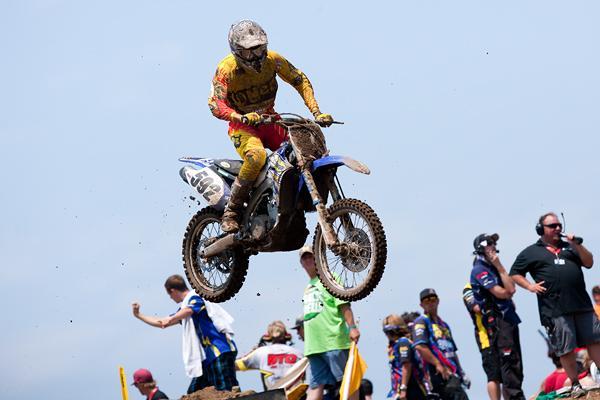 Canada should benefit from the off-week after just a few days of testing before RedBud.
Photo: Andrew Fredrickson
You're transitioning not only from a privateer bike, but also a new brand. How have you adjusted to basically an entire new routine?
On that Tuesday the day after I got the call we went out and tested at Perris and I got used to it pretty quick I would say. I had heard stuff about the Yamaha, both good and bad. At first it was a little different, but I adjusted to it pretty quick and by the end of the day I was doing faster lap times on the Yamaha then I was my Kawi, so it was good. Then I had another day of testing at Milestone and got even more comfortable on it. I would have to say that compared to my Kawasaki, which was a new Kawasaki off the showroom floor with a Pro Circuit pipe and suspension on it, the Yamaha is definitely a lot faster. I would even say that the Yamaha corners a lot better than the Kawasaki does. I have adapted to it really quick and every day I ride it I feel more comfortable on it.
Can you give the readers some insight on some differences from being a privateer, where you are basically hucking it to the races in a truck and trailer, to being on a factory backed team.
Everything! I was in shock the whole time I was there. Just going from driving a truck and trailer to all the races, we drove to Colorado so sitting in the back of a truck for eighteen hours is obviously not fun. So obviously flying was fun, I had only flown one other time in my life when I was real young, so that was a cool experience. At the track it is awesome. You have everything you need there, you can chill inside with the AC and you have food and everything. Everything is just there for you. My mechanic Brent is awesome. I didn't really know much about him but he is a really funny guy and we are getting along really good. I was pumped on it; I was really in shock the whole week.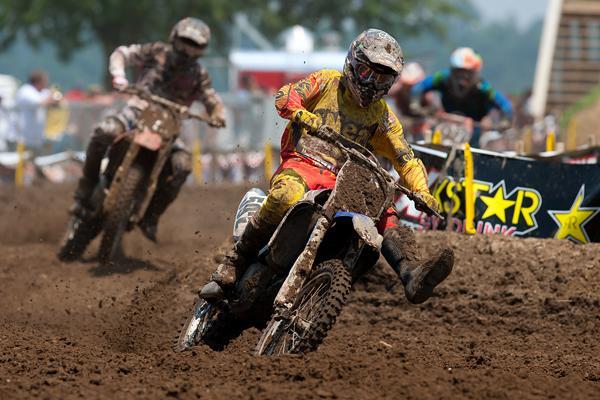 Canada will be with MotoConcepets through the end of the season.
Photo: Andrew Fredrickson
Coming to a new team midway through the season is a big adjustment. What are your expectations moving forward?
At first I didn't really know what they had planned for me. Now I think that they are going to keep me through Pala, which is awesome. I'm really pumped on that. I'm just going to go out there every weekend and try and qualify good and try to put myself up there in the top-ten off the start and see what I can do with that. Obviously I want to get into the top-ten and try and get two top-ten's and a top-ten overall, that's my goal. If I can get a good start and get into sixth or seventh and get into the mix of things we'll see what I can do.
Congratulations on the new deal. Who would you like to thank for helping you out this season?
I would like to that all guys from MotoConcepts. David [Vuillemin], Mike Genova, my mechanic and everyone there. I can't thank them enough. I would also like to thank FMF, Unit and O'Neal.