RedBud MX
Buchanan

,

MI
RedBud Track 'n Trail
Lucas Oil AMA Pro Motocross Championship
(Racerhead today is dedicated to U.S. Navy's Dan Sadowski, a motocross rider, friend and hero. We will all miss you, Lieutenant Dan. Godspeed.)
Welcome to Racerhead, and Happy Birthday Weekend, America. July Fourth of course means two things in American Motocross: ReeeedBuuuuud!  We will that catch-call chant that means motocross at its finest: The Rockstar Energy RedBud National is the centerpiece of the Lucas Oil AMA Pro Motocross Championship, and just an excellent event from top to bottom. The Ritchie family—second generation motocross kids Amy and Tim are running the event now—and their crew goes all-out, as do the riders, the teams and the fans. It should be an epic race—especially after today's daylong rain. As long as it doesn't rain anymore, don't worry about the track, because Tim and crew know what they're doing, as you have seen in some of Stephan LeGrand's preview photos from earlier this week.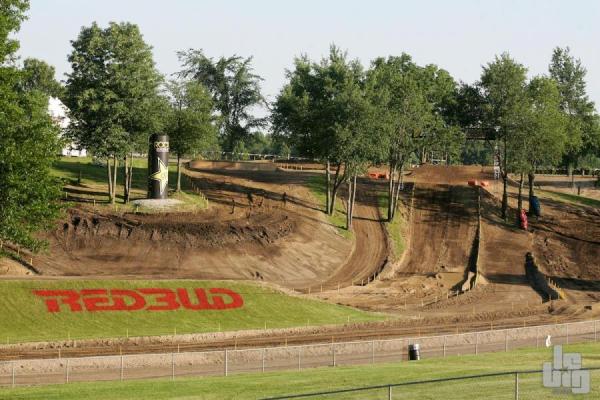 Photo Courtesy of LeBigUSA.com
Tomorrow's race will air live on both NBC (second 450 moto) and FUEL TV (first set of motos) here in America beginning at 1 p.m. Eastern. You can also watch the races live on www.allisports.com. And the second 250 moto will be on SPEED at 9 p.m. ET.
Personally, I always enjoy coming to this race because it's a nice drive through Ohio, and lots of friends from my district and from Racer X come along. It's about an eight-hour drive, though it seemed a little longer this time because I had just come off vacation, driven from New England to West Virginia, switched suitcases, and then hit the road in the Toyota Tundra. I also had a brief trip up to Minneapolis/St. Paul in the middle of that vacation to host the annual KTM North America dealer show. It was great to visit with folks like Roger DeCoster, Andrew Short, Mike Brown, Ronnie Renner, Sarah Whitmore, Megawatt, and off-road legends Mike Lafferty and Kurt Caselli....
But it was talking to Marvin Musquin—one of the nicest, most polite two-time world champions of anything that you will ever meet—that got me thinking.... Marvin will hopefully be back for the last two rounds of the American Motocross tour, and then the Motocross of Nations in his native France. And that's where he could ride for France, along with the seemingly-now-happy Christophe Pourcel—he's back with Monster Energy, Pro Circuit and Kawasaki, only now in Europe—and GP MX1 title contender Steven Frossard as the likely home team at the big race in September. And that will be a very formidable unit to challenge Team USA, no matter who we send.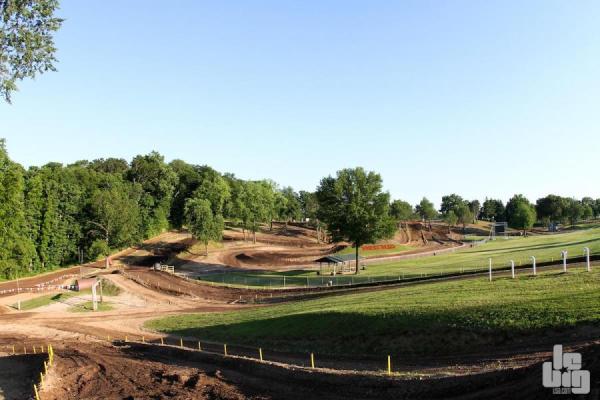 Photo Courtesy of LeBigUSA.com
It was at the KTM show that I asked DeCoster about who he might be hiring to ride the 450 next year and he did not mince his words: He would love to work with Ryan Dungey again. And with all of that scuttlebutt running around right now with who-else-might-be-switching, and we may be in for another awesome off-season—only this time with more jobs to go around!
And now consider this: top riders are committing to the brand new Monster Energy Cup in Las Vegas in October, but without team commitments. And the Cup will be a truly open race in that it will allow for any type of motorcycle, no matter the year brand, the homologation rules, the works parts, traction control, cc's, strokes.... Anything these riders want to race there, they can. (Imagine someone showing up on Jeremy McGrath's '96 CR250—imagine Jeremy showing up on it!) The Monster Cup is going to be a very interesting race...
Make sure you stop by Racer X booth on Vendor Row at RedBud to pick up your free event sticker, and subscribe or renew with one of these special offers. Since we're featuring the great champions of the series on each round's sticker, we were in a jam as to whether to pick Jeff Stanton or Mike LaRocco for RedBud. With apologies to the Rock, who has the most famous jump in motocross named after him, we went with Stanton, the three-time AMA 250 Motocross and three-time AMA Supercross champ.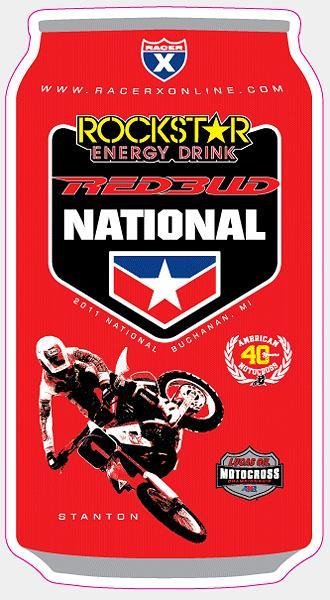 And for only $30, you can get 13 issues of Racer X Illustrated and an all-day pit pass for RedBud (good from 9-5 p.m. on Saturday). Supplies are limited so don't miss your chance to have all-day access to the pits!
Our friend GuyB over at VitatMX caught some picturesque photos of the lightning storm at RedBud last night. Here is a sampling of the photos. Click HERE to view more.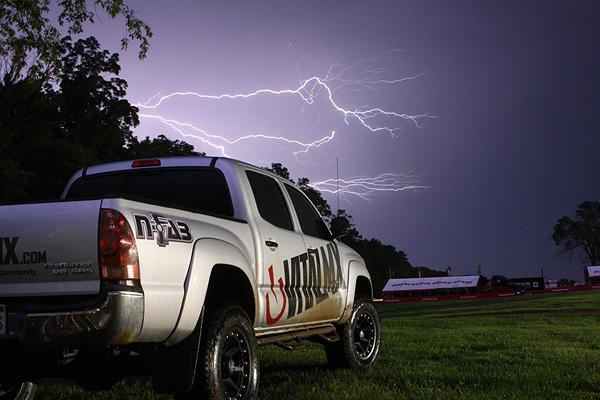 If you follow James Stewart's Tweets, and nearly 50,000 of you do, then you probably are scratching your head, wondering what he has up his sleeve for this fall and the Monster Energy Cup in October, which he committed to this week. Here are a few of this week's Tweets (@js7), beginning with most recent...
"If you hate me, good, if you love me, great, if you're talking about me weather you love me or hate me, Even Better..."
"The million is the last thing I care about. It's not what I'm looking forward to for that race. Something better"
"Well... It looks like I'll be seeing you in Oct with... Well we'll wait to just see if santa brought me an early Christmas present :)"
"Accept everything about yourself - I mean everything, You are you and that is the beginning & the end - no apologies, no regrets. Henry A. K"
But my favorite Tweets of the week came from Kevin Windham and Darryn Durham.
Windham (@kdub_14): "Ohh. And I'll see ya on the gate at seven more rounds!!!! I'm all in." Thanks Kevin, motocross fans all over the world are stoked that you have stepped up like you have this summer and put in some excellent rides.
And then this: (@DarrynDurham): Just got pulled over. Handed the cop my license and he goes I can't give you a ticket... You gave my kid a jersey!  So lucky"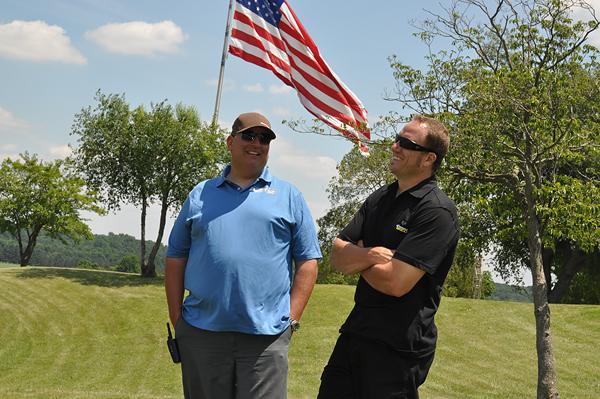 Tim Ritchie and Mike LaRocco talk about the birth of a legend, LaRocco's Leap. at RedBud yesterday.
I mentioned Mike LaRocco and his namesake jump earlier. Well Pat Schutte let us know this week that LaRocco's Leap turns 20 tomorrow!  Tim Ritchie, who built the jump in the first place, and LaRocco, the GEICO/Amsoil/Honda team manager, shared a laugh at RedBud about it on Thursday. Said LaRocco, pointing off into the distance," "I remember when I first hit that I could see over the tree line there."
Added Ritchie, "Mike, those were shrubs back then!"
"Built in 1992 as an answer to LaRocco's infamous practice track jump just down the road that he dubbed 'Kong,' RedBud's centerpiece LaRocco's Leap jump has long stood as the reigning king of big jumps on the pro motocross circuits, both here and overseas. Though many have tried, no MX National or MXGP track builder has quite been able to replicate the height, distance, speed and ferocity of what many pro mxers just refer to as 'The Leap.'"
We've been talking about how good the motocross videos are getting, especially the GoPro footage we've been seeing from the American Motocross tour. But check out this really unique look at Monster Energy Yamaha MX1 Grand Prix star David Phillipaerts that came across from a "RotoR" cam, by Marco Orbassano.
And speaking of EJ, Eric Johnson has an exceptional piece about Johnny O'Mara and his work with riders like Ricky Carmichael and now James Stewart in this week's Cycle News. Make sure you check it out if you're a subscriber!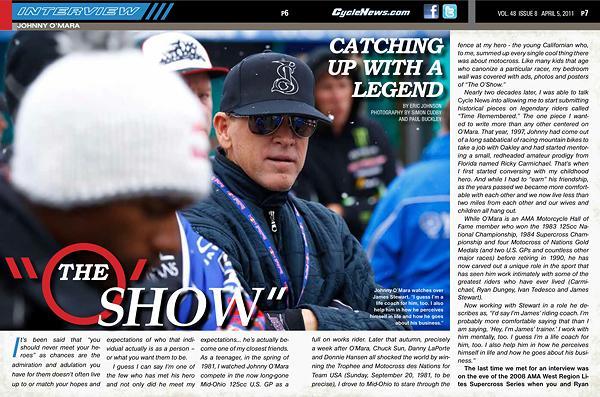 Make sure to stay tuned to Racerxonline.com tomorrow, and follow us on Twitter for up to the minute news from RedBud. And be sure to check out the Thor Race Center for everything from live timing and scoring to weather updates.
Also be sure to catch the Racer X Pre-Show from RedBud tonight on Allisports.com.

Okay, let me turn this over to  Weege:
This weekend we're going to RedBud. Everyone calls it "RedBud," too, unlike last weekend's race, which for some reason is always referred to as "Colorado" instead of Thunder Valley. And no one calls Millville's race Spring Creek. They just call it Millville. But Hangtown is Hangtown, not California or Rancho Cordova. Everyone calls the Texas race "the Texas race" even though it should be called Freestone. And High Point is more generally referred to as Mount Morris... Why does it work that way? Does anyone ever refer to this race as Michigan or Buchanan? Strange how that works.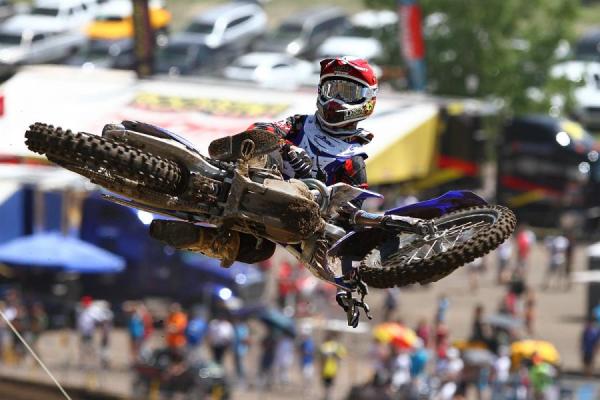 Ryan Sipes had a disastrous start to his outdoor season, but he got back on track—and finally some points—at Thunder Valley.
Photo: BrownDogWilson
Ryan Sipes sure experienced the highs and lows of racing in a short time. He won the Dave Coombs Sr. East/West shootout at the Monster Energy SX finale, landed on the cover of Racer X, and came into Hangtown posting the fifth fastest practice time and looking to contend for a championship. Then he crashed in the first turn and ended his day with a wrist injury. Jacked his back at Freestone. Knocked himself out at High Point. Missed Budds Creek due to the concussion. Zero points in eight motos. He returned at Lakewood/Colorado/Thunder Valley and finally scored some points, taking sixth overall via 15-4 scores.
"I'm back! At least I finished some motos," said Sipes after the race. "I took the whole week after High Point off. I was pretty rusty, and I definitely wasn't were I was when I left off. I kind of just rode at 95 percent, and I got tired, I'll admit it. But my lap times didn't really drop. So if I can get a good result like that and not drop my times that badly when I get tired, that's good, because I should just keep getting stronger."
I also talked to Blake Baggett to see if he had learned anything during his bad races at Freestone (not Texas) or Budds Creek (which no one refers to as Maryland, by the way). He says he has. "Budds Creek is not my favorite track, historically it has not been good for me," explained Baggett, who broke his arm and ended his season there last year. "And it's hard to pass on. The track is kind of strange because it doesn't form one line, it kind of forms more like one groove that's maybe five feet wide. If you got outside of that it's not going to work. So on tracks like that, I've learned I need to focus more on the start, or just maybe back it down and not try to make something happen when it's not there."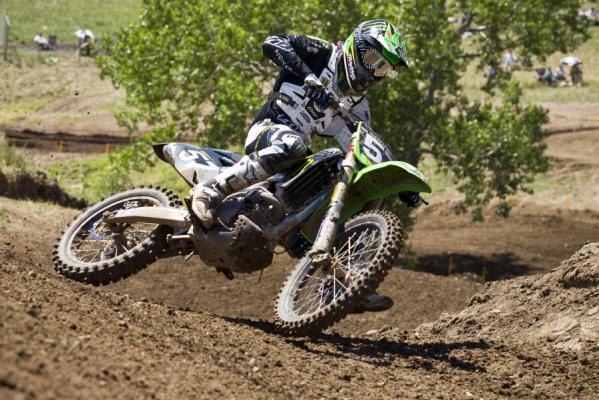 Can Baggett make it two in a row at RedBud?
Photo: Garth Milan
Indeed, Baggett's Hangtown and High Point charges weren't going to work at every track, and note that he was up front much earlier at Lakewood/Colorado/Thunder Valley. He won from the front, for once. But what if he doesn't get a good start, and he has a track where he can make some passes? "I may just have to unleash the chupacabra again," he says.
Really, I'm just pumped that the nickname is sticking!
Here's Ping.
I worked out with Nick Paluzzi this week. He's never been to RedBud before so I was trying to explain to him what it's like. I started off by saying that it is maybe the best track he'll race all year. I told him about a few of the jumps there, which rank pretty high on the all-time best jumps list. Then I told him about the fans and how much they all get into it. The vibe there is awesome. Then I asked him if he liked mud. The first couple practice sessions at RedBud are muddier than some rounds that get rain. Add to that the soil that is tilled so deep you could bury a person in the trenches and you have a situation.
The first RedBud National I ever did there in 1994 I kept pulling in and telling my mechanic, Randy Lawrence, that it was really muddy and I was just going to wait until the next practice. He laughed at me and told me to get back out there. In moto one I clipped another rider as we swept left into that first turn and went down. My bike was stuck so deep in the loam I literally could not pick it up. I had to have help from RL and the AMA guy. It was not my finest weekend. In fact, I never did that well there but I still loved going. That just shows you how great that place is. If you are reading this from anywhere within driving distance of Buchanan, MI, get yourself out there on Saturday.
Oh, and speaking of Paluzzi, he has been struggling with his starts this summer. His team has been hard at work on a solution but in the meantime Nick is pretty much praying for a holeshot. His results definitely haven't shown what he is capable of.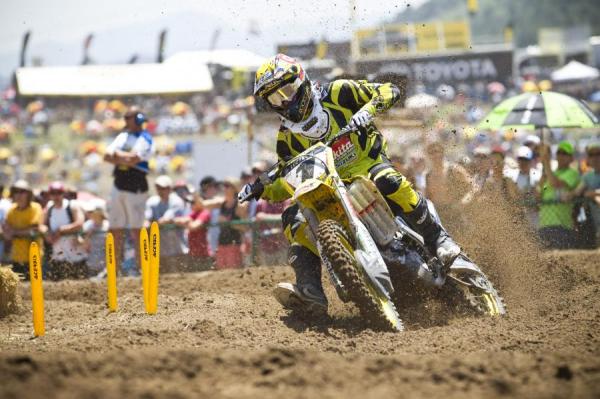 Where will Dungey be in 2012?
Photo: Garth Milan
Would you sign with KTM next year if you were Ryan Dungey? It's a good question and maybe worth doing an online poll. Roger DeCoster is determined to have him and the staff that helped Dungey win duel titles last year is already wearing orange; it seems like a no-brainer. But historically it would be a risky move. KTM has exactly zero championships in AMA Supercross and AMA Motocross' premier class. That's a scary statistic when you are in the prime of your career.
On the other hand, there might not be a race team out there with a more qualified, professional staff at the helm. I think it is safe to predict that in the next five years KTM will become one of, if not THE, premier team to ride for here in the US. If you doubt that just have a look at the operation they have going in Europe. KTM on the GP circuit is like factory Honda in the 1980s. Everts, Beier, Kinigadner, and now DeCoster and the rest of the technical staff are about as good as it gets. It will be interesting to see how it plays out.
And if he did leave for, uh, orange-er pastures, there would be a vacancy over at Suzuki. Rumors have James Stewart in talks with them for 2012. I don't know if that means James would join their team or just ride Suzuki's under his own truck. If Stewart leaves it would open up some budget at Yamaha. I have no idea where they would direct that but it sure seems like things are going to get mixed up later this summer, doesn't it?
I talked to Cole Siebler this week. Cole has been traveling all over, doing races in Canada, Germany and just about anywhere they are paying purse money. Which means he'll be up in Boise, Idaho, this fall for a supercross race that he is helping to promote. In fact, there is more than one event planned and there is something for everyone. It sounds like it's going to be a cool event. Jake Weimer is already confirmed to be there and there are some other big names that have expressed some interest. Here's what Cole told me about the event:
"The Freestyle Event/Vintage race is going to be on Sep 30. We have the Metal Mulisha guys coming up to compete in the freestyle event. The Supercross race is going to be Oct 7-8. We will have a $15k pro purse for the event and $1k to the winner of the head to head racing. Our website has all of the information for sign ups and pre ticket sales. The website is www.idahosupercross.com."
I'll be there doing the freestyle demo as a honorary member of the Metal Mulisha. They sent me a black T-shirt, a black hat with a flat bill and I told them I would have some sweet tricks down by the time October rolled around. So, that's pretty sick, bro.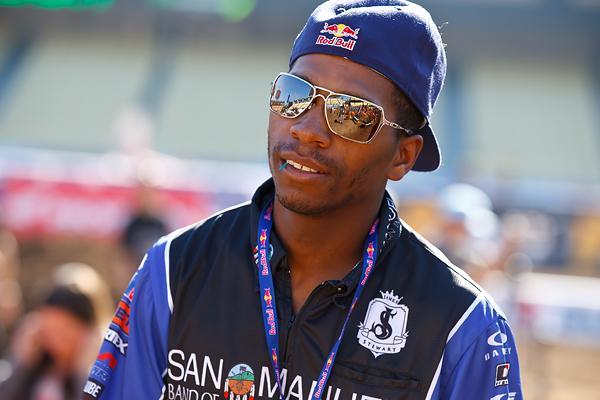 Will Stewart still be wearing blue in 2012?
Photo: Simon Cudby
I got this sad news from a retired naval chief this week:
Hey Ping,
You may remember back a few years when Racer X did a spread called "EXTREME TRACK MAKEOVER: We Re-build a Track for the US Navy" at NAS Lemoore, CA. You along with Davey, Fubar and Mark Peters came out and did some grooming on our track and rode a few laps to boot. A great man named Dan Sadowski, our Club President, was one of our point men on the project. Dan did so much to keep the track you guys started in great shape over the five or six years that followed your trip out here and he was a great veteran. He was not a Lieutenant by the way (as you folks nicknamed him in Forest Gump tradition) but a Senior Chief Petty Officer.
He was my riding buddy, and he selflessly spent countless hours keeping the Lemoore Off Highway Vehicle Club afloat for its members. He is also an American hero who served 23+ years in the US Navy.
Dan didn't get to ride much the past two years because he was so busy taking care of his daughter as she fought against cancer. Dan's wife has had a tough time, having lost a sister and father the year prior, so Dan had to stay strong for her and his granddaughters through all of the grieving and funerals. Dan's daughter eventually lost her battle and passed as well, adding another funeral. He and his wife took the three granddaughters and were raising them together. Dan even took on the chore of coaching the girls softball teams after the grieving was over. He was a busy man. We didn't hear much from him for about a year, aside from a few "hey, what's going on" phone calls here and there.
Last Wednesday, Dan made it out to a local CMA track in Hanford, CA and a friend of mine (Javier Tobar #299) bumped into him. He was surprised to see Dan riding again. Dan said he was starting to get comfortable now that things had settled around the house, the grieving was over, the kids softball was over, and he looked forward to getting back into the saddle again for a few local races. That practice was his last ride. His granddaughters found him at about 10pm on Monday evening. Dan (aka Lt. Dan), passed away on Monday June 27th at the young age of 47 (an unlikely heart failure).
Respectfully,
Doug Acebal
US Navy Chief (retired)
#410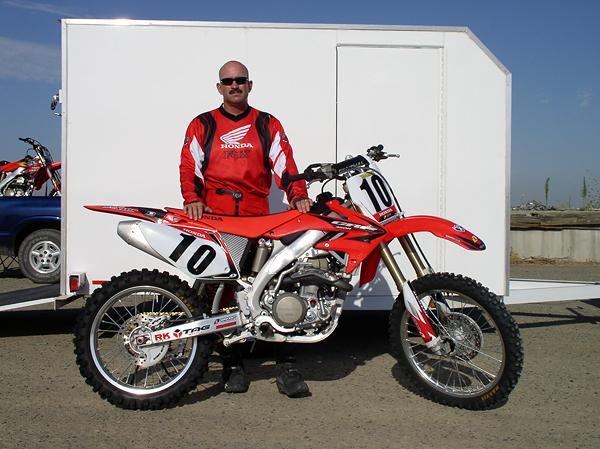 Here's Steve "Northern (Not) Lite" Matthes:
Before I begin, allow me to say this: Happy Canada Day everyone!
Okay, this Racerhead contribution is coming to you from the Chili's in O'Hare Airport in Chicago as I wait it out for my buddy James Lissimore to get in before we make the drive to South Bend for RedBud this weekend.
It will be interesting to see if points leader Chad Reed can rebound from his Lakewood race where he went 3-3 and was quite a ways back of the two Ryan's. I think he can. He likes this track and usually does well here. Remember last year when his motocross season was starting to not turn out the way he would have liked yet he (along with Ben Townley) gave Ryan Dungey all he could handle?
Reed really stepped it up and although Dungey ran away with the second moto, Reed's healthy this season and as we've seen all year, a different guy. I'd look for him to be right there this weekend with Dungey and Villopoto and as far as which of the three is going to do what, I have no clue. They are so close -- starts, crashes and x-factors can change any of the three guys up into any order.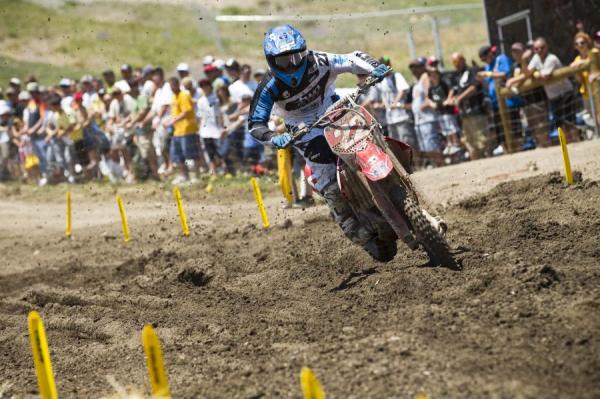 Will Reed capture the overall at RedBud and extend his points lead?
Photo: Garth Milan
In the 250 class, there's Pro Circuit and then there's everyone else. Starting in 1991, the team has won a butt-load of races and titles but I really don't think there's been any other time in the teams history that they are so dominant as the last few years. It's like the four-stroke evolution took a few years for Mitch Payton to figure out (and for Kawasaki's bike to catch up; let's face it, no one would say that "Kawauki" bike of the first few years was a world beater) and now, it's over. If you're GEICO Honda and you have one rider at 100% (Eli Tomac) or Star Racing or TLD Honda or Rockstar Suzuki, you're having nightmares about trying to beat him.
Some of you may have heard me complain a time or two about the national tracks all being the same in regards to throwing sand (or woodchips) on the track and it takes one tire and one way of riding to conquer 11 of the 12 tracks.... Well, I'm a little smarter on soil stuff after getting the email below from a Twitter follower:
Hey Steve,
I guess that from a dirt standpoint it makes good sense that all the riders seem to love the RedBud soil.  As a soil guy, it's like dirt porn.  It looks really fun, and although unlike yourself I have never had the chance to go there in person, it's for sure on my middle age Vet B bucket list of places to ride or even see a race.
Technical (geek speak): The major soil listed here is the "Riddles" series for the entire track, a fine-loamy, mixed active mesic Typic Hapludalf.   It formed on loamy or sandy till plains and moraines.
Breakdown
Topsoil is naturally around 8 inches deep of dark grayish brown fine-sandy loam.  The fine-sandy loams tend to drain well, but also still act "loamy", having enough silt and clay so that they are slightly fluffy, a little like a pecan sandy cookie dough-ish feel when wetted.
The first soil horizons underneath the topsoil, 8 to 33 inches, have a slight bump in the amount of clay (argilic).  It ranges from a fine-sandy clay loam to clay loam, but you aren't likely to ever see more than 35% clay.  This layer tends to have a slight reddish hue.
Once you get past the main argilic horizon where the clay sets up, the soil is sandy loam to about 5 feet deep, then a loamy sand parent material down past 100 inches.  Rock fragments size and percentage can vary but it tends to be about 5% fine gravel in the soil as a whole, with a few small rocks and cobles.
The Dirt
Overall, this is a fine-sandy loam track, and a pretty pristine soil type to have for motocross.  Contrasting it to Lakewood, Colorado, where you hit heavy clay loam or clay after you chew through the light clay loam topsoil, this track's soil texture is a moderate clay loam in its heaviest areas.  You would have to make an effort to overwater this type of soil, and you probably can't get it hard and slick if you want to.  Once you chewed through the top soil, the subsoil should still stay comparatively forgiving.  There's enough fine sand that even in overly wet or dry conditions it should feel comparatively gripy.  The downside of the texture is that it will probably only rut up in certain spots, where the texture is a little finer (clayey) or where it is loamier, kept deeper, and a little bit moist.
Looking at the area, there's an almost unlimited amount of sandy loams, loams, and loamy fine-sand materials close by, so if adding material to the track you aren't stuck with having to bring in stuff that looks like a beach and that isn't natural to the area.  Last year Emig said the track used to be clay and woodchips, so it looks like they made a concerted effort to bring lots of the naturally fine-sandy loam topsoil from somewhere.
Keep up the great work over at pulpmx and Racer X.
-Nephi Cole
PulpMX minion, Soil Guy
Thanks for that and if your eyes didn't gloss over after reading that, you're now a little more knowledgeable about what type of soil is used and why it is used.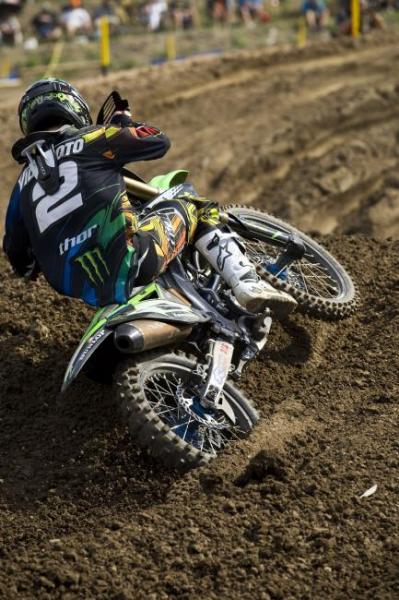 Can RV break his second moto slump at RedBud?
Photo: Garth Milan
We had Ryan Hughes and Michael Lapaglia on the Pulpmx Show this past Monday to talk about their throw-down at Mammoth Mountain MX. It was an entertaining show and those two along with guests Ryan Villopoto and Jimmy Albertson make for can't miss internet radio! I may have to work on that slogan.
Tune in Monday's at 6PM PST for all the dirt from the weekend with myself and Kenneth Watson who may or may not be joining me this Monday as he's somewhere celebrating some sort of American Holiday.
Here's some random stuff:
Want a comfortable seat alongside the race track? Racer X is also offering 13 issues of Racer X and a Motosport camping chair for only $25 at every round of the Lucas Oil AMA Motocross Series!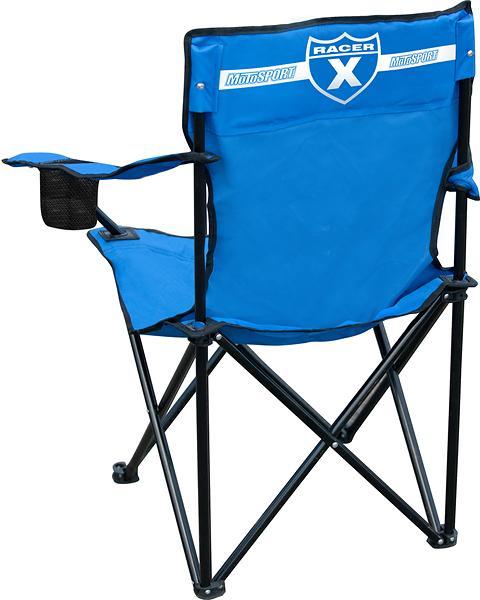 And while you're there, check out the clothing line from Racer X Brand, and a get free Racer X cup with a clothing purchase of $20 or more.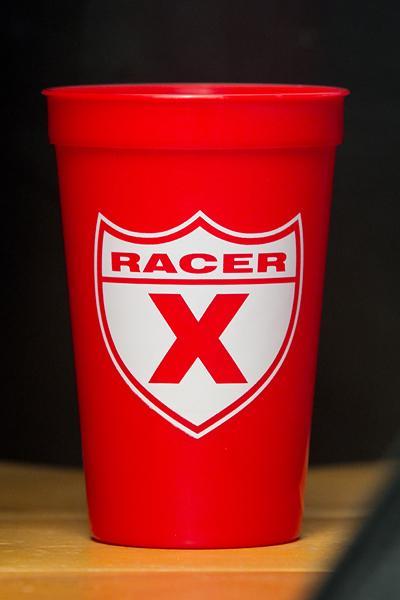 Time for some new Racer X T-shirts? Visit
www.racerxbrand.com
or stop by our booth on Vendor Row at
RedBud
to get some new threads! The 2011 line, designed by Taylor Creative and printed by Moto Tees, has a vintage-inspired look and
comes in a variety of styles, colors, and designs—but don't worry, we still have the classic shield shirt too! Updated women's and kids' apparel is coming soon, so keep up to date exclusively on www.racerxbrand.com.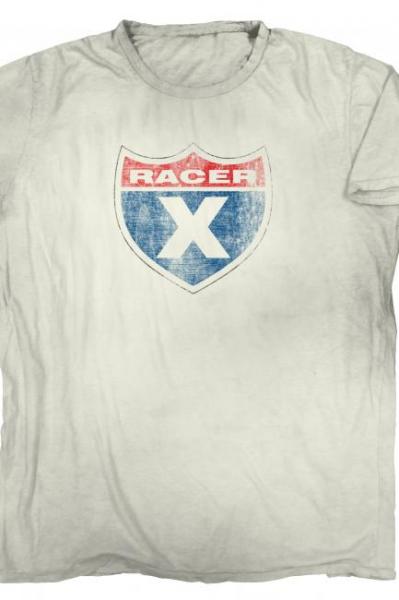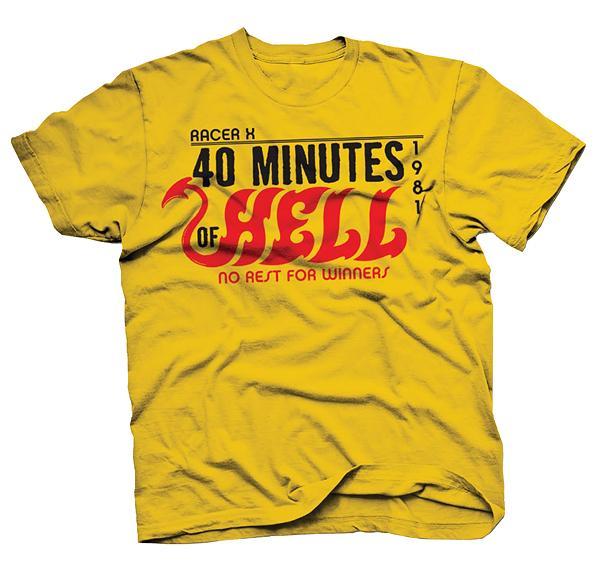 Here is the Denver Post's coverage of last Thursday's media day at Thunder Valley:
Roczen not only graces the current cover of Racer X Illustrated, but also Dirt Cool, the always-cool Japanese magazine.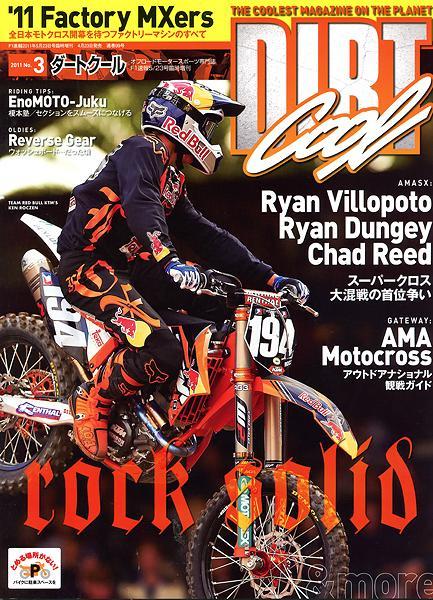 We're stoked to announce that we'll be teaming up once again with the creative artists over at The Assignment to present Moto 3 The Movie. If you saw the first couple of films in this franchise, you know Taylor Congdon and his crew do not mess around. "Like" their new Facebook page to keep up with the progress in coming months.
We just got this note from our good friend Cherie Reynard Kobiske, Robbie's sis and motocross superfan. Chere's become good friends with a really cool kid and would like to tell the motocross community more about him. Check it out:
"Many of you have heard of Cody Strout, a young man from the St. Louis area that in 2006 was battling a brain tumor. The story of an 11-year-old wanting a few autographs for his hospital room swept across the entire motocross community and touched many hearts. The now-16-old has just graduated from Marissa High School, a year early. He worked hard enough to be granted the honor of walking across the stage early, with his class giving him a standing ovation.  He has shown that when you set your mind to something, you can achieve anything, even through the greatest adversity. He has been battling cancer and enduring chemo treatments for most of the past six years. Cody has recently been diagnosed with a new brain tumor, but don't expect this to stop him from looking toward his goals of becoming a nurse and computer technician. He has a never-give-up attitude and strong determination to reach all his goals. Cody, remember: "U CAN" achieve anything! The motocross community is so proud of you and always keeping you in our prayers!"
Like Cherie said, Cody, we're all proud of you and are behind you all the way. Keep fighting, man!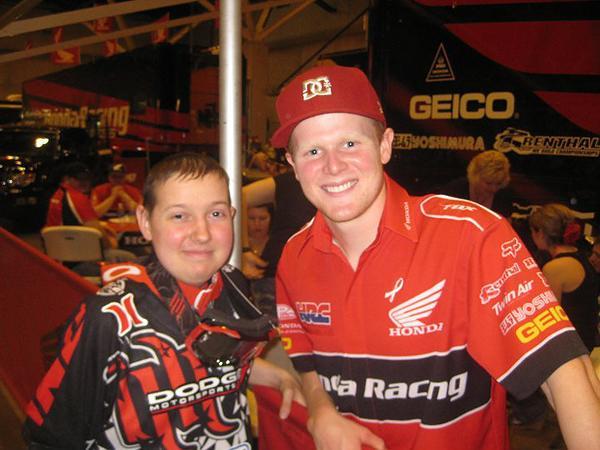 Here is some cool old-school from Todd Huffman and the MX Files: Donnie Hansen vs. Ricky Johnson at the 1982 Colorado National, where RJ's wheel collapse cost him the the title:
This is one of the many catastrophic moments that could have made Maxima's The List this week, in which Steve Matthes kicked around ten infamous moments where riders snatched defeat from the jaws of victory. Check it out if you missed it.
From our man in the trenches... Well once upon a time, anyway... Johnny O'Hannah:
"This past weekend at Rd #5 of the Lucas Oil AMA Pro Motocross Championships at Thunder Valley I was honored to call the race action with Rob Buydos, handle the podium presentations with Andrea Scanlan and wrap it up with interviews of the riders at the post race press conf. Thank you MX Sports crew, AMA, Thunder Valley, Griff Cotter, for allowing me to achieve one of my goals in life!!!"
Congrats to Johnny, and thanks for being a good soldier—and a real one. Johnny served quite some time in Iraq and, like every other soldier in this country, deserves a great holiday weekend. Here's to you, Sir (saluting).
Have a great Independence Day Weekend, America. Thanks for reading Racerhead, see you at Reeeeeeedddd Buuuuuudddddd!!!