RedBud MX
Buchanan

,

MI
RedBud Track 'n Trail
Lucas Oil AMA Pro Motocross Championship
This week on the Maxima Oils "The List" we all sat around and came up with the most devastating defeats in a race.

And this is in no particular order, because really how can you say that the "victims" on this list felt anything but the ultimate devastation? It's up to you dear readers to decide which one guy you feel the most sorry for. Be sure to get your bench racing going in the comments section below.

1.) Ryan Dungey, 2011 Freestone National
The Rockstar Makita Suzuki rider was the defending champion in the 450 class and just lost out on the win at the first round at Hangtown to Chad Reed. At round two, he lost the first moto to Reed again but early on in the second moto, he had a bit of a cushion on Reed hard until the 22 went down. From there it was a cruise to the finish for Dungey, he was going to go 2-1 and stay tied in the points for the championship. But then, with a mere lap and a half to go in the second moto, Dungey's Suzuki RM-Z450 came to a halt with a fuel problem. As in, there was no more left in the tank! That was it, a 2-1 day was turned into a 2-DNF and Dungey is still battling to make up that deficit as we speak. Can he do it? Stay tuned to the rest of the 2011 Lucas Oil AMA Nationals!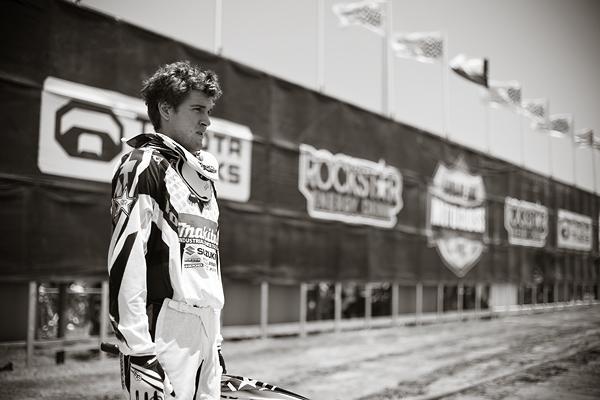 Dungey is still trying to make up ground after a tough defeat at
Freestone
.
Photo: Simon Cudby
2.) Kelly Smith, 1999 St. Louis Supercross
Smith, from Ludington, Michigan and a bit of an unknown at this point, was on his #64 KTM 125 and leading the St Louis 125 SX main event with only a lap to go. It was going to be a momentous occasion for Smith as it would be his first ever win in supercross as well as KTM's first ever win. Smith was riding out of a box van with some KTM support, the Austrian OEM had not yet dedicated itself to having an official team. It was truly the privateer beating the powerhouse teams on his European machine. He didn't even have a linkage!
But it was not to be, this storybook ending ended with a thud. Yamaha of Troy rider Ernesto Fonseca was coming through the pack and pulled up alongside Smith,  then clipped bars with him and sent the KTM pilot to the deck hard. Kelly Smith, in a matter or moments went from hero to out of the race with a DNF. It was a bitter pill to swallow no doubt about it.

3.) Brett Metcalfe 2010 Southwick National
GEICO Honda's Brett Metcalfe moved up to the 450 class for the 2010 season and he was adapting quite well to the bigger bike after years in the 250 class. As a matter of fact, Metty (who had never won a moto on the smaller bikes but acquired a bunch of podiums) was really starting to figure things out late in the year, and at Southwick, he was checked out in the first moto. Brett Metcalfe was going to get his first career moto win ever over the likes of Dungey, Andrew Short and Ben Townley. It was a feel good story for everyone involved and Metcalfe, one of the nicest guys in the pits, deserved it fully and completely.
Dungey got close, but Metcalfe resisted his relentless attacks. He had the win in hand, until the moto gods came in, and like Dungey at Texas, decided that the amount of fuel in Brett's CRF450 wasn't going to be enough to get him to the finish. On the last lap, Metty's dream ride ended with him fruitlessly pushing his bike up a sand hill. The dream was over. Somehow Brett came back for the next moto but a seventh is the best he could do. And who could blame him after his soul was crushed like that?
He's still never won an AMA professional race by the way.

4.) Ron Lechien 1989 Daytona Supercross
Factory Kawasaki's Ron 'The Machine" Lechien's machine let him down on this day back in 1989. Lechien, a national champion in the 125 class and a multi-time SX winner, had never won at the famed Daytona Speedway track before and considering winning Daytona a crown jewel in the caps- it was going to be a great day back in 1989. You see, Lechien had holeshot the main event and took off to a big lead early on. Series points leader Jeff Stanton caught him a little bit around halfway but Lechien, wearing the famous JT Racing Dalmation gear and sporting the number 4, got his second wind and gapped Stanton once again. Lechien took the white flag signifying the last lap and that was it, Ronnie Lechien was going to win his first Daytona Supercross.
That is until three turns after getting that white flag when Lechien's KX250 sputtered and stammered. It seems that the bikes plastic power-valve gear couldn't take it anymore and melted. Lechien nursed it home to a fourth but the win was right there for the El Cajon, CA native. The next week, Factory Kawasaki installed metal gears in their bikes, but it was too late for Lechien to get the win. Today,  he says got getting Daytona was one of his biggest regrets of his career.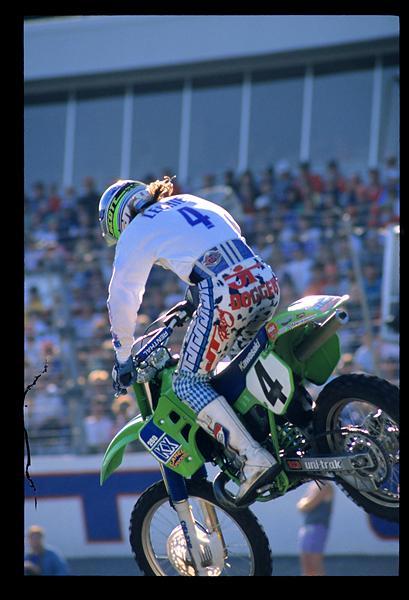 Lechien suffered a devestating loss at the 1989 Daytona Supercross.
Photo: Paul Buckley / buckleyphotos.com
5.) Chad Reed 2008 Daytona Supercross
We go back to the speedway for another heartbreaker. Yamaha's Chad Reed had conquered the tough Daytona track before, and he knew first hand how hard it was to win as well as how rare it is. On this day, in monsoon conditions, Reed was on track to win the race as the course got more and more difficult. The ruts and mud everywhere and bikes stuck all over the place, Reed pounded through the puddles and lakes and took a big lead over Honda's Kevin Windham.
But that was part of the problem, the charging, aggressive style of Reed was great for adding seconds onto his lead but not so awesome for his YZ450F which was accumulating more and more water into the motor. Still, Reed got the last lap flag and was going to widen his points lead even more when the bike stopped two turns from the finish. Yes, that's right. Two turns. Finally the machine said no mas and Reed was left with a defeat. Talk about snatching defeat from the jaws of victory.
6.) Grant Langston 2001 Houston Supercross
Langston, fresh of a 125 World GP Title and riding for KTM USA in 2001 didn't take to supercross right away, but after a few rounds the South African was figuring things out.  At round six of the west regional 125 series, the #111 KTM rider was on his way to victory. After that heart-breaking moment with Kelly Smith two years earlier, it was now going to be time for KTM to win its first ever SX main event in either class.
Except while going over the last triple on the last lap, Langston threw a one-hander to the crowd to celebrate, couldn't recover in time and went down over the next jump going into the turn. He lost the race. It was another devastating loss for the orange crew as the best GL could do once he got up was a fourth. Just to throw some more salt into the wound, the rider that ended up winning was Husqvarna's Travis Preston. It became that OEM's first ever SX main event win, instead!
7.) James Stewart 2007 RedBud National
With his rival Ricky Carmichael easing his way into retirement, Kawasaki's James Stewart was pretty much dominating the races RC didn't compete in. When RC showed up, these two would go at it tooth and nail. Up to this point, Stewart had beaten Carmichael twice out of the eight motos they had raced in '07, and never in the second moto, which means Carmichael had the overall wins advantage, as well as a 6-2 advantage in moto wins. Enter RedBud and Stewart again won the first moto in impressive fashion.
In the second moto, the #7 Kawasaki of Stewart appeared to have the double moto win in the bag as he led Carmichael by a few seconds with the two lap card coming out that next time around. Carmichael was giving it all he had, but redemption, thy name was James Stewart, and he has finally held back all the attacks. Until Stewart hit his front brake lever on the inside of the right hander and over the bars he went. That was it, Stewart recovered for second but it was too late to stop RC from getting another win. Just to make this one sting a little more, this ended up being Stewart's last chance, ever, to beat Carmichael for an overall win at a motocross race. An injury forced James out of Carmichael's final race at Millville, so Stewart and Carmichael never raced again.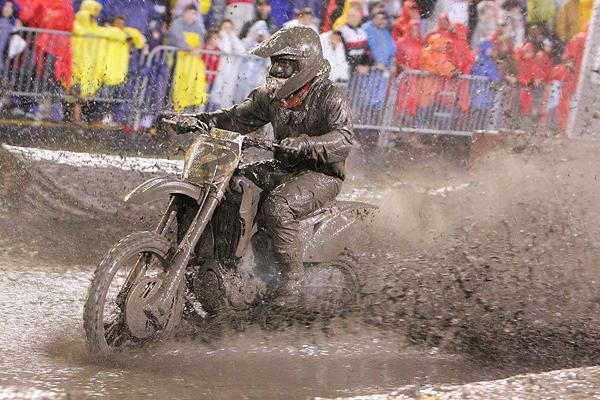 Chad Reed in the swamp better know as the 2008 Daytona Supercross.
Photo: Simon Cudby
8- Travis Pastrana 2001 Unadilla National
AMA 125 National Champion Travis Pastrana was looking set to defend that number one plate, as he had stretched out his lead to over forty points over Langston with only five races remaining in the 2001 tour. In fact, as Pastrana led the entire field around the historic Unadilla track, the lead was set to go over fifty points. Pastrana dominated the first moto, then pulled well out front in moto two.
But then disaster struck. In the back of the track, Pastrana went bouncing into the ground over a high-speed double. That was it for the race and the beginning of the end of racing in general for Travis. He never quite recovered from the concussion he incurred in the crash. As a matter of fact, Pastrana would never win another race in professional motocross or supercross. And it all started to crumble this day in Unadilla.
9.) Keith Bowen 1987 Daytona Supercross
Again back to the oval for more heartbreak. What is it about this place? With massive rain turning the track into more of a mud bog than a supercross track, the stars of the sport, Ricky Johnson and Jeff Ward,  both had miserable days. It was guys like Honda privateer Ricky Ryan and factory Yamaha's Keith Bowen that shined. Everyone remembers Ryan, a total privateer, winning this race but forget that Bowen had it in the bag. From Michigan where the guys know a thing or two about riding in the mud, Bowen passed Ryan early on for the lead only to crash shortly after. The man nicknamed 'Bones' got up, passed Ryan again for the lead and was gone. Bowen had never won a supercross before, so the Daytona victory was going to be quite a bullet on the resume.
Until, with a big lead and just over two laps remaining, Bowen's Yamaha YZ250 sucked a rock into the counter-shaft. It would not come out. That was it, Bowen couldn't get it out and was forced to DNF a race that was his. It was a stunning turnaround as Ryan took the easy win and a place in the history books as the first privateer to win an AMA Supercross. All Bowen got was a rock., and he would never come that close again.
10.) Johnny O'Mara 1986 Unadilla 250 USGP
Bob Hannah had always been crazy fast at Unadilla, but luck was never on his side. He'd lost plenty of races here under wild circumstances, and by 1986, his career was winding down and time was running out. Plus he was riding the new RM250 that was still in development (complete with the Boyesen Link rear suspension that Hannah wanted to try). Meanwhile, his old Honda teammate Johnny O'Mara stood in the other corner. O'Show had won Unadilla's 250 GP the previous year, and he was armed with a CR250R, which had been dominating everything that season.
O'Mara got a good start and dominated the first moto. In moto two, Hannah started up front, and the duo went at it. Several times, the Hurricane grabbed the lead to the delight of the Unadilla faithful, but late in the game, the super-fit (and younger) O'Mara began to pull away.
He was just too strong on this day, and on the last lap he set it on cruise control, his second-straight USGP win in hand. Until O'Mara ran out of gas on the last lap. His bike sputtered to a stop, and Hannah rolled across the finish in shock, and with the victory. Finally, Unadilla had paid him back!


What else you guys got? What did we forget? Comment below and let us know.