RedBud MX
Buchanan

,

MI
RedBud Track 'n Trail
Lucas Oil AMA Pro Motocross Championship
I used to really suck at dancing. I still do, actually, but I used to suck, also.

(I stole this joke from comedian Mitch Hedberg. Only I replaced "drug problem" with the dancing bit.)

The only difference is that somewhere along the way I learned to embrace the dancing suckiness. When I was trying to dance well, or correctly, or cool, or however you would describe the idea of dancing well, things weren't working. Once I decided to use my skills to make a mockery of not just myself, but the entire idea of dancing, things started to roll. Today, I'll get out there to the center of any dance floor at any time and show just that same sense of perfectly incorrect timing and rhythm. It's just a joke so I'm cool with being uncool.

I just go with what I have. It's when I try to force it and make things right that I get into trouble.

(Long pause. You're now wondering how I can possibly tie this back to motocross, but that last line maybe have given just a small light at the end of the tunnel. Ready?)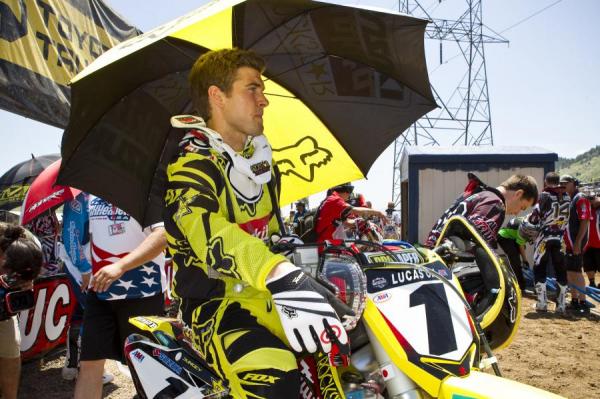 The calm before the storm at
Thunder Valley
.
Photo: Garth Milan
I'm impressed with the control the three championship contenders have shown this far in the 450 class of the Lucas Oil AMA Pro Motocross Championship. The one thing that really ruins much-hyped championship battles are huge crashes and injuries, and so far, Reed, Villopoto and Dungey are still here, 100 percent healthy and as closely matched in July as they were in March.

This is exactly what we want to see, and yet it goes against what we actually want. Here's Ryan Dungey, defending AMA Supercross and Motocross Champion, not getting wins very often this year. And here we are (and by we, I mean a large swath of fans, industry pundits, insiders, and clueless hack journos like myself) saying that Ryan needs to ride more aggressively. Turn it up. Hang it out. That will solve his problem.

Indeed, it seems like there were races this year where Dungey could have forced some passes more aggressively. Especially since he seems unable to pull holeshots like he did last year, so he always has to pass at least one of the main contenders. But too many times he has rolled up on Chad Reed and then not found a way around—Oakland, Indy, Vegas, Hangtown, Freestone (first moto), Budds Creek, etc. And then it's all, "He needs to get fired up. He needs to get more aggressive."

What the heck do we know? Dungey's riding style has always been smooth. You watch Ryan Villopoto ride and you get the feeling the dude is just dialing the speed meter to where it needs to be, first, and then figuring out a way to hang on. The Dunge isn't like that, which curses him the same way so many others have been before—the Robbie Reynard/Damon Huffman/Kevin Windham types who couldn't possibly be trying their hardest because they didn't ride like they were trying hard.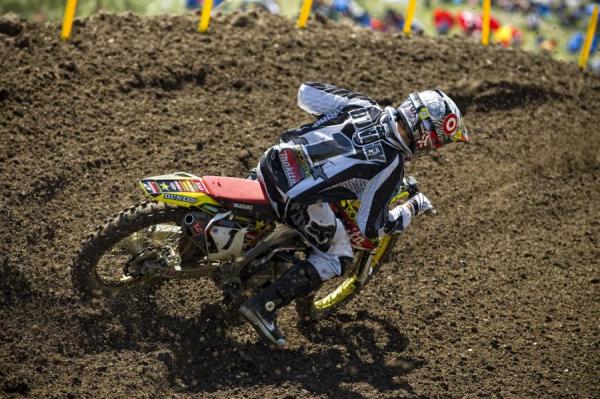 Dungey's riding style has always been more relaxed than most.
Photo: Simon Cudby
Dungey is trying hard. Trying his hardest. At the post-race press conference in Colorado, VitalMX's Guy B asked Dungey if he has dialed up some more aggression lately. And Dungey quickly countered. "It's not a matter of aggression," Dungey said. "I always try my hardest every time I'm out there. It's just getting good starts and putting yourself in position."

Yes, maybe he could be more aggressive making passes at times. Seriously, I don't remember Dungey ever putting a questionable block pass on someone. And, nice guy or not, just about every rider at his level has done that to someone at sometime, except maybe Jeremy McGrath. But McGrath gets a mulligan because he was normally ahead of everyone anyway. You don't make block passes when you're in the lead.

After his win over the weekend in Colorado, Dungey told me how much more energy he used running behind Reed at Hangtown and Budds Creek than he did out front by himself. When you're behind, he explained, the roost and the other guy are blocking your view, so you're hitting every rut and every bump wrong, and that wears you out. It would take less energy to be out front and actually go faster. So, making those passes is a key, and he actually did force the issue a bit on Reed in the first moto, and caught a break when Reed bobbled in the ruts of moto two. Now he has an overall win, and basically he has it because this time he got the heck around Reed when he didn't so many other times this season. Also, he won the Toronto supercross, the only race of the year where he had the early lead.

Lesson learned, right?
Plus, throw Villopoto's first-moto win streak into the equation. Villopoto actually started behind Dungey in each of those three motos. Dunge made a mistake early at High Point so RV squirted past. And in the very opening moments of Budds Creek and Thunder Valley, when everyone was just trying to get a feel for the track, and the wet conditions, RV decided he wasn't waiting, passed a bunch of people, and took off. He whipped past Dungey, Reed and Alessi at Budds, and Dungey, Reed and Christian Craig in Colorado. The lead pack is darned close on speed this year, but the big advantage Villopoto has had this season is that he slices through traffic and make passes. The rest of the gang has finished where they have started a little more often.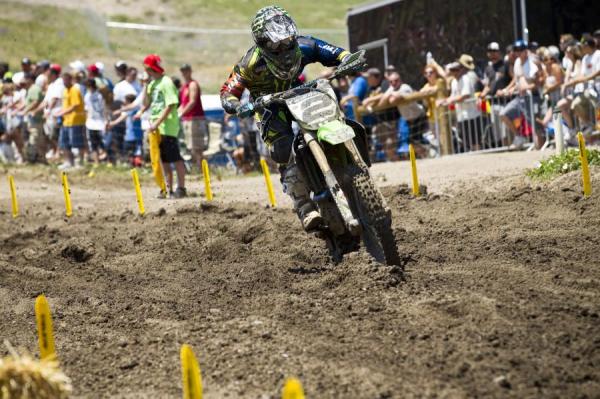 Villopoto is still trying to work out his second moto struggles.
Photo: Garth Milan
So if you're Ryan Dungey, and you've seen the damage Villopoto can do when he gets aggressive when it's wet and tricky (and risky), maybe you see the need to risk more. When you see how helpful it was to force the issue on Reed, maybe you force the issue more from now on. Yeah, we armchair racers know what we're talking about.

Or maybe we're just clueless. Maybe Dungey's plan, which seems to have eliminated injury, crashes and bad races, is the right one. You can't ask a guy to take more risks without expecting some failures, and maybe Dungey's strategy is best. Take two bike problems that were not his fault out of this year's supercross and motocross equations and he'd be right there in points, and that's about all you can ask for.

(P.S. I'm still not going to jump on the, "if Dungey hadn't lost a chain at Anaheim he could have won the supercross title" train. He still only won a single race after that. If you're staking a claim to being the man, one win isn't going to do it. Maybe after the chain problem, he needed to take a few more chances and risk it a bit more. But then again, what do I know?)

My point is, it's easy to think someone should have hung it out more, but the reason the racing has been so exciting this year is because Dungey, Villopoto and Reed have not hung it out when it wasn't going to work. Reed gave it a shot early in both Colorado motos, but soon realized he wasn't going to stay with the young bucks. He took his 3-3, packed it in and left in one piece. Villopoto may have been beaten by Dungey in the second moto, but he's not bumming. He got second, and from what I'm hearing, he's still working on bike setup. He has the first motos dialed, but the rougher second motos are still a work in progress. And this was progress, so he'll take that. And we get to line them all up healthy this weekend again at Red Bud.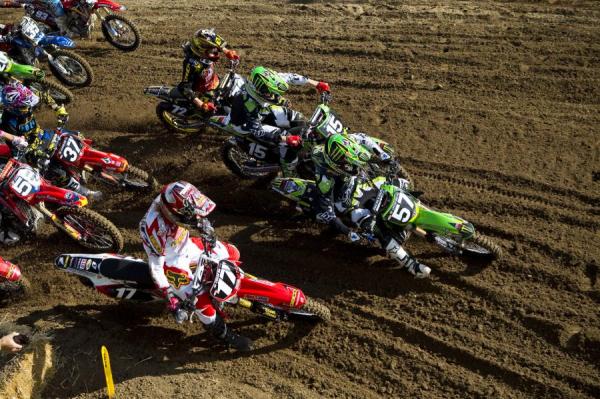 Will Baggett lead the field once again at
RedBud
?
Photo: Garth Milan
The 250 class had better hope that Blake Baggett doesn't figure this deal out. When he's on, he's lethal. The only hope is that he tries to kill them when he's not on, and it results in mistakes. But after his 1-1 Lakewood triumph, Baggett said he had learned a lesson at Budds. The track was tough to pass on, and he said he tried to force something that wasn't there. So if he gets on a track like that again, he'll just try to get a better start, or maybe just back it down.

Uh oh!

By the way, like it or not, we're pushing the El Chupacabra nickname to the top. Beats the hell out of the inevitable BB57, and, at the post-race press conference, Blake said he looked it up last week and said it sounds pretty cool. He's down, we're down, and I can't wait until someone shows up with an El Chupacabra sign at the races. Also, my dad is hoping it catches on enough to where Taco Bell introduces it as a new menu item. Cheap food is always a bonus!

If Baggett doesn't back it down and continues with his win or crashness, you know Dean Wilson and Tyla Rattray will be right there. I'm leaning toward Wilson right now, and not just because he has the points lead at the moment. I think he can go slightly faster than Rattray when he has to, and I think he, like Baggett, will learn to eliminate the mistakes. I like all three of these PC guys and they would all make cool stories if they become champion.

Let's just hope they all stay healthy and close all season long. Those 450 boys have proven how sweet it is when the contenders come back fighting every week.