Thunder Valley Motocross
Lakewood

,

CO
Thunder Valley Motocross
Lucas Oil AMA Pro Motocross Championship
Hello, everyone, and welcome to the Rev Up. Who's ready for some more? Dude, things have fired off at a pretty strong gallop. Just looking at the points in both classes has me raising my eyebrows. I've taken some hits for not saying so much about The Thunder, or his charge in outdoor 2011. Eh, I don't know, he's pretty much kicked everybody in the nuts and been a man among boys thus far this summer. Straight talk, my man has won every second moto that's run and after watching every lap, he really isn't sweating.
Speaking to that point, I think a lot of us overlook the fact that Chad Reed battled Ricky Carmichael and James Stewart for the better part of a decade. The new kids are fast, but the noise RC and Stew were bringing circa 2006 was profound. Reed's been through that, beaten both of them numerous times, but couldn't bring the titles home. He finished second and third a lot. And he keeps coming back for more.
Now when you think about what Reed's mindset is like as he stepped into the outdoor nationals this summer, you would be a fool to think he didn't have more going than any rider on the gate. He's fought countless times, and knows a "series" better than his current competition. He's spray painting the writing on the wall thus far. His point lead is growing and they better dent his grill soon, or Reed is set for the summer of his life.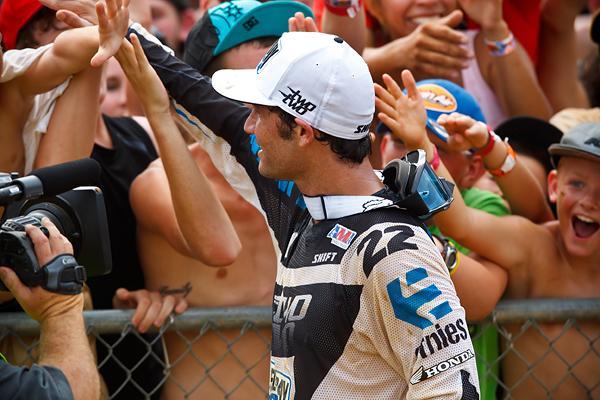 This has been a familiar site for Reed this season.
Photo: Simon Cudby
On to Colorado. Man, I'm from Kansas so we would hit up the Denver arenacross and about ten Colorado races a year growing up. Things are different at altitude. There's no air. In those days my KX125 that was full PC modified felt like it had the power of my Snapper lawn mower. You have to improvise the machines in the thin air to perform to peak. Which, no matter how good you get it, it's way less power.
With the four-stroke world we live in, the song remains the same. But different. The mechanics have fought boiling the fuel on the bikes for the past few events. I'm not a mechanic, but I know that the race we are staring down this weekend is a kicker in that the performance of the machines is different than any hit on the schedule. It's a major factor.
All history, Reed stroking, and mechanical speak aside, the Thunder Valley National in Lakewood, Colorado, is a very cool place to watch a race. Colorado is beautiful to begin with, but there is something real about the thinner air and the way colors are sharper and crisper at four-thousand feet. As one of the more, ahem, "mellow" states in the union, the state has an enjoyable vibe. There is a plethora of females, and the locals are great.
This one is shaking up to be the best race yet, folks. Let's check it out.
250
I'm not enjoying the domination of the Monster Energy/Pro Circuit team much anymore. They've created this dynasty of domination that is literally unbeatable. The best riders, on the fastest bikes, backed by arguably the single best management body in all of motocross. Either class. That's what you're up against with these boys. I love those guys, known Bones and Mitch since I was 16 years old, but it's like they need to use restrictor plates. Well, it's almost not fair they're so good...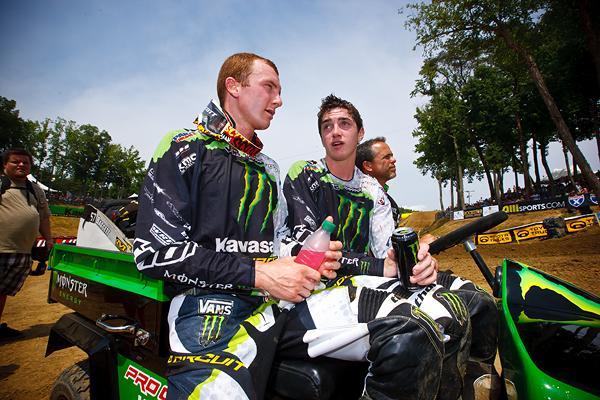 The Pro Circuit boys have been dominant thus far in 2011.
Photo: Simon Cudby
As it stands right now there is a hornets nest between point leader Tyla Rattray, Dean Wilson, and a pack of wolves scratching to gain points back. It'll be heavy this weekend and after the aforementioned PC powerhouse comes Justin Barcia, Eli Tomac, and now Kyle Cunningham and a very salty Darryn Durham. Things have a penchant for shaking up in Colorado, but look for the day to be very, very Monster Energy Green. Can "Bad" Blake Baggett come back and regain Alpha Male status?
450
We are going to see a show with the big boys this time around. There is some serious heat carrying the charge into Colorado in the 450 Class. Let's go back two seasons ago when Mike Alessi was trying to ride injured and got cleaned out by Josh Grant. Take that moment and look at the helmets #800 and #33 are going to pull on this weekend. Since then, Mike's brother dusted Grant early in supercross, and now the two are on the comeback trail. Lest you forget, Josh Grant won the first moto here last year and he is getting healthy on that factory HRC.
Mike Alessi is about ready to win a race. Watch those two this weekend. History speaks volumes.
But, before I go any further and miss any Reed action...why wouldn't #22 go out there and nail down another overall fist pumper? Hey, Reed has impressed me. I never doubted, but didn't think we would see this kind of riding. My man had his son on his shoulders on the podium at Budds Creek. Father's Day Eve. He showed up for moto two and just rode to another win. He has the momentum and all of the confidence.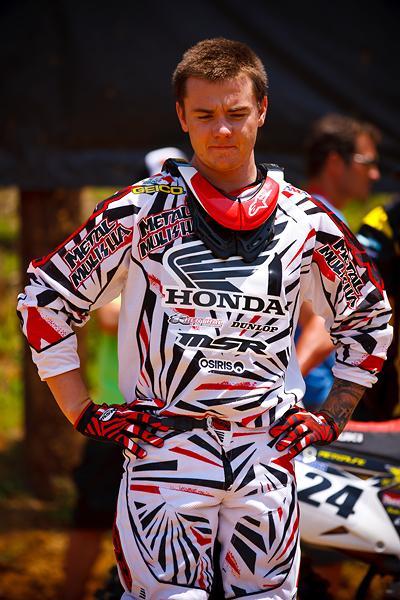 Will the Grant/Alessi rivalry reignite at Thunder Valley?
Photo: Simon Cudby
I've asked all season what the deal with number one is. Something is missing. That said, he can still win the championship. Everyone has a bad moto, though Reed hasn't had one yet. Short memory reminds that RD5 used the world as a doormat on his way to winning the MXoN for us last Fall. Ryan is fast at Lakewood, and this could be the weekend he gets a little back.
If it wasn't for stalling his bike and busting a gut in the second moto at Budds Creek, RV Park would still be the man. But he did, and he isn't right now. Reed has "the nuts." (that's poker speak). But, I don't know, I really don't see why Villopoto wouldn't come back this weekend and win another one. Yep.
What needs to happen with this group is to have
Jake Weimer
and
Davi Millsaps
get a little rolling. A holeshot from either will rattle the cage.
There is a lot that can happen.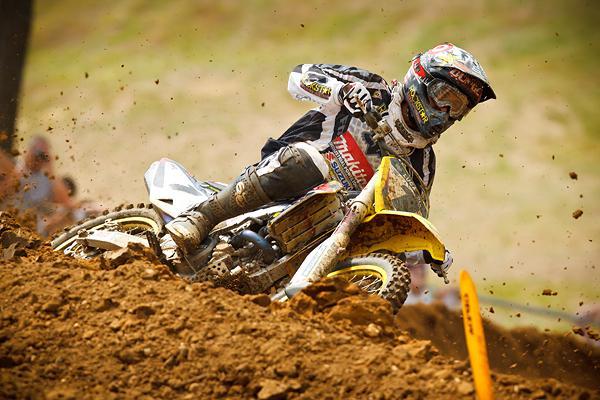 Can Dungey get his first overall of the year this weekend?
Photo: Simon Cudby
But, on to the show, ya'll! The first bell of summer rang on Tuesday and I'm telling you the scene in Lakewood this weekend is going to be epic! It's time to see the damn show again, boys! We're swiftly approaching the cross flags of this championship and it's time to get nasty. Time to see who has the salt, with their lungs burning. No air up there, I tell you. It's different. But, it's all the way in a good way. And it's going to roll this weekend. The totally on fire Rockstar girl with the black shorts is going to hold up the sign, then we're going to hear horsepower snapping and popping, then those guys are going to go nuts up that start stretch into the tight right. That's about all you need to know.
What's going to happen this time?
Thanks for reading, see you next week.