Thunder Valley Motocross Park
Lakewood

,

CO
Thunder Valley Motocross
Lucas Oil AMA Pro Motocross Championship
An idea for this week's list came while perusing the Vital MX message board: When you think of Team Honda, which rider comes to mind? These are the men, in reverse order, DC considers the embodiment of what was once the New York Yankees of motocross.
With a nod to great Red Riders like Doug Henry (who would gain more fame on four-stroke Yamahas) and Danny "Magoo" Chandler (whose Maico days were of equal legend), these guys were more red than anyone else.
10.) David Thorpe: While American fans may not recall much of England's Grand Prix motocross royalty, Thorpe was the linchpin of a juggernaut in Europe that included, at times, Andre Malherbe, Eric Geboers, and Jeff Leisk. He won three 500cc world titles—back when those titles were hard to come by. At that the time, he was the King of Motocross in Europe.
9.) Steve Lamson: At one point Lammy had won more 125cc Nationals than anyone except Mark Barnett, and all but one came on Honda CR125s. But he rode in the shadow of Jeremy McGrath in AMA Supercross and never won a premier-class main event. Still, he made those two-smokers fly, and had Ricky Carmichael not come along in 1997, he might have broken all of the 125-class records.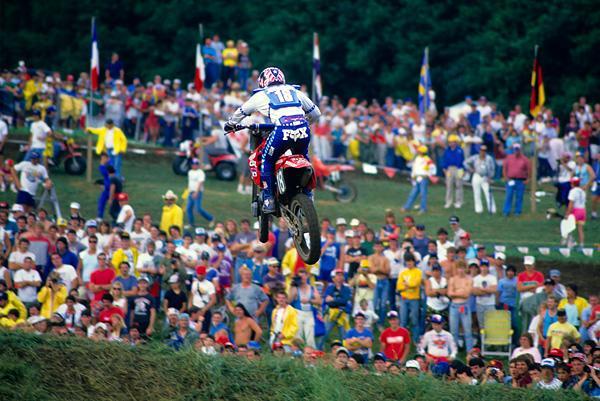 Ricky Johnson was unstoppable from '86 to '89 for Honda.
8.) Kevin Windham: He started out green, turned blue, then red, and then yellow—and that was before he basically quit in 2002 with burnout. But then Windham came back with the help of Factory Connection, and he's become a true American Motocross hero. He's easily the most popular rider out there today, still going strong and still riding red.
7.) Rick Johnson: Ricky Johnson had his formative years on Yamahas—just like Ron Lechien and Bob Hannah, who would have some success on Hondas before moving on. From '86 to '89, RJ was almost unstoppable, as only Jeff Ward seemed to have his number on occasion. Johnson, like his '86 teammates Bailey and O'Mara, was as cool as cool can get in motocross.
6.) Jean-Michel Bayle: He won two world titles on Hondas, then moved to America and added three AMA titles. So good, so fast, so cool … and so French! American fans didn't know what to think of this incredibly talented but quiet interloper. Looking back, we were lucky he came here, and lucky Honda's brass was smart enough to let him trade it all in for a shot at AMA stardom.
5.) Jeremy McGrath: It's tough finding a spot for the King of Supercross here because he won four AMA Supercross titles and a 250 outdoor title on red, then left after a very public feud with the company over his image rights and freedom and whatnot. But then he won three more titles on Yamahas, plus a couple of races on Suzukis, and even took a brief ride with KTM before getting back to his red roots. In the nineties, McGrath WAS Honda. And he's still working with the company testing, doing public appearances, and representing the Red Riders.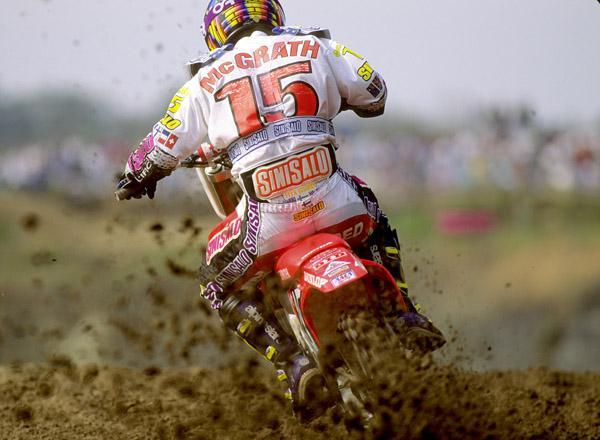 The King of Supercross, MC also won an outdoor title as well for Honda.
4.) Johnny O'Mara: The O'Show rode red from 1980, when he was on a white Mugen, through 1986, when he stunned the world with his 125cc ride at the 1986 Motocross des Nations in Italy. Like the #1 man on our list, he was the quintessential Honda pilot of the glory days: perfect style, able to win on any sized bike, and just plain cool.
3.) Jeff Stanton: Captain America if there ever was one! From the time Team Honda took a chance of this Michigan big-bike rider in 1989 through his retirement five years later, Stanton rode red to six AMA Supercross and AMA Motocross titles. He led Team USA to three MXoN wins, twice saving the team literally on the last lap. He came to epitomize the more serious side of Team Honda as it evolved from super cool in the eighties to a more button-down, serious vibe in the nineties. He was all business, and he was damn good.
2.) Marty Smith: He was the first Team Honda hero, emerging as their 125cc champion in 1974 from a crowded group that included Chuck Bowers, Mickey Boone, Bruce McDougal, and more. Smitty won three titles and starred on the bikes as they went from silver to red. Dressed in red-white-and-blue, he was an all-American badass!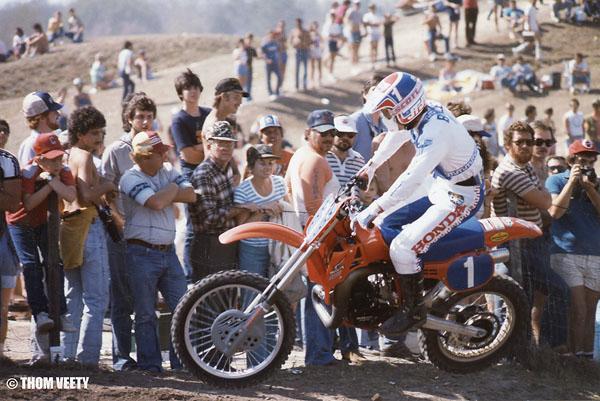 The GOAT for Honda, David Bailey.
1.) David Bailey: The best days of his too-short career all came on works Hondas, beginning with his replacement ride at the '82 Motocross des Nations and going through his career-ending crash at Lake Huron in California in January '87. Along the way he set the standard for style, charisma, and professionalism. He's still The Icon in our book—and maybe in everyone's book.