High Point Raceway
Mt. Morris

,

PA
High Point Raceway
Lucas Oil AMA Pro Motocross Championship
You know someone's season isn't going well when they are thanking "all the doctors back home" from the podium while also using terms like "lucky to be alive."

On the other hand, you put Mike Alessi aboard a carburetored 450 and you got yourself a holeshot.

If Mike Alessi's pre- and post-race interviews seemed slightly less than rife with confidence -- imminently understandable given his return from the brutal Hangtown practice crash where he suffered yet another in a string of concussions -- his starts were more an indication of steely resolve to once again run at the front of the pack.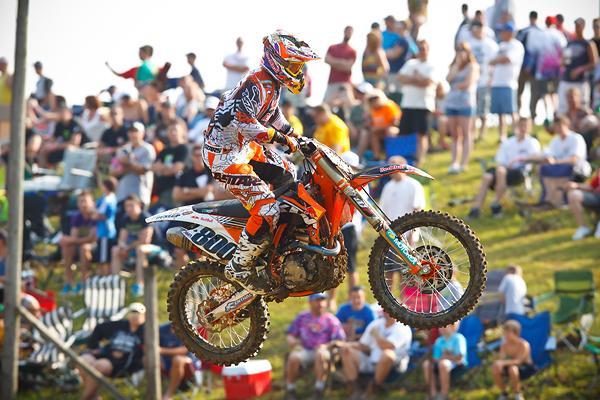 Alessi made his return at
High Point
after being sidelined for the first two rounds with a concussion.
Photo: Simon Cudby
Consider, even, the start of day: After almost three weeks of waiting for the stars in his head to clear, Alessi not only made a game-day decision to ride, he was the first rider to come around in the day's opening A practice. He'd wind up third fastest on the timing sheets for the first session, and fourth in the second.

In the first moto, the 800 bike ripped such a start that it ripped the starting gate right apart. Alessi was 15 feet out of the gate with the gate still in front of him -- yet he somehow came out of the first corner in third and held that position throughout the race to put it on the box... only to be docked a spot for the aforementioned damage to Mt. Morris property. Alessi would be scored fourth.

Then he ripped another runner in the second race and went on a flyer -- gapping the field in unknown conditions through standing water that hid holes and ruts from the first round of motos. Alessi's opening laps were three or more seconds faster than the competition, building a massive lead he would surrender only after colliding with a lapped rider in a slippery, deeply rutted hook turn at the top of the course. He remounted still in first, barely, but quickly succumbed to the charge of Chad Reed. Whereas a penalty would keep him off the box in the first race, the charging rival Ryans, Villopoto and Dungey, would do the same in the closing laps.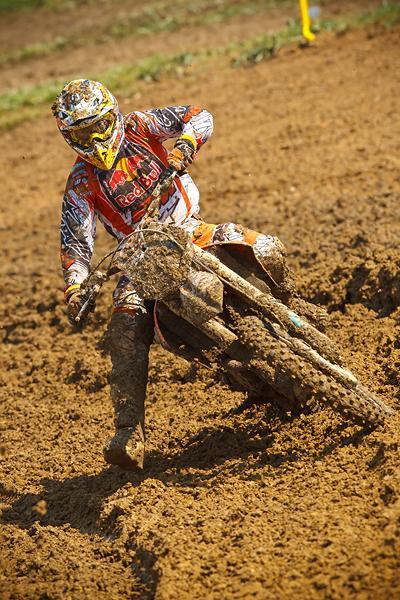 Alessi lead the majority of the second moto before crashing late and giving the lead to
Chad Reed
.
Photo: Simon Cudby
Good starts aside, Alessi spent the day entrenched at or near the top of the leader board. The only riders to finish ahead of him (on the track) were the top three in the points race, Reed, Villopoto, and Dungey. Those are big shoes on the podium, and Alessi still wants to fill them.

For the first two rounds Alessi's outdoor season was a non-starter. Now, the starter is back.
You can reach Steve Dye at steve_dye_121@yahoo.com