Originally from Boise, Idaho, and a recent newlywed, 21-year-old Ben Evans just wrapped up his career best finish to date with a tenth overall in the highly competitive West Coast Lites Supercross series. In spite of a bad case of the flu leading up to the Las Vegas SX finale, Ben soldiered on to finish fourteenth overall in main. Later we got to spend a few minutes with national number 49 for this edition of the Racer X Privateer Profile.
Racer X: Ben, great job with finishing tenth in the 2011 AMA Supercross West Coast Lites Championship!
Ben Evans: Thanks, Jim, what can I say? We've just been putting in our time and working very hard, and been having a good time while doing it. I feel like I have a great team behind me with Truth MX. A lot of people may not realize that we put this team together just before the series started – like Chad [Reed] did. I didn't have a ride for 2011 or anything really going on, so we put our heads together and came up with something on our own, and it has gone well.
Many privateers choose to race the AMA Supercross class as bike modification and maintenance costs are less. Why did you choose the Lites class?
I did ride a 450 outdoors last year, and that made more sense back then, but this year it was more economical to the 250 West Coast series. We are based in Southern California this year, so racing the 250 in the West Coast Supercross series has just made it a lot easier for us at this time.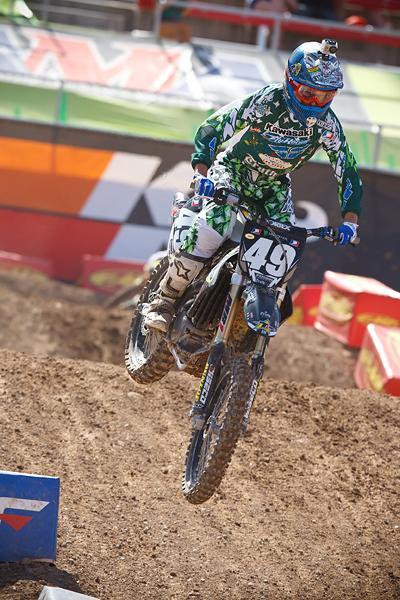 Evans finished a career best tenth overall in the West Lites standings.
Photo: Simon Cudby
I had thought that you lived in Boise, Idaho.
Actually, I recently got married, and my wife Julie and I officially moved out to Lake Elsinore, California, so we have been there for the past few months. She is also originally from Boise. It's been great being in Southern California because there are so many good tracks to ride at, and being in Southern California you are much more in front of the industry. Idaho is really a great place to live, but if you are trying to make it in professional motocross it's a bit in no man's land. Another cool thing about being in California is there are so many fast guys that you get to ride with every week. There's always someone fast at the tracks out here.
Yeah, I have often heard that when you ride with guys that are faster than you, you get faster.
Oh yeah, I agree totally with that saying. When I was practicing or racing in Idaho I was usually the fastest guy at the track, so I had to really push myself to get out of my comfort zone, and go faster. But when I am practicing at tracks like Competitive Edge, Milestone, and other tracks like that, I can get the lap times of some of the Pro Circuit or GEICO Honda guys like that, and try to match them. It really pushes me harder to make up those seconds that I may be off of their times. Also, I'll watch and see how they hit different lines. I believe that I learn a lot buy riding with the factory guys, and that it definitely makes me a better rider.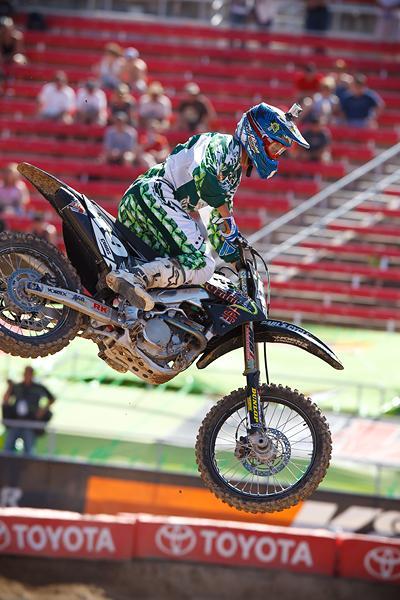 Evans is looking to ride the momentum of supercross straight to outdoors.
Photo: Simon Cudby
Let's move backward for a minute. I would have to imagine that starting up your own team must have been a major undertaking.
It was! My brother Luke and I just really put our heads down late last season to see what we could try to come up with. My agent Dan helped a lot, Mike Battista from MB1 contributed a lot, and Team Green Kawasaki helped us get bikes. Eventually we ended up getting some bikes, a truck, and then Truth MX really helped a lot – so we said, "We're going racing!" We actually have another rider on the team – Bryce Vallee. But Bryce broke his navicular right before the Supercross season, but since we are doing outdoors he should be ready for Hangtown. As a rider you normally don't like to do so many things included with starting up a team, you really just try to stick with the riding and training parts, but I think that it was good for me to learn some of the business part of racing, and understand that side of it.
Will you be sticking with the 250 for outdoors?
Yes. We already have the bikes, and have actually managed to get in a lot of testing with it. Bryce is pretty well healed up, and has been riding the 250 as well – so we'll stick with the 250. I have ended the West Coast Supercross Lites series with one of my best career seasons, and am very motivated to keep progressing. I want to continue to be a top ten guy, and show people that a privateer can beat the factory guys on a regular basis. I want to put myself in a good position to where a factory team manager will notice me. It's my job to show people that even with sub-par equipment that I can consistently finish top ten. Don't get me wrong, I have some great people supporting me, but we are definitely not able to spend the money on all the extras that the factory teams have.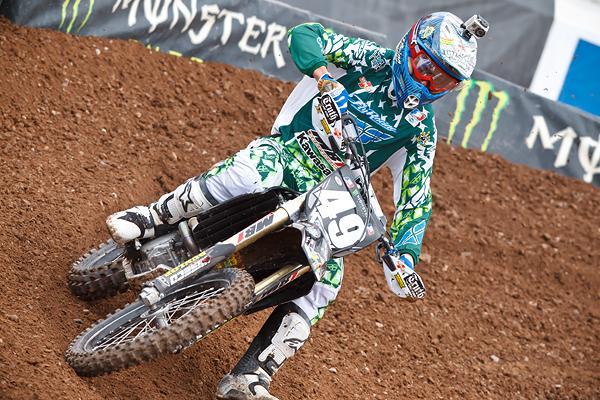 Evans will be riding in the 250 class come outdoors.
Photo: Simon Cudby
Ben, you touched a little bit on the people that are helping you, but who else would you like to thank?
I'd like to thank the Lord for giving me the gift of how to ride a motorcycle, Truth MX, my trainer Andy, my brother Luke, Fly Racing, Dr. D, Panic Rev, Carl's Cycle Sales, Team Green Kawasaki, MB1, Works Connection, odi, Wiseco, RK, Dunlop, Showa, Fusion Graphics, Excel, DT1, Scott, SDG, Vortex, TiLUBE, and everyone else – thank you guys so much!