Lucas Oil Stadium
Indianapolis

,

IN
Indianapolis
Monster Energy AMA Supercross Championship

Matt Lemoine joined the Star RacingYamaha team back when he made is pro debut in 2007 and quickly grabbed some impressive finishes. But over the years, injuries and inconsistency have slowed his fast track to stardom. He moved to the Suzuki City team in 2010, with mediocre results at best. But now as a privateer with support from Moto Extreme Kawasaki things are looking up. While the 21-year-old Texan had impressed many with his rides in the 2011 East Coast SX Lites class, it was his fifth place at Indianapolis this past weekend that really raised some eyebrows. This is where we were able to catch up with Matt who now sits seventh in points.
Racer X: Matt, congrats on your fifth in Indy. That's been your best finish so far this year, right?
Matt Lemoine: Yeah, the fifth at Indy was my best so far. I have felt like I've had the speed and endurance since the beginning of the series, but it's just been little things that have happened to me. At Indy I didn't feel that I rode my best. I had some little complications along the way, but will keep on focusing forward trying to better my finishes. I almost had it at Daytona but made a small mistake that really cost me.
What happened in Daytona?
I felt great in Florida. I got a pretty good start and made some passes and was running fifth for much of the race, but then I stalled my motorcycle. That stall cost me four positions and put me back to ninth. It was near the end of the race, and by that point there just wasn't enough time to pass anyone, everyone was too spaced out. It's a bummer because I had fifth locked up and was pressing forward. Stalling my bike was just a rookie mistake. Everyone there thought that I crashed or just got tired, but it definitely wasn't that. I was pretty disappointed, though.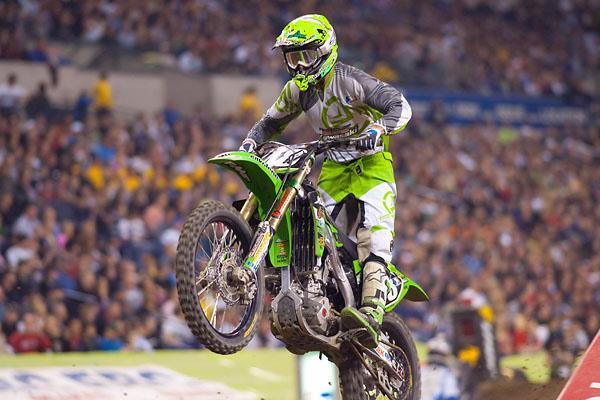 Lemoine had his best finish of the season at Indy.
Photo: Andrew Fredrickson
I missed the first two rounds of the East Coast Lites series, so how did those go for you?
Well in Houston I got tangled up in the first lap and started from last place. I just put my laps in after that and kept on focusing forward, eventually ending up in ninth there too. In Atlanta I did about the same exact thing. A first-turn crash coupled with trying to move forward. I got into eighth but had a slight fall and ended the race in tenth. So I was pretty consistent in the early races, but I definitely would be a lot happier if I was regularly in the top five. So, that's my goal—be consistently top five.
You've went from Yamaha to Suzuki to Kawasaki in the past three seasons. How have you adjusted to the KX250F?
Well, beginning with Yamaha and the guys at Star Racing, they were all awesome. Bobby Regan and the whole clan over there have a solid program going. Last year I went to Suzuki City and tried something new, but unfortunately it just didn't work out for me. It wasn't any one particular thing, it just didn't suit me and I got a bunch of bad results and other stuff that I didn't need. This year I am doing my own Kawasaki deal, and the bike is awesome. I feel so comfortable on it. It's pretty awesome to be able to still race doing my own deal, with friends and family backing you, especially with the way the economy has been. I'm just trying to get some good results and not be in this spot next year. There is always something that is bigger and better, and I'm just trying my hardest to put in some good rides for myself and the people that help me. Who knows, maybe in a few years we can expand this team and have some other people riding for us.
Are you more focused on where you finish in the championship, or are you just taking it race by race?
It's both, really. I want to go for it and finish each race the best that I can, but also I want to be consistent and finish well for the long run in the championship. I look at it as if you strive for the best finish in each race, then the points will come and you'll be up there in the championship. For me it's just trying to keep my confidence and motivation up week in and week out. Taking a fifth now helps that a lot.
Ideally, where would you like to see yourself when the checkers wave in Las Vegas?
Top five in points would be very nice. I'm not that far out of there right now, so if I could get some more finishes like here in Indy it would help me a lot. Of course a podium or two would really be awesome and help me in the championship, but being happy with myself and racing like I can actually means the most to me. I feel that I practice very well, so now I just need to race like that. I know that I have the fitness, the speed, and the desire, I just need to put it all together.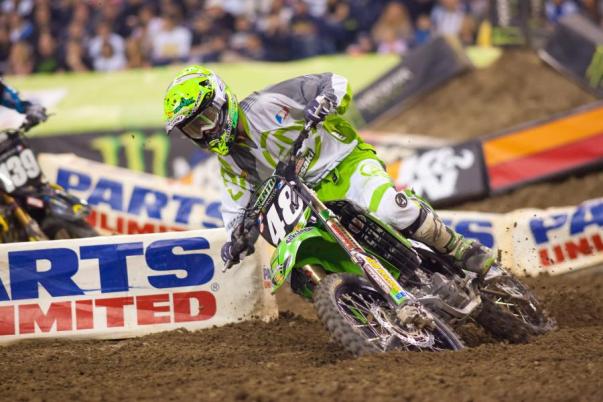 Can Lemoine get on the podium before seasons end?
Photo: Andrew Fredrickson
Describe what it's like going from being a factory rider to a privateer.
For me the privateer lifestyle has definitely been more demanding. I've been driving to all the races and staying here and there along the way. It's tough trying to make it all work, and then having much less riding time than what I really need. But what's good about it is that by driving across country and staying at all the different places, you get to ride at a lot of different tracks. Obviously the real negative is money; or really the lack of it. With more funding you could put more into the bikes. We only have a couple people helping us out, like Terry at Moto Extreme and my dad, who has been helping me to get to all the races. My bike may not be the best one out there, but with what we can afford it fits me very well.
In closing, who do you want to thank, Matt?
Terry Derr at Moto Extreme Kawasaki, my mechanic Jim Vezina, Novik Gloves, Skull Candy, Shoei helmets, FMF, Moose, Parts Unlimited, Dunlop, Speed Graphics, Matrix, DVS, Smith, Mandingo Pickles, JM Racing, Hansen and Associates, Whynatte Latte, and Alpinestars. The list of people helping us is almost endless, and I am so grateful for everyone's help. Now I just want to do my best on the track and reward them the best way that I can.