Jacksonville Municipal Stadium
Jacksonville

,

FL
Jacksonville
Monster Energy AMA Supercross Championship

Four winners in four races—and its just starting to get crazy. This year's Lites East tour is presenting a whole new scenario for the riders at the front of the pack.
Justin Barcia
,
Blake Baggett
,
Ryan Sipes
and
Dean Wilson
have won amateur titles before, and they know what it's like to go to the line in races where they're expected to win. That's pressure—but it's not the same as living under this Lites East Championship microscope for two months.
Last year, three of these contenders, Baggett, Barcia and Wilson, were merely rookies to supercross. Of course they wanted to win races, and through the season of supercross and motocross, they all did visit victory lane. But titles? Experienced hands like Christophe Pourcel, Austin Stroupe and Trey Canard battled for those.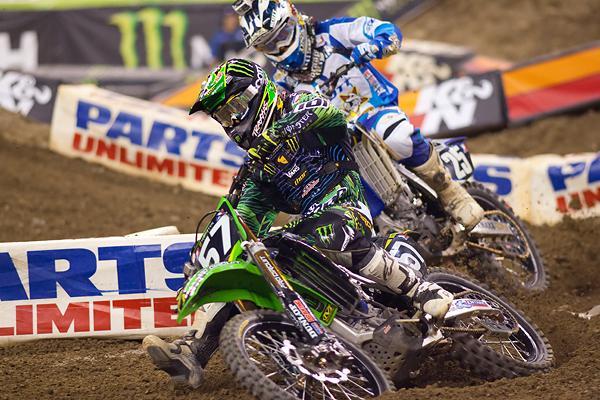 Baggett lead early in Indy, but crashed over the finish line jump handing the win to Sipes.
Photo: Andrew Fredrickson
Now the rookies have become sophomores, and Pourcel, Stroupe and Canard are gone. But racing for a title usually doesn't come easy the first time. Ryan Dungey famously struggled with it during his sophomore SX season in 2008. The next year, Dungey was ready, and while Jake Weimer gave him a run, Weimer would have to wait until the next season to get his crown. This year, out west, it appears that Broc Tickle is having problems wrestling for his first number one. Ever since his teammate and West points leader Josh Hansen broke his hand, Tickle went from 2-2-4-1 finishes to 4-3 rides in the last two rounds. Good, but if he had followed his Oakland win with at least one more, he'd be in control of the series.
So that leaves us with the kids in the East. Barcia is able to ignore the pressure since he's riding with a bum wrist and has a built-in excuse. It's the same manner we've seen other riders in before—he's hurt, he has nothing to lose, he takes the pressure off. So he's the points leader, but he's certainly not dominating by any stretch.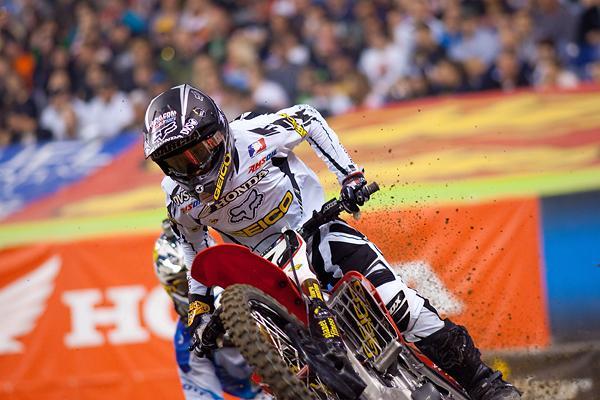 Barica is still fighting off a wrist injury.
Photo: Andrew Fredrickson
It's been different for Wilson and Baggett, though. Each of the Monster Energy Pro Circuit Kawasaki riders followed their first wins of the season—which seemed to indicate momentum and confidence—with crashes at the next race. In Wilson's case, he's had two terrible rounds, with two big Daytona crashes and an eighth, then more trouble in Indy and a sixth. Just like that, Dean has gone from tied for the series lead to 16 points back, with three riders in front of him.
Baggett led in Indy, but Sipes closed on him, and Baggett crashed under pressure. He recovered for third, but gave up major momentum to Sipes.
And Sipes may be the one to carry it, where Barcia, Wilson and Baggett have not. Surely Sipes main goal for this season was to finally get a win. He's done that now. It's all icing on the cake from here on out. Whereas losing the championship will be devastating for the riders who are supposed to get it, it's nothing but a fun ride for Sipes, who has been up and down the career ladder over the last six years. Of course, relying on a rider who waited six years to get one win to go out and make up 12 points in four races is a tall order.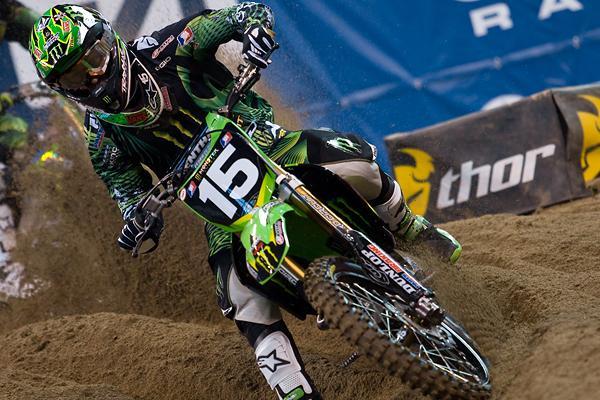 Wilson needs a win. Now.
Photo: Matt Pavelek
For Wilson, though, this could prove to be the one that got away. His ride for the win in Atlanta was the most impressive of any this year—he passed Sipes, Baggett and Barcia to do it. Then later, it became known that his rival Barcia was riding with a broken wrist. At that point, it seemed like Wilson's title to lose. And he may have lost it.
So now we enter a crossroads for one of the most talented riders in the field. If he wants any part of a championship, he needs to get a win this weekend and reestablish himself and his confidence. Word is that his team has already told him he needs to pick it up.
Luckily for him, we all know the ability is there. Let's see if he can show it this weekend.