Daytona International Speedway
Daytona

,

FL
Daytona
Monster Energy AMA Supercross Championship
Welcome to Racerhead, coming to you from the Media Center of a not-very-crowded Daytona International Speedway. At least not very crowded yet. They moved the Daytona Supercross by Honda to the front of the Bike Week menu rather than ending with it, so no one is really here yet, but with an extremely entertaining and compelling Monster Energy AMA Supercross Championship already over-delivering on excitement and action, there should be shiploads of people docking here for tomorrow night's race.
As I type this in the pressroom, Ricky Carmichael is outside pounding out a few laps on what looks like a very long and soon-to-be very rough race track. The Daytona circuit is also a different animal -- and a beast at that -- compared to the rest of this tour. Like Southwick on the Lucas Oil AMA Motocross schedule, it's a really unique circuit to its brethren, and crazy things can and do happen at races like this.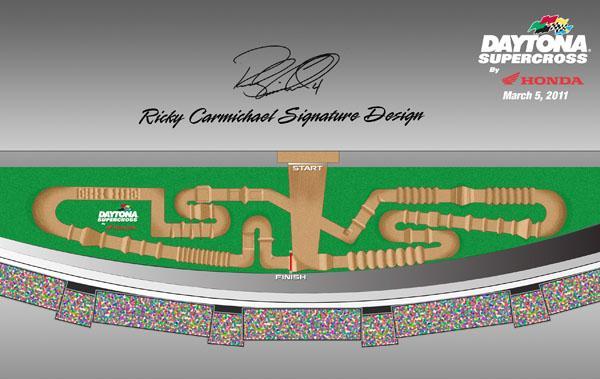 And speaking of Southwick, it along with all 11 of the other rounds of AMA Motocross will be airing the first set of motos live on Fuel TV (and AlliSports.com) beginning with Hangtown in May. The second motos will air on either SPEED or NBC. The press release went out today, check it out here.
And here's a little something that came out of last week's MX Sports/Alli Sports meeting with the race teams: Starting at Hangtown, we are going back to the old system of having your first moto score count for your gate pick in the second, rather than qualifier times counting for both motos. It's a little swing back towards tradition after a subtle change several years ago.... After what happened to Andrew Short at Southwick -- going to the gate 40th in both motos -- it was obvious that the system had a very big flaw. More on the American motocross stuff in the weeks ahead.
When was the last time two guys took themselves out while battling for the lead? In motocross, there was the incredible RedBud National of 2010 where Ben Townley and Chad Reed went down together—BT101 went down and Reed was right behind him—as they battled frantically with eventual winner Ryan Dungey. But in Monster Energy AMA Supercross, all I can think of is Daytona a few years back when Josh Hansen and Josh Grant banged each other on the last lap in one of those "pick-up passes" (who can pick their bike up first) or the '02 Anaheim SX opener in the 125 class where Chris Gosselaar ran it up into the rear wheel of Rodrig Thain through the whoops on the last lap.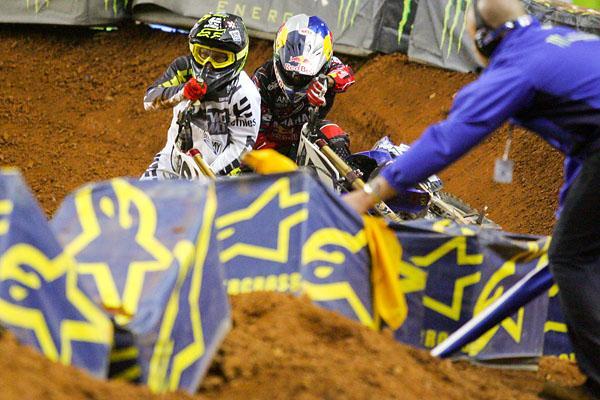 The battle of the season?
Photo: Andrew Fredrickson
And then there's the 1990 Battle of Atlanta, when Mike Kiedrowski ran Damon Bradshaw into the fence at the halfway mark, and I believe the San Jose SX one year when Chicken Matiasevich and Guy Cooper (or maybe Damon Bradshaw) did likewise on the last lap, handing the win to Doug Dubach....
But what happened last Saturday in Atlanta was just mind-blowing. The rivalry between Stewart and Reed went to "11," as first James muscled past, then Reed executed what I call a real-estate pass—going so far inside and under a guy he has nowhere else to go but through you, which James tried to do. The crowd went nuts, Ryan Villopoto took a gift win, and he now has a 10-point lead. And with both Dungey and Reed passing Stewart at the end, it was #7 who came out the worst of it. Suddenly Reed has established himself as a player in this championship, and he's heading to his favorite track on the tour, the notoriously rough Daytona Supercross.
Here's something to keep in the back of your mind: While Reed did not race Daytona last year due to the wrist injury he suffered when he collided with (you guessed it) Stewart at Phoenix, he did ride practice and laid down the fastest lap time of practice. Then he passed on racing because his wrist was too weak. As he told our own Steve Matthes in yesterday's Racer X Film by Kevin Husted, he just loves the big old sandbox that has been hosting dirt bike races since 1971.
But Stewart likes it too, and so does Villopoto—don't forget he won here last year, albeit against a depleted field. And Ryan Dungey has gone as long as I can remember for a titleholder without a first win in his title defense, going back to maybe Jeff Emig in 1998. Four men have won this race in the past that will be lining up Saturday night: Reed, Stewart, RV, and Kevin Windham.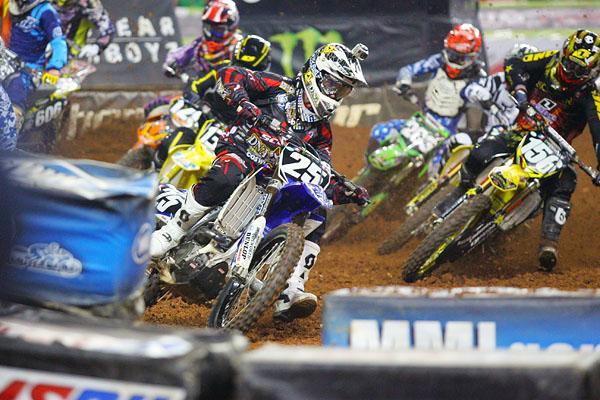 Sipes is a dark horse in the Lites class.
Photo: Andrew Fredrickson
The race should be epic, and it's live on SPEED tomorrow night, beginning at 7 p.m. And while I am thinking about it, props to SPEED for all of the excellent live TV coverage this month, and thanks to Feld Motor Sports and Daytona for helping make it all happen for us fans.
In the Lites class, we have a dead heat between the young rivals Justin Barcia and Dean Wilson, but my long-shot pick is still Ryan Sipes (and if Darryn Durham were healthy, he'd be on my list too).
And finally, Ken Roczen is back for his last outing in the 2011 Monster Energy AMA Supercross tour before he heads back to his homeland and begins final prep for the Sevlievo, Bulgaria, opener in a month. I have not seen K-Roc ride the sand, but I know he's got the chops to run top five on a long, rough track like Daytona.
To get you in the mood for the traditions and histories of the Daytona Supercross, check out this amazing clip Eric Johnson found of the '79 Daytona SX, where Jammin' Jimmy Weinert passed Bob "Hurricane" Hannah on the last lap for the win (that was the golden age for nicknames in moto). Forty-one riders on the gate and a gnarly, long, across-the-pavement racetrack to boot! Click HERE to view clip.
In hindsight, that race should have made The List this week of the ten greatest moments in Daytona SX history.
A big milestone was broken for women's motocross last weekend: Vicki Golden, the supercool and very fast Honda rider, made an AMA National Arenacross main event! For pioneers like Sue Fish, Debbie Matthews, Lisa Akin-Wagner, Mercedes Gonzalez and Miki Keller, that's something they've been waiting for a very long time. Ironically, Golden is looking for a ride still for this year's Lucas Oil AMA Pro Motocross Championship. With a new TV deal in place, this girl would be a great pickup for any team in the pro pits.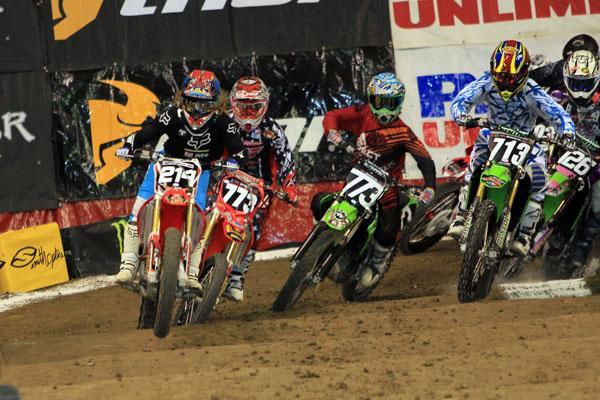 Golden made the main event in Arenacross last weekend.
Photo: James Saecho
Good news from the AMA: "Legislation that would exempt kids' dirtbikes and all-terrain vehicles (ATVs) from the 'Lead law' that effectively bans them at the end of the year is gaining momentum on Capitol Hill, the American Motorcyclist Association (AMA) reports. There are now 50 co-sponsors to H.R. 412: The Kids Just Want to Ride Act, which was introduced by Rep. Denny Rehberg (R-Mont.) The bill seeks to exempt kids' off-highway vehicles (OHVs) from the Consumer Product Safety Improvement Act (CPSIA) of 2008, which is also known as the lead law."
Here's Steve Matthes:
After the epic Atlanta SX, I stayed down here in the Southeast to hang out at Tim Ferry's place and generally just be a nuisance to him and his family. So it's pretty much just like old times I suppose down here in Tampa. With Daytona coming up, a lot of riders hang around down here to get some practice in under the sun and with the green grass. As well, guys like Chad Reed and Ryan Villopoto have moved their base of operations east to where they are now living in Florida full-time until near the end of the SX season, when they will move back west to get ready for the outdoors. It's a full-on circle of life thing.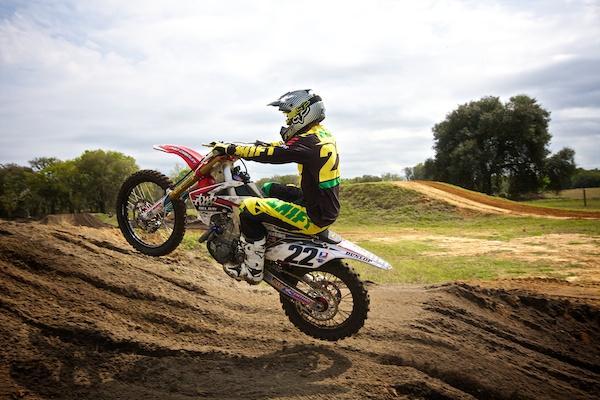 Chad got a Daytona track built at his house and seemed to agree with it. He'll be right there this weekend.
Photo: Kevin Husted
So Tuesday was Chad Reed Day as me and my lone Pulpmx.com employee, Swizcore, headed out to Dade City to watch the two-two put in some motos. As always, Reed got himself a little Daytona track built, which means some more natural jumps, some whoops, and a few dirty dirt outdoor-style berms. The good thing for Speedy is that the man who builds the actual Daytona track, Mark "The Bomber" Barnett, was there behind the wheel of the dozer hooking up Reed with the changes.
Also out there motoing down were BTOSports.com/BBMX riders Jason Thomas and Michael Byrne as well as Chris Gosselaar. The real highlight for me, though, was seeing the Bomber get on Reedy's trusty 2008 CRF450R and try out his creations—well, some of it anyways. You see, Bomber was without a doubt my childhood hero growing up, and from ages 7 to 11, he was the man for me. When he retired, I held a grudge against the magazines at the time because they never let us know what happened to Mark after 1985. He sort of faded away. I have talked to him a few times here and there and even did a podcast with him, but I had never seen him ride.
Until last Tuesday.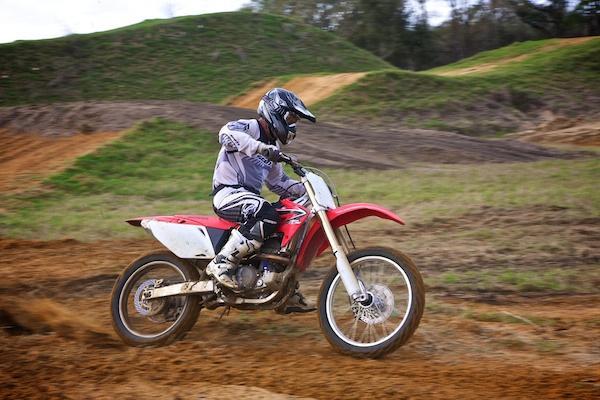 The Bomber drops some bombs out there on the track that he just made. Yes, he's still really fast.
Photo: Kevin Husted
Bomber rode for a long time out on the Daytona track and combined it with Chad's real outdoor track to make one super track that he rode for a long time. Sure, he's up there in age, and sure, he was on a Honda 450, but if I closed one eye and looked into the sun, it sure looked like 1982 again. Anyways, Swizcore made a cool film out of it and we put it up this week. Exactly where do I send that therapy bill to after reading the comments posted?
The day after that, it was Ryan Villopoto's house and we screwed up by misunderstanding how far it was from the Ferry palace. I thought it was fairly close to Reed's but it turns out it was a little far. So the point is, we got out there just as RV was getting ready to do his last moto of the day. Ryan also went for a little Daytona flair by connecting his supey track with his outdoor track. It made for a long lap time, and to no one's surprise, Villopoto looked very ready for this weekend's race.
The day after that it was out to Ferry's property, which now has a French Canadian guy living on it named Carl Samson. Ferry flattened the supercross track but the outdoor track is still there and Carl has spent some time on that making it a super fun, jumpy track with lots of twists and turns. The cool part of the day was Ferry busting out his KX125 to ride for some pictures and videos. The 1995 Mt. Morris 125 National winner looked the part out there as the sweet shrieking sounds made us all hearken back to a time when Ferry won his one and only 125 title in '97.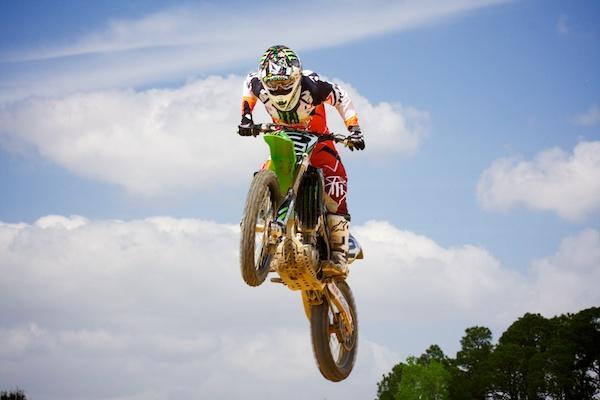 Ryan looked to be really fast on his all new SX track. I asked him how long it takes him to figure out a track and he said "Two laps!"
Photo: Kevin Husted
Look for a Pulpmx video next week on this and if you want to see some Pulpmx stuff on my week, take a look here for Ferry's house or here for RV's place or here for Reed's palace.
I also did a podcast with Ryan while I was there and got his take on the Atlanta SX and his thoughts on Daytona right here.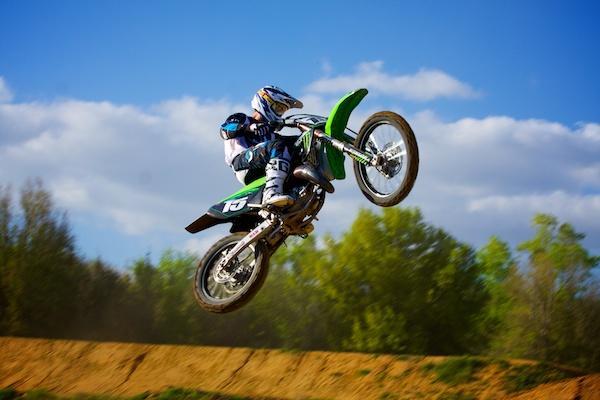 Red Dog busts out the 125!
Photo: Kevin Husted
Now onto
Weege
:
For what to watch for in Daytona, be sure to check out, well, 10 Things to Watch for in Daytona, which lists 10 things that you should watch for in Daytona, amazingly enough.
As Matthes is explaining above, this is actually a new season for a lot of the top riders in our sport, because they're making their exodus from Southern California to Florida. It makes it virtually impossible to pick favorites for a race in Daytona, because predictions would go like this:
Stewart will be fast there because he practices in Florida.
Reed will be fast there because he practices in Florida.
Villopoto will be fast there because he practices in Florida.
Dungey will be fast there because he practices in Florida.
But if they ever bring back the Oklahoma City, Oklahoma, supercross (which ran for a few years in the early 1990s) we're all going to be betting on Trey Canard.
How much longer can this go on, though. The Florida compound idea was born out of the success of the Carmichael and Stewart camps down there, and then eventually every other fast guy who wanted to beat them had to set up shop in the heat and humidity, too. A bunch of guys hung at Ferry's house. Then Reed moved into his own place. Grant Langston. Sebastien Tortelli. Josh Grant. Dungey went to Stewart's and later Carmichael's, and Ivan Tedesco rode at RC's, too. So did Ben Townley. Now Michael Byrne has moved into the Sunshine State after some time in Georgia. And Villopoto now works out of Langston's old place.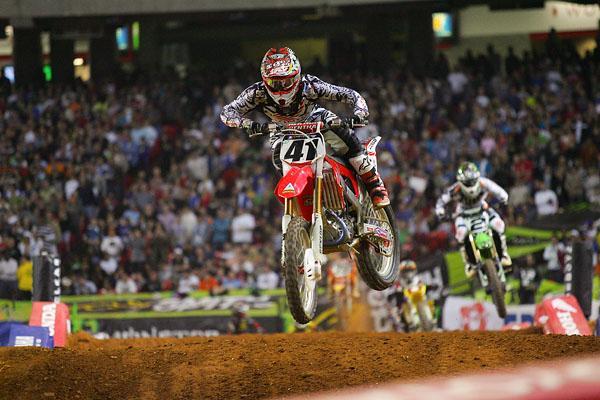 Canard has had success at Daytona in the past.
Photo: Andrew Fredrickson
But a lot of these moves took place during the high-flying economic days we witnessed five years ago. Riders could buy houses and build and maintain tracks and shops, no problem. Teams could raise UPS stock single handedly by shipping works parts from coast-to-coast every week.
But now everyone is on a tighter budget. Back in the 1980s and 1990s, when there wasn't as much money to go around, it was easier for everyone to just work local in Southern California. We keep hearing budgets are back to the level of those years. So will everyone's location change back, too?
Here's Ping:
Not much on my end this week, unless you want to know something about pharmacology or pathophysiology. I should be just finishing up my finals for paramedic school as you are reading this, so I've been buried in notes and books all week. I will say that every year, for only one day a year, I wish I was rolling on 24s down Peachtree Street, wearing a Hawks jersey and living in Ted's world. Why is the Atlanta Supercross always such a good race? I missed it live but it sounds like it was awesome. Of course I got the play-by-play from the dynamic broadcasting duo of Jason Weigandt and Steve Matthes via Twitter. Wait, it's not broadcasting … would it be Tweetcasting? Your 2011 Tweetcasters, Weege and Matthes. Thanks, guys.
Okay, back to the books.
MISC:
We recently made subscribing or renewing to Racer X even easier! Click here to view our new online ordering system. Subscribe now and get an autographed Ricky Carmichael die-cast collectible car free!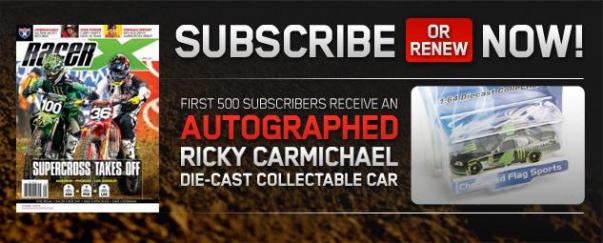 The live timing link for Daytona is ready. Find all the links at www.mxtransponder.com.
A sad note from Jay Hauser of Winston-Salem, NC:
"I wanted to let you guys know that we in North Carolina have lost one of our pioneer track owners. Ken Cameron and his family started Devils Ridge Motocross in 1979 and have been going strong ever since. We lost Ken this past Saturday, February 26. Ken was doing what he loved most, working on his track in preparation for their season opener coming up this weekend, March 5th. Ken was rushed to the hospital where he was able to spend his last moments with his family. His son, Kent, left the Gainesville Vintage national when he heard the news and made it home to spend the final 45 minutes of his father's life with him. Ken is survived by his wife Judy, son Kent, and daughter Robin. Cards and letters can be directed to the Johnsboro Presbyterian Church, Sanford, NC. We will miss you Ken, just as we miss Rolling Hills founder Earl Millsaps. Godspeed."
Here's an Atlanta news report on bike thefts at the Atlanta Supercross.
Remember Darrell Shultz? Nick McCabe tracked down the early eighties factory rider for Maico, Suzuki, and Honda to find out what's going on with the man many called one of the toughest riders of all time. Shultz won the Daytona Supercross, as well as an AMA 500cc National Motocross Championship. But the injuries he racked up—and aggravated by often riding hurt—took their toll and shortened his career. Nick found Shu for this week's Where Are They Now?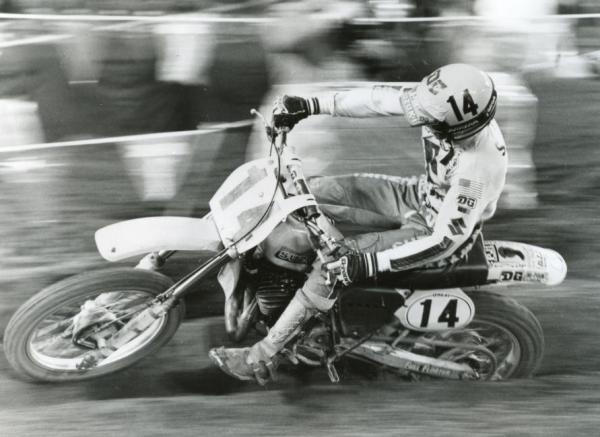 Shultz is a former Daytona Supercross winner.
Photo: Courtesy of Suzuki
In the comments below the piece, Darrell's father weighed in. He was the man who helped his son get out of a hospital bed and compete in the final round of the '82 AMA Motocross tour. Check it out:
"Really enjoyed the article and comments! WOW!! 30 years go by in the blink of an eye, it was all good tho! Low moment was walking in the hospital room in Santa Cruz on Thursday and seeing a square tube the size of a pencil inserted in Darrells chest. It went behind his lung and evacuated the cavity so his lung could re-inflate. The Doc, bless his soul agreed to remove the tube, I know he didn't think we were serious about racing SUNDAY. Next we had to convince AMERICAN HONDA to allow Darrell to race, they manned up, and also provided the support Darrell needed at the track, Big thanks to mech. CHRIS HAINES also. High moment was putting that champion's tee shirt on. Once a champ always a champ."
Proud Dad ORV
Speaking of Darrell Shultz, he will be one of the Guests of Honor at the 4th Annual Racer X Inter-AM event April 2-3 at the famous OMC MX track in Boise, Idaho. The OMC track actually hosted an original Inter-AM back in 1972 and is considered one of the finest tracks in the Northwest. This race is also a round of the Hammer&Tongs Series. Click here for more information on the event.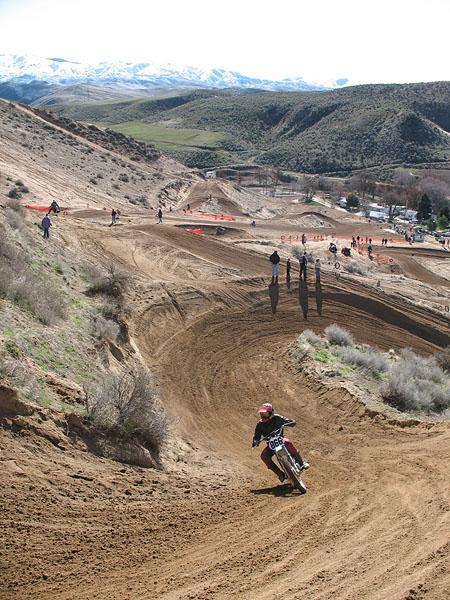 Roy Jenkins' latest book, Dirt Bike Ike II: Pursuing the Dream, just went live on Amazon.com. "I believe many young mx fans and racers will be encouraged to pursue their dreams through this story," Roy told us. Jenkins also has his own website right here.
Pole Position Raceway Jersey City Hosted ABC's "Good Morning America" this week, check it out HERE.
Chris Hultner has started a pretty cool new project on Facebook, he's uploading a ton of his old motocross photos from throughout the years. Check it all out right HERE. He's uploading both pro and amateur photos from years past. This is definitely worth a few minutes, or hours, or days of your time to check out.
The schedule of events for the upcoming Monster Energy 12th Annual Golf Classic has been released. Click HERE for details.
Also be sure to check out the 2011 FELD Poker Tournament.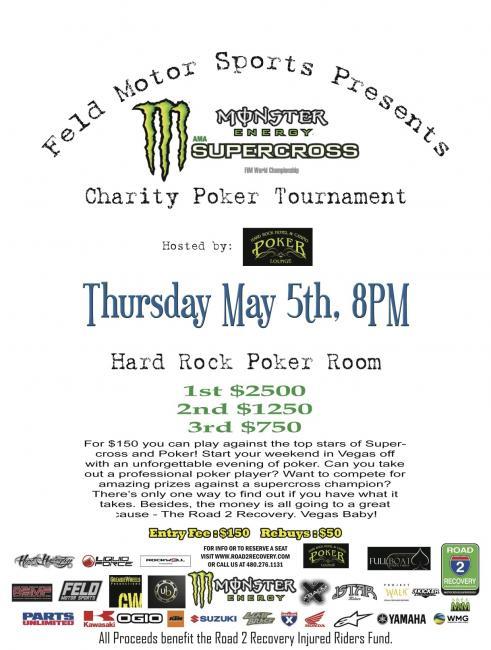 Simon Cudby took a road trip around Florida this week and got some shots of Ivan Tedesco, Michael Byrne, and Chad Reed preparing for Daytona.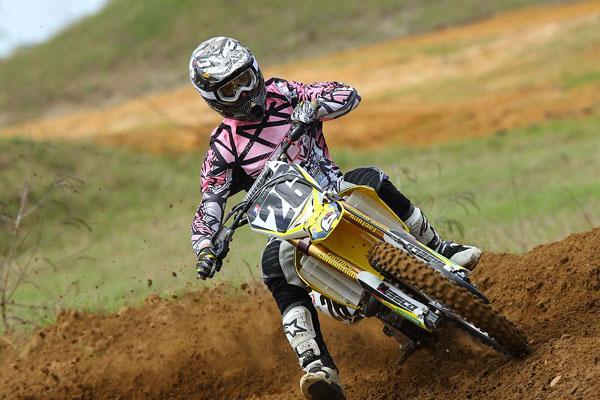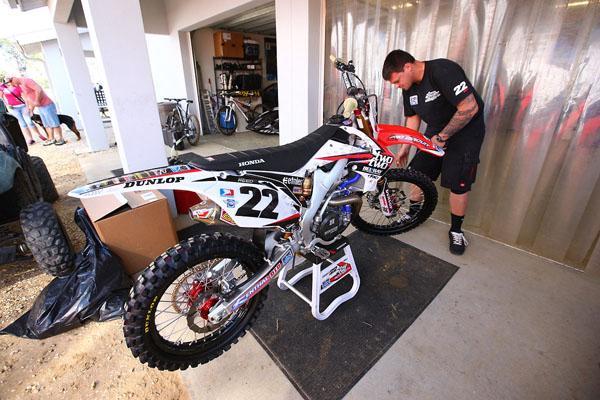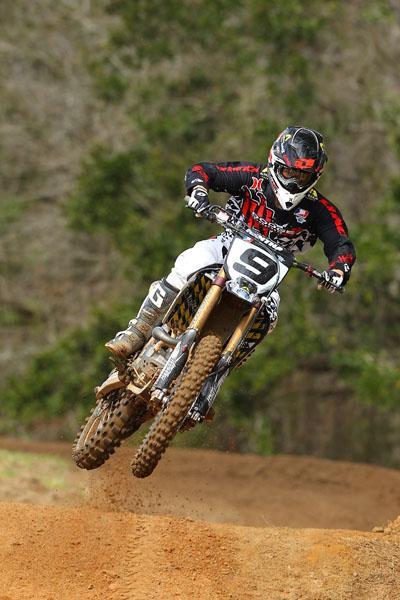 The 2011 Can-Am GNCC series kicks off this weekend in River Ranch, Florida, and for you fantasy league fans out there www.offroadfantasy.com is back with its GNCC Fantasy League and is offering up a new Yamaha TTR-110 for the overall series winner. It's only $10 to play and is a heck of a lot easier than racing an actual GNCC for three hours!
Damon Bradshaw has confirmed his entry for the Racer X Inter-AM in Boise on a Husky 125! Damon's father raced one back in the day, and Damon wants to pay tribute to his dad by racing the same back he did.
Here is a link to some photos LEBIG got of Daytona. Click HERE to view photos.
Thank you for reading Racerhead. See you at the races.