Daytona International Speedway
Daytona

,

FL
Daytona
Monster Energy AMA Supercross Championship
With the Daytona Supercross approaching this weekend, we decided to search our memory banks for 10 memorable races from Daytona, which first ran on the infield of Daytona International Speedway back in 1971.
10.) 1974
During his epic career, Roger DeCoster traveled from his home in Belgium to America often to race, but it was usually in the Trans-AMA Series or the midsummer U.S. round of the 500cc World Championships at Carlsbad, California. But in 1974 he came over in March for the Daytona Supercross and raced in the 500 class. He ended up winning over Team Honda's "Rocket" Rex Staten and Husqvarna-mounted Gary Semics for his one and only AMA Supercross win.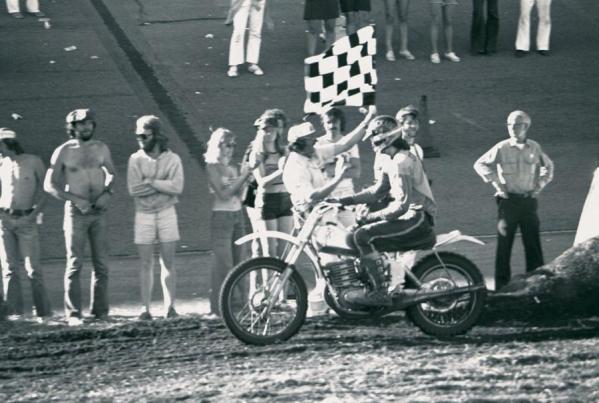 Stackable was the winner of the 1975 Daytona SX.
Photo: Moto Verte
9.) 2009
After falling ill and not competing at the Indy SX the week prior, Boost Mobile/ampm/Monster Yamaha's Jason Lawrence turned some heads by pulling the holeshot at the Daytona SX and running away with the lead. After leading seventeen laps on the brutally rough and rutted Daytona course, Lawrence slowly started to fade, allowing defending champion Chad Reed to reel him in for the win. However, J-Law did manage to hold on for the runner-up position—a career-best for New Jersey wild child.
8.) 1975
Steve Stackable could not have known that he was making history when he won the 500cc class in the '75 Daytona SX. That's because Stackable was a Maico factory rider, and the future looked bright for the tall Texan they called "Short Stack." But Maico was about to take a nosedive as a company, and Stackable's win would be their last in AMA Supercross.
7.) 2006
A surprise entry in the AMA Supercross class was the #199 Cernic's Suzuki of Travis Pastrana. In typical Pastrana fashion, he became the first rider to attempt a backflip in an official AMA event, as he tried to pull the trick over the finish-line double in timed practice. He ended up crashing and was scolded by the AMA. Pastrana went on to qualify for the main event via a second-place finish in his semi behind Chad Reed but was too exhausted to compete in the main event.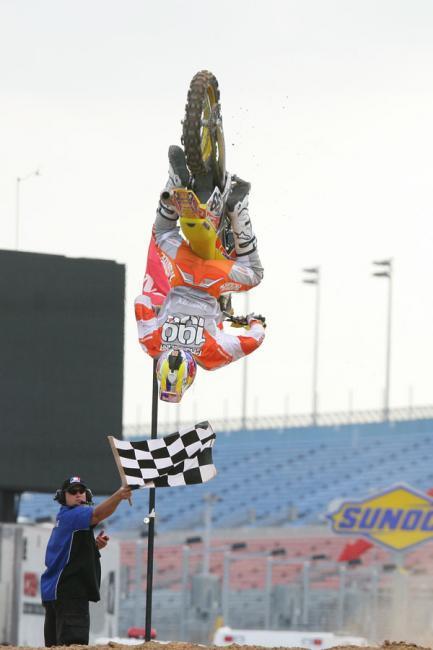 Classic Pastrana.
Photo: Simon Cudby
6.) 1977
The '77 Daytona Supercross somehow ended up as a special on the CBS Sports Spectacular, which made it a rare network motocross race back in the day. Team Honda took full advantage, as Marty Tripes, Marty Smith, and Jimmy Ellis went 1-2-3 on their factory Hondas. Honda would go on to be a supporter of the event all the way through this day, and Honda motorcycles have won more "Daytona Supercross by Honda" main events than any other brand.
5.) 1996
The knock on Jeremy McGrath was that while he was the best supercross rider of all time (yes, we all already knew that way back in 1996, only halfway through his career!), he really wasn't that strong at outdoor moto, and for all intents and purposes, Daytona was outdoor moto. Iron men like Jeff Stanton ('89-'92) and Mike Kiedrowski ('93-'95) kept Jeremy out of the winner's circle at Daytona, and thus he couldn't shake the rap of being soft outdoors. So in 1996 McGrath laid the wood on everyone, dominating the Daytona SX as part of his record thirteen-race winning streak. After that, there were no more questions!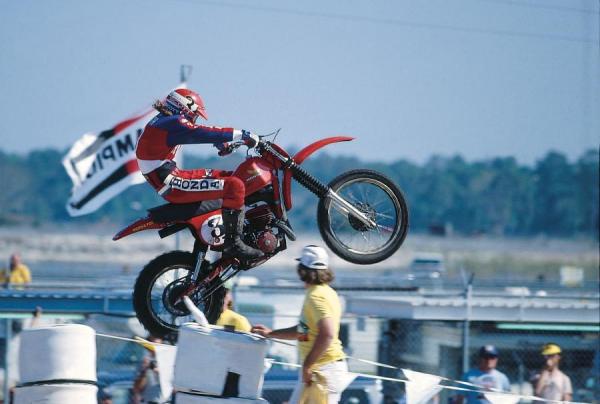 Smith was part of the Honda podium trio in 1977.
Photo: Moto Verte
4.) 2000
Ricky Carmichael won his first AMA Supercross in the premier class at the 2000 Daytona SX on his factory Kawasaki. In fact, RC dominated the race! But the cool little hiccup here that makes this race special also makes it a great trivia question: How many laps did RC go in his first AMA Supercross win? The answer is twenty-one, as the AMA referee made a mistake and gave Carmichael the white flag twice!
3.) 2008
A torrential downpour forced race officials to cut the AMA Supercross main event to twelve laps, and after leading eleven of those, Chad Reed's L&M YZ450F seized up a few turns from the finish line, handing the win to Factory Connection Honda's Kevin Windham. Fortunately for Reed, he lapped enough riders that he was credited with seventh place, earning 14 precious points toward the title, which he won over Windham by 13. Reed's engine seizure also resulted in a Honda sweep of the podium, with Davi Millsaps finishing second and privateer Jake Marsack finishing third.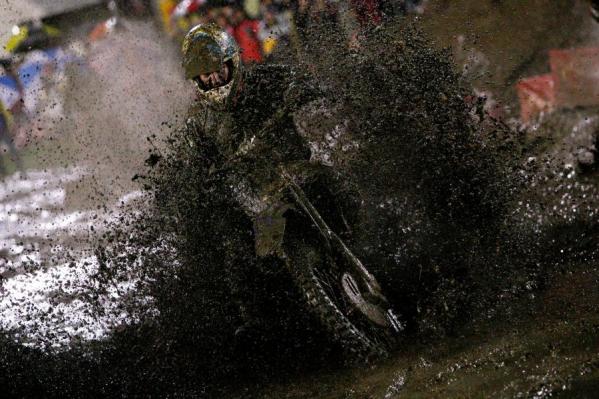 Reed's bike seized up on him with just a few turns left in 2008.
Photo: Simon Cudby
2.) 1984
In one of the craziest, coolest moments in the history of AMA Supercross, Johnny O'Mara was battling Rick Johnson for second on the final lap. O'Mara's Honda teammate David Bailey was already well ahead, the win in hand, but O'Show wanted to be second badly, so he hammered Johnson's yellow Yamaha throughout the entire last lap. When they got to the finish line—a steep jump, followed by a long "gator pit" in which the riders would land and bounce through a long washboard of whoops—O'Mara did the unthinkable: he pinned it! He launched his Honda works bike about two and half stories in the air and cleared the entire pit, something no one had ever tried before. He unfortunately fell short to RJ and second place, but he landed in motocross lore as one of the boldest, most innovative riders of all time.
1.) 1987
NorCal Honda privateer Ricky Ryan was known as a hard charger who never really got the breaks ... until this race. After a good start on a wet and muddy course, Ryan picked his way cleanly around the track while the top factory riders of the day—Rick Johnson, Ron Lechien, Broc Glover, George Holland, and more—all had problems. Kawasaki's Jeff Ward was right there and ready to win at the end, only to have the chain pop off his Kawasaki! Wardy would never win the Daytona SX in his long career, while that day's shocking upset winner, Ricky Ryan, would never win anything else. It remains the single greatest upset in AMA Supercross history, and until Chad Reed's win in San Diego last month, it was the only privateer win in AMA Supercross as well.