This week we're checking in with former factory Honda and Suzuki rider Darrell Shultz, who raced professionally from 1977-1982 and was known for both his blazing speed and a string of injuries. He grew up in Northern California along with Danny "Magoo" Chandler in the 1970s and was able to win the 1982 AMA 500cc Outdoor National Championship.
Racer X: Hey, Darrell, what's going on?
Darrell Shultz: Not too much! Just getting organized to move from Idaho down to Austin, Texas. We're in the middle of packing and trying to get things dialed in.
I thought you were a NorCal guy!
[Laughs] I was! But I moved out here to Idaho in 2000 or so, back when I started working in the trades and doing drywall. I've been here since, just working and doing some camping and dual-sport riding. My knee is still pretty much junk, so it's tough to do any serious moto, though. I got a few job offers down in Austin, and it seems like a real nice place to live, so now we're packing!
Going back to your racing days, how did you get your start in the sport?
My dad started out racing in scrambles and desert events and eventually moved over to motocross. I grew up riding with him, and basically, it got me out of going to church on Sunday [laughs]. We lived over in the Sacramento area, and there was a pretty good riding scene. I think I was around 15 years old or so when I did my first race, and I got hooked real quick. But right away, the injuries started. I had two full-blown knee reconstructions before I ever turned pro and while I was a teenager.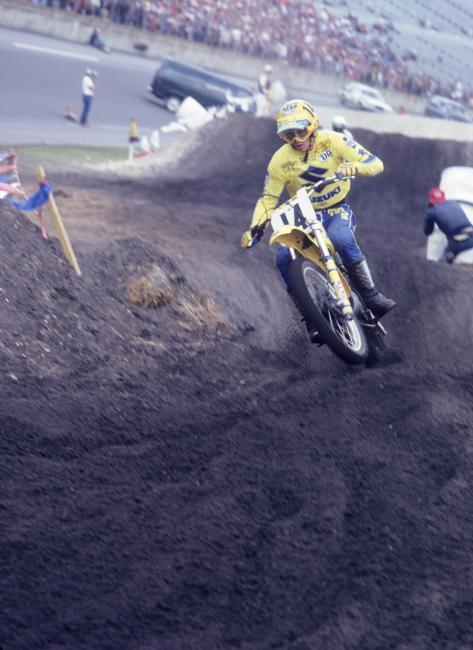 Shultz was a former factory Suzuki rider.
When did you turn pro, how was the transition from the local races to the big time?
I moved up and rode as a Maico privateer in 1978 in the 500cc class, and we did all the big races. My big breakthrough was winning my class at the Trans-Am race in NorCal, along with Magoo [Danny Chandler]. I signed with Suzuki during the off-season. It was a two-year deal, but right away I had some more injuries and was basically hurt for those two years.... Looking back, man, it was nothing but injures, hospitals, missed races, and tough times for me after I turned pro. Finally, in '81, which was my third year with Suzuki, I started getting results. I won the Daytona Supercross, and at the end of the year I had three overall wins and managed to finish the Trans-Am series in third overall. All of a sudden, Team Honda came calling.
After everything you were dealing with, were you surprised to get that call?
Oh, for sure. Honda was the dream team. The factory red bikes were just amazing, way better than anything I had before. I singed with Honda for '82 and was feeling good. Right out of the gate, I was leading the supercross series in points and once again won the Daytona Supercross. I thought I was going to win the supercross championship, but then, halfway through the supercross season, I blew my knee out, and it wasn't good. I sat out the remainder of supercross and hoped to be ready when the 500 nationals kicked off. Well, the series started and I was still banged up and out of shape. I basically was getting my knee drained every few days and sitting on the couch. But I went for it and somehow managed to win the first three races, which gave me a huge points lead. But then one day I decided to go riding. I was staying at my house in Santa Cruz, and I went with my mechanic, Chris Haines, to a local track. Because my knee was all jacked up, I rode a little strange and was just compensating for the bad knee. Somehow I had a freak little deal and basically collapsed my lung. I blew it off at first and said I was fine. Racers can withstand some serious pain, but after two days, I couldn't breathe and went to the hospital. They admitted me on the spot and stuck a metal tube into my chest so I could breathe and told me it was serious.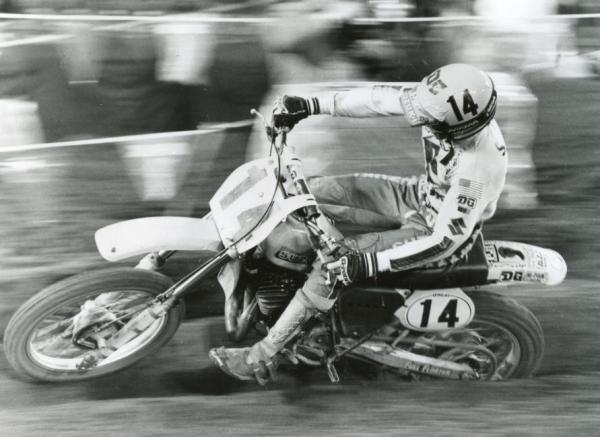 Shultz is a former Daytona Supercross winner.
Photo: Courtesy of Suzuki
So while you were in the middle of leading the points in the 500cc nationals, you find yourself laying in a hospital bed with a trashed knee, collapsed lung, and some gnarly metal tube hooked up to your chest. How on earth did you mange to win that championship?
Well, after a few days in the hospital, my father showed up and told me to get out of bed. I pointed out the metal tube that was stuck in my lung and the big breathing machine that was beside my bed. He told me that I had a huge points lead and that this was pretty much my only shot at a championship. Somehow, I knew he was right. So we talked to the doctor, and although he was against it, he basically said that as long as I didn't crash, and as long as I didn't get winded, I could ride around and be okay. So we unplugged the metal tube, covered it with tape, and flew to Washougal.
What happened at Washougal?
Not much, actually! They put this big strap around my chest and cinched it up real tight for pressure. I went out and raced both motos, finishing around the top ten. I made sure I didn't crash and didn't get winded, just like the doctor told me. The next and final race was at Carlsbad, and I only had to score some points in the first moto to get the championship, so it was the same thing. I just went out and rode around just inside the top ten. With that, I won the 1982 500cc championship.
I understand that after you won that championship, you didn't really race again.
I went out and had three more knee surgeries over a six-month period, and that was it. I was just done. I had been riding injured for so long and was just tired of compensating in everything that I was doing.
How was it when you stepped away from the sport?
Horrible. It was the worst time of my life. I wasn't ready to quit. I finally got to the top of the sport and it was over before I knew it. Once I realized I was never even going to get to ride with my #1 plate, I fell to pieces. Nothing in life seemed worth anything to me, and I basically just got lost in partying, for years, I guess trying to just forget about it. I went through a bunch of car crashes, DUIs, and the normal stuff that happens when you're doing that stuff. It was five or ten really dark years there. I also blew pretty much all of my money, with the exception of some that my father hid once he saw what was going on. Basically, I think, the same effort and dedication I put into racing, I somehow channeled into partying. I don't know what the deal was—maybe I was trying to get onto the next life or whatever, but I made it through some tough times there.

Shultz and his wife Cheri on a recent visit to Pearl Harbor.
How did you get yourself sorted out?
Sometime around 1989 or 1990, my dad told to come up to the north coast and learn the trades with him. He told me I needed to get my life sorted out and get on a good path. We starting building some houses and doing some construction up in Humboldt County. Once I got sorted out and he retired, I moved to Idaho about eleven years ago and just got things going out there. I've been doing primarily drywall contracting.
So what's up with the move to Austin?
Construction dried up here about four years ago. I had done well, though. We had a bunch of houses, an RV, and at one time a crew of twenty-six workers, and 2005 and 2006 were really good years for us. I was making some good money—in fact, way more than when I was racing. But with the economy in recent years, it turned around on us. I kept thinking construction would turn around, but it didn't. Slowly, I had to let my workers go as things dried up. I picked up some easy riding again and started doing a lot of camping with my extra time.
But regardless, it was good to get a taste of the money again. When I was younger, it came and went so quick, it was crazy. When I was racing, I had three houses and five cars. By the time 2005 came around, we had six properties and all the cars, but now we sold them off to stay afloat. We're okay, but after a number of years with little to no work, things started getting thin, so off we go.
What about your personal life? Are you married?
I've been married for Cheri for a number of years, and we have three kids. Our son Phil is 14 and we have two older daughters, Amanda [21] and my daughter Chelsea [24]. Chelsea is going to school in Santa Barbara. We ride as a family and do a lot of camping together. We have a good time together.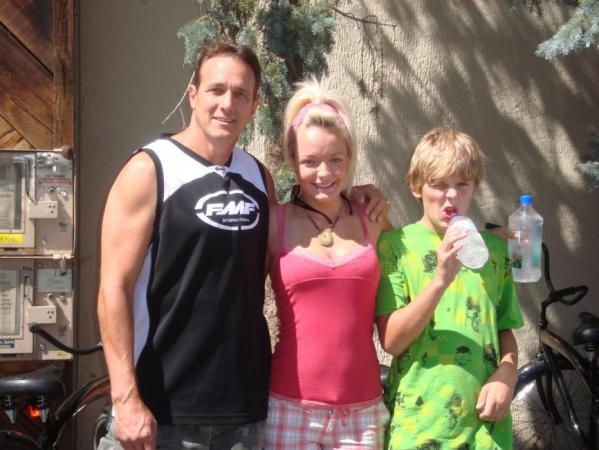 Darrell riding bicycles with children Chelsea and Phil.
Do you still follow the sport?
Oh, yeah, absolutely. Its awesome right now—with three or four guys that can win, the races are great. I normally watch every race. I also still stay in touch with Goat Breker and Larry Wosic—those are my closest guys. We ran around together when we were factory guys, and we're still tight.
Well, thanks for your time, Darrell. Good luck in Austin—hopefully you can find some good dual-sport riding out there in the hill country!
Thanks. One thing I want to note: I don't have any regrets on my career. Nothing at all. I've got one more good moto left in me and then it's time to retire, so we'll see if I can do it again before it's time to hang it up!
Have a rider you're wondering about? Drop us a line at nick@mxsports.com.