Qualcomm Stadium
San Diego

,

CA
San Diego
Monster Energy AMA Supercross Championship
This weekend the 2011 Monster Energy Supercross tour heads west back to California for the seventh round of Monster Engery Supercross. The 450 race and 250 race will air LIVE on SPEED on Saturday at 10:30 pm (EST), and you can count on the Racer X Online team to lead the way in live updates, Twitter reports, and videos. Here are 10 things to watch for in San Diego.
1. Back to the West Coast: Did all of that Barcia/Wilson battling make you forget the west wasn't done yet? The team trucks have just completed their big loop from Southern California to Houston and back to SoCal again, which brings the West Lites back into the game. It also presents the last weekend in California for many of the riders who live and train in Texas, Florida or Georgia. Not only will the tour swing east after this one, many of the riders will, as well. So for the teams, these are the last few days to get easy access to testing—with the riders, team trucks, race shop and test tracks all working out of the same area code.
2. Hanny's Hand: Remember, the Western Lites boys have only had one weekend off, and when we last left them, points leader Josh Hansen was hurting big time with a broken hand. Sure, he won the Anaheim 2 race, but sometimes adrenaline takes over for a few hours, and reality sets in the next day. Hanny had breakfast with our man (and his) Eric Johnson this morning and said the hand is not even close to 100 percent, but he's going to tough it out and hang on with whatever he has. This could be interesting.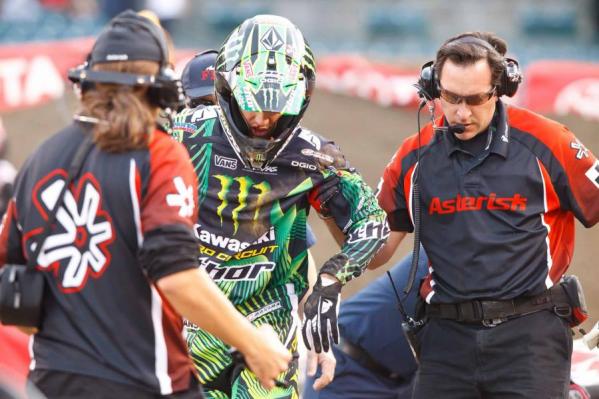 Hansen's not 100%, but he is going to give it a go anyways.
Photo: Simon Cudby
3. The Opportunists: So let's theorize that Broken Handy is going to be in survival mode, just searching for a top five or so. Who can take advantage? It starts with his teammate Broc Tickle, who sits just eight points back. If Tickle wins and Hansen finishes fifth, Broc makes up nine points and takes over the series' lead with just three rounds to go. And there's plenty of talent to get between them, like surging rookies Eli Tomac and Ken "fresh off seventh on a 350" Roczen. You've got Cole Seely looking to bounce back from a few tough weeks, Rockstar Suzuki peeps Morias and Davalos, Kyle Cunningham and plenty of others who can mix it up. And Broc could be a favorite this weekend, since he usually shines in sloppy conditions. Have you seen the weather forecast for San Diego on Saturday?
4. The Weather Forecast for San Diego: Weather.com says there is a 70 percent chance of rain on Saturday. (Click HERE to view weather report.) What could this mean? Check out yesterday's Bench Racing Ammo for a scouting report.
5. RV Show: Ryan Villopoto is back in the points lead after a podium finish in Houston. But when he last battled with series' rival James Stewart, Stewart got the edge on him in Anaheim. So the question remains—did Stewart edge ahead on speed in general, or was it just a really good one-night show for JS7? Villopoto's confidence never wavers, and no doubt he'll be ready to challenge for the win this weekend.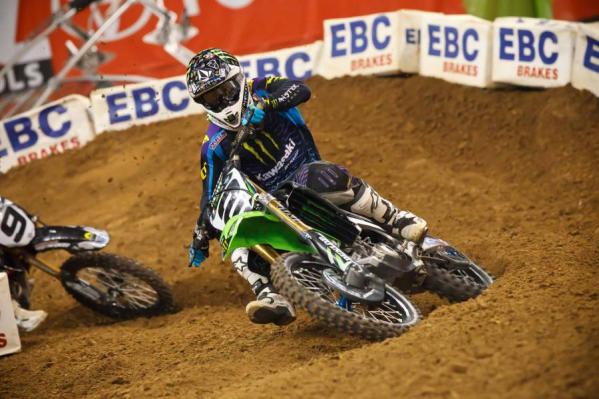 Will Villopoto still hold the point's lead after San Diego?
Photo: Simon Cudby
6.California Series: We mentioned how this is the last round in the Golden State. Who will end up being the most impressive rider in California this season? And thanks to Stewart's swoon in Houston, Villopoto is the series leader, but we did some math on points in just the Cali races. Check out the data:
Cali Series                                    Points Now w/ Phoenix and Houston 

1.Stewart=92                                  1, Villopoto= 132
2.Villopoto=90                                 2. Stewart=123
3..Reed=72                                     3.Canard= 112
4.Canard=67                                   4. Reed= 105
5.Dungey=63                                   5. Dungey=101
6.Windham=57                                 6.Short= 80
7.Metcalfe=54                                  7. Metcalfe= 80
8.Short=50                                       8. Brayton= 65
9.Brayton=42                                   9 Millsaps= 62
10.Millsaps=34                                 10. Windham= 61
7. Reed and Dungey Re-fire: Chad Reed looked to be turning a corner with back-to-back podiums in Oakland and Anaheim. His Houston result was wasted in that big first turn crash. So if Chad really is back to his old podium-resident self, he needs to get back up there this time. But with Villopoto and Stewart fighting for real estate on the box, too, there's just not enough room up there for everyone. What about the champ, Ryan Dungey? He's still motivated to get a W—so he's not going to be happy with a fourth.
8. Canard! And let's not forget the man who won last week's race, Trey Canard. Seriously, Trey was already going fast, and now he's got a confidence boost. All the contenders are still in this—enjoy these days.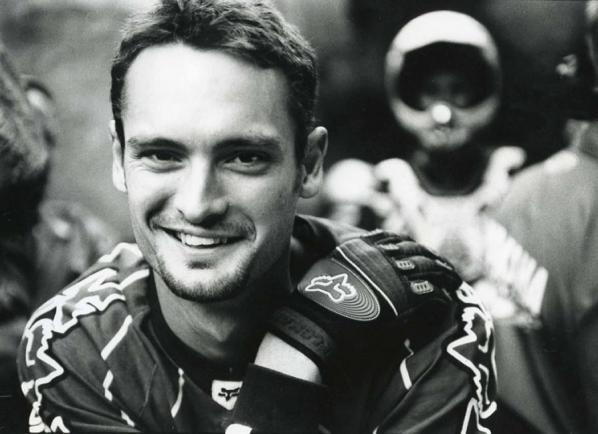 Button is set to embark on a courageous journey across the country this weekend.
Photo: Simon Cudby
9. KW's Back: "That was close" applies for Kevin Windham in two ways. He was on the verge of getting a big win in Houston by leading most of the way, but then he dodged a major bullet by surviving a big crash without a major injury. It's great that K-Dub is going to at least make it to the show. And if it starts to rain, here we go!
10. Jimmy Button: The factory Yamaha rider left San Diego in an ambulance 10 years ago, with a high probability that he would never walk again. He overcame incredible odds, and is now trying to do it again by embarking on a remarkable journey—a bicycle ride from San Diego to Daytona. It starts this weekend. Support the cause for spinal cord research and learn more about Jimmy's amazing story at www.milesformiraclestoday.com