Qualcomm Stadium
San Diego

,

CA
San Diego
Monster Energy AMA Supercross Championship
California is getting a bad rap in supercross circles. Yes, winter serves the rainy season in the Golden State, but it's all relative—even Cali's rainy season packs less precipitation than the dry time of year in most states!
But the rain always seems to hit on one of the five Saturday nights when California hosts Monster Energy Supercross. With a 70 percent chance of rain in the forecast this Saturday in San Diego, we may be in for another.
So it's time to start with the mud predictions for the weekend, and the best way to compile them is to look back at the last few mud races on this tour.
This list starts with perhaps the most famous of California mudders, the epic 2005 SX opener in Anaheim. Mud and rain at this one served as a shocker, because the Anaheim SX had been rain-free for decades leading into this one. There's a reason why British singer Albert Hammond penned the 1972 hit song It Never Rains in Southern California.
But it did on that night. Kevin Windham proved his bad-ass mud prowess by taking the win, and forever stamping himself as one to watch when conditions get sloppy. He has since followed that with a win in the mud in Florida (Daytona '08) and Utah (Salt Lake City last year). But that 2008 Daytona mud fest could have gone to someone else.
Windham and Chad Reed were battling for the championship at the time, and Reed let it all hang out to stay in front of Windham and make sure he was spraying roost and not catching it. It paid off as he pulled away late in the race—until his bike finally sucked in too much water and let go on the last lap. Reed walked back to the pits in disgust while K-Dub romped to the win.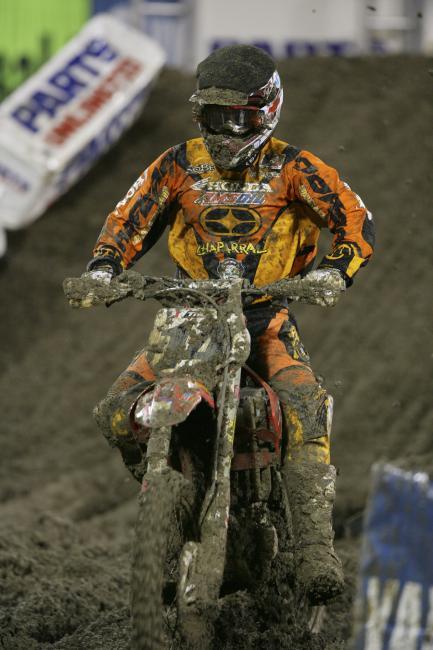 Windham walked away with the win at Anaheim.
Photo: Simon Cudby
Australians are not usually noted for their mud prowess, but Reed maintained that his experience racing in Europe had made him capable in the slop. Most of the time, he has suffered horrible luck in SX mudders (he took 16th at that A1 '05 event when his front brake locked up), but his Daytona run proves he's capable, even if he didn't actually win the race. Plus, Reed has won a bunch in San Diego. So he's on the contenders list, too.
James Stewart may have a rep as a high flyer, but he's no slouch when it comes to grinding out a mudder, either. The 2006 San Francisco SX was about as bad as it gets, and Stewart and Ricky Carmichael battled the whole way. They lapped every other rider on the track and Stewart emerged with the win. Stewart also won the Seattle SX that same year under a driving rain.
Point's leader Ryan Villopoto hails from Washington, so by that factor alone he should possess good mud experience. But he hasn't had a chance to perform much. He was sixth in the Lites class during that San Fran '06 mudder. He may have won the Lites race in Seattle that year, but the West Lites Championship was up for grabs that night, and RV's teammate Grant Langston, uh, gained some extra points on way to the championship when Villopoto "tried not to hold him up" and let GL go on for the win.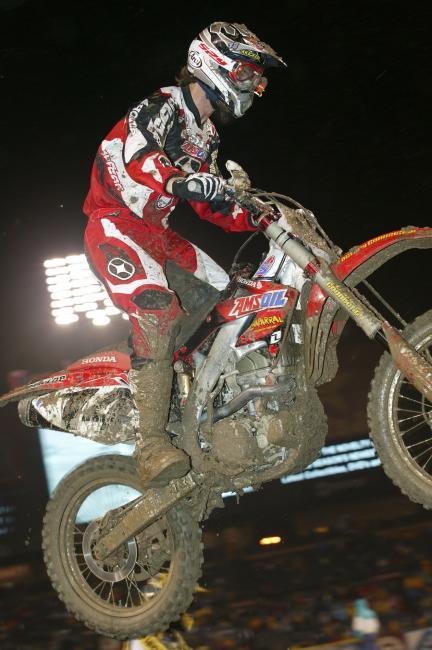 Windham is always a threat in rainy conditions.
Photo: Simon Cudby
RV also duked it out with Trey Canard for the Lites win in Daytona '08, but Trey had him on the start, everyone pretty much ruined their brake pads in the wet sand, and the battle was over. So that means Canard, last week's Houston SX winner, has a mud win on his SX resume.
Oddly, we don't have much data with 2010 SX Champ Ryan Dungey, as he hasn't been around for most of the recent mudders. He rode so-so to a fifth in the Salt Lake City slop last year, but Windham clobbered the field.
But it's hard to compare one mud race to another—surely the dirt in Salt Lake City, Daytona and San Diego reacts differently to the rain. So maybe the most accurate forecast comes from last year's San Diego race, which straddled the boarder of tough and full-on gnarly. And in those soft, rutted conditions, Davi Millsaps busted out a win.
Could this weekend serve as DM18's breakout again? You never know. We can predict all we want, but forecasts have a rep for inaccuracy. Heck, it may end up sunny this weekend after all!