After a pair of hard crashes in practice, it looked like the Oakland round of Monster Energy Supercross would be a bad one for James Stewart. But years ago, James said "night time is Bubba time" and indeed once the sun set in the Bay Area, the San Manuel Red Bull Yamaha rider was rested and ready. He blazed to a heat race win and then grabbed the lead in the main event when Ryan Villopoto fell. From there he cruised to his second win of the season, and grabbed the series' points lead, too.
RacerXOnline: Do you play much basketball?
James Stewart: Why?
Because that was a heck of a rebound you pulled down tonight.
Yeah I know. I'll definitely feel those tomorrow. It was a tough day, but a good night, and I was able to get a good start in the heat race and put some good laps in. In the main event, I got a bad start, and had to go old-school James Stewart there and just make things happen, just because of the mud. Then Ryan washed out the front end, and I just took it from there.
Where you looking forward to a battle with Ryan there when you got into second?
Yeah, but I also knew it was going to be twenty laps. Especially in this mud, you had to be calm. And that's something I think I've done a good job with this year. Just making it happen when it counts. It feels really good after the day I had to come out of here with the points lead, that's always good.
I know you've said you're not going to change your style, and you're still going to be the win-or-crash guy. But in the main events this year, you've been the smart guy for the most part.
Well, it is what it is. You go from letting it all hang out and people asking if you're going to back it down this year, and then you have one bad race [last week in LA] and people are saying you don't have it anymore! So it was good. There were a few people that said I would never win a race again, and that's one thing I will never forget.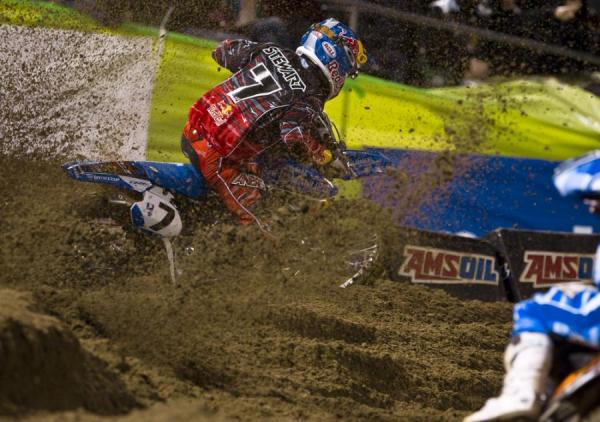 Stewart moved into the points lead with his win in Oakland.
Photo: Garth Milan
That's some good motivation. So what happened with these crashes earlier in the day?
The first time, I came up short on the triple, it was a little bit bigger than I thought. I went over the handlebars, and hit pretty hard. I got up and did a pretty good lap after that, I think I was second. Then the next practice, same kind of thing, I hit the haybales in this rhythm section and went flying again. It was not good. Not good. So we had to go back and regroup.
Were you at all worried you wouldn't be back for the races tonight?
I'm not going out like that. I've gone out and won a race with a torn ACL, and I've done it with my neck all jacked up, stuff like that, so to get to the point where it's just going to keep me off my motorcycle, it will be pretty bad.
How was the track? Seemed pretty technical.
Yeah it was technical all day. It was just weird, it was so easy, but also technical. I think the whoops made a big difference, and my Yamaha was working awesome through there all day. Then when the rain came, it turned it into a completely different track, it was almost like starting over again. It was all about the start and staying up, and that's what I was able to do tonight.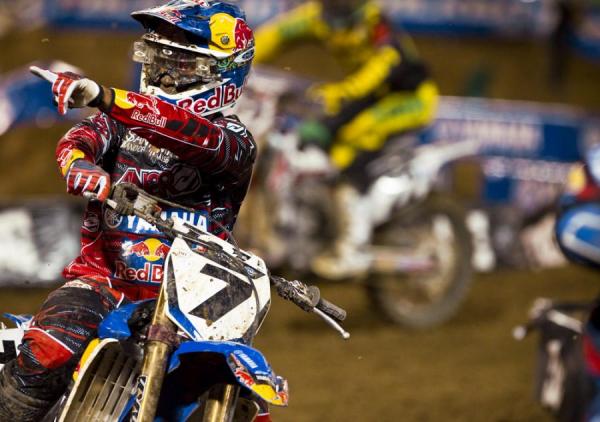 Stewart celebrates his second vicotry of the season.
Photo: Garth Milan
Yeah how do you plan for a race like this? It was drizzling all day but never quite turned into a full-on mudder. How do you approach it?
Yeah these are really some of the hardest races. You don't plan for it, and then I walked out of the motorhome and it's raining, I was like "Dude, what happened out here?" So we're switching to roll offs on the gate and stuff like that. But either way, you know it's going to be a battle and I was fortunate to come out on top tonight.
So you're officially not done winning races?
No, no. I always take each of these as a blessing, but I'm not done, at least I don't think I am. And it was cool to see Chad up there, it reminded me of the old days! I just heard the crowd go nuts when he passed into second in the last turn, and I wanted to look back and watch it all, but I was too busy screaming myself. It was fun and good for him that he got second. It turned out to be a pretty good night tonight.