Phoenix, AZ
Phoenix
Monster Energy AMA Supercross Championship
It's Friday morning and we are high above the snow clouds, racing across the northeastern United States on the way to Phoenix by way of Minneapolis (remind me to clip my travel agent). Supercross is up and running, and so is Racerhead!
If you're not going to be at Chase Field for tomorrow's second round, make sure you tune in live to SPEED for start-to-finish coverage, beginning at 9:30 p.m. ET and 6:30 out West. I missed last week's show and did not remember to TiVo it, so I have no take on how it all went, but I do know that having that thing on live is a big expense for the series organizers, and I hope everyone appreciates it.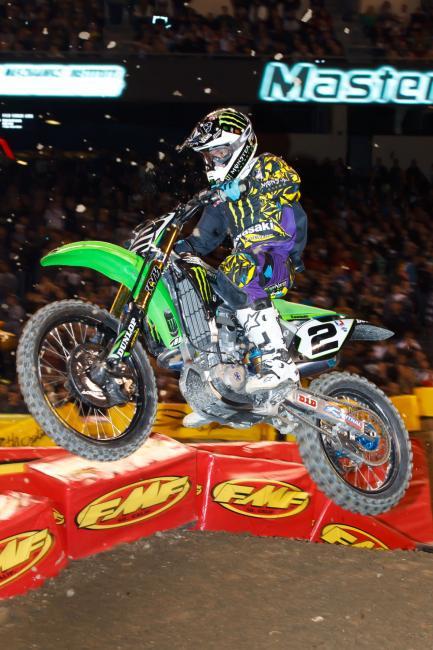 The round one winner, Ryan Villopoto, looked fantastic on his Kawasaki KX450F.
Photo: Simon Cudby
Let me start out by saying what we as a sport and industry needed more than anything is good news, and we definitely got it last Saturday night in Anaheim. An overflow crowd of more than 45,000 fans turned out to see the opening round of the 2011 Monster Energy AMA Supercross tour, and they got quite a show. While the racing on the track was not quite nail-biter material, the whole production was downright cool. The pits were packed with new interactive displays and sponsors, including two Monster hospitality rigs, a new DC Shoes display that featured the new gear they made for Jeremy McGrath, the debut of Thor TV, and more beautiful (and several well-modified) girls parading around than you will see at a Hooters convention. The opening ceremonies may have been light on big tricks, but they were loud and fun (and every rider should take a look at how Kevin Windham approaches and performs his opening-ceremonies routine—no wonder everyone still loves the man). If you weren't there, you go to watch it live on SPEED, which more than made up for the lack of a live webcast... But the first race I miss that isn't on SPEED live, I will probably take that back.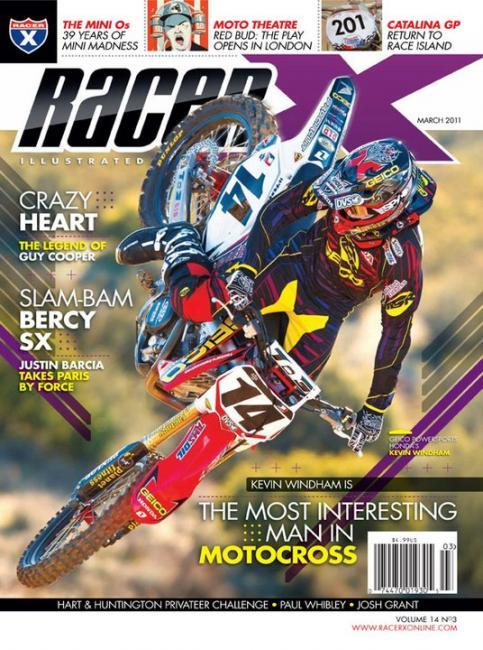 And speaking of Windham, the GEICO Powersports rider is on the cover of the brand new Racer X Illustrated magazine, and featured in a hilarious profile by Jason Weigandt dubbed "The Most Interesting Man in Motocross" and playing off the world's best beer commercials, for Dos Equis (XX). You will also find Eric Johnson's epic study on the career of Guy Cooper, "Crazy Heart," and Ping's sobering experience at the Catalina Grand Prix, "Return to Race Island."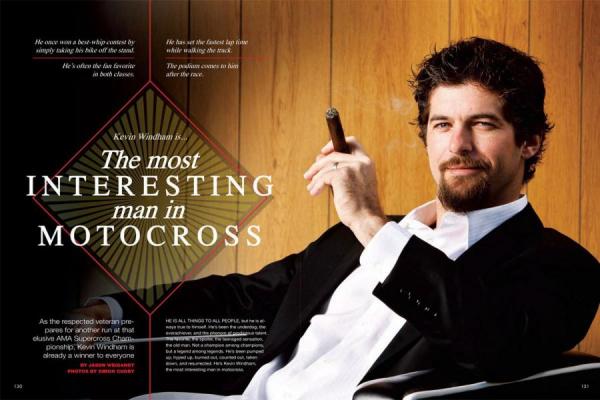 Windham didn't win at Anaheim, not that I expected him to. But I honestly did not expect Ryan Villopoto to be that fast, that fit, and that confident on the motorcycle. Much was being made of the slim, lean look of RV after he beefed up a little following last year's broken leg (the X-rays of which were used for his opening-ceremonies video). But I spoke to none other than Ricky Carmichael about it and he just laughed, "What's everyone expect? He's working with Aldon [Baker] and that's what Aldon does for you." Whatever Aldon Baker brings to the table, he brings it well.
My picks for the podium were (in order) James Stewart, Ryan Dungey, and Trey Canard, who actually ended up third, second, and fourth, respectively. I was in a pool with a bunch of friends to pick the podium in each class, where you get three points if you pick a rider in the right spot, one if he just makes the podium. I did okay on the 450s, but my 250 picks were not even close, as I bet on youth and potential rather than veterans. Here's the funny part: the person who won, Ginger Simmons, former pro Wendell's wife, called in his picks from Louisiana. We all laughed when she had the Lites podium as Justin Barcia, Dean Wilson, and Blake Wharton—none of whom are even riding the West Region! But she also nailed the 450 podium for nine points and that was that!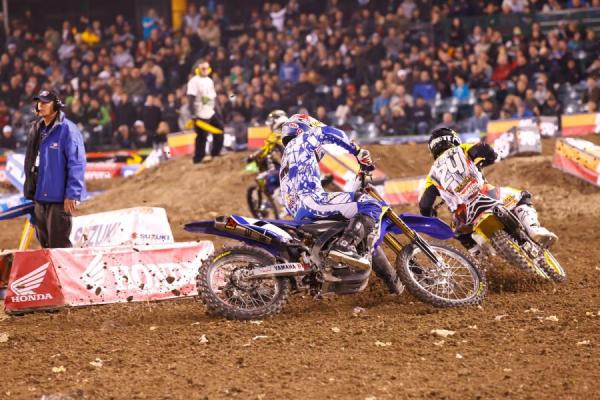 James Stewart did not win, but he rode well and smart after a bad start and should be primed for Phoenix.
Photo: Simon Cudby
I will let the other guys down below get into the nitty-gritty of the goings-on with the rest of the pack down below, but I will say that Dungey rode a smart race, just as I figured he would, and I still thought Stewart would catch everyone after a bad start. But James rode cautiously, taking what the race gave him—third-place points—rather than getting too aggressive and possibly blowing a solid result. He will definitely be going after a win this weekend! I also think Trey Canard looked good in his debut as a full-time factory 450 rider, and Chad Reed was probably not happy with fifth, but it's also a decent start for him.
In the Lites class, Josh Hansen has never looked faster or more comfortable, in my opinion. Sure, he was using a rather creative and somewhat illegal line over the inside of one corner, but that's not why he won. He was smart and fast and he's on a very good bike. And hats off to Tyla Rattray, who overcame an ugly practice crash for a third-place showing in his first AMA Supercross.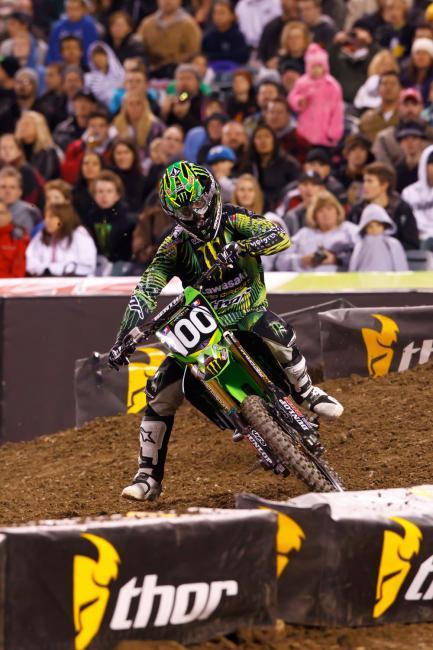 Li'l Hanny was a li'l faster than everyone else in the Lites main.
Photo: Simon Cudby
The two other high-profile debutants—KTM import Ken Roczen and GEICO Honda's Eli Tomac—both fared worse that I thought, with Ken also going down hard in practice and banging himself up. I happened to watch the race with old friends Stefan Everts, K-ROC's boss at KTM, and Ryan Hughes, who is working with Tomac, and they both pointed out repeatedly that their guys were not aggressive enough in the early laps. Watch for them both to be much more likely to stick a wheel on someone this time around.
Roczen is charming the U.S. fans the same way he did in Europe. The kid has charisma to burn. He's funny, he's interesting, and he's fun to watch on a motorcycle. The great things everyone expects of this young German have not changed him a bit since I met him at Loretta Lynn's a few years ago, and he was still a project for Fox Racing and Cernic's Suzuki. Now he's on the fast track to the top here in the States. Ken is headed back to Europe for the 2011 Grand Prix tour, but he's looking for a house and some land in Southern California, where he will be stationed for some time to come after this GP tour is over and he hopefully fulfills his dream of being Germany's first FIM World Motocross Champion since Paul Freidrichs way, way back in the day. Simon Cudby caught up with Ken for this Racer X Film.
And sorry we had some technical issues when that Roczen film first went up; the new website has been a huge undertaking and we're still sorting out the jetting on this highly modified engine. We will have a bunch of films up tomorrow from the Phoenix pits, as well as our usual barrage of Breaking News, Tweets, lap times, results, photos and more, all right here on Racer X Online. Take a lap around Phoenix as Mr. Red Arrow puts down a hot lap, click right HERE.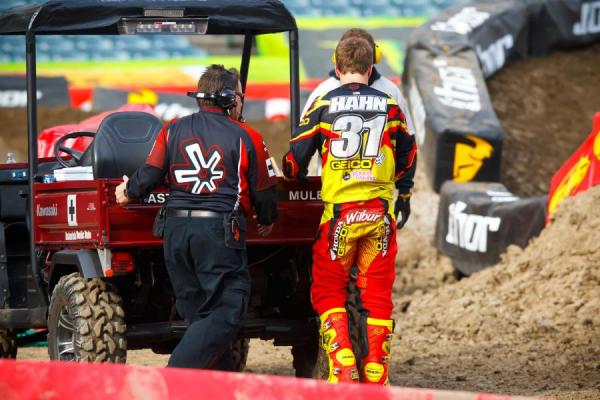 Wil Hahn suffered a terrible crash in practice but was lucky he wasn't hurt worse.
Photo: Simon Cudby
Wil Hahn was also a podium pick for me but his crash in practice left him with cracked back and a broken finger. He ended up spending the night in the UC Irvine Medical Center just down State College Boulevard, and I stopped by on Sunday night to see him. He was in good spirits but was starved and ready to get out of there. I gave him a few magazines, including the MXA that Dennis Stapleton gave me at the Racer X Ride Day at Pala, plus the best book I've read in a while, Sebastien Junger's War, which is about his experiences as an embedded journalist with the U.S. soldiers in the company called Restrepo in Afghanistan. If you want to read a great book and find out that war really is hell, and also appreciate the sacrifices of our men and women over there, check it out.
I saw Tony Cairoli in the pits and introduced him to David Pingree so they could bury the hatchet over Ping's "ravioli-eating" comments before the Motocross of Nations last September. Tony looked good, but also a little bummed because I think he really wants to race a few AMA Supercross rounds, but I don't think KTM is going to let him this time around. Maybe they were spooked by what happened to Marvin Musquin injuring his knee at the Bercy Supercross. Tony was totally cool with Ping, and he even said that he might have a flaming ravioli painted on the back of his helmet as he goes after a fifth world title this summer!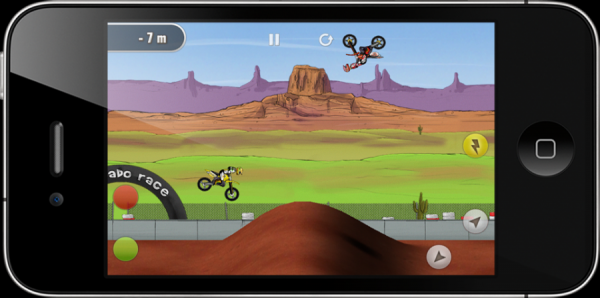 Have you picked up Mad Skills Motocross yet for your iPhone or iPod Touch? I promise you that it's the best $1.99 you will ever spend on an app for your phone. I have been playing it nonstop, and though I suck—I gave up video games after Asteroids disappeared from the arcades (remember those?)—I am still having a blast trying to time all of the jumps and rhythm sections. The game has been a global success, reaching the Top 25 on the Apple charts this week, including tops in the racing category, and featured in the New and Notable section. Learn more about it right here.
My flight is landing, so I will cut my part off here with this: I know that there are a few people begging for the AMA to just the displacement rules to allow two-stroke 250cc motorcycles to race in the Lites class, but I don't agree for a lot of reasons—including the fact that while it may help some privateers, cost-wise, it will only help the ones who ride KTMs or Yamahas. And what's to prevent KTM or Yamaha from putting their best guys on two-strokes, which I still believe outperform 250cc four-strokes? And finally, while some may think it's Honda, Suzuki and Kawasaki's fault for not having a two-stroke to enter if that rule ever changed, I don't think it's worth the chance of running them out of AMA Supercross and AMA Motocross the way they pulled back in AMA Superbike racing when the rules kept changing and they were not happy with the moving target.
Motorcycle racing is expensive, no matter what bike you're on, but it is more expensive on four-strokes. But cutting back costs for a small minority of the riders out there is not worth jeopardizing the whole structure of racing by running factory teams off (and if you don't think that's a real risk, again, see AMA Superbike racing). The OEMs have invested millions and millions of dollars in four-stroke technology, and making them turn around and go back to two-strokes—which they would have to do in order to keep up with modified two-stroke race bikes of other teams—in a time when the market is down 70 percent and the economy is still in turmoil just doesn't make sense to me. MX Sports offers straight-up 250cc racing at the amateur level, but it is not feasible right now in pro motocross, and forcing a rule change on the OEMs when they are all barely getting by is not a wise idea, in my humble opinion. I know that's not going to go over well with the two-stroke advocates on the message boards, but I am more worried about keeping the teams and the OEMs we have in the sport right now. It's a risk that's not worth taking. I disagree that it would even the playing field anyway, and I doubt changing class structure in one series is going to get major Japanese companies to reverse course, retool, and start churning out two-strokes all of the sudden—that's a nonsensical argument. If you don't like four-strokes, fortunately, you have the option of racing a two-stroke at your local tracks.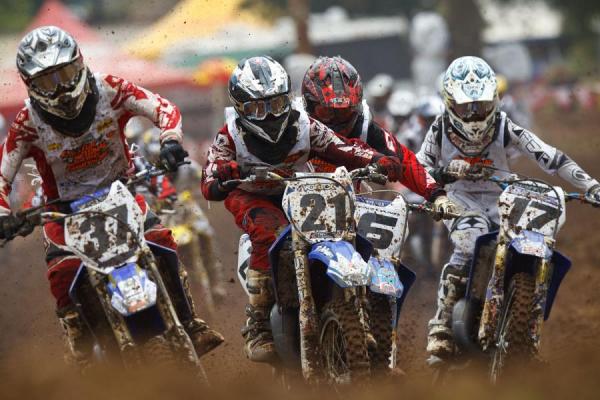 Hopefully we will see a couple of races like this one at the nationals this summer.
Photo: Simon Cudby
That said, we are working on getting some kind of "futures" race off the ground for a couple of selected rounds of the Lucas Oil AMA Pro Motocross Championships for 19-and-under riders on 125cc two-strokes, and likely Super-Minis so all brands can be involved. We even have a temporary working name for the project: The Mad Skills Motocross Cup at the High Point National, and maybe even Hangtown. If it comes together, it could give us a better understanding of what the real demand for this kind of racing is out there, and also give some fast young riders a chance to check out the outdoor nationals before they join them for real one day. Anyone who wants to get involved or has some other ideas, contact me at: DC@mxsports.com In the meantime, I will put my helmet and chest pro on and get ready for some roosting and flaming....
Okay, here's Ping for starters:
There was a lot of buzz this week about the fact that Josh Hansen is not exactly a teenager, yet he's racing in the Lites class. But there really is no maximum age for that class, though the AMA and Feld Motorsports are working to find the right advancement formula. But here's some food for thought: At 26 years of age, Hansen was not the oldest rider in the class; 29-year-old Antonio Balbi was, and he finished eleventh. Ryan Morais is also 26, and he finished sixth.
I said last week that we should all try to control our emotions if Anaheim doesn't work out to be the kind of race that we were all hyping it up to be. Is everyone okay? Did we all work through our issues and wind up in a happy place? I think Anaheim shook out exactly like most people predicted. RV, Dungey, Reed, Stewart, and Canard have all established themselves as the fastest guys. The rest of the pack is still super talented and can give fits to those top guys on any given weekend, a la Ivan Tedesco. I think the racing is going to really get started this weekend, now that the first-race jitters are exorcised. Then again, Phoenix has never been a great track layout for racing. For some reason (maybe that floor is oddly shaped?) the track always has sweeping turns and a lot of turns that are 90 degrees or less. Those don't encourage much passing because everyone just takes the inside line. Maybe this weekend will be different. Nope. Just looked at the track map, and guess what: sweepers and 90-degree turns.

Phoenix will be featuring a lot of sweepers and 90-degree turns.
Photo: Chris Ganz
I was surprised that more wasn't made of Josh Hansen's line just after the sand section. Apparently, a lot of people didn't even notice it. Josh was using a single going into a 90-degree corner to double over a single coming out of it. It was a very creative line, and by far the quickest way through the section. Unfortunately, it isn't legal. It never has been. Since way back when Duke Finch was running things in his red-white-and-blue AMA shirt, you have never been allowed to jump across a corner like that. The FIM's John Gallagher said that he was "being accosted" by the 450 riders in staging as to whether or not he was going to leave the track that way or do something about it before the 450 final. He watched Hansen hit the line lap after lap and promptly put a big white pole up to mark the apex of the turn before the 450 race took off. With the pole marking the turn, there was no way to jump across the corner. Am I the only one that saw this? I feel like I'm taking crazy pills here.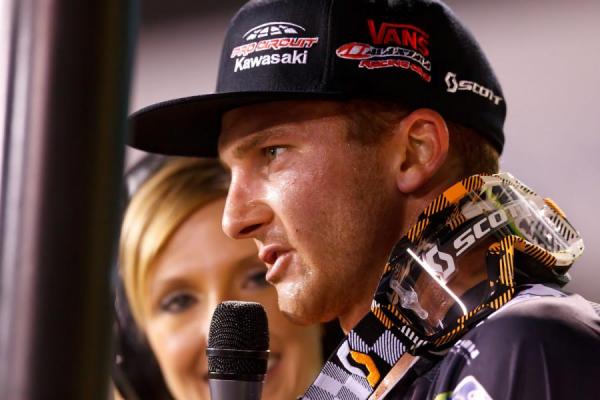 Rattray landed on the podium in his first ever Supercross race.
Photo: Simon Cudby
Injuries really took the steam out of the Lites class last weekend. Wil Hahn was definitely a favorite, and he was flying in practice until a crash left him with two smashed fingers. He taped them together for the next session, and word is he might have lost his grip on the bars, causing him to crash in the final session. He has no permanent damage and he should be 100 percent before too long. Ken Roczen was looking like he might be amazing, but he hit the deck after being clipped by an errant bike going into the whoops and it definitely affected him. Tyla Rattray also took a beating when he tried jumping through the rhythm section like the 450s. He was questionable to even ride that night, so he should be back up to speed for this round. I was pulling for Ryan Morais but you could tell he just wasn't his usual self. I heard from a source close to the team that he crashed on Tuesday and hit his head pretty hard. Hopefully Ryan can get things going in the next couple weeks before he loses too many points.
Here's Matthes:
What a race in Anaheim, huh? Yeah, the racing wasn't the greatest (the highlight for me in the 250 main was asking Weege "What would you be asking Holley right now?") as he sat next to me. And the 450 main wasn't much better, but still, watching Stewie cut through the pack was pretty cool, as was watching Ivan Tedesco run up front for a little bit.
No matter the actual racing, the anticipation was high and of course, as Weege said, Justin Brayton coming out and dominating heat 1 was so planned by everyone. But seriously, good ride by JB10, and although a so-so start and crashes hurt him in the main, he looks to be also improved on last year.
Being an ex-mechanic, I'm keeping an eye on the JGR team, because they chose to go with Pirelli tires this year and I'm interested if the European company can make a tire for the trickiest of conditions, the only place in the world that the dirt is this way and certainly a condition that is really hard to make a tire for. And that is Southern California hard pack at night when the moisture comes up.
A few years back I wrote a story for Cycle News about Bridgestone pulling out of SX/MX and the effect it would have on the riders/teams. To a man, all the riders I spoke to (and a few didn't want their names used for fear of angering Dunlop, the new tire company of choice) they all said that front tires on the West Coast supercrosses were where the B-Stones really shined. I asked one high-profile rider this week if the track got slipperier from the heat to the main and he said it did, followed by the words "big-time."
I have no doubt that Pirelli makes a great tire for 99 percent of us in the world—they have 8 million world championships to back up their resume. But I'm telling you, many riders struggled getting used to the Dunlops in SoCal at night (but in the people I talk to, they are excited about how much better the Dunlops have gotten in a year) and I'm watching the Pirellis to see if they work. It's a gamble that JGR took: they wanted the complete attention of a company, and they wanted to maybe see if they could get an edge on the competition. Let's see if it pays off.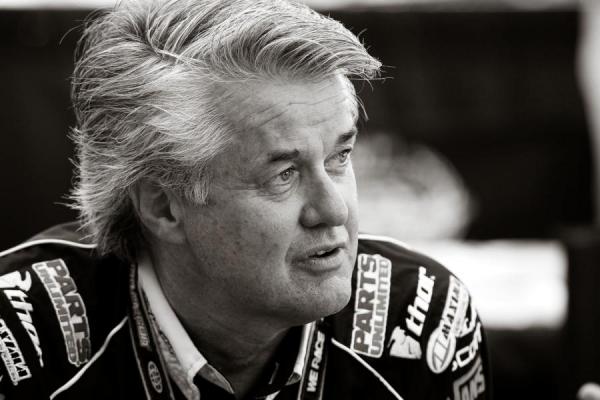 Will Payton and Kawasaki be able to put aside their differences?
Photo: Simon Cudby
Meanwhile, back on the Monster Energy Kawasaki/FMF front, it seems that I've once again come to realize that you just can't make everyone happy all the time. Look, this is a big story in the pits and I got team manager Mike Fisher's take on it on Saturday night. As usual, Fish (who I consider a friend of mine) was forthcoming and very open about the situation but didn't want to publicly come out and state all the reasons. It's not for us internet jockeys to decide who was right and who was wrong, it's business and Fish wanted, more than anything, to make sure I relayed how much respect Kawasaki and Mike himself have for Mitch Payton and Pro Circuit.
So I do the interview and then get a call saying that Mitch would like to have an interview with me to discuss the race and Kawi's decision. Payton is one of my favorite people in the pits and I always have time for anything he wants to tell me. So I do the interview and it runs this week on this very site.
So then the texts come flying in from both sides (not Mitch or Fish) that the other side isn't telling everything, I have it all wrong, etc. Geez, I just wanted to present both sides of the deal, let everyone read what everybody had to say, and leave it at that. Let's move on. PC went 1-2-3 and RV won on an FMF pipe. Everyone wins!
I'm a little out of practice on this Racerhead stuff, so I have no idea if I'm writing too much or not, but before I go, I had my Pulpmx Show on Monday and learned a lot of things like:
1. Ken Roczen is a real cool kid. He's really funny and seems to get it. His give-and-take with Kenny Watson and myself was awesome. I was a little bummed that his hero growing up was not Tim Ferry, but that's okay. I'll get over it. Watson was so impressed that he asked for a signed jersey from the kid despite "usually not liking Euros."
2. Tony Alessi was not at Anaheim, and when we cold-called him to find out what the deal was, he told us he's not going to the races this year and he'll let Roger DeCoster manage son Mike's career. Interesting for sure.
3. Dean Wilson called in and tried to put on a horrible redneck accent in hopes of fooling guests Trey Canard and Ferry. It wouldn't have worked at all.
4. Mitch Payton doesn't care that Broc Tickle isn't exciting on the podium, saying we should all let the kids be who they are and that Tickle reminds him a lot of Jeff Stanton.
Tune in Monday's at 6PM PST at Pulpmx.com and see what you can learn.
Can't wait for this weekend, as one of the things that drives me nuts is the absolute lack excitement by the riders on the opening-ceremony hot lap. This weekend the guys couldn't have done less if they tried (Stewie and Reed got a little nuts on one triple), and the days of MC's nac-nac exploding the stadium or Carmichael whipping a KX125 upside down seem to be over.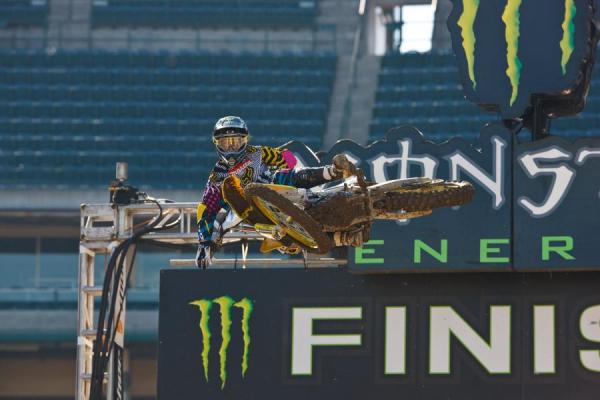 Ricky's whips are always a fan favorite.
Photo: Simon Cudby
Until now, that is. I don't want to put too much pressure on Trey Canard, but he's in the opening ceremonies this weekend, and he has vowed to show how pumped he is to be included among the best riders in the world. I predict an air wheelie or a nac-nac. I can't wait!
Now we let The Weege take over:
You can train, test and practice all you want, but you really don't know where you stand until you get to the first race of the year. That's when everything can change. One of the greatest tests at the opener is the crowd's response to rider's during opening ceremonies. Fans have a right to cheer or boo whoever and whatever they like, and at A1, they usually do some of both.
I've been watching the race from the same vantage point for nearly 10 years now so I've seen the ebb and flow—Ricky Carmichael loved, not loved, then loved again, for example. The tradition continues. Last year at Anaheim I heard boos for both Chad Reed and James Stewart—not really sure why, but when Ryan Dungey garnered huge cheers, all I could guess was that a great majority of fans wanted to see some new blood at the top. And they got what they wanted as Dungey very nearly won the race, and then went on to win the title.
Stewart and Reed has awful seasons, so they're no longer "the same two guys that win every week." As proof, they were both cheered during this year's show. In fact, the Stewart support went to a whole new level, as fans cheered every pass he made during the main event, almost as if it was Kevin Windham slicing through the pack in Vegas last year (okay, not quite that loud. Everyone is a Kevin Windham fan). Still, after such a rough year, I was glad to hear the fans getting Bubba's back, at least that's what it sounded like from my spot.
The Ryans generated mild applause, but no boos. At the moment there's nothing not to like about Dungey of Villopoto, but I guess there wasn't as much to get pumped on, either. I'm not sure. Either way if Dungey dominates in 2011 like he did in 2010, he could be in for it at Anaheim last year. That's just the way the ball seems to bounce.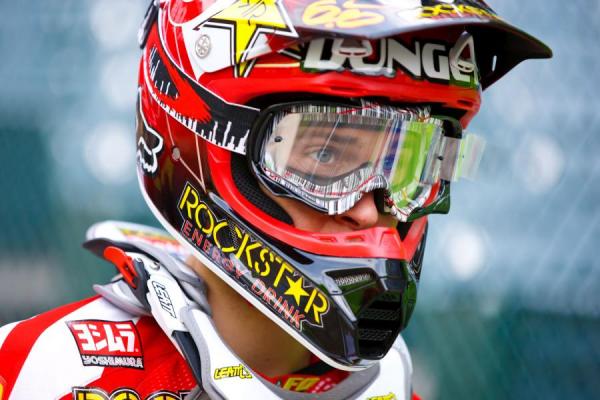 Will RD take vicotry in Phoenix?
Photo: Simon Cudby
I was happy when Villopoto won the race, because I had told Racer X Art Director David Langran that RV was the one to watch. Made me look smart. But I also told a whole bunch of people that Stewart was going to win, and on the podcast I did with Matthes a few weeks ago, I said I would put my money on Dungey. Yes, I've discovered a new technique: predict a few different things to a few different people, and you're bound to look smart to someone. Langers has to be amazed with my Villopoto pick, and he doesn't have to know that I didn't stick to my guns.
Odds and ends:
Join two-time Monster Energy AMA Supercross Champion Chad Reed, KTM's Andrew Short, Suzuki's Brett Metcalfe, FMX star Robbie Maddison, Racer X's own David Pingree, and other icons of the extreme sports world at the Racer X / Pole Position Raceway Endurance Challenge in Corona, California, on February 3. The 150-lap indoor kart race will combine some of the world's fastest motorcycle racers with Racer X readers and other members of the public. Yes, you can actually be on the same team as the guys you watch on TV and see in the magazines! Space is limited, and the entry fee is only $45 per person. Past participants of Racer X / Pole Position Raceway events have also included Jeremy McGrath, Travis Pastrana, Kevin Windham, Grant Langston, Davi Millsaps, Todd Potter, Kenny Bartram, Kurt Caselli, Timmy Wiegand, Ronnie Renner and Ricky James, to name a few. Pole Position Raceway is America's #1 Chain of Indoor Kart tracks, and those behind the brand include McGrath, Reed, Langston, Mike Metzger, Kenny Bartram, Randy Hawkins, Dick Burleson, Barry Hawk, Ricky James, Kurt Busch, Jamie Little and more. Advanced registration is required and can be done by contacting Debbie at 951/254-2067. For additional information check out www.PolePositionRaceway.com. The event is sponsored by Racer X, Corona Motor Sports, Works Connection, ZLT, Race Tech, Smithline Industries.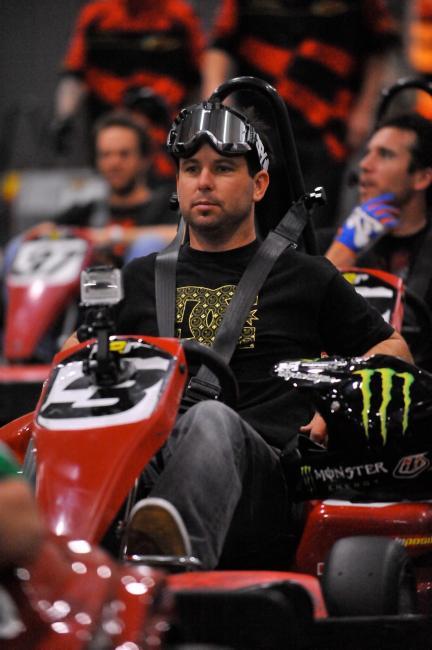 McGrath has competed at the Racer X / Pole Position Raceway Endurance Challenge.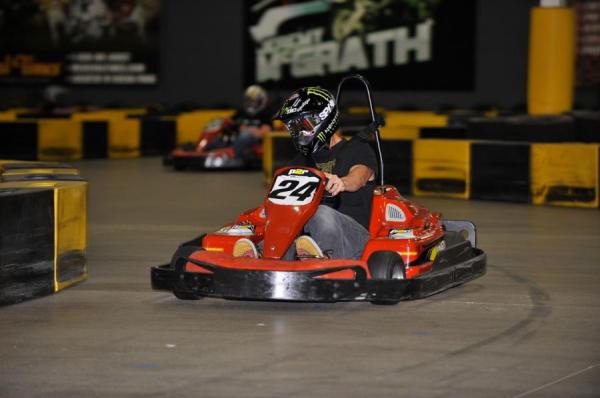 Must be Metty, right? Number 24...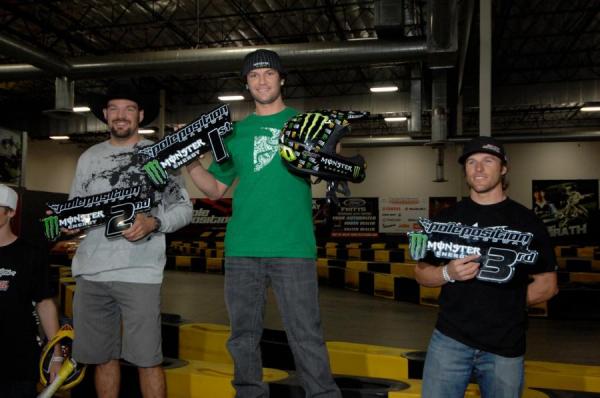 Reed took home first place honors last year.
The Honda Proving grounds, located in the high desert of LA and just outside of Lancaster, is for sale. No price is listed, but the facility is really cool, and includes a full road course, MX and SX track, ATV tracks, and numerous car testing facilities. This is the facility that Honda did much of there long term product testing at, and is separate from the Honda Supercross track in Corona.
Racer X and SprocketList have teamed up to create the best online classifieds for off-road riders and racers on the planet. To celebrate, we're rolling out a custom-wrapped Snap-On tool chest valued at just under $3,000. Sign up at sprocketlist.com or at the Racer X booth at any of the first four rounds of Monster Energy AMA Supercross. Entry deadline is midnight on January 31. The winner will be announced at Round Five of the Monster Energy AMA Supercross Series in Anaheim, California. (You do not need to be present to win, but it would be really cool if you were!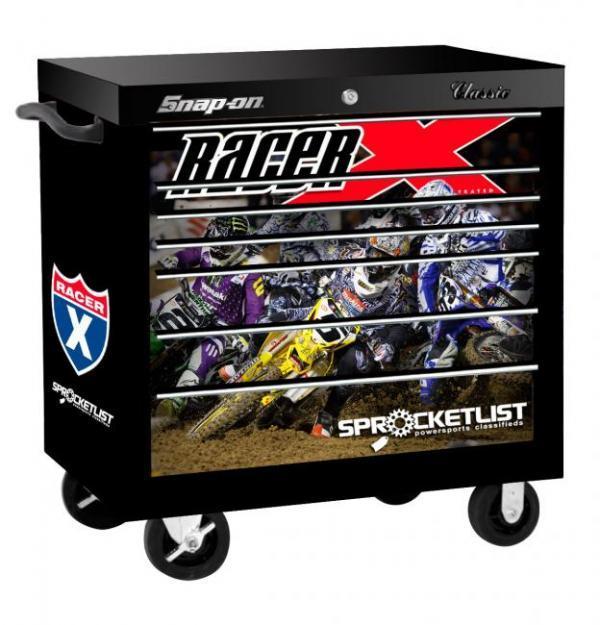 Here's an update from longtime Warthog Racing supporter Dana Kellstrom, who is currently playing in the PokerStars Caribbean Adventure poker tournament in the Bahamas:
"I'm still in the main event with 173 players left out of 1630. It was a $10,000 buy-in, so I'm in the money and a portion of my winnings will be going to the Warthog team to help some less fortunate riders. I had Phil Ivey, the world's number one player, at my table yesterday directly on my right. It's was like racing Villopoto, Stewart and Reed all day, but I held my own so I can't complain. I'm just saying hi from the Bahamas and look forward to being back at races. Congrats to Villopoto and Hansen; I'm big fans of both."
That's all for this week. Thanks for reading, and see you at the races.