Phoenix, AZ
Phoenix
Monster Energy AMA Supercross Championship
One round is in the books, and the 2011 Monster Energy AMA Supercross Championship has already delivered a couple of surprises, some big storylines, and an excellent, enthusiastic crowd in Southern California. Now it's time to head briefly out of the Golden State for Phoenix's Bank Chase Field. Once again the race will air live on Speed, beginning at 9:30 p.m. ET/7:30 out West. Here are ten things to watch for in Phoenix.
RV = MONEY - Ryan Villopoto is your points leader in the 450 class, and he looked more comfortable than anyone in winning the first main event of the season at Anaheim. The Monster Energy Kawasaki rider was able to put a terrible leg injury behind him (they shown his ugly X-rays as part of his opening-ceremonies video, so keep an eye out for that too in Phoenix), and also nineteen other men as he raced away with the win. RV looked smooth, calm, and collected in the lead. He's leaner and stronger now—that's what trainer Aldon Baker does for an athlete—and he looked just as fast as he was last April when he broke his leg at St. Louis and missed the rest of the season. Don't be surprised to see #2 go for two in a row.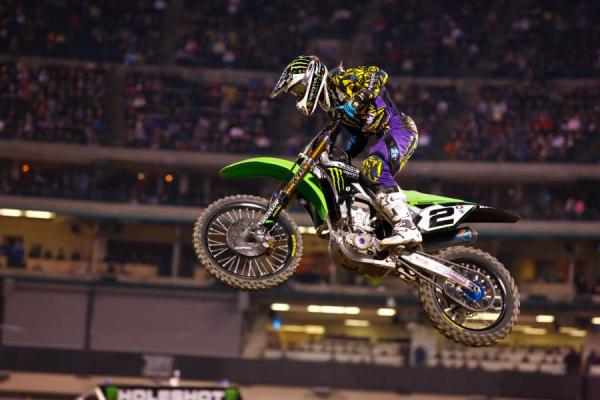 Can he do it again?
Photo: Simon Cudby
DOES HANSEN HAVE IT? - It sure looked like it on Saturday night in the Lites! Li'l Hanny is notorious in the industry for being fast, funny, and sometimes a little flaky. But when he pulls it all together, like he did on Saturday night, it's hard not to appreciate his talents. And it's not all raw talent either—Josh did the work during the off-season and it shows—nor is it the bike (his closest competition came from teammates on identical equipment). Hansen is one of the older riders in the class, and his maturity level showed when he got in behind Broc Tickle and then let the race come to him. If he stays healthy and keeps getting good starts, there's no reason to think Hansen can pull it off again.
THE CHAMP AND KING JAMES - While there was only one winner in the AMA Supercross class in Anaheim, there were two other men who went home with trophies as well as a good base to start from. Ryan Dungey was wearing his #1 plate proudly, and after an unsteady first part of the race, he rode a great second half and came away with a solid second. Behind the champ came the once and future King James (as in Stewart, not LeBron). He got cut off on the start by Dungey and had to dig out from way back. But rather than risk it all in an all-or-nothing sprint for the win, Stewart pointed his San Manuel Yamaha toward the podium and took third-place points. It wasn't the win he wanted, but he sure looked smooth in reaching the box in his first SX race since last January.
THE OTHER REDHEAD - Like Ryan Villopoto, Trey Canard is all red under the helmet. At Anaheim he debuted his new Honda CRF450R—well, actually, he rode one in a half-dozen races last year. But now he's a full-time Honda factory team member, which means the pressure has been upped a notch or three. But Canard rode well, and he will only get faster from here. If he gets a start and a couple of breaks, he could pull off an early upset in the desert.
TOP ROOKIE - There were plenty of storylines in the Lites class, and many centered on teenagers like Ken Roczen and Eli Tomac making their SX debuts. But the fastest of the newbies was actually a slightly older rider, Tyla Rattray. After two injury-plagued winters since moving here from Europe, the South African finally got on the starting gate for his first AMA Supercross. And even after a big crash in practice, he delivered a steady third for good points and can start stretching out his speed from here.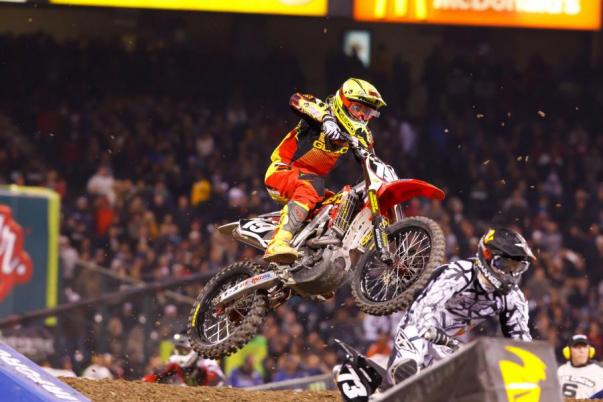 Can Tomac rebound after a shaky rookie debut?
Photo: Simon Cudby
TOP PRIVATEER - No matter how you define it, Chad Reed was a privateer for the first time in his AMA career on Saturday night. Riding under his own TwoTwo Motorsports tent (though yes, it was attached to a big rig) Reed piloted his Honda to fifth in its debut American ride. But here's the thing: Reed could not have been happy afterward, because his nemesis James Stewart came up behind him and passed him, and Chad didn't latch on to him and go through the pack like he should have. Fifth-place points are decent, but expect more from Chad—even if he is a privateer!
FASTER TRACK - The organizers of this tour know that the first-night jitters can bring a rapid end to a rider's season, so they do their best to temper the early courses. Anaheim was pretty moderate, and Phoenix will be as well. But the dirt is softer in Arizona, which means it breaks down a little more and berms build up better in the corners. They may also throw a few more whoops out to challenge the riders, as Anaheim was lacking in that department. But still won't be as technical and tough as some of the later tracks will be; for now, as long as the racing stays good and the riders stay healthy, we can live with that!
GREEN WAVE - Whether it was Villopoto in the 450 class (after passing early leader Ivan Tedesco on the Hart & Huntington Kawasaki) or the freight train of Josh Hansen, Broc Tickle, and Tyla Rattray running away from the field in the Lites class, it was a green streak out front in Anaheim. But here's the thing: the factory Monster Energy Kawasaki 450 of RV was running an FMF exhaust system while all of those fast Monster Energy/Pro Circuit Kawasaki 250s were sporting Pro Circuit pipes. Regardless of which brand of plumbing these bikes used, they were flying—betcha twenty green ones that every one of the other brands were hard at work on the dyno and work benches this week, trying to put a stop to this before it becomes a tidal wave.
BELIEVE THE HYPE! - Whether it's Ken Roczen you've heard your friends raving about or Eli Tomac, neither of these young stars finished as high as they should have in Anaheim. But with a week under their belts, the German KTM rider and the Colorado Honda rider should both be much more relaxed and comfortable on a full-on AMA Supercross track, having gotten those opening-night jitters out of their systems. Believe the hype—both are the read deal.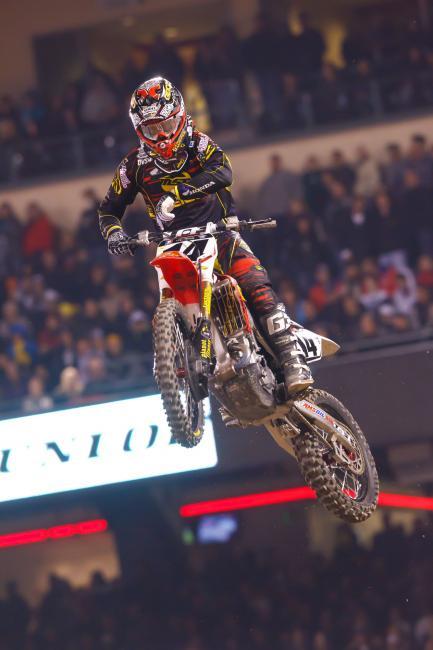 Will Windham stand atop the podium in 2011?
Photo: Simon Cudby
WILDCARDS - Whether it's the veteran Kevin Windham or Ivan Tedesco in the 450 class, KTM 350 pilots like Andrew Short and Mike Alessi, or long-overdue Lites riders like Martin Davalos and Ryan Morais, someone can just find the right rhythm and the right lines on a comfortable track and get up front in a hurry. Pretty much all of the the top talent is out there right now, but it's never too early to see something shocking and spectacular in AMA Supercross. Watch it closely, live on Speed!