Monday Conversation: Trey Canard
The GEICO Powersports Honda team has won regional supercross championships – one of which came at the hands of Trey Canard himself in 2008 – but despite the hype of many of their racers in the past, the team hasn't had nearly the success of the Pro Circuit juggernaut they race on a week-in, week-out basis. However, as has been discussed in the past few weeks on this very website, momentum can be a tough thing to stop, and the Pro Circuit team has had the momentum in its favor for a very long time. But Trey Canard delivered an AMA National Championship for the team this year in one of the most exciting championship chases the sport has seen in a very long time. We caught up with Canard after the race.
Racer X:
Up until Pala, you raced as if you had nothing to lose, because you were far enough out of the championship that you couldn't just sit around and ride defensively. But coming into Pala, you knew you had a very realistic shot at the title. How did you handle that pressure?
Trey Canard
: Well, basically my week went like this: Monday was great at home – I was still on a real big high from the weekend – and then Tuesday, I kind of started going a little bit downhill. I was just starting to feel the pressure, but I think I did pretty well managing it. When I came to the track this morning, I was a different guy than I was all week. I'm thankful that I showed up in the right mindset. You know, I don't think that I was the best that I've been today. I kind of struggled a little bit and over-rode the track a little bit in the first moto. I got a gift, and unfortunately it was from an injury, but it was a great day. The last six races are what made today happen, and I'm stoked.
Is it really hard for you to win it this way, with Pourcel crashing out?
Yeah, but I'm happy for myself at the same time. I mean, it's unfortunate. I've been in that position – getting hurt – for the last two years, and it's devastating. Not that it was the last round and I got devastated like Chris, but last year was devastating for me and I spent all summer trying to recover from that. It's unfortunate to see, but those experiences and those tough times made this way sweeter. I'm almost glad that it happened because it made it all the more sweet.
Is it weird for you to hear people say that you're a National Champion now? I mean, you won the regional title right away [in 2008]...
This championship was a lot different than the East Coast Championship. I think it's just the 12 races that really do it and all of the competition. Outdoors is gnarly; you have to be on your game, and if you're not, you'll be hurt. But yeah, it hadn't sunk in. I'm still kind of dreaming and kind of wondering what's going on...
The weird thing about it is this is actually the first outdoor series you've ever completed, and you won it...
Yeah, I was stoked on that. One of my goals this year was to just finish [the series] because you can't ever build momentum when you're hurt. It takes all the wind out of your sails and you almost have to start from the beginning again. That's a tough thing to overcome, so finishing was awesome, but to win and to be a part of the Motocross of Nations? It's just been an unbelievable summer.
You and your mom shared a long hug after the podium ceremony, and you both came up from it pretty teary. Can you explain the dynamic between you and your mother?
She's pretty much my posse all the time. My mom is kind of like my best friend. I hang out with her more than I hang out with anybody else. I hate to always say this, because I feel like I don't want to have a big sob story or anything, but the reality is that when I lost my father, I became extremely close to my mother. It's a bond that I hope never changes because she's been there every step of the way, and to share that moment with her and to just soak it all in right there was just priceless.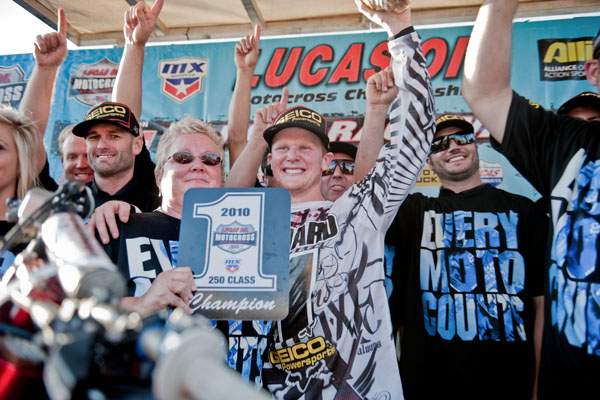 Trey Canard celebrates with his mom (left of him) and his team.
Photo: Steve Cox
And to think that your season started with that horrible moto at Hangtown where you went from a holeshot to seventh place... What kind of lesson did you learn from that?
It's huge. I mean, in such a short regional championship [in supercross], you have to be pretty much perfect or you'll lose it. But 12 races [and 24 motos] is a long series and a lot of stuff happens – a lot of unfortunate stuff happens and a lot of good things happen – so just staying motivated and being in it and never giving up is probably the biggest lesson that I've learned.
You mentioned before that you want to get your dad's old racing number and make that your permanent number, but now that you're a national champ, you could pick a single-digit, too...
Yeah, but I would like to get 41. That was my dad's number, and that would be huge for me. I can take a single digit, but I'll take 41 any day.
So, that's going to be your number from now on?
Yeah. It looks cool.
[The interview is then interrupted by one of the GEICO team mechanics, who mentions that Chris Pourcel is outside and wants to talk to Canard. For the story on this, click here to read the race report from Pala. After that's over, the interview continues:]
To have a guy that you went tooth-and-nail against for a National Championship, and have it end that badly for him, and then have him come over not just to congratulate you, but to actually collect memorabilia from you... That might be the coolest thing I've witnessed in this sport.
Man, that's huge. I can't say that many people in championships have had that mutual respect; especially someone not from the U.S. I don't want to call him an outcast, I don't know what the word is, but he's not part of the U.S. and people have rejected him. I feel like, to have that camaraderie and to have that little bit of a friendship, I would say it's really cool for me because I really respect the guy and I'm really bummed that he got hurt. Right after
High Point
, when I got hurt [in 2009, when Canard crashed while leading Pourcel for the moto and overall win], he [Pourcel] came over and told me he was sorry that I got hurt. I think that we'll always have a little bit of a different relationship; at least I hope so. I think he's a great guy and I was honored to race with him this year.
Does this mean you're going to take it easier on him out on the track?
No!
I bet you don't expect him to do that, either, with you, do you?
No, I don't. I mean, once we're on the track, everyone knows it's different. The best thing about our championship fight was it was clean all year, so it was awesome.
Congratulations, Trey.
Thanks a lot!