Champions aren't just defined by how they finish in the points standings of any series, or how many races they win. Sometimes, champions are defined by how they handle losing. And while the 450cc championship has been over for basically a month, and the WMX title chase was a longshot at best for Ashley Fiolek to beat Jessica Patterson, the 250cc championship came down to the very last round with barely more than a handful of points separating two genuine champions in every sense of the word. Chris Pourcel is a former MX World Champ and two-time SX Lites champ, while Trey Canard is also a former SX Lites champ, and seven points stood between them as they tackled Pala Raceway today.
250cc
The 250cc scenarios coming into Pala were all mathematical. GEICO Powersports Honda's Trey Canard needed to make up seven points on rival Chris Pourcel of the Monster Energy/Pro Circuit Kawasaki squad in two motos if Canard was going to have a chance at the AMA National Championship. However, first place only gives the winner three points more than second place, so if the race went just like Steel City had, with Canard winning both motos over Pourcel, Pourcel would be the champion anyway. That's how the math worked, so everyone seemed to be wondering who, if anyone, could get between the two dominant racers.
However, as is often the case, the mathematics didn't end up coming into play at all.
Pala-Cox-2010_001.JPG" />
Dean Wilson went 1-1 to win his second AMA National of the year.
Photo: Steve Cox
In the first moto, Pourcel's teammate Dean Wilson grabbed the holeshot and split while TLD/Lucas Oil Honda's Cole Seely ran second, Wilson's teammate Tyla Rattray ran third, Pourcel ran fourth, and Canard ran fifth. While Wilson was running away with it, most of the attention was on Pourcel and Canard, as Canard passed Pourcel a couple of times, only for Pourcel to get him right back and then begin to pull away a bit. Then, on lap six, Canard was attempting yet another pass on Pourcel when he went in too hot into a tight turn and overshot the berm, going down. Canard remounted in eighth and began to move back forward again while Pourcel moved past Seely and into third (Rattray had already passed Seely a lap earlier for second).
It was looking like the championship was over, but soon the announcers began talking about how Canard's times were three seconds a lap faster than Pourcel's, and Canard was 15 seconds behind with about seven laps left. Doing the math, it sounded like we would end up with a race in the moto between the two anyway.
However, only two laps later, the crowd reacted to something big that had happened, and then Pourcel didn't come around. He had gone over the bars on a small but tricky step-up jump into a turn and dislocated his right shoulder.
Moto two saw another Wilson holeshot and disappearing act while Canard ran second, Rattray third, DNA Shred Stix/Star Racing Yamaha's Martin Davalos fourth, the Honda of Troy's Les Smith and the rest of the field. Eventually, Canard gave way to the charging Rattray, but he ended up holding on to third. After the moto, it was official: Trey Canard was the 2010 AMA 250cc National Motocross Champion.
On the podium, for probably the 12th race in a row, Canard was greeted to chants of "USA!" which he graciously accepted, but throughout the series, Pourcel has been mocked and belittled by the American crowds at the podiums as many fans have told him to "go home" and other similar things. The implication at Pala was that, by winning, Canard had won the championship for the USA, stopping a Frenchman from winning the title.
However, those fans should've stuck around to see what transpired after the race, as a couple of hours later, outside the GEICO Powersports Honda rig, Chris Pourcel showed up, his right arm in a sling supporting a badly swollen shoulder, and asked Canard for one of the championship shirts Fox had made up that said, "Every Moto Counts" on the front. Sadly, the team was out of the shirts, so instead, Canard brought out his race helmet, which he had signed on the back to read, "Thanks for the great season, Trey Canard". Pourcel rejected it, laughing, saying it wasn't funny enough, so Canard returned to the rig, then came back and had added something about "The Duck" ("Canard" is French for "duck"), and Pourcel happily accepted.
Pourcel then proceeded to tell Canard that he wasn't happy to have lost, but he said that Canard deserved to win the championship, and he congratulated his rival on his performance. Canard was touched by the whole thing. You see, last year at High Point, Canard had Pourcel beaten in moto two, which would've been Canard's first-ever AMA National win, but Pourcel dogged him the whole way, and with about two laps to go, Canard switched lines on a tricky jump and went over the bars, breaking his arm badly. Pourcel won the overall that day. And Pourcel also made it a point to go over to the GEICO rig that day to tell Canard that he was sorry he was hurt and compliment Canard on how he was riding that day.
Pala-Cox-2010_002.JPG" />
Trey Canard is your 2010 AMA 250cc National MX Champion.
Photo: Steve Cox
As the two racers move on to the 450cc class in supercross next year (along with many other contenders, such as Jake Weimer, Brett Metcalfe and more), we may have witnessed the beginning of a friendly but serious rivalry, where the two racers have almost as much respect for each other as they do desire to win. It's just unfortunate that the fans don't have as much respect for Pourcel as Canard does, or for that matter, as Pourcel does for Canard.
450cc
Honda Red Bull Racing's Andrew Short has had his starts dialed all season, and it continued in moto one, when he stole the holeshot from champion Ryan Dungey of the Rockstar/Makita Suzuki team and then proceeded to try and make a run for it. But Dungey wasn't having any of it and, on lap four, finally made a pass stick on Short for the lead. But since the championship was already decided, the main points battle was between Short and GEICO Powersports Honda's Brett Metcalfe, who carried a few points on Short coming into Pala.
Pala-Cox-2010_001.JPG" />
Ryan Dungey went 1-1 yet again at Pala, setting a new rookie win record for the premier class.
Photo: Steve Cox
Metcalfe started outside the top five and moved into fourth before the end of the first lap. It took him a few laps of trying before he could make a pass stick on MCRMX Yamaha's Ryan Sipes, who was riding extremely well in third, and then Metcalfe set off after Short. Six laps later, Metcalfe made a pass stick on his friendly Honda rival and took over the runner-up spot, and that's how they would finish, with Dungey taking a massive win over Metcalfe, Short, Sipes, Kyle Regal, Ben Townley, Kevin Windham and Mike Alessi.
Now, many of the racers, including Wilson, Short, Dungey, Canard, Metcalfe, Townley and Pourcel (if he can) will be preparing for their final race of the year at the Motocross of Nations in Colorado in two weeks time.
WMX
With 22 points in hand coming into Pala, it was a foregone conclusion that Jessica Patterson was going to wrap up her sixth women's title, defeating the defending champ Ashley Fiolek, and with a moto-one win, the championship could be clinched altogether.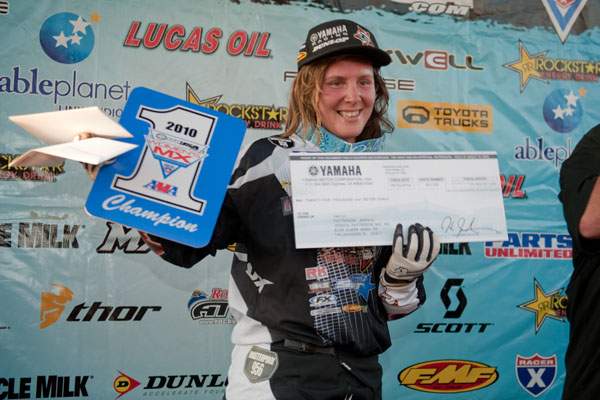 Jessica Patterson is now a six-time women's MX champ.
Photo: Steve Cox
Patterson did what she had to do in the first moto, taking the win over the tenacious Fiolek and Vicki Golden. In moto two, though, Fiolek turned one of her customary rocket starts into a strong performance, and with only a few laps to go, Patterson went down pretty hard just past the finish-line jump and took a smack to her ribs, which she hurt in her big crash at the X Games. She wisely cruised it in for second to secure second overall. After all, the title was already hers. Fiolek won the overall, while Golden was third overall.
Lucas Oil AMA Pro Motocross Championship
Pala Motocross National
Pala Raceway
September 11, 2010
Round 12 of 12
450 Class (Moto Finish)
Ryan Dungey, Belle Plaine, Minn., Suzuki (1-1)
Andrew Short, Smithville, Texas, Honda (3-2)
Brett Metcalfe, Australia, Honda (2-3)
Ben Townley, New Zealand, Honda (6-4)
Ryan Sipes, Vine Grove, Ky., Yamaha (4-6)
Kyle Chisholm, Valrico, Fla., Yamaha (9-5)
Kevin Windham, Centreville, Miss., Honda (7-8)
Justin Brayton, Fort Dodge, Iowa, Yamaha (12-7)
Kyle Regal, Kemp, Texas, Honda (5-14)
Nick Wey, Dewitt, Mich., Kawasaki (11-9)
450 Class Championship Standings
Ryan Dungey, Belle Plaine, Minn., Suzuki, 543
Brett Metcalfe, Australia, Honda, 398
Andrew Short, Smithville, Texas, Honda, 393
Ben Townley, New Zealand, Honda, 321
Mike Alessi, Victorville, Calif., KTM, 314
Kyle Chisholm, Valrico, Fla., Yamaha, 266
Josh Grant, Riverside, Calif., Yamaha, 260
Ryan Sipes, Vine Grove, Ky., Yamaha, 234
Kyle Regal, Kemp, Texas, Honda, 224
Nick Wey, Dewitt, Mich., Kawasaki, 223
250 Class (Moto Finish)
250 Class Championship Standings
WMX Class (Moto Finish)
Ashley Fiolek, St. Augustine, Fla., Honda (2-1)
Jessica Patterson, Tallahassee, Fla., Yamaha (1-2)
Vicki Golden, El Cajon, Calif., Yamaha (3-6)
Tarah Gieger, Winter Gardens, Fla., Honda (7-3)
Mariana Balbi, Brazil, Yamaha (5-5)
Alexah Pearson, Rocklin, Calif., Yamaha (9-4)
Sherri Cruse, Bakersfield, Calif., Suzuki (8-7)
Tatum Sik, Temecula, Calif., Yamaha (6-9)
Sarah Whitmore, Cheboygan, Mich., KTM (11-8)
Jacqueline Strong, Sedona, Ariz., Yamaha (10-14)
WMX Class Championship Standings (After 8 of 8 Rounds)
Jessica Patterson, Tallahassee, Fla., Yamaha, 382
Ashley Fiolek, St. Augustine, Fla., Honda, 360
Tarah Gieger, Winter Gardens, Fla., Honda, 295
Vicki Golden, El Cajon, Calif., Yamaha, 252
Mariana Balbi, Brazil, Yamaha, 239
Sara Price, Canyon Lake, Calif., Kawasaki, 230
Sarah Whitmore, Cheboygan, Mich., KTM, 219
Alexah Pearson, Rocklin, Calif., Yamaha, 202
Tatum Sik, Temecula, Calif., Yamaha, 179
Jacqueline Strong, Sedona, Ariz., Yamaha, 154