This interview originally appeared on MXDaily.com.au
By: Jason Macalpine
When the music stopped on the 2009/2010 silly season in the US,
PJ Larsen
was one of the unlucky riders that was left without a chair. PJ was brought to the then MXRad/JDR Motorsports team and PJ was flown down under to race an open bike at the final round of the Super X series in Brisbane. Larsen carded a top 5 against some tough competition and ended up doing enough to get himself a Lites contract in 2010 on the new JDR Motorsports/Motorex KTM team.
Larsen has been riding solid lately and even rode his way into the factory FMF/KTM team for a couple of West Coast Supercross races for injured
Tommy Searle
. PJ once again jumped on the 14 hour flight to Sydney to prepare for his own assault on the Australian MX Nationals and it looks like he is onto a good thing after dominating the first round in Horsham. We spent the week before Horsham filming with PJ as he was in final prep mode before the race but we caught this interview with him just after winning the first round.
So buddy, congratulations on winning your first race in Australia!
Thank you...
I bet coming into it you didn't think that you would get it done with 1-11-1 score right?
I sure didn't! The first moto was great, winning that and then when I went down in the second race I thought that I had blew my shot at the overall but it seems like everyone had a much trouble as I did with the track being the way it was so it ended up being good for me.
Coming into that last race it was all about getting a start and then just running my own race out front. I knew that if I could get out there and just stay out of trouble I would be looking good for the win but it was anyone's guess who would take home the overall. My team mate Ryan Marmont was solid all day so I thought maybe he would have got it but I did just enough to get the overall. The thing about the format is that there is a lot of points up for grabs so you can't ever really afford to have a bad moto but you have the chance to make up good points back at the same time.
In the second race when the rain came down it seemed like it was more of a race against the track, not really a race againt 39 other guys!
It really was, the conditions turned really bad and I didn't help the situation when I went down in the first turn. I actually got the holeshot but after I went down I just fell right to the back of the pack. I got up and passed a bunch of people and then went down again so after that it was really just a matter of riding around and getting through.
After racing against these guys, what do you think of the level of talent over here?
There are a lot of really fast guy's over here that's for sure. Obviously we had a really tough track to deal with and a bunch of the top guys had their up's and downs too. I know that it's going to be a whole different story when we all hit Canberra in a couple of weeks. This is a really long series with a lot of moto's and a lot of points and I think each weekend for the whole series the Aussie guys are going to step it up!
How are you settling into life in Australia now? It has been about a month right?
Oh yeah, I am having a blast here... I am actually trying to find a car to drive right now and get those sort of details dialed in but apart from that everything is awesome. I have been living with my team manager Jay and I get a long with him awesome as well as his whole family, it is those types of things that make it that much easier to transition in a new lifestyle.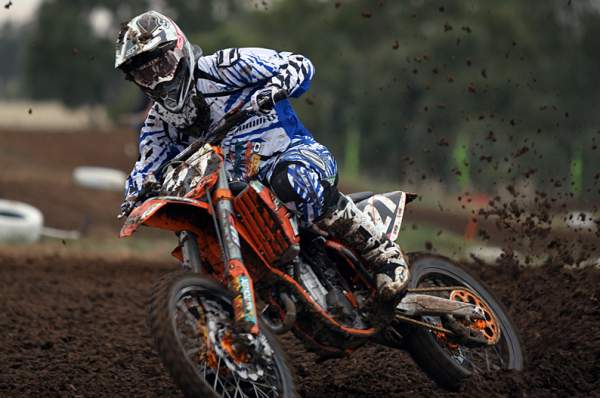 From being around you the whole week it seems like there is a really great vibe within the team?
Yeah there really is! We are all working together and we are all on the same page with a lot of things and it just makes everything flow which is the way that it needs to be if we are going to win this championship. They are always wanting to work hard on the testing side of things and right now I have got a bike that I am comfortable on but we are naturally going to just keep working hard to make it better as the series goes on.
Did you think coming into that you were going to be that much faster than the next guy?
No I didn't, you always hope that your going to be fast though. Even after I got the fastest time in qualifying kind of took it with a grain of salt anyway, because there are always guys that do better in the moto's and they are always hungry to win.
Can winning like you did at the first round give you a bit of a false sense of security?
I can see how it would maybe but that's not how it is with me. I might have done good this weekend but this is why we race dirt bikes, because it is a new track and new circumstances each time we race. I am not taking anyone for granted and I am going to keep my head down and try win this championship for the JDR/Motorex KTM Team.
So what's the program now with a two week break before Canberra?
No changes to my program that's for sure. I am still working with my trainer in the States and I am happy with what we are doing there. I guess I just want to get some practice in for the new formats and see how we go!
Before you go, what do you think of the formats here?
Yeah I think it is good. It is exciting for the championship because we are on the track more times and it is exciting for the fans at the track because it is more like a sprint race so I am a fan so far. The other side of it is that each week we kind of have something different to train for. It's not just pounding out 35's like at home so we get to mix it up.
Well thanks for talking to us!
No, thank you. I also want to say thanks to everyone for checking in and to all of my new family here in Australia. Everyone has been amazing and it has been a privilege to be working with everyone on the team and at the shop at JDR/Motored KTM Racing! See you at Canberra...