Been a long week. Thanks to all of the folks who sent their best to mom, she is out of the hospital—they gave her a shot in her spine to relieve the inflammation, and she's doing well. She's one tough lady!
Before we go any further, you have to watch this video DC Shoes sent over of Travis Pastrana hitting a deer while leading a rally race last weekend:
Ryan Villopoto has nothing on Travis "the Deer Hunter" Pastrana!
This weekend is the third and final stop at Angel Stadium for the 2008 Monster Energy AMA Supercross tour. If you're not going, make sure to tune in to CBS Sunday, February 3, at 2:00 P.M. EST, to catch the AMA Supercross class. The AMA Supercross Lites class will be on SPEED the following Sunday at 5:00 p.m. Check your local listings.
And if you can't wait that long, tune it to the Supercross Live! webcast featuring Jim Holley and Jason Weigandt. That gets kicking at around 7 p.m. California time on www.supercrossonline.com.
Today was the big announcement about Travis Preston joining the Monster Energy Kawasaki squad to replace the injured and out James Stewart. Preston will be running some Answer gear, which new Answer man Roger Larsen was kind enough to shoot over a photo of. Travis is one of the best characters in motocross; I think he will be a shot in the arm for the series.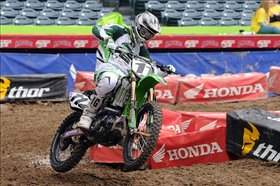 Preston got the call!
photo: Steve Cox
I have also heard that someone may get a shot on
Ben Tonwley
's factory Honda Red Bull Racing CRF250R when the East Region starts up, but we'll have to wait and see if it really happens.
As for Stewart, I got a chance to talk to James earlier this week. He sounded good, but still bummed too. If you missed it, click here.
Here's what I like about Kawasaki giving Preston a shot: As a former privateer, nothing bugs me more than seeing a factory bike just sitting there while its usual pilot is injured. If the rig is there, and the crew is there, and the bike is there, why not put someone on it? Even though Preston can't win the series, he can get some exposure for the team.
Eric Johnson did a great story a few years back (June '02) on how Team Honda gave Kenny Keylon a shot on an idle factory bike and he went out and won the St. Petersburg 250 National! The karma was good for Honda, and I think it's good for Kawasaki now.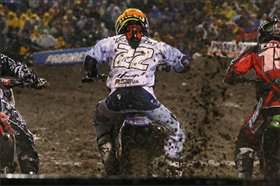 Reedy is speeding away with the points lead.
photo: Matt Ware
Meanwhile,
Chad Reed
just keeps on truckin' out front, His win in horrible conditions at San Francisco gives him 3-for-4 so far this year. He is in full control right now, and I would be surprised if he got beat any time soon. And winning in the mud? That's big. It says a lot about where his head is at, how much work he's put in, and what momentum means. He also swept all 29 first-place votes in this week's
Racer X/Toyota Power Rankings
, to no one's surprise.
According to this week's Troy Lee Designs' Racer X Online Poll, though, the man most likely to get a win from him is Torco Racing Fuels Honda's Kevin Windham.
Pat Schutte pointed this out: Three of the top five Winter X Skier X placers – including winner Daron Rahlves – compete at the Monster Energy Hangtown MX Crossover event. Other motocrossers in the top five in Skier X at Winter X included Stanley Hayer (2nd) and Erroll Kerr (5th). Also, way to go, Tucker Hibbert! He crushed the Snowcross race at Winter X.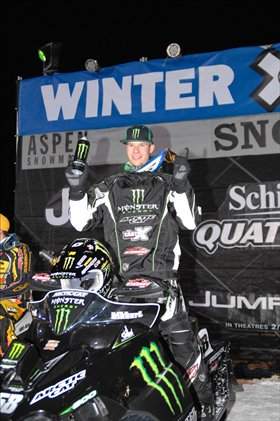 Gold medalist Tucker Hibbert will be racing in the East Region.
photo: Tim Davis
Prior to San Fran, did you see who was leading the Privateer
Challenge?
C.E. Altman Award (Top Non-Factory Rider)
1. Josh Hansen 27 points
2. Paul Carpenter 25 points
3. Josh Summey 23 points
Josh Hansen and Charles Summey are privateers? They ride for the state-of-the-art Gibbs Racing/Toyota Yamaha team. This is a direct quote from an interview with Charles Summey we ran on December 29.


Racer X: How is the equipment you're using? Is it competitive, A+ stuff?
Summey: Yeah, I definitely feel we have super equipment. It's the best equipment I have ever been on. The suspension and the motors are definitely impressive. I was blown away with some of the stuff compared to what I had been racing on before. Man, what a difference. And we have factory Yamaha suspension. We have the identical stuff that Chad Reed and Grant Langston have — factory forks and shocks."
Not to pick on Josh or Charles/Josh, but factory parts aren't readily available to the rest of the privateers.
Here's a real couple of real privateer stories:
Maryland Privateer Nick Evennou e-mailed us this week with an update: "Right now I am laid for about four weeks because I broke my thumb and separated my shoulder at that last round of SX in Dortmund. I am looking for a ride right now for the outdoors and or Canadian nationals." If you're a team manager out there looking for one fast, cool kid, Nick Evennou is waiting by the phone.
And so is the highly-respected veteran Joe Oehlhof, who's deal with the Cross X Yamaha team fell through. What sucks for Joe is the fact that they didn't find out until right before Anaheim 2. For now the all-around-great guys at Wonder Warthog Racing are going to take Joe's stuff to the races, but he needs to get another bike and some money to fly him to the races.
If you interested in either of these guys—Evennou or Oehlhof—send us an email and we will get you their information: Online@racerxill.com
Ryan Hughes checked in this a.m. to let us know that he's added another rider to his training/coaching clientele. Team Yamaha's Josh Hill has contracted Ryno and the two starting working together this week.
Also, congratulations to Ryno on helping guide Jason Lawrence to the winner's circle last weekend! Everyone from Jason Weigandt to Jon Bon Jovi to Barry Carsten had to be stoked to finally have a guy from the Garden State get his name in the AMA record books as a Lites Supercross winner. That means that Jersey has exactly one more win in 125/Lites SX that the entire state of Texas does!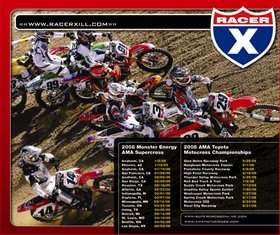 Get a Racer X mousepad for your desktop.
Did you check out our newest promotion? Need something cool to put on your desk this year?
Racer X
has designed a mouse pad that will keep you in line with every race on the AMA tours. Need to make travel arrangements for a Supercross or National? You'll have every date right on your desk. So,
subscribe
or renew now you will get a 2008
Racer X
Mousepad!
San Francisco SX Gas Card Sponsor Ryan Schofield sent us this note about his experience last weekend:
Thanks to everyone at Racer X for the San Francisco Gas Card experience—definitely unforgettable. Thanks much to Jason Weigandt for giving me his chair so I could sit and rest my broken foot in the press box. I have an interesting twist on who ended up getting my $250—Greg Crater is the kid who got my first bike for $200 and a case of Schmidt's!
Nathan Ramsey deserves a reward, not because he needs money to improve his results but because he raced hard regardless of whether or not he would qualify—which is what I came to see and why I paid $250 to the highest non-qualifier in the LCQ.
However, he used his provisional qualifying ticket into the main, which Heath Voss did the same earlier this year at A2 but gave the Racer X Gas Card cash to the next finisher in the LCQ. Heath and Nate are both good guys. So Greg Crater, #153, who started well, nailed the slick triples and held qualifying position before tangling with a lapper, going down, and allowing Nathan Ramsey to pass, gets the bonus instead. I've been pulling for #153 a few years now and watching him make main events. I recognized his mom Angie during the track walk, and I remember his first 15-foot solo ride 20 years ago on my Yamaha PW50, which my dad traded for that $200 and a case of Schmidt's. Come on, Greg, put that #153 in the main at A3!
Thanks for helping out with the Racer X Gas Card, Ryan.
Speaking of the Gas Card, here's a shout out to Anaheim 3's Racer X Gas Card sponsors, Ken Lewis (YZKEN250) and Jason Reed (WORCS Announcer). Thanks, guys. Also, Jason Reed is stoking the program out on WORCSracing.com.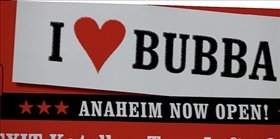 Welcome to Anaheim!

photo: Frank Hoppen

Frank Hoppen spotted this sign close to Anaheim Stadium. And snapped a photo. "Must be Reed's" joked Hoppen.
Let's turn it over to Ping right here:

I'm pretty disappointed in my friends right now. The heavy rains last weekend meant that all the local test tracks were flooded this week. That also means that to get some riding in you had to go to the hills of Beaumont or elsewhere. Langston, Reed, Hahn and a handful of guys grouped up and hit the hills this week and I never got a call. Then another crew of, like, ten guys went early in the week but I didn't hear about it until Thursday. The next time I don't get invited I'm going out there with a high-powered rifle and picking some guys off. Maybe Villopoto can loan me one.
After Langston finished telling me what a great time he had riding in Beaumont we talked a little bit about his season. If you remember, GL had the Midas touch through the last half of 2007. He won the MX title, the U.S. Open and a sizeable chunk of loot at the tables in Vegas from what I understand. But the run of good luck is gone in 2008. Grant had a solid ride at the opener, getting fourth. Then in Phoenix his shock collar broke, ending his night. At the next round he had a tire get sliced on something in the soil and come apart during the race, preventing him from finishing again. And in San Francisco he got a rock jammed into his rear brake causing it to lock up in the final and keep him on the sidelines watching the rest of the main event.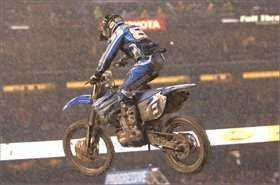 Grant has been on one unlucky run.
photo: Carl Stone
I think three DNFs in a row for a factory rider might be some kind of record. If he throws a chain or something this weekend I'm going to suggest he sits it out until
Glen Helen
.
A member of the action sports industry is gone after a bizarre disappearance during the ASR trade show, the biggest action sports trade show of the season. Dane Williams was a member of the Hurley marketing department and a Huntington Beach local. He was last seen at the Hard Rock Café at around 1 a.m. partying with some friends. He was found dead three days later in a seedy part of downtown San Diego. Police haven't released any other information about his death. Hurley has sponsored riders such as Ivan Tedesco and others over the years and Dane was certainly involved with that. God Speed, Dane.
I think I've figured out what happened with Davi Milsaps [Ed. Note: Ping, it's spelled Millsaps.] at Anaheim 2. Davi was claiming Gastritis was causing him pain during the final which is a backdoor way (no pun intended) to say that he had a stubborn fart that wouldn't pass. But, to Davi's dismay, I've found the real cause of his pain… He swallowed chewing gum. See below:
I was sent these photos of
Heath Frisby
by the Red Bull guys. Snowmobiles replaced bikes at the Winter X Games a couple years ago and they are following the progression of the FMX riders. This is the first super-flip in snowmobile freestyle competition. That is a 600-pound sled he's hanging on to. Pretty gnarly.
And, finally, as you read this the first annual Flag Football Supercross Superbowl will be underway. The very best (not really) football players in the world (industry) will be crushing each other on the field (eating pizza, drinking beer and pulling flags) for the SX Superbowl title. Dragon and One Industries are putting the event on with the help of Red Bull and Moto Brew. Right now, the One Industries Cougar Hunters team is a heavy favorite but, as a member of the
Racer X
Ex-Racers squad, I think we might have something for them. I even got an email from the Portola All-Stars boys (remember them?) last week wanting to play but I told them to sober up and try to prepare for next year. It should be good fun.
One of the best parts of the game will be checking in with all of the players on Saturday to see how sore they are.
Danny Dobey
told me that he has been loading up all morning on aspirin and his blood is probably so thinned out from it that if he gets a cut while playing he will probably bleed to death right there on the spot.
That's it from Ping.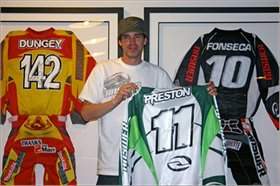 That's Roger Larsen, getting ready for his big debut as the Answer Man.
photo: Dave Casella
We also received a press release today announcing that
Roger Larsen
, or "Rojay", from MX Culture fame, has been hired as Answer Racing's Marketing Manager. Congrats, Rojay!
Matt Walker is going to be a daddy! We saw this on Mototalk:
"It ain't that big of news to you guys but, we just found out that my wife is pregnant! It's our first one. I'm so damn happy that I'm tellin' strangers on the street about it. Started trying in '06 before I quit racing; thought it would happen quicker, you know? That would give me an even better reason to walk away from pro racing! But it didn't happen till now. I've said stupid things on the podium at 'Dilla every year about, "This is a man's track, and it takes a man to ride," etc., etc. But I guess I was wrong cause I've never felt like a man till now! So to all the fathers out there, I'm gonna be right there with ya.

P.s. If I already know he is gonna be great at everything, is wrong to name him Champ? My wife hates the idea. I love it ."
Congrats, Matt!
Matt Walker is going to be a dad.
photo: Simon Cudby
Dear
Racer X
,
My names
Eric
and I've got a question. In the 250 main at the LA Coliseum (in 1997), I remember at the beginning of the race when
Lamson
collided with
McGrath
. My question is was that collision intentional or an attempt at an aggressive block pass that didn't go well? Or could it be that Honda told Lamson if he had the opportunity to possibly try a take out move on Jeremy because he left Honda?
Eric
Eric, I remember that crash and I really think it was a block-pass gone bad. I doubt someone of Steve Lamson's character would have taken out a guy he's been teammates with on and off since they were on the first Peak/Pro Circuit Honda team. When I see Steve again, though, I will ask!
The 2008 amateur motocross season kick off is looking better than ever at this year's Lake Whitney Spring Classic, which will be held March 11-16. According to Bobby White, they have almost filled over 65 vendor spots, and they are up on pre-entries over last year. Also, White flew to Lake Whitney with Shaun and Dave Martin last week and they came up with Bobby promises is "a really fun and safe layout for this year's track. And yes, expect a bunch of Texas sand!" Parts Unlimited, Thor, FMF, Red Bull, Yamaha, Kawasaki, Suzuki, KTM, Honda, Monster Energy are all on board too. For more info on the event, check out www.lakewhitneymx.com.
Also, Wes Williams and the Vurb Moto crew will be out in full force, posting highlight films each day on www.vurbmoto.com as well as www.racerxfilms.com
Speaking of Racer X Films,
Simon Cudby
posted a really cool
Tommy Searle
piece that you may have already watched. If you haven't, pay attention to how fast this kid corners. He's the real deal, and he will be formidable outdoors next summer when he joins the AMA Toyota Motocross Championships. That said, I think
Tony Cairoli
is still the heavy favorite to win in Europe this season.
Earlier this week we received word that
Mike Craig
will be holding a private riding school at Oak Hill on February 16-17th for kids of all ages. They will provide food and drinks for the kids and it will be an all day thing. This will be a great time for your kids to pound some laps before the Oak Hill National. They will also have the Innovative MX semi on hand full of parts and accessories, with their staff on hand to help with bike set up. The fee for the two days is: $250
Some of the riders that will be attending are: Blake Green, Lance Vincent, Christian Craig, Bailey Bruner, and Nick Schmidt. For more information, email jeremy@innovativemx.com.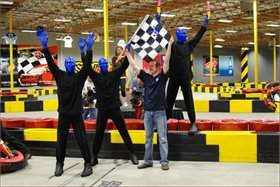 The Blue Man Group and Kurt Busch at Las Vegas' Pole Position Raceway.
photo: Ken Faught
We received some unfortunate news in the amateur community about New York speedster
Brandon Mays
suffering some serious injuries. Brandon reportedly suffered a broken C-5 vertebrae in his neck (which is supposedly the one you want to break if you must break one in that area) a broken lower back, a broken wrist, and a bruised heart in a horrific crash. Fortunately, the 14-year-old is expected to make a full recovery.
Racer X contributor Trevor Hawk was recently robbed of two of his dirt bikes, stolen out of his pole barn in Ohio. "They took the screws out of bottom half of my siding pulled it back enough to slide in," Hawk wrote to us. "My daughter found a hammer laying on the ground next to where they gained access (along with a pile of screws), I couldn't figure out where that hammer and screws came from until today when I went into the shop side of my building and realized my bikes were gone."
Both bikes had Trevor's racing number "494" on them.

99' YZ250 (last six of VIN 002833)
00' TTR125 (last six 003033)
"Any help you could give me would be greatly appreciated. The more eyes I have, the better my chances." Anyone with information please call, 419-347-2280 or email mxnuts494@yahoo.com."
If you like the old school, check out this killer website for AHRMA's Northwest chapter.
There are lots of photo of the '70s Inter-Am and Trans-AMA races by Pete Wells, including some excellent stuff of Barry Higgins, who's still a big part of KTM's Junior Supercross Challenge program.

From Andy "Quad of Tomorrow" Bowyer:
Man, quite a bit going on over here on the other side of the office. We are only three weeks away from the onset of the 27th Annual Loretta Lynn Area Qualifiers and MX Sports is already revved up to full song. There has been some big changes here in the office, so please check out this bi-weekly column called "The Pulse" and get up to speed. You can look for The Pulse every other Tuesday on www.mxsports.com to stay caught up with the latest information from MX Sports and the amateur community.
And you quad riders out there (yeah, you guys) should make sure to stop by www.atvmotocross.com and scope out the updates.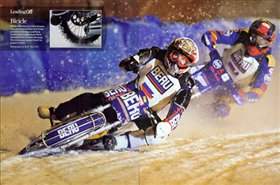 We spotted this in the new Sports Illustrated.

Katherine Prumm goes to Team Yamaha! Check out a report on Full Noise.
Hey Racer X,
Just a quick hello from the land of OZ! How are the Aussies going? Okay hey! First (Reed) and second (Reardon) at this stage of the comp! Keep it goin' fellas, and great online/mag! I would like to say also say hello from all the gang at Stanmore MX Club in Brisbane, Australia…
Bob Hannah himself once told me that the roughest track he ever rode was Keithsburg, Illinois. Well, Sandy Oaks is opening up February 24! There was a pro national there in '77 that Hannah won by miles, and now a couple times a year there is a Hare Scrambles race there, according to Garret Kreiger. "This track is 100 percent sand and 100 percent whoops. It is probably one of the hardest tracks there is!" The Hurricane himself seems to agree.
And finally, did you see the Breaking News Steve Cox posted earlier from the Anaheim 3 press conference? In addition to the Preston to Monster Energy Kawasaki announcement, they introduced Ryan Villopoto's teammate for the East Coast series, Branden Jesseman. Jesseman won a Lites main last year in Orlando, and he's one of the hardest trainers in the sport. And speaking of Villopoto, Pingree caught up with him earlier this week. Read his interview here.
Okay, that's it. Enjoy the weekend, see you at the races, and check back here all weekend long for more from Anaheim 3 and around the motocross world. Thanks for reading Racerhead.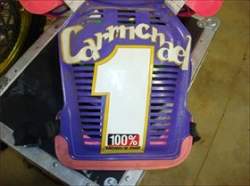 Old-school.
photo: John Fox