Toyota/Racer X Power Rankings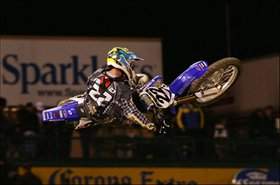 Chad Reed has all 29 first-place votes.
photo: Simon Cudby
Round 4 of Monster Energy AMA Supercross, an FIM World Championship, is in the books, and our top three riders in the Racer X/Toyota Power Rankings remain the same. After his third victory in four tries, San Manuel Yamaha's
Chad Reed
continues his firm hold on our number one position atop the board.
Kevin Windham
, who is finally starting the season off strong, is second on his Torco Racing Fuels Honda. And rounding out the top three is our first Lites rider and current points leader,
Ryan Dungey
. Behind him is Red Bull Honda Racing's
Davi Millsaps
, who moved up a whopping 11 spots after an inspired ride in San Francisco. And after garnering his first-ever AMA SX Lites win, Boost Mobile/Yamaha of Troy's
Jason Lawrence
is closing moved up seven spots to fifth. Other big movers include
Brett Metcalfe
, who went from 17th to 13th, and Xtreme Team Green's
Tommy Hahn
, who went from 24th to 17th after a solid showing last weekend. New to the top 25—coming in at 24th—is privateer
Jake Marsack
, who finished an impressive fourth in San Fran.
| | | | | | |
| --- | --- | --- | --- | --- | --- |
| RANK | +/- | # | NAME | PTS | SPONSOR |
| 1. | | 22 | Reed (29) | 725 | San Manuel Yamaha |
| 2. | | 14 | Windham | 681 | Torco Racing Fuels Honda |
| 3. | | 28 | Dungey | 599 | Rockstar Makita Suzuki |
| 4. | +11 | 118 | Millsaps | 579 | Red Bull Honda |
| 5. | +7 | 338 | Lawrence | 541 | Boost Mobile/Yamaha of Troy Yamaha |
| 6. | -1 | 15 | Ferry | 540 | Monster Energy Kawasaki |
| 7. | +3 | 8 | Langston | 490 | Factory Yamaha |
| 8. | -2 | 800 | Alessi | 474 | Rockstar Makita Suzuki |
| 9. | -2 | 9 | Tedesco | 472 | Red Bull Honda |
| 10. | -1 | 29 | Short | 419 | Red Bull Honda |
| 11. | -3 | 60 | Hepler | 388 | Factory Yamaha |
| 12. | -8 | 40 | Hill | 385 | Factory Yamaha |
| 13. | +4 | 123 | Metcalfe | 343 | Monster Energy/Pro Circuit Kawasaki |
| 14. | -1 | 51 | Stroupe | 333 | Monster Energy/Pro Circuit Kawasaki |
| 15. | +1 | 122 | Reardon | 315 | Torco Racing Fuels Honda |
| 16. | -2 | 30 | Weimer | 264 | Torco Racing Fuels Honda |
| 17. | +7 | 32 | Hahn | 237 | Xtreme Team Green Kawasaki |
| 18. | -7 | 7 | Stewart | 203 | Monster Energy Kawasaki |
| 19. | +4 | 27 | Wey | 184 | MDK KTM |
| 20. | -1 | 12 | Vuillemin | 167 | Rockstar Makita Suzuki |
| 21. | | 114 | Brayton | 159 | MDK KTM |
| 22. | -2 | 25 | Ramsey | 148 | San Manuel Yamaha |
| 23. | -1 | 24 | Summey | 134 | Gibbs Racing Yamaha |
| 24. | new | 66 | Marsack | 134 | Bad Boy Enery Drink Honda |
| 25. | -7 | 100 | Hansen | 72 | Gibbs Racing Yamaha |
Total number of votes 29
Pollsters: Carlos Aguirre, Linda Ardehali, Vince Arimitsu, John Ayers, David Bailey, Cameron Baird, Sean Beaucar, Jason Berry, John Bodnar, Chris Bond, Andy Bowyer, Danny Brault, Erv Braun, Paul Buckley, Jimmy Button, Dave Castillo, David Clabaugh, Davey Coombs, Steve Cox, Tim Crytser, Simon Cudby, Jeff Emig, Mike Farber, Chris Favro, Jason Fleming, Ernesto Fonseca, Chris Ganz, Tony Gardea, Steve Giberson, Michael Holigan, Ryan Holliday, Jason Hooper, Frank Hoppen, Steven Hudson, Chris Hultner, David Izer, Eric Johnson, Jeff Kardas, Kevin Kelly, Allison Kennedy, Jim Kimball, Scotty LaLonde, Stephan Legrand, Paul Lindsey, Mario Marini, Steve Matthes, Nick McCabe, Shan Moore, Rupert X Pellett, Sondra Peters, David Pingree, Dave Prater, Jason Reed, Michael Rigdon, Brian Robinette, Pat Schutte, Alan Selk, BJ Smith, Bryan Stealey, Denny Stephenson, Carl Stone, Michael Stusiak, Cliff Talley, Jean Turner, Billy Ursic, Scott Wallenberg, Mel Walz, Matt Ware, Jason Weigandt, Wes Williams, Billy Wood, Chris Worden, Brad Zimmerman